Before Collins lost the 2023 alumni game, he won it
The varsity won the game 7-6 but baseball's greatest victories have nothing to do with who scores the most runs
The alumni battling the varsity in the annual baseball alumni game were a bit like Arnold Schwarzenegger in the old Terminator movies. Every time the varsity thought they put the alums away for good, they only came back stronger.
"We had two shutout innings [to start the game] and then one bad inning cost us," said alum Colton Collins, Class of 2009, and de facto alumni coach. Collins, more recently installed as the JV-1 head baseball coach and a varsity assistant, had played in three alumni games as a varsity player and at least three more as an alum before Saturday's showdown.  
"
[The alumni game is] a great chance to come back and play some baseball again and show support for the new era of kids who fill the shoes we once wore."
— Alum and coach Colton Collins
"We had an inning where we let them score four runs on walked batters and hit a couple guys," Collins said, "but I thought we could come back and take it from them."
So apparently did his teammates. Down 4-2 after three innings, they battled back to tie the game at 5 with two in the fourth and one in fifth.
When the varsity plated two runs in the bottom half of the fifth, the alums could have called it a day and headed to the concessions area where the Class of '81 was serving up BBQ sandwiches and sausage wraps.
But after a scoreless sixth inning, the alums were still hungry and not just for those sandwiches. They wanted to win the game.
With two out and Brandon Worden (Class of 2011) on third and Mason Kammlah (Class of 2004) on second, Tanner Wood (Class of 2008) ripped a single past a diving junior Nico Sanchez into right field. Worden scored to cut the varsity lead to one, and the throw from sophomore Conrad Bohls got past junior catcher Lyrr Friesem and rolled to the backstop. 
Sensing the opportunity to tie the game, the alum's third base coach—either Sam Richter or Jake Goss (both Class of 2008) take your pick—decided to send Kammlah home to tie the game. But Friesen made an acrobatic play to retrieve the ball and flip it to sophomore pitcher Lupe Ruedas, who applied the tag for the third out to end the game, 7-6, in favor of the varsity.
The victory was sweet for the varsity, almost as sweet as the haul of chopped beef sandwiches they allegedly devoured after the game.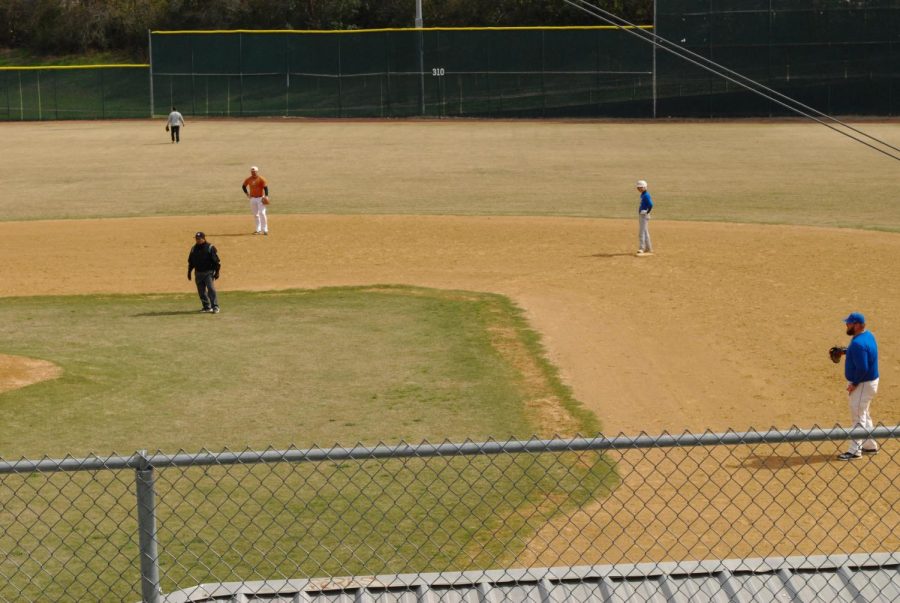 You might think the loss was devastating for the alums, particularly for Collins who as a varsity assistant coach will have to hear about the loss from his players all season long. 
The truth, however, is that Collins had already won this alumni game. He won it long before the first pitch was thrown. That's because the 2023 alumni game—which attracted 31 former McCallum players—almost didn't happen at all.
It was almost called off due to a lack of alumni participation. The problem, Collins said, started the year before when the alums barely had enough players to field a team. This year the boosters were thinking of calling off the game because they were struggling to recruit the volunteers the game requires.
"
When I was being told by Coach Honeycutt and the booster club that they weren't going to be able to have the alumni game, I told them, 'I will handle it. Give me a couple weeks and see what I can do.'"
— Colton Collins
That's where Collins stepped up to the plate.
"When I was being told by [first-year] Coach [Trey] Honeycutt and the booster club that they weren't going to be able to have the alumni game, I told them, 'I will handle it. Give me a couple weeks and see what I can do.'"
Collins tracked down an old e-mail list and used it, urging alums to come or at least to spread the word about this year' game. 
If you email them, they will come. Isn't that the line from Field of Dreams? Well, something like that.
He did email them, and sure enough they came out for the game.
"Within a week, I had 21 guys confirm they would be going," Collins said. "So I told Coach, 'It's on.'"
Then came an email from the prime mover (and master chef) of Mac alumni, Orlando Arriaga, asking Collins what he needed.
Collins' answer: food. So Arriaga offered his BBQ business services and half of the proceeds of concessions sales to the baseball program.
Suddenly, the game went from on life support to thriving and quite yummy.
"I couldn't let a tradition die away," Collins said.
If you don't know Collins' back story, there is a reason he feels this way. If there is anyone more McCallum than Collins, we would seriously like to be introduced. 
As a baseball player, Collins was among the first Knights to earn distinction playing under Russell Houston, who in 12 years in charge of the varsity baseball team coached the Knights to 228 wins and nine district titles, including the last seven in a row.
Back when Collins was a first baseman and pitcher, however, Houston was the new guy, and the Knights were kicking grass and taking names … not just in district but in the 5A state playoffs.
"We had great success my sophomore and junior year and went three-to-four rounds deep in the playoffs and got to play at Baylor University's baseball stadium," Collins said. "I got to watch guys play, who got drafted out of high school to play pro baseball."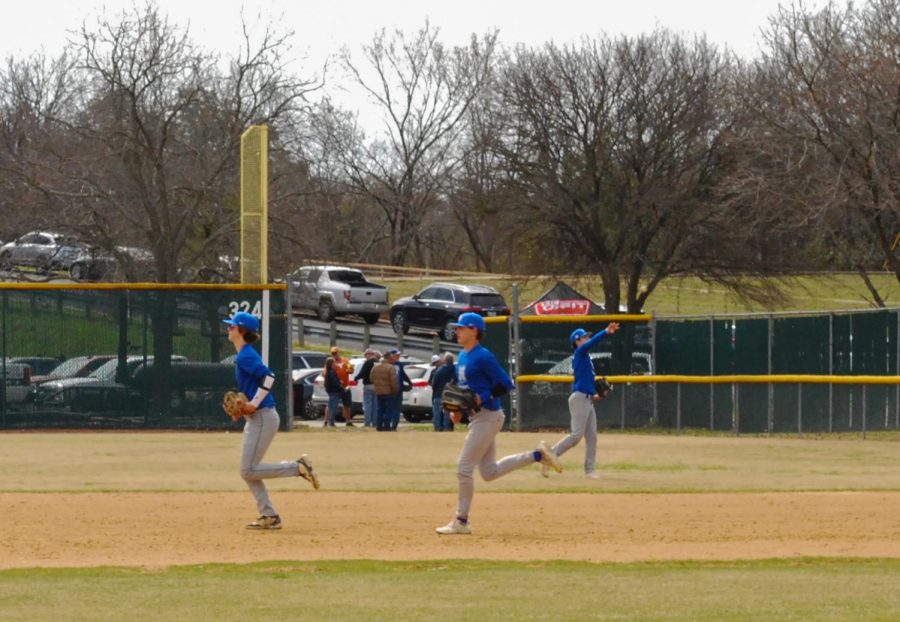 In his senior year, Collins batted behind Everett Williams, who was drafted by the San Diego Padres and advanced to double-A ball in the pros.
"
What a beautiful day today with the JV intrasquad and the alumni games! Thank you to all that came out and showed their support for our program! Special thanks to Big O's Pit BBQ for their time, support, and donations, and the booster club for helping out to make this successful. Also, a HUGE thanks to Coach Collins for getting the info out to his fellow alumni and taking the alumni game off of life support! Next year will be bigger and even better."
— first-year varsity head coach Trey Honeycutt
"I always tell him I hit more home runs over the fence than him that year because he hit six home runs but one of them was inside the park."
Why, you might ask, does it matter that one of Everett's home runs did not leave the yard?
"I also hit six home runs," Collins said, "but all of them were over the fence."
The last of those home runs by the way came in Collins' final high school at bat. 
Before we get to relating the detail, we strongly suggest you cue up the theme music from The Natural that plays during Roy Hobbs final at-bat. The paragraph will read better.
Got it cued up? OK back to the story. 
Against Hutto, Collins blasted a thunderbolt that hit the scoreboard.
"Everybody tells me that they thought it went through it," Collins said.
Not bad for a football player playing baseball during his offseason. Houston, of course, also coached Collins in football, as did the most legendary of all Mac coaches: varsity football coach and athletic director Pat Honeycutt (no relation to Trey).
Collins talks about the intensity of practices and the "dog mentality" that Honeycutt fostered in his players. Collins was on the field the night that Honeycutt's Knights blasted the Anderson Trojans by a then-record margin of 40 points in Taco Shack Bowl 2006. 
Collins was also a senior on the awful day in January 2009 when Honeycutt died at St. David's Hospital after suffering a heart attack while at a basketball game. Just days later, Collins signed to play college football at Trinity Valley Community College in Athens. He would go on to play at Lamar University in Beaumont.
View this post on Instagram
So when Collins speaks about the importance of keeping a tradition alive, it comes from the heart. Why does the alumni game matter so much to him?
"I just remember having great memories with my teammates at tournaments and staying in a hotel—the travel on the bus ride … the jokes and fun and the not-so-fun butt chewings."
Experiences like this build community and—credit to Coach G for the phrase—a torch to be passed to the next generation.
"[The alumni game] was something we always did when I was a player," he said. "And it was fun to see the guys come back and get to play against them. Especially as an alum now, it's a great chance to come back and play some baseball again and show support for the new era of kids who fill the shoes we once wore. It also is a testament to the players that the time we spend playing baseball for McCallum will develop friendships and memories that last forever."
Collins and his alumni teammates and the current varsity rekindled some friendships, established some new ones.
"The oldest player I believe was Mason Kammlah Class of 2004, but there was a dad there from '75, a coach from '78-'79 til the mid '90s named, Coach [Ron] Toenjes I believe," Collins said. 
Toss in Arriaga and his six buddies from the Class of 1981 feeding the crowd, the alums and—mostly—the varsity, and you've got 31 alums coming back to pass the torch to the 2023 edition of Mac varsity baseball. 
Not bad for a couple of emails. A couple of emails sent from the heart that made sure that the 2023 alumni game would add to the collection of shared memories that connect a storied program across the generations.