With no fear of the Knights, Lake Travis did not survive
In Grant's 150th win, Mac takes down nationally ranked Cavaliers
If you're a fan of Longhorn athletics you may be aware that the No. 1-ranked baseball team in the nation, Texas, recently lost to the maroon underdog from San Antonio, the Texas State Bobcats. State overcame the Horns 6-4 and had their number for much of the nine-inning game, shutting down big bats Douglas Hodo III and Trey Fatine while looking like a College World Series-caliber team. 
The Mac baseball team just had a comparable feat, defeating the 17th-ranked team in the nation, the Lake Travis Cavaliers, where the Knights scored 10 runs on the Cavs in the span of six innings sending a top team home with heads hanging low. 
Both matchups featured one team significantly smaller team that posted an early explosive inning that proved decisive in the game. Just like Texas State did against the mighty Texas Longhorns, the smaller Mac team came out on top of the vaunted Lake Travis Cavs. 
Spoon said it best "you got no fear of the underdog, that's why you will not survive," something the Knights took to heart when stunning and silencing the Lake Travis dugout, going pitch for pitch on the mound and at the plate with LT's Baylor signee.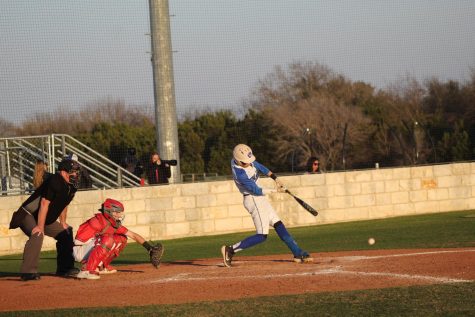 To senior first baseman Andy Honea, the matchups where Mac gets a chance to "slay the giants" are the best and most enjoyable games, the ones where the fans in the stands on both sides are stunned and the only ones who believe in victory are in the Knight dugout. 
Lake Travis stormed out of the gate in the top of the first inning, scoring two runs, but starting pitcher Jacob Ramirez steaded from there, going 5 ⅓ innings before yielding the mound to reliever Lyrr Friesem.
Head coach Brandon Grant was fully confident in both Ramierz and Freisem's abilities on the mound.
"Jacob is an all-out competitor," Grant said. "He is not scared of anybody and he does not care who he is up against he just goes all out. He actually got hit in the knee and kept going. As for Lyrr, I have seen him throw strikes, and he did."
"
No one expected us to beat Lake Travis. We had nothing to lose.
— senior Diego Barraz
The Knights bats picked Ramirez up by not letting the early deficit get them down.
"I didn't feel much pressure because I knew that no one expected us to beat Lake Travis," said senior Diego Barraz, who drove in three runs in the win. "We had nothing to lose. I try my best to treat every at-bat the same, so I came focused on remaining calm and making good contact with the ball."
Down two runs after the bottom of the first, senior team captain Wyatt Cunningham knew something needed to change the vibe. His solution: a lot of yelling.
"I yell for every game," Cunningham said, "but it was a little different for this one. I felt like we had a chip on our shoulder because we are a 5A art school that most people don't even know and count out and Lake Travis being a national power house with multiple college commits."
His coach had a similar idea. In a catalytic post-first inning speech, Grant encouraged the Knights to rattle the cage. The following inning, Mac pulled away from the Cavs with six runs.  
"Once we got our first runs in that second inning," Cunningham said. "Well, once we got those out of the way, we felt like 'OK now we can just play how we play.'"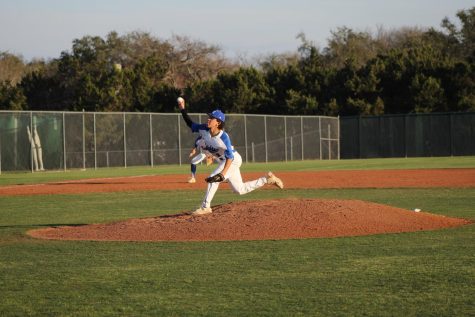 With no one out an runners in scoring position, Friesem hit into a fielder's choice to drive in a run, then Nico Sanchez drew a bases-loaded walk to bring home another. Diego Barraz singled on a 1-1 count to score two more, and J.J. Valle-Soliz grounded out, scoring one run. 
Ramirez threw 101 pitches in his five-plus innings, allowing eight runs on seven hits. 
With the Cavs down two runs and trying to make a comeback, and Ramirez nearing his pitch cap, Grant made the decision to put Friesem on the mound.
"At first I was super nervous," Friesem said. "After I threw a couple of pitches I kind of knew we had nothing to lose, and I just did my best and kept my chill."
Friesem pitched two thirds of an inning in relief and struck out LT's Hank Benny to close the game. 
Not only was the game a high profile victory but also marked Grant's 150th career win. Afterwards the Mac team signed the Lake Travis lineup and scorecard with heartfelt congratulations to the coach. 
"The win felt amazing," Cunningham said, "especially since the only people that believed we would win were in the dugout. Beating a program that is state and nationally ranked every year is a huge confidence boost for our team moving forward."
Leave a Comment