Enact environmental education
Texas school boards should prioritize environmental lessons in curriculum to prepare students for Earth's future
In 2022, Texas produced more oil than in any year in its history: 1.8 billion barrels. That amount surpasses the usual yearly production by around 300 million barrels. Though we can't quantify the consequences of this statistic, we do know that continued reliance on fossil fuels affects the air that we breathe, putting at greater health risk people with breathing problems like asthma.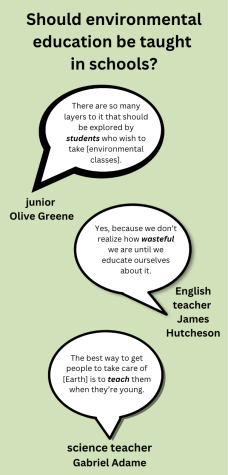 With this concern in mind, the Texas education system should put in the effort to educate middle and high school students about the environmental issues that occur in the state and beyond it before the situation worsens.
Our state government contributes to our lack of environmental information and action on climate change. The GOP doesn't have climate change-related issues high on its agenda. According to press releases, the top legislative priorities for Texas Republicans in 2023-2024 are to end abortion and to ban gender transitions for children. Instead of providing and helping their residents and citizens, they are taking away rights that should be someone's own decision. In early 2021, when President Biden signed the executive order to rejoin the Paris Climate Agreement, Gov. Abbott said that the state government would apply legally aggressive strategies against the climate change guidelines specified and the agreement and supported by the Biden administration.
Since the cost of inaction to address climate change falls mainly on the younger generation, we might expect that young Texans would protest Abbott's position on this issue, but currently there is little to no required education on such relevant and important issues. How can we work together to prevent further damage to the planet when essential knowledge and skills taught in Texas don't require educating students on environmental issues, except in environmental systems classes and AP Environmental Science, neither of which are graduation requirements, and are offered by College Board, not the state? In addition, it is difficult to adapt these lessons from those courses into widely accessible classes that don't teach environmental concerns such as Physics I or Chemistry.
There are, however, alternatives. Schools hire guest speakers to present information on bullying, sexual assualt and drug use — why not climate change? Speaker suggestions could include university students who major in something that has to do with the environment or someone who studies and examines climate change in Texas. There is so much this generation can do to combat climate change, but those actions must first begin with being informed on the subject.
"
How can we work together to prevent further damage to the planet when essential knowledge and skills taught in Texas don't require educating students on environmental issues?"
A common response from the public is the assertion "climate change isn't real," but the contrary is true. A report by the Intergovernmental Panel on Climate Change (IPCC) said that the United States is entering code red for the climate crisis and that we need to act now. The report stated that there have been more heat-related deaths caused by extreme heat events.
Another excuse presented by opponents of climate action is that this is a change we must learn to adapt to, not prevent. According to the World Wildlife Fund (WWF), these last 20 years have had extreme temperatures that have kept rising, especially in the South. This is mostly caused by the high levels of carbon dioxide in the atmosphere. But these changes can be slowed. Reversing climate change, however, starts with learning about the issue through required environmental education that will inform and inspire the prime stakeholders in the climate crisis: future generations.