Climate change impacts Texas
As effects of the climate crisis continue to manifest locally, Knights find hope through collective action, education, call for further change
The heat doesn't mess with Texans. In a state with typically hot weather and little seasonal distinction, the effects of climate change present themselves differently than what scientists and activists often describe.
At least, that's how it is for the younger generations. Environmental and aquatic science teacher Elaine Bohls-Graham first noticed the changing climate when she began studying the phenomenon as a geology student at Baylor University nearly 50 years ago.
"We definitely had almost four seasons instead of summer, another summer and then a month of winter," she said. "It's the length and the severity that I see changing and these higher temperatures."
Climatic shifts in Texas have been both subtle and extreme. According to a 2021 report by the state climatologist, the daily average of minimum and maximum temperatures have increased by 2.2 degrees Fahrenheit from 1950 to 2020. The first two weeks of January this year were the warmest ever recorded by Camp Mabry instruments, with temperatures reaching into the 80s.
While these differences can seem small, the residuals add up. Higher temperatures have led to harsh droughts, such as this past summer when the Austin metro area was without rain for more than 50 days, and more intense hurricanes came out of the Gulf of Mexico.
On the other end of the spectrum, 2021's Winter Storm Uri, also known as "snowmageddon," led to a record-breaking 6.4 inches of snow and temperatures as low as 6 degrees Fahrenheit, the most and coldest in Austin since 1937. During the freeze, 246 Texans died due to the severe temperatures and resulting power outages and road closures.
"I'm concerned for the grid here in Texas because ERCOT is a factor we have to live with," Bohls-Graham said. "Now we have to be concerned about the summer loads and winter loads, on the system."
While climate change and global warming are not synonymous, many climate change-related events can be traced back to rising temperatures and the greenhouse effect.
"CO2 doesn't take a lot to create the greenhouse effect because it's such a large molecule," Bohls-Graham said. "And it's not as much as you think it is [compared to] the percentage of the atmosphere."
High school student in Texas may not know what to think about climate change because environmental science is not a required course in the state high school curriculum, although the subject is something that Bohls-Graham believes is crucial in addressing climate change.
"It is critical that students that are up-and-coming individuals and adults understand we have one Earth," she said. "It's the only planet that we have; if we can't take care of it, we're in trouble."
Even with these setbacks, Bohls-Graham sees hope in the younger generation as a whole.
"
It is critical that students that are up-and-coming individuals and adults understand we have one Earth. It's the only planet that we have; if we can't take care of it, we're in trouble.""
— environmental science teacher Elaine Bohls-Graham
"I'm optimistic because you all are so dedicated and so wanting to make things better," she said. "And I think as you all get older and grow and become wiser and have the experiences, you're going to be the ones that are really pushing this and helping."
Senior Malia Walewski is one of many young people involved in climate action. She's been a member of Austin Climate Coalition, a student-led climate advocacy group, since her sophomore year. Walewski joined the group while it was virtual during the COVID-19 pandemic as a way to kill time but soon fell in love with the program's sense of community.
"I met so many of my best friends within the group," she said. "It feels so good to be in a community that's motivated. No one's there to just put it on their college resume."
Austin Climate Coalition hosts various events to get young people involved in climate action in a productive way, from writing letters to senators to hosting plant swaps and spreading native wildflower seeds.
"It's fun things mixed with more government action," Walewski said.
Others, like junior Alex Moses, joined the McCallum Environmental Knights to make positive changes through school.
"I thought it would be a good club to join because there are so many hands-on activities to clean up our community," she said.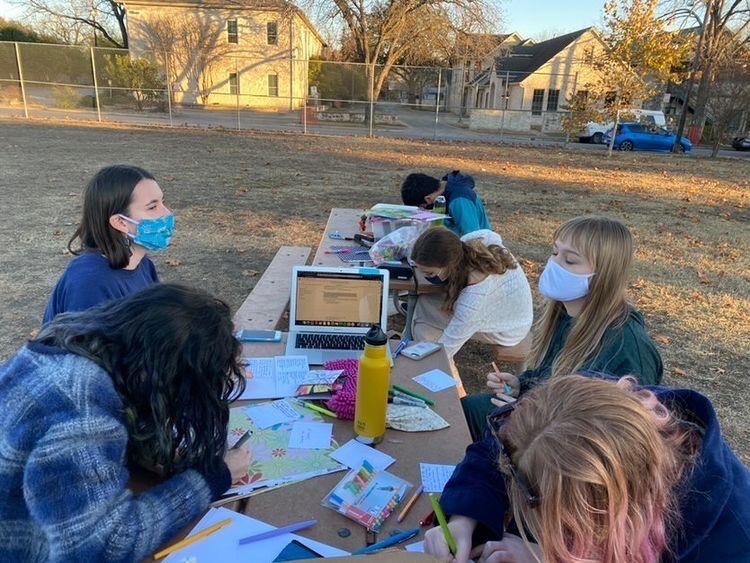 Moses finds climate change to be a worrying, but not impossible, problem.
"Each year, global temperatures rise more and we are placed in greater danger," she said. "But I also feel optimistic. With a little help, whether it be volunteering or even just cleaning up after yourself, everyone can be involved in making a change."
In recent years, Austin officials have also taken up the task of tackling climate change. In September 2021, the City Council took on the Austin Climate Equity Plan with the goal of reaching net zero community emissions by 2040. To achieve this goal, the city government will target key areas of emissions, mainly electricity and transportation. More funding and proposals have been put on the table to support public transportation and renewable energy. According to data provided by the City of Austin's Office of Sustainability, emissions in all areas have been on a slow but steady decline.
At a statewide level, however, energy consumption and resulting emissions aren't slowing down. In 2019, Texas produced 683.2 tonnes of carbon dioxide, nearly double that of California. Major state agencies have no policy on how climate change impacts their state activities and little planning on how to deal with its effects. In the wake of disasters like Hurricane Harvey, Gov. Greg Abbott and his administration have recognized the danger of extreme weather events but avoided the use of the term climate change when discussing response and future plans to handle them.
"
With a little help, whether it be volunteering or even just cleaning up after yourself, everyone can be involved in making a change."
— junior Alex Moses
Austin Climate Coalition and other climate activism groups often lobby as a way to force government attention onto climate change and try to impact legislation. Even though Walewski sees positive indirect actions as a result of lobbying, experiences with people in power have not shown the same outcome. 
"We talked to John Cornyn and went to his office," she said. "And you can tell [he's] only talking to you because [he] wants to maintain this presence of 'we represent the people' when they are not looking to do that."
These statistics and political staticity don't mean that progress is unattainable. According to climate experts, it's never too late: individual and community action, as well as staying informed, are crucial in the fight against climate change and in finding solutions.
"One thing that I try to convey to you all when I teach environmental science is that I want you to be aware," Bohls-Graham said. "I'm not trying to be a doomsday person or a naysayer, but you all need to be aware of what's going on." 
Leave a Comment