World Cup drama comes to Room 134
Multiple digital media platforms in digital media class are tuned in to international football Wednesday as the fate of Group C contenders are not determined until final moments of last group games
A day after the U.S. men's national soccer team scored a narrow 1-0 victory on Tuesday over Iran during seventh period to reach the knockout stage of the World Cup, an even more dramatic finish in Group C play unfolded during third period Wednesday as Argentina battled Poland while Mexico squared off against Saudi Arabia. When the simultaneous games kicked off at 1 p.m., all four teams had a good chance of advancing.
By the middle of the second half, around 2 p.m., Argentina had built a 2-0 lead over Poland, and Mexico had established a 2-0 lead over Saudi Arabia. It was clear that Argentina was going to advance and that Saudi Arabia wasn't (even though the Saudi beat the Argentines on the second day of World Cup play).
The question: who was going to finish second and qualify?
Poland, who entered the final group game with four points, and Mexico, who entered the day with only one, were virtually tied. With the win, Mexico would also reach four points. The two teams had scored the same number of goals and allowed the same number, so any goal in either game would tip the balance one way or the other. The fourth tiebreaker, yellow cards earned, tilted in Poland's favor, so Mexico needed to score (or Argentina needed to score on Poland) for El Tri to make the knockout round.
In Room 134 just off the main hallway, journalism teacher Dave Winter had given his digital media students a work day to complete their news stories that were due later that evening. The soundtrack and video backdrop for the work session: Argentina versus Poland streaming live from Qatar on Fox Sports.
Winter had no way of knowing that the battle for Group C would play out in dramatic fashion in opposite corners of his classroom.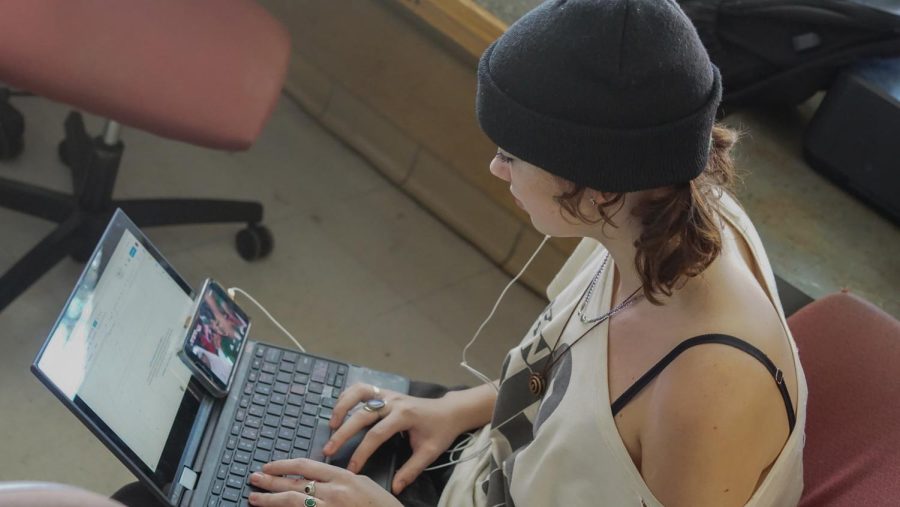 Freshman Cadha Proctor, who was pulling for Mexico 100 percent, sat in one corner watching the Mexico-Saudi Arabia game on her phone while she kept an eye on the Poland-Argentina game on the big screen.
"I was really nervous as I had been the entire day," she remembered feeling in the hours after the game ended. "These were two big games today. I've had a thing with my friends since we were little where two of them root for USA, and me and my friend root for Mexico … and also … I love Mexico."
Proctor cheered for each Mexican goal, and when it became clear that Argentina was going to beat Poland, she hoped that the Albicelestes would keep scoring to weaken the Poles' goal differential, an important stat should there be a tiebreaker.
"
I thought all the teachers would be upset at students watching [the World Cup games], but most were OK with it.
— freshman Cadha Proctor
She was hoping that Mexico and the United States might meet in the knockout stages.
Across the room, sophomore Callen Romell was pulling for the Poles because they were underdogs.
"They weren't expected to advance because they hadn't in a while so I thought it'd be cool if they did," Romell said.
She watched the simultaneous games on a split-screen laptop computer by opening separate browsers and creating guest Fox Sports accounts on each.
"I have always really enjoyed watching sports," Romell said, "but I think since the World Cup is on such an international level there's a lot more at stake, which makes the games more intense."
The moment that played out in two stadiums in Qatar and in Room 134 in Austin certainly was intense. Any goal in either game would determine who would advance and who would be on the first plane to their home country in the morning.
The decisive moment of the game and the entire World Cup up to that point came when Saudi Arabia executed a beautiful give-and-go goal in stoppage play that cut the Mexican lead to one and gave the Poles an insurance goal in the goal-differential tiebreaker.
Digital media teacher Dave Winter reacts to Saudia Arabia's stoppage time goal against Mexico, which all but sealed Mexico's third-place finish in Group C play. Video by Sofia Arredondo Nunez.
"I was happy because it meant that Poland was almost guaranteed to advance unless Mexico had a miracle and watching the rest of the game wasn't as stressful," Romell said.
Mexico would have to score two stoppage-time goals to advance. It was too much to expect of even the world's greatest soccer players.
As the games ticked down to their inexorable conclusion, Proctor reacted with expected but unfortunate chagrin.
"I was clearly very upset after the Mexico game ended and Mexico got disqualified," Proctor said.
Poland hasn't been in the World Cup let alone the knockout stages in 36 years.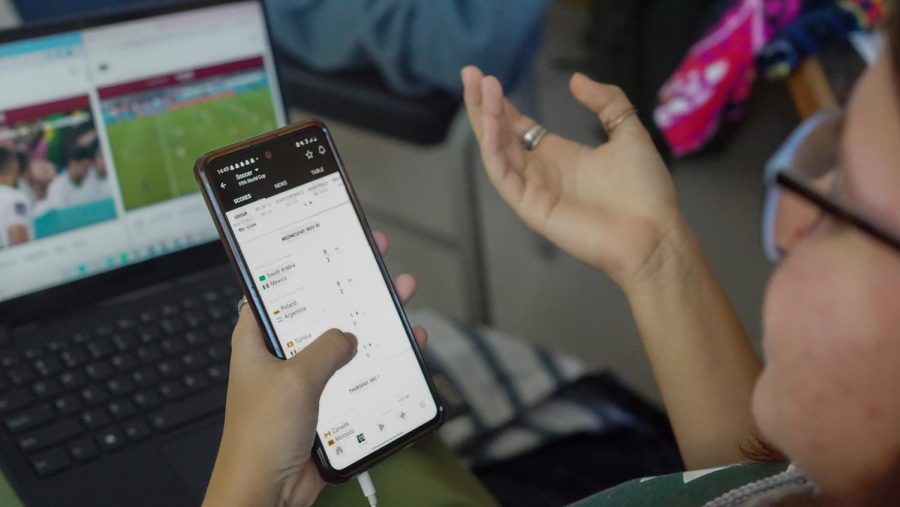 The tense day was the best day of World Cup drama in the tournament thus far, and those with rooting interest have had to figure out how to navigate a school day while keeping an eye on the international soccer scoreboard.
Both Proctor and Romell said that they have been able to keep up with the tournament while at school.
"
Since the World Cup is on such an international level, there's a lot more at stake, which makes the games more intense.
— sophomore Callen Romell
"I'm able to at least check the scores in my classes," Romell said, "but most teachers are fine if I have it on as long as I'm still doing my work."
Proctor was sick Wednesday and watched the United States survive Iran from the comfort of home. She said she was somewhat surprised that she was able to keep up with Thursday's games while at school.
"I thought all the teachers would be upset at students watching it, but most were OK with it."
This is the first World Cup played in the fall, so this school-day conflict between school and soccer is historic.
The tournament is being played in November to avoid the extreme summer heat in host nation Qatar. That same heat and humidity are among the unsafe working conditions that human rights groups say led to the unexplained deaths of thousands of migrant workers tasked with building the stadiums and the infrastructure to host the World Cup. These groups have criticized the host nation and FIFA, soccer's international governing body, for failing to oversee the process and ensure worker safety.
Romell said she is aware of those criticisms and believes they are valid.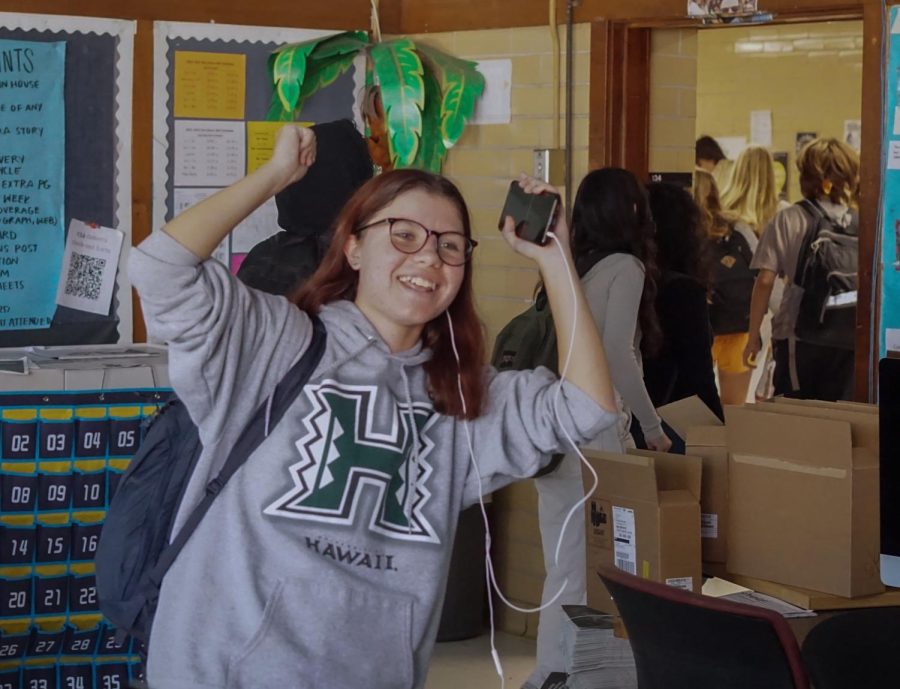 "There are definitely issues about the tournament as a whole and the country's policies," Romell said. "It puts into the perspective what the priorities of the people in charge are, but the tournament is still a great way for people to get together with a common interest."
It certainly played out that way in Room 134 during third period on Thursday.
The ref blew the final whistle to end the Mexico-Saudi Arabia game and seal Mexico's fate just moments before the bell rang to end third period.
Romell threw up her hands in celebration as she moved across the room to head to the exit and her fourth-period class. Proctor's facial expression and body language sank, causing classmate Julia Copas to offer a hug of consolation.
The scene that played out Wednesday just after lunch at McCallum repeated on Thursday and Friday as Germany and Uruguay joined Mexico as the teams who came tantalizingly close to making the knockout stage only to find their World Cup hopes dashed.
The knockout stage began today, with the United States falling to the Netherlands and Argentina edging Australia.
France meets Poland, and England battles Senegal in knockout stage games on Sunday, but on Monday, the school day conflict between the traditional classroom and once-every-four-years international soccer summit resumes when Japan plays Croatia at 9 a.m. CST during first period and Brazil squares off against South Korea at 1 p.m. CST. The game starts at lunchtime but will play out again during the whole of third period.
Back in 134, it might be an opportunity for Proctor to get even.
View Comments (3)