Former Knights reveling in France's World Cup run
McKenna twins hope to return to Champs-Elysees tomorrow to celebrate a French victory
Hang on for a minute...we're trying to find some more stories you might like.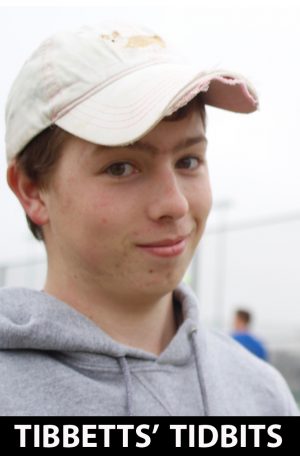 For the last month, the World Cup has captivated people all across the world. Here in the United States, where the national team failed to qualify for the tournament and where soccer is only the fourth most popular sport, the World Cup still has taken over the sports universe.
The interest of the World Cup in the States is nowhere near the excitement of the tournament in France. Soccer is by far the most popular sport in France, and the national team is playing in the finals tomorrow against Croatia.
Right in the middle of all that excitement is Vincent McKenna, a former McCallum soccer player and foreign-exchange student from France. Vincent and his twin brother, Liam, also a foreign exchange student and soccer player at McCallum, have been avidly following France's run to the finals from the start of the tournament along with the rest of the country.
"France is a land of soccer," Vincent McKenna said via email from France. "When the World Cup is on, the whole country follows what the French national team is doing. Since the first French game there has been a lot of hype and pressure on the national team. Of course the excitement grew game after game as we approached the final."
And after France beat Belgium 1-0 on Tuesday to make it in to the semifinals, both McKennas celebrated their team's first trip to the World Cup final in 12 years by going to Champs-Elysees Avenue, where thousands of fans were celebrating France's win.
"After the game on Tuesday, where France qualified for the final, we decided to go to the most beautiful avenue of the world to celebrate that amazing victory," McKenna said. "Amazing and unforgettable are the two words that come to my mind when I think about it now."
McKenna's favorite thing about the celebration was that it brought a large community of Parisians together.
"The part that I really loved was to see all ethnicities, rich, poor, old and young being so happy and united together in celebrating the victory of France," McKenna said. "French people are usually not openly patriotic, but now people were saying with pride that they are happy to be French and that they are proud to be French."
McKenna knows that World Cup championships aren't common. With the World Cup coming only every four years, this could be France's best opportunity to win one in a long time. That is why McKenna, like so many other French soccer fans, is anxious to see if France can win one more game and take home their first World Cup since 1998.
"If France are the World Champions on Sunday I will be at the same place as [I was on] Tuesday, but this time I won't go home at only 1 a.m.," McKenna said. "So many times in my life older people have told me, 'In 1998 it was crazy, insane. Vincent I wish you were there to experience how amazing it was.' I was so jealous whenever someone used to say this to me. That's why right after the victory on Tuesday, I decided to go and celebrate that win just to say to myself at least I experienced this sensation once in my life."