Women's national team Christens Q2
U.S. 2-0 victory over Nigeria to break in new stadium gave Knights chance to watch big-time soccer at full capacity
When you're a kid, you often have people you look up to. It may be a parent, athlete, artist, musician, or someone else who has had either a direct or indirect influence on your life. For some of the members of the McCallum soccer community, their inspiration came from, and for many still comes from, the United States women's national soccer team. From former stars like Mia Hamm and Brandi Chastain to modern players including Megan Rapinoe and Tobin Heath, many of the women on the national team have had a huge impact on the players at McCallum. 
When it was announced that the U.S. women's national team would be rounding out their 2021 Summer Series against Nigeria at the new Q2 stadium wearing their brand new uniforms in Austin on June 16, a handful of McCallum soccer players, both boys and girls, jumped at the opportunity to get tickets. 
View this post on Instagram
"Seeing them play in person was an amazing experience," senior varsity soccer member Elly Schottman said. "It was crazy to actually see them play in my hometown at the brand new stadium. My 10-year-old self was definitely freaking out." 
After an extremely hot first half and several offsides calls on the United States, forward and veteran player Christen Press scored the first goal two minutes into the four minutes of added time at the end of the half. 
According to Schottman, Press' goal and the reaction from the crowd that followed was one of the highlights of the game.
Press' goal was succeeded in the second half by Lynn Williams, who scored four minutes into the extra time added at the end of the second half, allowing the national team to round out their summer series with a 2-0 win over Nigeria in the sold-out crowd of 20,500 fans.
For many, the game was the first big event they had been to since COVID-19 eliminated large group gatherings from everyday life. On May 24, chief medical officer Mark Escott announced with Austin FC's president Andy Loughnane, Travis County Judge Andy Brown and Mayor Steve Adler that Q2 Stadium would operate at full capacity for the U.S. national team game and all Austin FC games until further notice. 
"
"I was thrilled that this was finally something that could bring us back into our lives. Who doesn't love a 20,000+ filled stadium with a live crowd?""
— senior Mia Gomez
Although being vaccinated was not required, sophomore soccer player Ellie Knoll was excited to be able to go to the game after getting her two doses of the vaccine. 
"COVID has changed [our lives] and made so many things stop," Knoll said. "Now being vaccinated means being able to go back 'to the normal things' and so going to the game felt so good." 
Senior Mia Gomez felt the same sentiment. 
"It's been so long since I've gotten to experience something that used to be normal and became so out of reach during COVID-19," Gomez said. "I was thrilled that this was finally something that could bring us back into our lives. Who doesn't love a 20,000+ filled stadium with a live crowd?"
This game was not only the first national team game to ever be played in Austin, but also the first game to be played in Q2 stadium, which is home to Austin's new Major League Soccer team, Austin FC. The first Austin FC game at Q2 Stadium is set for tonight, June 19, with kickoff at 8 p.m against the San Jose Earthquakes.
"I think Austin soccer fans have been waiting to have a professional team for a long time," Schottman mentioned. "It's crazy the dream is finally happening."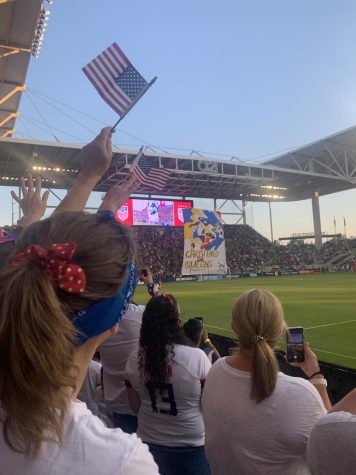 Austin FC, which was first announced to be coming to Austin back in 2018, opened their inaugural season in April with a 2-0 loss to Los Angeles FC. Since then they have maintained a 2-2-4 record, beating the Colorado Rapids and Minneasota United FC. 
"When I found out [about Austin FC] I was so excited," Knoll said. "I would have never thought that Austin would have their own football club. [It's] such a cool thing for me and for Austin."
Between Austin FC and international matches, many are excited about the future of what Q2 Stadium has to offer. 
"[I'm looking forward to] seeing how well we can perform at home now that we've played so many away games," Gomez said. 
Austin FC has a total of 17 home games at Q2 Stadium this year, giving fans at home plenty of opportunities to go in person, or for those who elect to stay home, the games can be streamed on the CW Austin. The CONCACAF (Confederation of North, Central America and Caribbean Association Football) Gold Cup Semifinal will also be played at Q2 later this summer. 
The USWNT also left Austin with great remarks, many posting on social media their thanks and appreciation for the support, greetings, and encouragement from fans. 
USWNT defender Abby Dahlkemper expressed her gratitude on Instagram, posting a picture captioned, "Well last night was fun! Austin, you showed up!! Thankful for an amazing atmosphere, the best fans in the world, and a beautiful @q2stadium."
While it is unsure when USWNT will return, Austinites can rejoice in the knowledge that just a few minutes away is the bright green of Q2.