Kicking it with Austin Anthem president, Josh Babetski
Seven years after he started promoting MLS in the ATX, Austin's No. 1 soccer fan braces for dream to become reality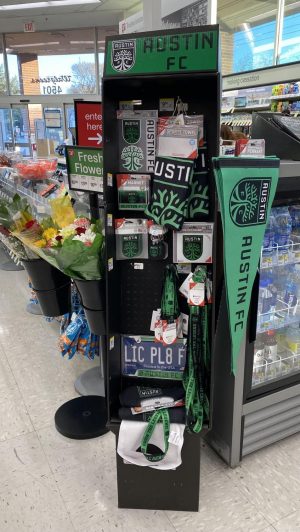 In recent years, Austin has marked its spot as one of the fastest-growing cities in the country. With this rapid growth has come bigger buildings, hundreds of thousands of new people, and now, an official Major League Soccer team.
The Austin Football Club, Austin FC, is one of the city's newest additions, but it has already made its impact known. From its founding on Jan. 15 2019, and even before then, the Austin community has jumped to welcome it with super fans starting support groups and kids joining their youth academy.
One of these said super fans is Josh Babetski. Babetski is the president of Austin Anthem, an organization that supports Austin FC and promotes local soccer. Babetski had been pushing for an MLS team to come to Austin since 2013 when he moved from New York City and realized what a great market Austin was for MLS.
"Austin seemed like such a great soccer market, but there was no 'center of gravity' to pull all the fans in," Babetski said. "It was fractured across different fans of different teams and leagues."
Austin soccer needed a unifier, so Babetski decided to start promoting the idea of a club coming to Austin, and though it was a slow process, the idea gained a footing, and in 2017, Austin Anthem got the support of American investor and sports team owner, Anthony Precourt.
"In December of 2013, I started a Twitter account called @MLSinAustin and started promoting the idea that Austin was a great market for MLS," Babetski said. "We just had to show the league, an ownership group and the city. Over the next few years, the number of people supporting and helping grew; then in 2017 with Anthony Precourt announcing his interest in a team here, things really took off."
Once Austin FC was founded, the creation of Austin Anthem shortly followed. They have stood with the club for every step of its creation and continue to do so today.
"
By the time Austin FC was officially announced, we had more members than many support groups of teams already playing.
— Austin Anthem president Josh Babetski
"Austin Anthem has been at every significant event in the club's young history," Babetski said. "In the early days, it was showing up at community events and city council meetings, and then it became creating atmosphere at rallies at club events, and now it's become setting the atmosphere when Austin FC was officially announced as the 27th team of MLS."
One of the club's main jobs facilitating from the beginning and something the members look forward to the most is that atmosphere at the matches.
"It's where the group really comes alive," Babetski said. "On match days next year, we'll help lead the stadium in chants, cheers, and songs and set the atmosphere. Members of the support group are the most passionate, and we make that passion contagious on match day."
Cheering on the team at games isn't the only way the support group influences Austin FC. They have also been given a significant voice regarding decisions the club makes, acting as a link between the city and the club, able to represent the voice of the Austin community.
"We've been fortunate to be a partner with the club," Babetski said. "We're able to influence how the club engages with the community, feedback, and ideas on stadium design. Austin Anthem even got to design part of the first jersey."
Austin Anthem also plays a big part in giving back to the community and making a point to advertise that all are welcome. The club represents all sides of Austin, and to Josh Babetski and the rest of the members, having a membership that reflects that has always been a priority.
"Soccer is a sport that lives across all language, demographic, geographic and racial lines," Babetski said. "Austin is a diverse city. Our support group operates as a 'big tent' for Austin, and all are welcome to join and participate. We advocate to make sure the match-day atmosphere represents all of Austin and not just one version of it."
Austin FC logo uses two oak trees intertwined to represent the city and club working together and four roots that symbolize all parts of the city: North, East, South, and West.
It's a badge for all of Austin. Explore the meaning behind our badge and download our fan kit for all the images you need to show your excitement for #AustinFC. https://t.co/OZFD5Q4rXP pic.twitter.com/ygYHfMPJPI

— Austin FC (@AustinFC) April 14, 2019
The club and support group also make it their mission to use their resources to support local organizations around the city whether by hosting charity drives, something that, due to the recent state of the world, looks like mask drives.
"We use our size and reach to help support local communities, organizations and businesses," Babetski said. "We've had charity drives and promotions with almost three dozen organizations over the past two years or so. We started building a community supporters group, but a good part of our mission turned into a supporters group for the community."
The city has also already begun to see the impact Austin FC has brought for the people of Austin. One positive force has been the 4ATX Foundation, created by Austin FC to attempt to close the opportunity gap and help the next generation get what they need to succeed.
"
Soccer is a sport that lives across all language, demographic, geographic and racial lines. … We advocate to make sure the match-day atmosphere represents all of Austin and not just one version of it.
— Josh Babetski
"We're already seeing the positive effects of the club with investment in local soccer through their 4ATX Foundation," Babetski said. "They've also been active in sponsoring local events and causes, such as mask distribution and food drives. This will only increase as they're able to use matches to promote causes."
But like many other things this year, Austin FC and Austin Anthem are no exception to the challenges caused by the coronavirus pandemic. With the creation of both these groups being relatively recent, there have been significant challenges with keeping the movement strong.
"The pandemic has made it challenging to keep the energy coming out of 2019 going into 2021," Babetski said. "We had plans for monthly events, like watch parties for the Olympics and MLS matches of teams we'll be playing next year, as well as things like banner painting and music practices. In the interest of safety, for our members and for the people of Austin, we've had to significantly limit that."
However, even without the pandemic, the club has faced various challenges with creating and stabilizing the club's solidity. Although they didn't have much trouble finding supporters for Austin FC, balancing the interests and ideas of all those involved has been difficult.
"One of the biggest challenges we've seen as supporters is rapid growth," Babetski said. "By the time Austin FC was officially announced, we had more members than many support groups of teams already playing. We're trying to create a group for all of Austin that's inclusive, but it's also hard balancing everyone's ideas of what the support group should be. We keep working at it though."
Through all of these challenges though, the club has continued to work together to build a strong community in Austin and with the team, effectively welcoming it to every part of Austin. Austin FC is scheduled to start playing in April and building its roster in early 2021, and the club and Austin Anthem are looking forward to many more milestones.
"Looking back at seven years, I think there's been a community successfully created," Babetski said. "It's hard at first because people don't want to latch on to a dream that seems out there, but now that it's very real, and people are excited and active to engage."