Austin is the largest U.S. city without a MLB, NFL, NBA, NHL or MLS team, and that won't change any time soon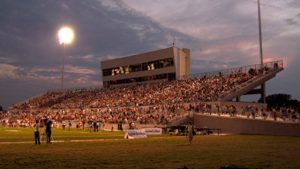 Most sports fans in Austin have found themselves in the difficult position of choosing where their loyalty lies: Houston or Dallas. An Austin option, even though it would be welcomed, has never seemed like a real possibility.
Austin is the largest city in the United States without a major professional sports team, and that will not change in the foreseeable future. According to Lance Aldridge, executive director of the Austin Sports Commission, no talk of expanding or relocating to Austin has been made within the major four leagues (NFL, MLB, NBA, or NHL).
The continuous growth in Austin the past years is a good sign for future teams coming here, but the effects of our growth won't kick in until further down the road. "While we are now the 11th largest city in the country, so much of our growth has been so recent," Aldridge said. "This means we've missed out on larger growth opportunities for most leagues."
One growth opportunity that Austin hasn't missed out on, though, is Major League Soccer (MLS). "There is a lot of talk behind the scenes regarding a MLS franchise launching here in town," Aldridge said. "This will only happen if we first are able to build a new multi-purpose facility to accommodate a potential team. This facility would need to seat a minimum of 18,000 and will also be used for high school football and several other sports."
A current soccer team in Austin is the Austin Aztex, a member of the United Soccer League, a less popular league than the MLS. In a USL News Release on October 2, 2015, the USL announced that the Austin Aztex have gained permission to skip the 2016 season because they don't have a stadium that meets the USL's standards. The flooding of House Park, the Aztex's old stadium, has slowed the team's search for a new location. The development of a new stadium will take place in 2016 and the Aztex are expected to return in 2017.
How the city goes about finding a new stadium may affect whether or not an MLS team in Austin will happen. If a new stadium is built, and it follows the MLS protocol as well as the USL's, Austin would be a step closer to hosting a MLS team. So while Austin most likely won't be one of the teams in the '24 by 2020' goal the MLS has set, it could be a viable option for further expansion of the MLS.
Other reasons why Austin appears to be out of the picture for a major professional sports team are because of proximity to other sports franchises and UT. Since DFW, which has a team in all of the four major leagues, Houston, which has a team in three, and San Antonio, home of the Spurs, are all so close to Austin, supporting a team would be difficult. UT gives another problem for any pro sports thinking about Austin. "We have also been fortunate to have the largest and arguably most successful collegiate program in the country," Aldridge said. "Therefore we've been labeled as a college town for better or worse."
So, for now, fans in Austin will still be wearing Cowboys or Texans jerseys. But there are still many other sporting events in Austin people may be interested in. In addition to UT athletics, Austin is home to some minor professional teams. The Texas Stars, the Austin Spurs, and the Round Rock Express, are all minor league teams. The Austin Aztex, and the Austin Aces, a team in World Team Tennis, a league where tennis players play in a team format, are a couple of teams in less popular leagues. Austin is also a home to auto racing and the X-games is big for many in Austin. "There's a big community of people that do that stuff," said Trent Huffaker about the X-games. A freshman at McCallum, Huffaker said he likes seeing the X-games in Austin rather than a major professional sport.
Despite there not being a MLB, NFL, NBA, or NHL team in Austin, we still have many sporting events the people of Austin can enjoy. Lance Aldridge agrees. "While I wish we were fortunate enough to have a pro franchise, we all need to be proud of what we have as the Round Rock Express are arguably the most successful MLB franchise in the country and the Austin Spurs are very successful as well!"