Committed to committing
Mac athletes take on the college recruitment process
Caroline Owen, co-sports editor, co-people editor, co-photo editor
December 8, 2022
Although it's typical for a high schooler to spend waking hours slumped over the computer screen trying to submit college applications, many high schoolers take a different route—one of ID camps, highlight tapes and calls with coaches. Many McCallum seniors and underclassmen alike are either in the thick of the athletic recruitment process or already committed.

Senior Liam Plum is looking to play NCAA Division I or II soccer next year, and despite getting a late start on the recruitment process, he is optimistic that he will find the right school to further his athletic career.
"
I've kind of always had that dream to play soccer at a more competitive level."
— senior Liam Plum
"This summer is when I really got serious, but usually the process starts much earlier," Plum said. "You reach out, usually do an ID camp, and the coach says if they're interested. Then you go from there, doing an actual college visit and training with the team. I'm kind of in the middle of that whole process right now."
Although Plum's search for the right college soccer program didn't actually begin until this past summer, he's always seen the appeal of being more than just an academic student at the school he chooses to attend.
"I've kind of always had that dream to play soccer at a more competitive level," Plum said. "When you're in a college soccer program, you're really in it. Day in and day out. I think it's more of a commitment to the school."
Like Plum, junior Sarah Hauck is looking to play soccer at the next level. Her recruitment journey, however, differs from Plum's because she is looking to play NCAA Division III. She began looking at colleges and putting herself out there in the summer before eighth grade but didn't start talking back and forth with coaches until more recently.
"I started going to ID camps just for colleges to see who I am," Hauck said. "The earlier you start, and if you're consistent, the more they're gonna notice you."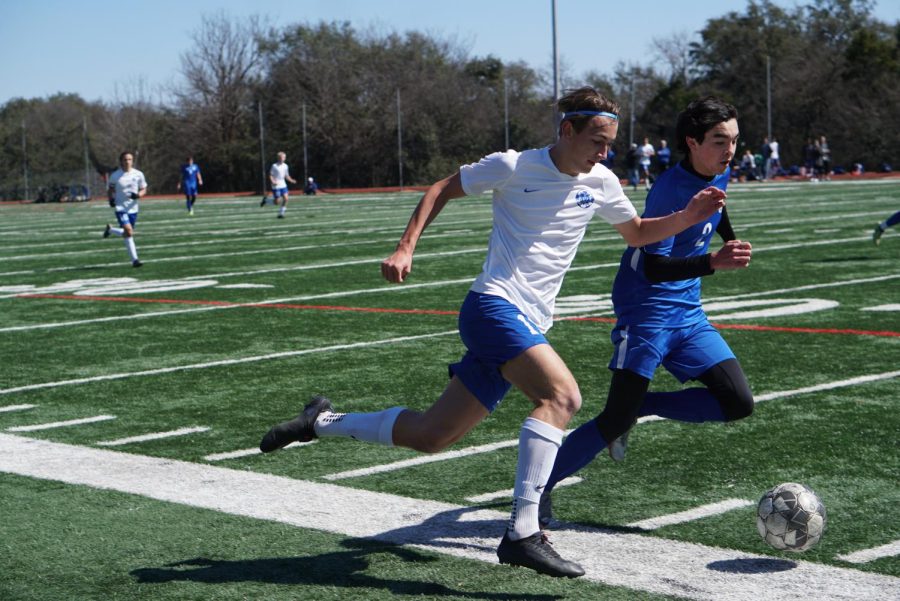 For Hauck, having parents who are willing to be involved in the recruitment process has been a game-changer. From having an everlasting spot on the sideline to editing highlight videos for college exposure, Hauck's family has been there every step of the way.
"I definitely couldn't go to my practices in San Antonio and 6 a.m. trainings without them," Hauck said. "My dad always encouraged me to go to these ID camps, talk to coaches and try my best at games because you never know who's watching."
For the Hauck family, the apple doesn't fall far from the tree. Sarah's dad, Steve Hauck, played lacrosse at Tufts University in Massachusetts. He said his years there were very gratifying. He fondly remembers the sense of community he felt because of his involvement in the athletic program. The bonds with his college teammates have stood the test of time, even after he moved on from lacrosse and settled in Texas.
"I went back to visit when Tufts went to the national championship about 25 years after I graduated, and it was great to see everybody because I'd had some good friendships," he said. "When you get on campus, you have an immediate group of friends. There's upperclassmen that can help you out, and you bond with your classmates your age because you're going through the 'frosh' year together."
"
I started going to ID camps just for colleges to see who I am. The earlier you start, and if you're consistent, the more they're gonna notice you."
— junior Sarah Hauck
Steve Hauck's knowledge of the Division III athletic environment consolidated Sarah's desire to play soccer in college and look into schools similar to her dad's alma mater.
"If you choose a more academic Division III school, that's gonna prepare you better in life, rather than going to a less well-known school just to play Division I or Division II," Steve said. "At Tufts, in the New England Small College Athletic Conference, we were considered 'scholar athletes,' so they definitely didn't put a lot of pressure on you in the offseason."
Sarah shares this interest in schools that emphasize their athletes' educational and social well-being, and her parents keep healthy expectations for her when it comes to her athletic career.
"My parents just want what's best for me," Sarah said. "If they see that I'm not as into it, that I'm having a lull, which is perfectly normal for an athlete, they understand that. They won't be hard on me."
While many aspiring collegiate athletes choose the Division III route where they can balance their sport with student life and social involvement, there is also the more demanding Division I route for athletes who want to dedicate their college years to their sport more completely.
Junior Gella Andrew verbally committed to play beach volleyball at the University of Southern California this past summer. Andrew has the kind of talent that has earned her first place in big-name tournaments and even a spot in the USA Volleyball National Team Development Program, proving that her aspirations to be a Division I athlete were within reach. Andrew's recruitment process called for dedication both when coaches' eyes were on her and when no one was watching.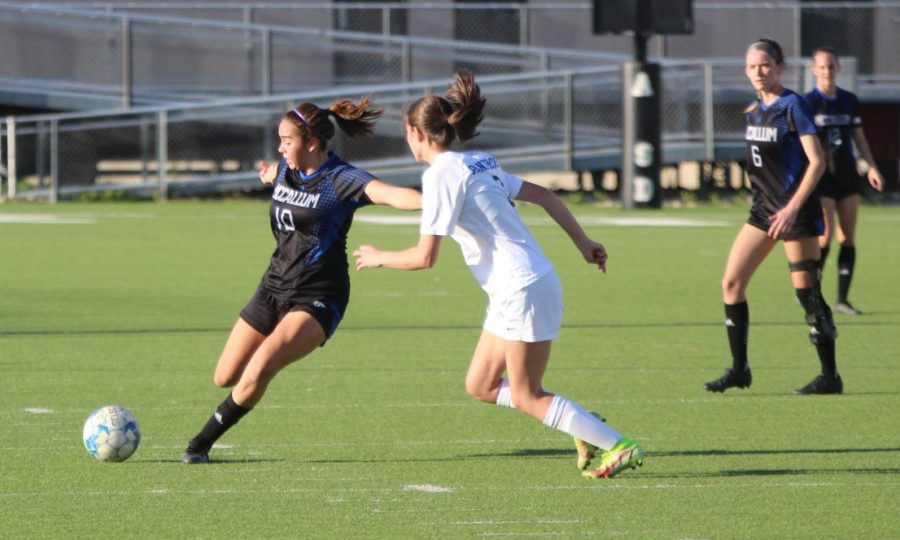 "I focused on being optimistic and taking every opportunity I could to work hard, improve and get noticed," Andrew said. "I got noticed by going to camps, sending lots of emails to coaches and placing high in large tournaments."
According to Andrew, the commitment process didn't end when she found the right school. She stays in contact with the coaches and is always eager to get more familiar with the program, so she will be prepared to wear the USC cardinal and gold.
"I got to go to a USC football game earlier in the fall and meet lots of the current team members," Andrew said. "The coaches are great too; they check in with me all the time. I will have my official visit at USC senior year."
"
I would say that the most important part is to enjoy the journey."
— junior Gella Andrew
When Andrew joins the team in 2024, she hopes to make as much of an impact on the program as possible and distinguish herself in the world of collegiate beach volleyball.
"I hope to get better and work hard every day to have the opportunity to win a national championship in college," Andrew said.
Regardless of whether the collegiate dream focuses on the team environment or the glory of being the best of the best, prospective athletes like Andrew agree that passion and optimism should be at the forefront of the recruitment process.
"Looking back on it," Andrew said, "I would say that the most important part is to enjoy the journey."