Key to Currie's stellar Mac career? Communication.
22's torchbearer hopes for legacy of 'happiness and love'
With Bobby Currie, it's always giving. He only texts in capital letters, has a pastel wardrobe color palette and carries around a mermaid sequin lunchbox. He also does everything, from band to theatre to tennis to PALS to being prom royalty.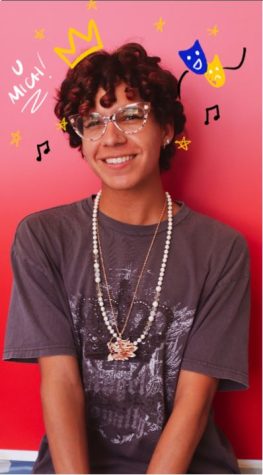 "I've always known I wanted to perform," Currie said. "To be seen and be loved and be a star."
Taking an interest in the arts, Currie joined band and theatre in middle school at Fulmore.
"A lot of people might think I just love attention, but it's more than that," Currie said. "It's being recognized and getting praise and other payoffs from something you've worked so hard on. Similarly, in band, there's a kind of energy when playing a song in a large group and knowing you are vital to the success of the piece: it's a teamwork thing."
He continued throughout high school, double majoring in band and theatre.
"It's stressful, but rewarding," Currie said. "I've gotten the chance to know so many different types of people and that makes up for the many sleepless nights."
Currie's accomplishments at school didn't stop there, as he joined the tennis team, ultimately becoming captain this year.
"Being captain wasn't something I expected," he said. "I genuinely was shocked and honored. I love tennis and getting to be captain meant being able to share that love as well as validate the work and time I had put into the sport."
According to Currie, the key to juggling multiple extracurriculars, which he feels is a "YOLO" decision worth making, is having a support system.
"Instead of feeling like you have to choose one thing only and nothing else, do what you want to do, but have that communication where you can lean on other people," he said. "You can do different things at once—I am proof that it's possible, and I've loved my time in high school."
"
By creating connections and relationships with different groups and people, I have gained so much growth and knowledge.
— 2022 torchbearer Bobby Currie
Currie's contributions to the school extended beyond extracurriculars. Being a leader for the Student Leadership Team and the Austin ISD Equity Council and a member of McCallum PALS has allowed Currie to flourish and spread change throughout the Austin community.
"I hope my lasting impact on Mac is one of happiness and love," Currie said. "I can be a lot, but by creating connections and relationships with different groups and people, I have gained so much growth and knowledge. I want others to follow in my footsteps and be leaders and advocates for change. It's been tough being as open as I am, but knowing I've helped others be themselves is so gratifying."
Just this week Currie was named the Who's Who torchbearer as the senior who has made the broadest and deepest positive impact during his Mac career. Currie is known around campus for his willingness to love everything and everyone.
"Being brown and gay has definitely been hard," Currie said. "I love who I am, though, and have come so far from my little freshman self. I now wear makeup and crop tops to school and slay my pink fits."
The future for Bobby Currie is bright as he goes to the University of Michigan next year—a school that offers everything Currie could want musically, academically and socially. He hopes to be a role model in showcasing selflessness and self confidence.
His final words of advice?
"Don't let others judge you for who you are."