Confessions of a teenage CEO
Senior Holden Satterwhite fosters love for Apple, founds, manages multi-media conglomerate–from school, home, his 2008 Toyota Camry
If you ask senior Holden Satterwhite how he started his independent media business, including an Apple news account with 42,000 followers, he'll tell you it's a long story.
Here it is: Sixth-grade Satterwhite was sitting on the couch. New to Instagram in 2015, he decided to start an account called "Apple Tech News and Rumors."
"I know," he said with a laugh. "So original."
From a young age, he has been a self- proclaimed Apple fanatic. Product releases at Apple events, Satterwhite describes, are like his Super Bowls.
"Apple products are just one of my things," he said. "Even in first grade, I remember helping teachers with the computers and stuff. It got to a point where I figured out what the admin password was."
After virtually meeting another teen in the Apple news realm, Satterwhite discovered a new world.
"He introduced me to this whole community, and I was like, 'Oh shit, I didn't even know this existed,'" Satterwhite said. "Fast forward to 2016, I rebranded to Appleosophy, because it's more original, and it's easy to find on Google—if you spell it right," he added with a smile.
Satterwhite started small.
"
I have one writer who has some sources inside. I actually have one, too, which… I know some stuff. I know some stuff that, let's just say, hasn't been revealed yet."
— Senior Holden Satterwhite
"In 2016 or 2017, I had a couple thousand followers," he said. "I think I hit 10K in 2017, maybe 20K in 2018, and then we started the Appleosophy website around 2018, when I really started exploring it."
From there, Satterwhite recruited writers from around the world, posting articles covering everything from AppleTV growth to stores that accept Apple Pay to leaking the release of the AirTag—something Satterwhite describes as an "oopsie" one of his writers got a hold of.
"There was this video Apple posted on YouTube, and I don't know how the hell he found this out or noticed it, but there's basically this photo of an iPhone frame," Satterwhite said. "The video was supposed to be a 'how to use Find My iPhone,' but it showed the settings page and it referenced AirTag, which is now released, but it wasn't at the time, so we reported on that. A couple of hours later, it blew up everywhere."
Satterwhite acquires other leaks and rumours through inside sources, though he is tight-lipped about the specifics.
"I have one writer who has some sources inside. I actually have one, too, which… I know some stuff," he said with a smirk. "I know some stuff that, let's just say, hasn't been revealed yet."
As exposure grew, so did Appleosophy's brand. In 2021, Satterwhite and his online business partner, Christopher Grainger, announced the founding of RedFruitMedia, the parent company for three branches: the Appleosophy website and social media presence, TechPod Social media management services and Apple Summit entertainment content. Grainger lovingly describes RedFruitMedia as their "child".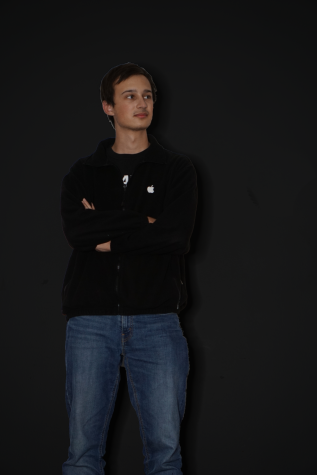 "The amount of time, effort and risk we've put in has been worth everything," Grainger said. "Now that Holden and I are 18, we're looking to orient ourselves to larger operations and for new projects to launch."
These include obtaining a limited liability company (LLC) in Delaware and extending their list of TechPod social clients, which currently includes a rapper, construction-company owner and laser hair-removal technician—"an interesting portfolio," Satterwhite describes.
"Our clients require various things," he explained. "For AWAL artists, like the rapper, we help them prepare for album drops, we help create promo images. We also helped design his website. Another example is our laser hair- removal woman; we basically run her Instagram, her social medias."
Another goal of Satterwhite's is to revamp his merchandise store.
"We don't make most of our money from merchandise, but it's sort of just a cool thing to have," he said.
 
In fact, Satterwhite doesn't pocket any gains from RedFruitMedia. At least, not in a typical sense.
"I probably make about as much as a regular high-schooler, but I could pay myself more," Satterwhite said. "A lot of it I reinvest back into the company. I have a lot of Apple shares, I also have some crypto, I have a little bit of Bitcoin. I also just got my first credit card."
Appleosophy makes most of its money through affiliate marketing, something Satterwhite explains with niche tech language. In layman's terms: advertising. And for Satterwhite, there is no better place to take marketing meetings than in the comfort of his 2008 hybrid Toyota Camry.
"I had a meeting during lunch last month in my car," Satterwhite said with a smile. "It was with an advertising firm called RevContent: they're kinda like Google but nicer."
"
I had a meeting during lunch last month in my car. It was with an advertising firm called RevContent: they're kinda like Google but nicer"
— CEO Holden Satterwhite
Satterwhite's entrepreneurship comes as no surprise to friends. To senior Will Sharp, Satterwhite is a master of goal setting.
"He's a really genuine person, and he definitely has a lot of motivation," Sharp said. "I don't know where he gets it from, but like, once he has an idea, he sticks with it and keeps going, which I think is really admirable. I don't know a lot of people that can do that."
After high school, Satterwhite plans to take a gap year to devote more time to Redfruit Media.
"I think I can make this more profitable if I really focus on it," Satterwhite said. "But what I really want to do is travel. I love traveling; it's my thing."
And for Satterwhite, it's not just about the destinations, the airplane peanuts or mastering time zones—a skill apparent in his room full of worldly clocks. The real value in travel, he explains, is the people he meets and the culture he encounters at each destination.
"What's cool is that I've met a lot of people over the years—from Norway, one who used to work for me from South Africa, from Israel," he said. "I've met some of them in person. A lot in Europe. I want to do some traveling when I graduate."
Through Appleosophy and Redfruit Media, Satterwhite has employed people from eight countries.
"Other people around the world have the same passion, and it's interesting because we are on the same page," Satterwhite said. "It's interesting meeting new people, especially online. I've learned a lot, I've made many mistakes, but I've learned from them."
"
To think that two 11-year-olds were able to start something as big as this is an overwhelming thought. Sometimes I have to take a moment and step back to see what Holden and I have done"
— Co-Redfruit media owner Christopher Grainger
And although he doesn't like to brag, Satterwhite has made major waves in the Apple news and media world. He even has his own brand of hand sanitizer.
"Citrus scented," he added with pride. "And it doesn't smell like vodka."
He has not only received acclaim for his tech rumors from websites like Gizmo and Insider but from his family, too.
"My brother thinks it's cool; he tells his friends about it sometimes," Satterwhite said. "I don't have an urge to go around and be like 'look at me' or advertise in that way. I'll talk about it if it comes up. Other people just find out magically." 
Grainger, on the other hand, is more explicit about his pride in Satterwhite and their success.
"To think that two 11-year-olds were able to start something as big as this is an overwhelming thought," he said. "Sometimes I have to take a moment and step back to see what Holden and I have done."
Leave a Comment