Not just a pipe dream
Senior Montrel Beverly forms small business, builds large following with one-of-a-kind, made-to-order creations
The first pipe-cleaner figurine that Montrel Beverly ever made was mistaken for garbage and thrown in the trash. His most recent artwork, however, is sold for a profit and has its own display case right here at McCallum.
Beverly was in elementary school when he started making figurines. The first one he ever made was a Sonic the Hedgehog, which was thrown away by a janitor who assumed it was trash. But Beverly kept working on his art. According to him, he didn't have many friends back then. Crafting with pipe cleaners was his way of finding a creative outlet that he could do by himself. 
It wasn't until high school that Beverly realized his passion for pipe cleaner artwork could be turned into a business. Mr. Rogers, the McCallum AV film teacher and director of the annual Fair of the Arts, was his first customer. 
Rogers encouraged Beverly to bring his figurines to the fair and sell them. He began by  selling his figurines for just a dollar each.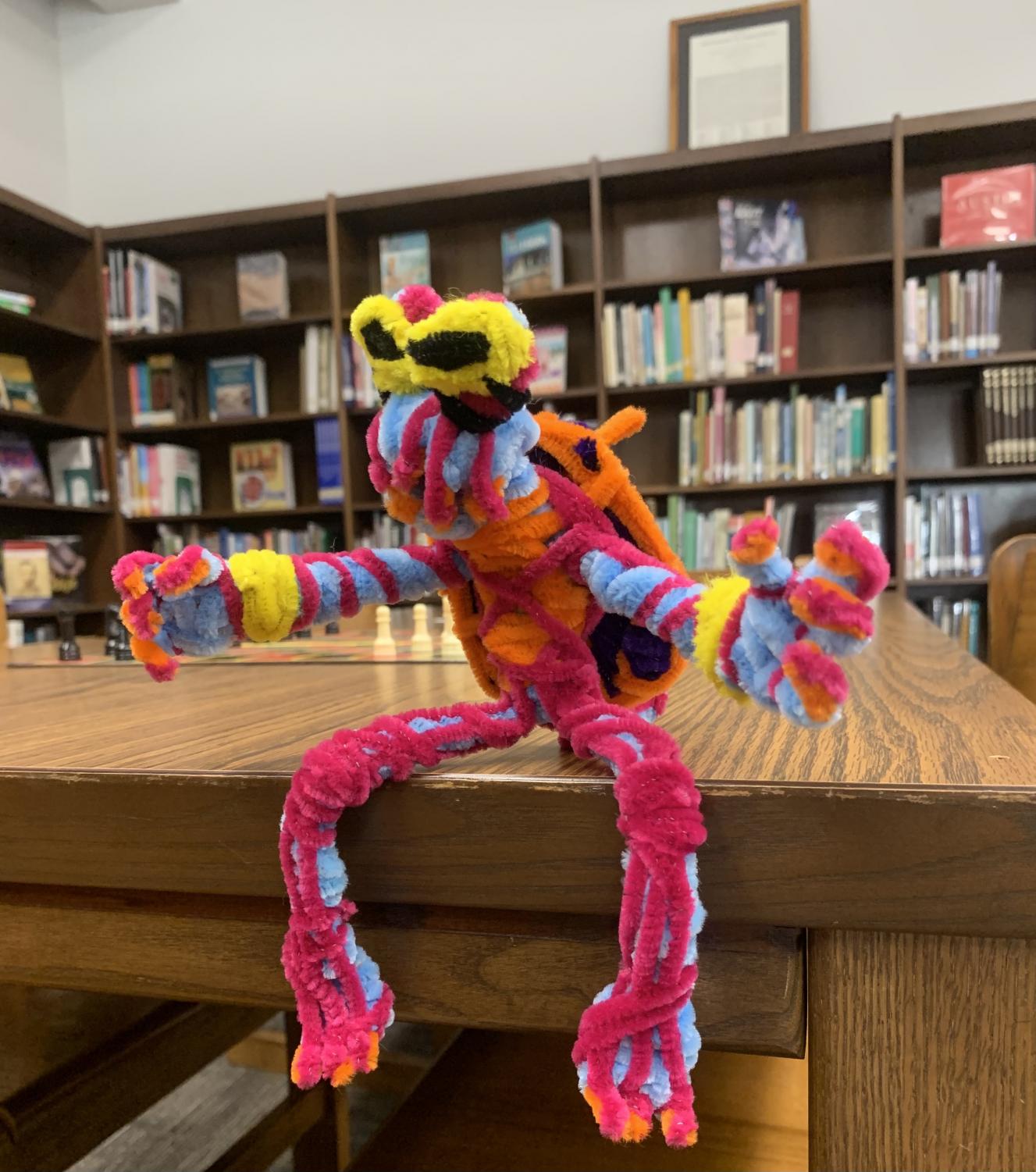 "I think he figured that's all he could get for them," Rogers said. After more encouragement from Mr. Rogers, Beverly changed his profit to three dollars per figurine. After a successful first art fair, Beverly walked away with a few hundred dollars and the realization that his pipe cleaners could be more than just a hobby.
Even though he started a business, Beverly's focus never shifted off of the art itself. He is always looking for new pipe-cleaner projects to create, and there's no shortage of ideas.
Unfortunately, the pandemic caused both the December 2020 and prospective December 2021 McCallum Art fairs to be called off. Since these shows were Beverly's main source of exposure, the pandemic definitely hindered his marketing. 
"
I just look around, see what people like and enjoy, and say, 'Hey, I'll make that and see if that gets people's attention,'"
— Montrel Beverly
Even though business is slow, he has found other ways to sell his art. The display-case window in front of the library shows off his figurines, complete with background landscapes and details on how to purchase a "Montrel original."
You can also find his work in plenty of classrooms and offices of McCallum staff, who have been devoted supporters of Beverly's business.
"It's another display of individual creativity," said Ms. Rigby, one of Mac's counselors. "Someone has a vision, they've got a skill, and he's taken it upon himself to make the most of it."
In addition to his pre-made figurines, which can be found all over the school and in the library, Beverly also does commissioned and custom pieces. "You can tell him whatever you want and he'll create it," Ms. Rigby said. "I don't have words for it. Amazing art off the top of his head."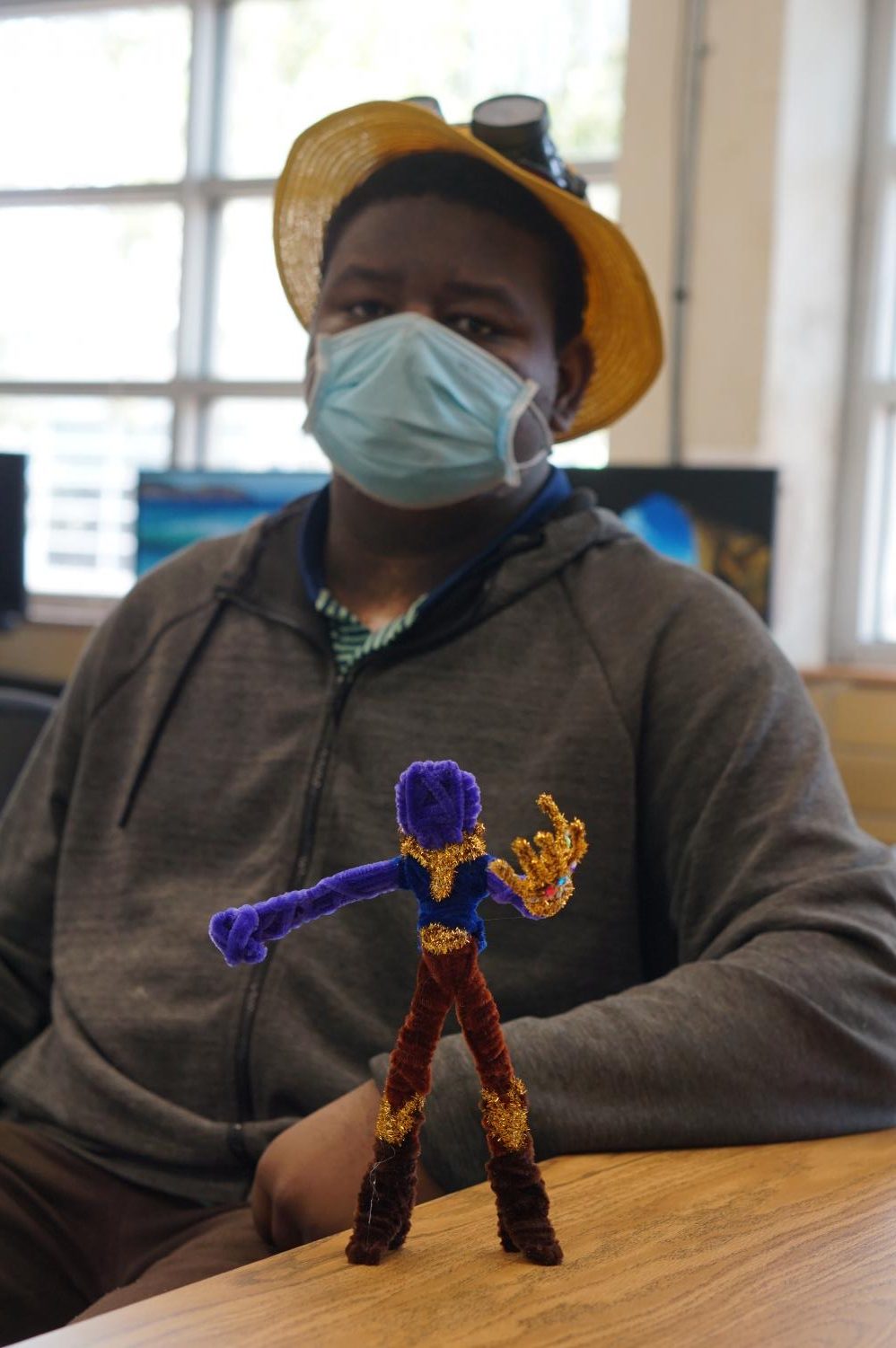 Most of Beverly's customers are just looking for a simple trinket that reminds them of a character or animal they like. But more importantly, it should remind them that a simple material, such as pipe cleaners, can be made into something complex and artistic.
 "Most people just hang them up in their bedroom, stand them up near their lamp…but that makes me happy," Beverly said. "I just wanna see people with a smile on their face."