For Borden, art provides expression and purpose
Versatile junior creates works with wide range of messages, media, finds joy in progression they see in their work
When junior Ruby Borden puts their pencil to paper, they create magic.
Borden has been making art for as long as they can remember.
"I love it," Borden said. "Currently I'm trying to figure out where art falls in the rest of my life."
Borden's art is all over the place. They dabble in sculpture, painting, drawing and more. Their pieces vary in message, Some are happy, while others more serious. They make art often, and with the intent of a reaction from viewers.
"I did a painting of the riot at the Capitol on the sixth," Borden said. "I've done paintings talking about the corruption of American politics and our economic system. Earlier in 2020, with the start of the Black Lives Matter movement, I made a piece for a non profit."
Borden holds up the piece. It's a painting of a beautiful black girl—Oluwatoyin Salu.
"She was a model," Borden said. "And she was murdered for speaking out against her sexual assault. I found that moving, and I wanted to create something to remember her."
"
I like collecting things from different parts of my life and having it on display. I like seeing all of it together.
— junior Ruby Borden
Borden makes light-hearted pieces as well.
"I like to make joyful pieces of art," they said. "It's really nice when other people find them joyful too."
They made one piece in middle school that viewers could interact with. It was put on display at a show downtown.
"The school for blind was there that night," Borden said, "And the blind students were able to feel and interact with my piece. I thought that was the coolest thing, that they could enjoy my work even though they couldn't see it. I like making people happy with art."
Borden has displayed their work in countless shows. They've been doing it since middle school, when they first joined the fine arts program. Last September they were featured in a gallery downtown.
"It was amazing," Borden said. "People were coming up to me and talking about my pieces. I felt like a professional artist."
Their favorite part of the show was seeing their work as a collective.
"I like seeing all of it together," Borden said. "I like collecting things from different parts of my life and having it on display."
Borden's room is like a gallery of its own. On the walls hang years worth of their pieces.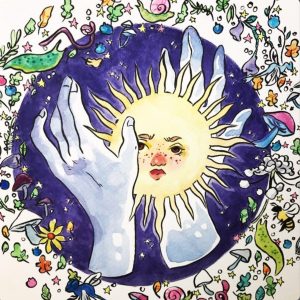 "I have lots of art on my walls that I've made," Borden said, "collecting them inspires me. The wall shows the progression of how I've changed over the years. I see how emotionally I've grown and how the subject matter of my art has become more sophisticated. You can see how what I believe is important has changed, and through my work I show how the world has too."
A lot has changed for Borden during the pandemic. Art has helped them through it.
"I think it's important for everyone to have art in their life," they said. "Maybe it's because I have such a deep connection to art. But I feel like those who are struggling during quarantine are struggling because they've lost a sense of purpose. I struggled, but then art gave me a purpose, and it's given me a meaning and something to look forward to every day."
Borden believes everyone's life can be enriched through art.
"People have this false sense that you have to be great at art to be an artist. You don't. Just make what brings you joy. Forget about if it looks good, and enjoy creating it. That's what I do. And it's helped me figure out how to be happy in this new world we live in."