Kidd draws, documents his favorite music artists in his book of profiles, 'Rap Artists of the 2010s'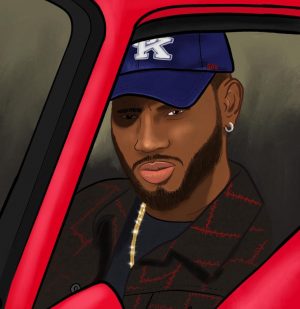 Kai Kidd isn't a musician, but he loves music.
More specifically, he loves how many genres there are, how it's always expanding and changing, and how new artists come out every day. He loves rap music and songs with a beat, and he loves the way they make him feel. Kai Kidd is, however, an artist. So, the senior channeled his passion and love for music into drawing. That's how Kidd first started drawing rap artists.
"I've always liked drawing," Kidd said. "It's a way for me to express myself. I can't always explain what I'm thinking, but I can communicate my ideas through art."
He started with his favorites: Drake, Travis Scott, Kendrick Lamar. After his fifth portrait, Kidd decided he wanted to take his art to the next level.
"I wanted to make something informative with it," Kidd said. "I enjoy being analytical about music, and I wanted to be able to talk about my opinion of the artists. I thought it would be a good idea to put that into a book."
Kidd has been working on that book for the past year. Recently, he got it published. The book is titled Rap Artists of the 2010s, and, true to name, it follows the rap artists of the past decade. Kidd has profiled about 50 of them in the book, with each profile including a portrait, a biography, a history of their work, and his overall opinion of them. But the highlight of the book are his drawings.
"
Finishing [the book] just feels really complete to me and professional. And I like that feeling.
— senior Kai Kidd
Each drawing takes between five to 10 hours.. He starts by finding a picture off the internet, then he uploads it into the app Procreate and begins to sketch over the image. He finishes by adding his own interpretive background. Kidd chose to profile artists of the 2010s because he feels they are the ones who have influenced him the most.
"I've grown up with them," Kidd said. "I've grown up as their music was blowing up. These artists have been there with me, every step of the way."
The goal of Kidd's book is to introduce readers to new artists and music styles to explore.
"I wanted to educate people, but also inspire them to get out of their comfort zone with music," Kidd said. "I want people who may be dismissive of rap music to understand why I like these artists and see them from a new perspective."
Currently, Kidd is selling his book on consignment at Atown and Book People. He's gotten some attention from it, and has even sold a copy to a hip-hop producer.
"It feels good," Kidd said, "I have gotten a lot of positive feedback … and some constructive criticism. One person even gave me a list of typos I made, but overall, it's been positive."
Kidd says he's glad that he made the book, and proud of himself for finishing it.
"I haven't done something like this before, creating a collection of my work and then selling it," Kidd said, "I liked putting it all together. Finishing it just feels really complete to me and professional. And I like that feeling."