Lindsey Plotkin: NSPA Designer of the Year portfolio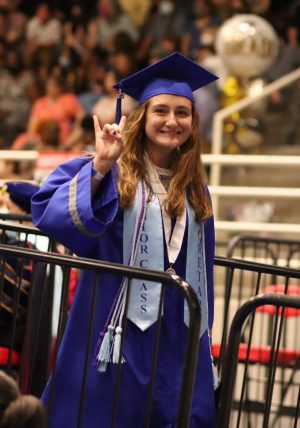 Finishing a yearbook during the beginning of a pandemic was challenging, but starting from scratch to create a new yearbook during the height of one seemed almost impossible. 
At the beginning of the school year, almost everything was uncertain, from the day we would start school to if we would be in person at all during the year. As a senior, and the co-editor in chief of The Knight, I faced many challenges, from not knowing if school pictures would happen, or if there would even be any events to put into our yearbook. 
One thing I learned early on is that this year I just needed to go with the flow if I wanted to get things done. This meant making sacrifices and changes, including stopping using InDesign, and moving to a completely new software nobody was familiar with, relying on online communication to get everybody on the same page, and learning how to work with a new co-adviser. 
One of the other major things I learned this year is how to create stories and topics to cover. I learned that even if there is only one picture from something small, like a teacher's birthday party, just a short interview with the teacher can turn it into one of the stories of the year. 
Despite being in a pandemic, I learned that I needed to widen my circle, and I did this not by physically meeting with people, but meeting on Zoom or facetime in an attempt to learn something new about my classmates that could be turned into a profile story. 
As co-editor in chief, I think I have made some kind of edit on every page in this year's yearbook. While on some spreads, it might have been just moving things around to make the spacing fit better or writing one or two captions, and on some I could have helped a group work their design to fit their content effectively. 
While this year has been one of the most challenging, the challenges I have faced have allowed me to grow and learn. I have learned how to be a better leader among my peers, learned how to better communicate with others, and learned how to work through tough circumstances. 
My growth would not have been possible without my two advisers, who were there helping and guiding me every step of the way. They helped me when I asked for it, but they also gave me the space I needed to figure things out on my own. Having my own space allowed me to make mistakes on my own so I could learn from them, but also ask for help when I needed it.
Throughout my four years as a journalist at McCallum, I have learned so many valuable skills that I will take with me for the rest of my life and career in journalism. Working closely with Mr. Winter, he showed me that hard work is the most important quality to have, and to keep a high level of production even if it will take more time in the long run.
Through the most uncertain of years, with lots of help, I was able to have my best year of journalism yet. I not only worked very hard on the yearbook, The Knight, but I was also able to grow my skills as a photographer and writer. With everything being so uncertain, I learned to be flexible and how to handle anything that is thrown at me with confidence and grace.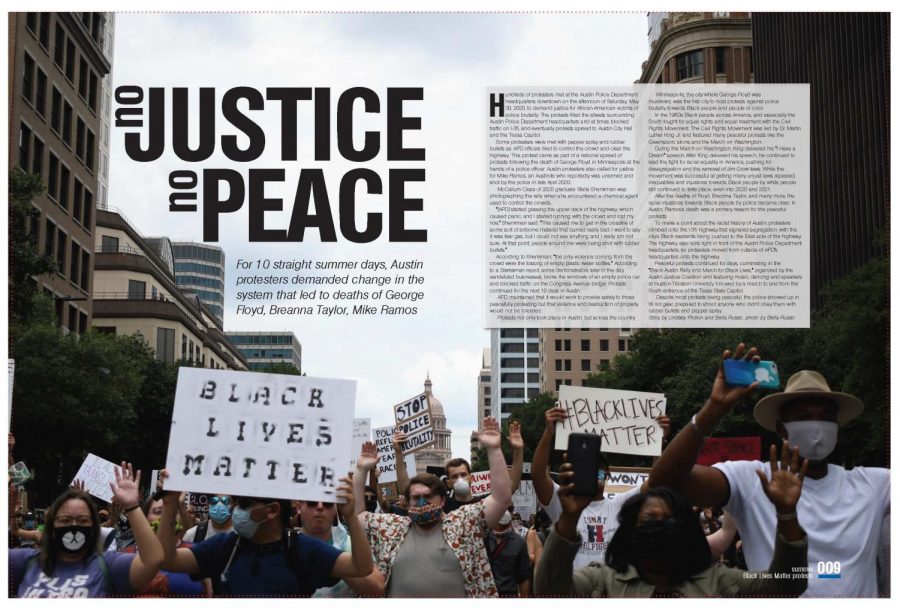 No Justice No Peace: This spread features the Black Lives Matter protests that took place in Austin, Texas in June 2020. With the rich history that Austin has with being divided by Interstate 35, I wanted to showcase the protests that happened on the side of and on I-35. The most challenging part was finding a picture that showed the meaning of the protests while showing the history of the city, so I added a historical element to the story that had already been written about the protests.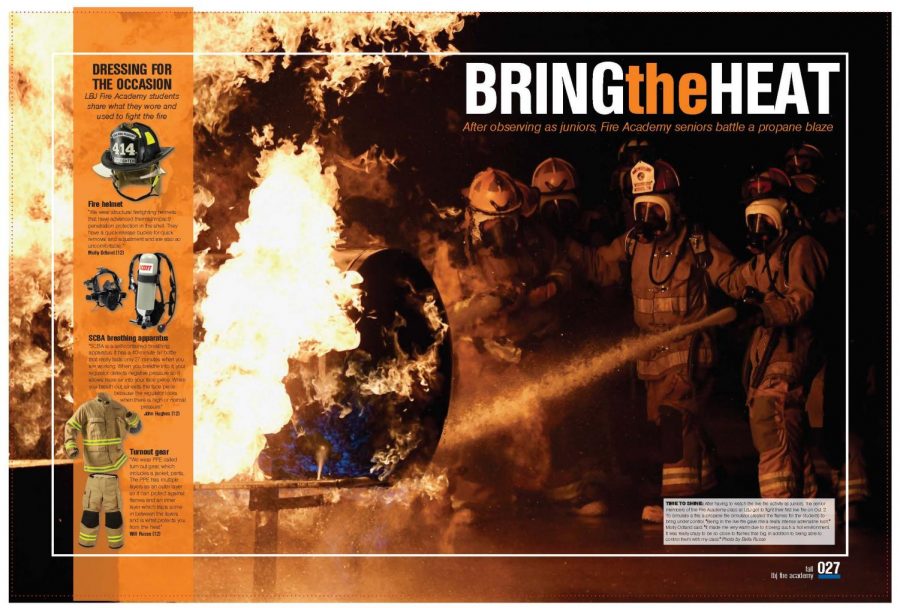 Bring the Heat: For students in the LBJ Fire Academy, the live fire activity is one of the most anticipated and prepared for events of the year. Students spend two years in the program, working to become firefighter certified as high school students, and as juniors they only get to watch the seniors participate in the live fire activity. I wanted this spread to show the intensity of the event, while also highlighting what the students have learned during their time in the academy, which the photo allowed me to do.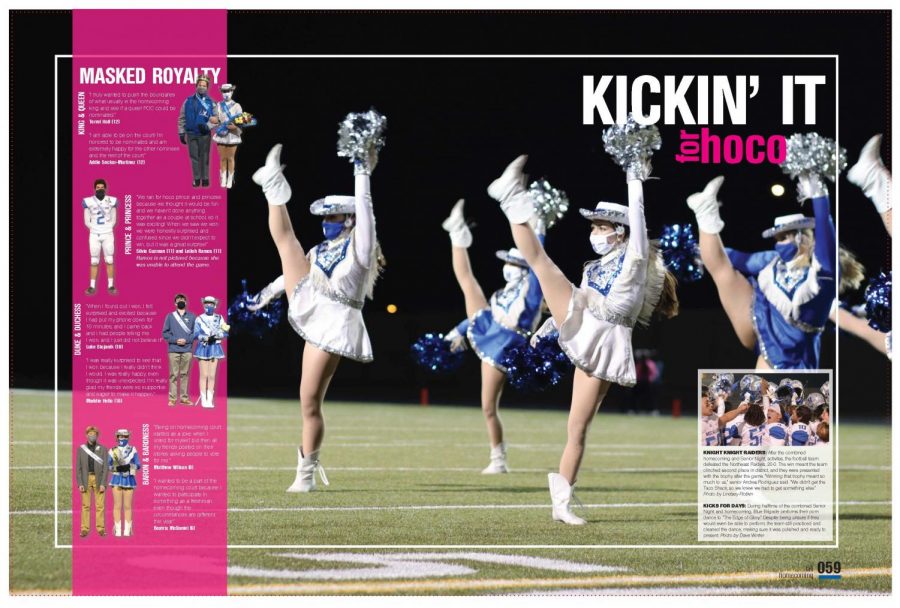 Kickin' it for HOCO: In an untraditional football season, Homecoming was in December, during the last regular season game, and on senior night. Not only was Homecoming super different for McCallum, we also shared it with our opponent, which meant the halftime festivities were half as the time they usually are. Despite all of these factors, everyone involved stayed focused, and Blue Brigade, the drill team, performed one of their best dances of the season, and the football team clinched second place in the district standings with a 20-0 win. This spread might not show all of the craziness that happened that night, but it shows the best parts of the night.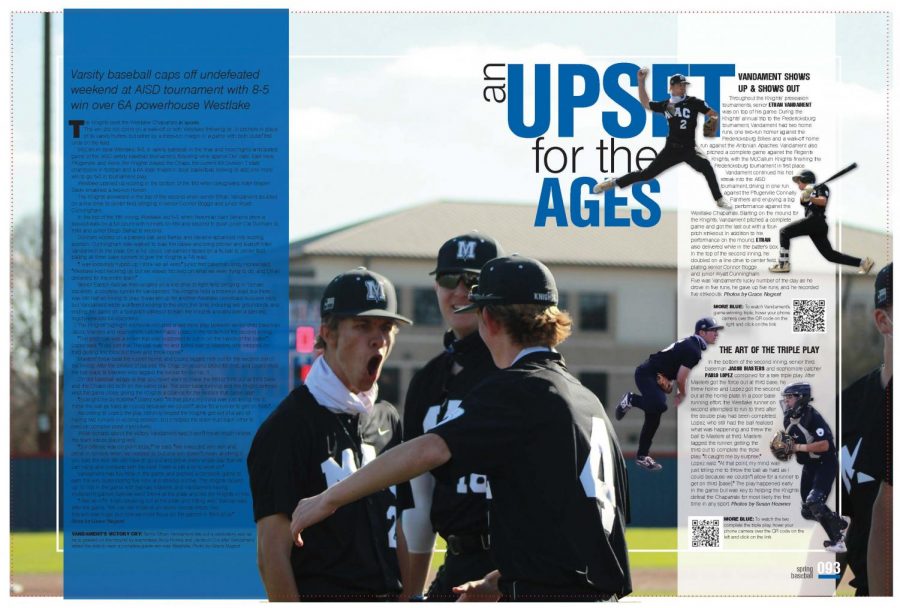 An Upset for the Ages: During a preseason baseball tournament, the McCallum baseball team pulled off an upset that nobody in the state of Texas expected. The Westlake Chaparrals are an athletic powerhouse known around the nation, while the McCallum Knights have barely been heard of outside of Austin. I incorporated QR codes into my design so that anyone can watch the biggest moments of the game, including a walk off triple for the win, and a triple play completed by the catcher and third baseman.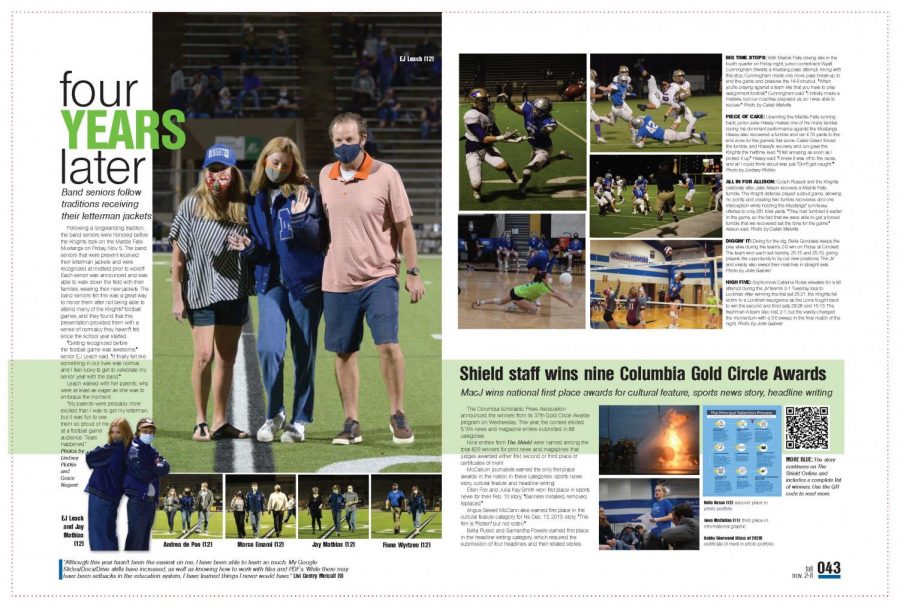 Four Years Later: This is a week by week spread that incorporated a little bit of everything with design. I worked on this spread with a group of staffers, and we wanted to incorporate multiple modules about the week while keeping the design interesting, but simple. The page included a story and cutout about band seniors and a module about the sports that happened that week, and another module about journalism awards won. This spread was fun to do because I was able to work with other staff members and incorporate their ideas onto the spread to create the final design.