Before she says goodbye, Kashdan leads one last Cabaret
Mac choir director reflects on her resignation; students sing her praises
Students know that they will soon have to say goodbye to choir teacher Allison Kashdan, who has taught at McCallum for five years, and they are cherishing the time they have with her as their director. 
Kashdan had her daughter the same week that everything unexpectedly shut down in March of 2020. 
"It definitely was not the spring that any of us expected," she said. "It became clear that the school year was going to start from home, and it seemed like AISD was really trying to be really careful about safety."
While teaching from home, Kashdan's mother, a retired teacher, helped with child care. When teachers were required to go back to school in-person in October, returning didn't seem like the right choice for Kashdan and her family.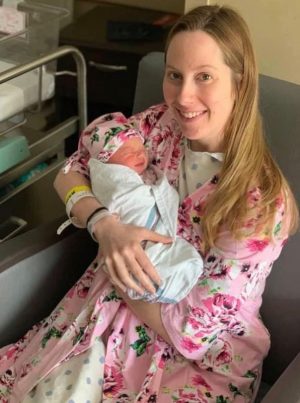 "We'd been really cautious around COVID and quarantine things since having my daughter, and my mom who is in a high risk age bracket has been in our bubble," Kashdan said. "Especially once I was deciding to teach, we've been relying on [my mom] a lot. And so as soon as I'm in the school building, all of a sudden, we couldn't see her anymore in good conscience."
It was during this time that she decided to use the Family Medical Leave Act, allowing her twelve weeks to teach safely from her home. On Jan. 21, her leave was up, and since she could no longer teach from home, she had to announce to her students that she would be resigning. 
"We cried within seconds of finding out," sophomore Caytie Brown said. "My phone was blowing up with FaceTimes, calls, texts, like 'Did you see? Did you see? Did you see?' We kind of expected it just because the district was kind of iffy on some things, and the way that the school year has been, we thought that her resigning was a possibility but we hoped it wouldn't get there. It was definitely a culture shock at first, but I know a lot of us emailed her saying, you know, just so you know, we're not mad at you or anything and we get it, we just want you to be safe, happy and healthy."
Following her announcement of resignation, Travis County reached a Stage Five risk factor and suddenly teachers and students were all teaching and learning remotely again. Ironically, the pandemic getting worse locally gave Kashdan more time to teach her students from home.
About the same time principals were given more flexibility from campus to campus, and because McCallum had so few people on campus, fewer teachers were needed on campus each day to manage the in-person student load.   
"This week to see my students just felt so good." Kashdan said upon her virtual return. "It felt it sort of just felt like no time had passed a little bit, like I missed them. But it just felt natural, doing warmups with them, singing with them, it just felt good."
The extended time enabled Kashdan to work with her students on virtual cabaret, solo and ensemble competition and UIL.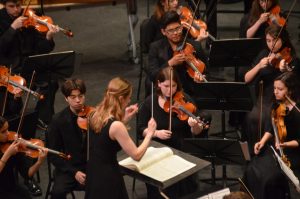 "Students are submitting recordings for that starting this weekend for a virtual cabaret," Kashdan said then. "We'll get that edited and have kind of a viewing watch party for that to try to make it be an event even though we're not able to all be physically together."
In a pandemic year and with Kashdan out on leave, the challenge of planning to stage Cabaret virtually fell to associate director Tyler Mabry, who was expecting the arrival of a child of his own.
"I think every choral instructor and choir member has found this experience to be very challenging," he said. "When the pandemic started, I scrambled to learn as much as I could about putting together 'virtual choirs' with student audio submissions."
The hard work will be realized 7 p.m. tomorrow with the online release of a virtual cabaret performance.
In a typical year, Choir Cabaret is a major part of McCallum choir that students work toward throughout the year. 
"It's our big fall concert." Kashdan said, "Cabaret is a just a big, fully-staged production with costumes and choreography and lighting, and involves the entire program. So we get 150 plus people on stage, we collaborate with the orchestra to have live accompaniment, and it's just so fun."
"Cabaret is something that Kashdan and her uncle [former choir director Malcolm Nelson] put a lot of time into and even this year it's something that's going surprisingly well, considering we're in a pandemic." Brown said. "Cabaret is something she works really hard on every year."
While realizing the cabaret is cause for celebration, Kashdan's resignation is still imminent. It's just delayed. After she leaves McCallum, she plans to stay at home and be a mom, or teach middle school, as she did before teaching at McCallum. 
"The two options on the table are being a mom, especially in this kind of season of my life of having kids and before they're in school," Kashdan said. "Otherwise, I would look at teaching middle school again, just because it allows for a little bit better family life balance."
"
Ms. Kashdan is like my second mom, honestly… [she] is really, really important to me."
— senior Elle Hemenway
While she is still teaching choir students at Mac, Kashdan hopes to honor the seniors who have missed out on their final year at McCallum — and for senior Elle Hemenway, this is beyond appreciated.
"Ms. Kashdan is like my second mom, honestly." Hemenway said. "Over the last four years, I've spent a lot of time in the choir room at McCallum. I'm in there before school, I'm in there during lunch, obviously before the coronavirus. Ms. Kashdan is really, really important to me."
Hemenway said the time this semester with Kashdan has been wonderful.
"It was really hard to think that that was just how it was going to end — no notice, that was it. I'm really, really grateful [that] it [was] possible for her to stay with us for [a while longer]. That meant so much." 
— with reporting by Julian Magee
Leave a Comment