Mac students hold out hope that Biden-Harris inauguration can usher in era of civility, unity, progress
Observers express optimism after message of conciliation, absence of violence, inauguration of first female VP
"
It was powerful to see many of the speakers at the inauguration today put the emphasis on the importance of truth and honesty, not to mention unity."
— freshman Ingrid Smith
The nation watched history in the making this morning when President Joe Biden and Vice President Kamala Harris were sworn into office, ending Donald Trump's presidency and igniting hope that today would usher in a new era, an era in which a Black and South Asian woman can become Vice President of the United States of America.
Biden enters the presidency with a great task before him: to lead America out of the COVID-19 pandemic that has already taken more than 400,000 lives, to meet the demands for racial justice being made by this country's citizens, and to unite a deeply divided nation.
At McCallum, many teachers opted to show the inauguration coverage in their classes this morning. Students watched President Biden be sworn into office and reflected on what this historic moment means to them.
President Biden's inaugural address preached a message of unity amidst deep divide. Freshman Lou Schavrda watched the inauguration live on television and admired the conciliatory tone to the speech.
"
Thousands of Americans are dying every day. President Biden will inherit the toughest situation since the Great Depression and I hope he can guide the nation through it."
— freshman Lou Schavrda
"Unity was the main message of President Biden's campaign so I am confident he will unify our nation," Schavrda said. "Bipartisanship is an important part of a functional democracy so I hope that both sides can reach across the aisle and get behind President Biden."
The nation's first ever Youth Poet Laureate Amanda Gorman recited an original poem at the inauguration and was met with immediate admiration from McCallum students. English teacher Eric Wydeven watched Gorman's recitation with his second period class and plans to assign a rhetorical analysis on the poem in the wake of his students' enthusiasm. Junior Charlotte Bearse was moved by Gorman's poem.
"It really encapsulated the optimism of today," Bearse said. "She's such a light in the dark world we've had for four years and I'm excited there's more to come."
Biden's inauguration comes just weeks after a mob of former President Trump's supporters stormed the Capitol in protest of a peaceful transfer of power. Schavrda feels thankful that President Biden will work to promote unity rather than sowing division.
"It feels like the weight has been lifted off of the country as we have a president who will create bipartisanship," Schavrda said. "We didn't have that for the last four years and the capitol riots were a perfect example of the lack of respect that former President Trump has for people who don't agree with him."
"
Biden isn't perfect, but I'm glad we at least have some decency in the White House once again."
— freshman Lily Hobbs
Schavrda acknowledges the challenges that President Biden will face as the nation's leader during a deadly pandemic that has already taken so many lives. Schavrda has hope that President Biden will succeed in leading the nation during this time.
"Thousands of Americans are dying every day," Schavrda said. "President Biden will inherit the toughest situation since the Great Depression and I hope he can guide the nation through it."
Senior Ari Miller-Fortman feels relieved with President Biden in office, but she plans to continue to hold him accountable for his promises.
"Biden is not a solution to the deep-rooted and historically profound issues that take place in America, but his presidency is a step toward changing that repeated history," Miller-Fortman said. "I hope that his administration will take the horrid actions of law enforcement against people of color seriously. I hope his administration will enforce a better plan for handling this pandemic, and I truly hope he stands behind his word when he says that he wants citizens of America to join together, despite our differences."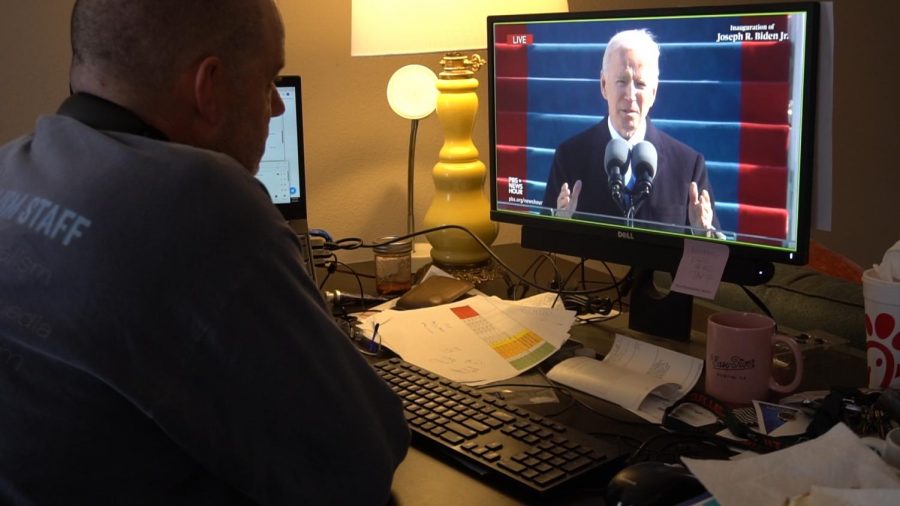 Miller-Fortman remains optimistic and joins many of her fellow Americans in celebrating this new era.
"
[Having the first female, black and south Asian vice president] will inspire others and become a very empowering historical movement for people of color. It proves old notions wrong."
— senior Ari Miller-Fortman
"For many, it is a large step in the direction of a better America for all," Miller-Fortman said. "People are relieved that we will no longer be under a president that does not care for the safety of people of color and the safety of Americans during this pandemic."
Freshman Livi Genty-Metcalf felt an overwhelming sense of joy this morning.
"I am feeling very happy," Gentry-Metcalf said. "My stomach's all twisted from nerves and excitement."
Freshman Lanie Sepehri shares this feeling of relief that former President Trump is out of office and President Biden is the new commander-in-chief.
"It feels like a collective weight has been lifted off our shoulders," Sepehri said. "The past four years have been extremely stressful and tumultuous for the country. I think this inauguration represents a new beginning and an end to the destruction brought by the Trump administration."
It was precisely that destruction that lead junior Wynter Winston to approach today's inauguration with a mix of excitement and anxiety.
"I didn't want anything to be sabotaged," Winston said of her anxiety, which thankfully ended up to be unfounded.
As the Biden-Harris administration settles in, teenagers from coast-to-coast voice their hopes and dreams for the country's future.@ReportingLabs's "We the Young People: Teen Inauguration Special" airs at 7pm ET on @worldchannel → https://t.co/MReLdc5TRg pic.twitter.com/pMvtRdnqL9

— GBH (@GBH) January 20, 2021
As part of McCallum journalism's partnership with PBS Student Reporting Labs, Mac journalism students joined high school students all across American on the PBS Student Reporting Labs special, We the Young People: Teen Inauguration Special, which was live streamed on WORLD Channel at 7 p.m. on Inauguration Night. In this promotional spot produced by WGBH in Boston, three Mac journalism students, freshman Nyla Lassiter, junior Mick Southwick and freshman Lily Hobbs all urge the incoming president and vice president to do more to put a stop to police brutality and systemic racism in the United States. 
"This inauguration was a weight lifted off a lot of Americans shoulders because we as a country have witnessed some dark times during not just this pandemic but in the last for years due to the last administration," Winston said.
Freshman Chris Ferina sees this inauguration as a sign of America's resilience as a nation after a period of such turmoil. He also admires the progress made today as Kamala Harris begins her term as the first female Vice President of the United States.
"
Twenty years from now, I hope today will be remembered as a day that inspired people to keep pushing for change. "
— freshman Poppy Grimsley-Ridenour
"I hope this day will be remembered as a day of transition and peace and a day that proves America can and will persevere and heal," Ferina said, "And that America can break the glass barriers."
Freshman Gaby Esquivel felt grateful that she was able to witness history with Vice President Kamala Harris.
"I was feeling joyful because… the moment [Kamala Harris] took her oath of office she would become the first female vice president in American history," Esquivel said. "I felt so fortunate to see that take place live."
Freshman Ingrid Smith was overcome with emotion this morning while watching Kamala Harris be sworn in as the first female vice president. Smith reflected that Vice President Harris will likely serve as a role model for many young girls in America.
"I was not expecting to be affected much by the Inauguration Day coverage as I've seen women in positions of power and running for president for as long as I can remember," Smith said. "However, I was proven wrong when I realized just how big a deal today was to many girls like me and children across the country. In the end, I shed a few tears. It's just so powerful to see America uniting to hopefully enter a time of healing and restoration."
Smith noticed a wardrobe choice among many politicians at the inauguration that she thinks reflects a broader message as the country turns over a new leaf.
The color purple was present on Inauguration Day as ensembles from emerging designers donned the Capitol stairs. pic.twitter.com/JvOUn9RDMN

— USA TODAY (@USATODAY) January 20, 2021
"It seems to me that many members of both parties chose to wear purple, a blend of red and blue, something I interpret to be a show of unity," Smith said. "This spreads the refreshing and promising message that the country is ready to heal and that better days may be in the future."
–reporting by Ellen Fox, Lucy Marco, Madelynn Niles and Lily Prather
WATCH: Mick Southwick from @McCallumHS in Austin, TX addresses the next president about racial injustice and his safety as a young Black man in the United States. CC: @AustinPBS

Catch this segment of our #WetheYoungPeople special here: 👇 pic.twitter.com/Dzs5TdtW5f

— PBS Student Reporting Labs (@ReportingLabs) January 15, 2021

Junior Mick Southwick appeared on the PBS Student Reporting Labs inauguration special, We the Young People. In a video letter to President Biden and Vice President Harris, Southwick pleaded for the new administration to do more to combat police brutality and systemic racism, especially in the wake of last summer's nationwide protests following the death of George Floyd in Minneapolis. "That affects me in my day-to-day life," Southwick said. "As a Black person, I'm wondering … at the end of the day, every day I go out, if I am going to be alright or if something is going to happen to me." He urged the president and vice president to use their new power to eradicate police brutality and racism.