Runoff election slated for four local races
Biden named president-elect; Cornyn reelected U.S. senator
November 2020 brought the election, and the national races are pretty much done. Joe Biden has been declared the president-elect and has been given permission to begin the transition into the White House that many have long anticipated. Today, the Electoral College in all 50 states and the District of Columbia cast their ballots to make it official.
Locally, Air Force veteran and Democrat MJ Hegar lost the Senate race to former Texas Supreme Court judge and incumbent Republican John Cornyn. This will be Cornyn's 18th year and fourth consecutive term serving as a senator for Texas, which he has done since 2002.
"
Today, the Electoral College in all 50 states and the District of Columbia cast their ballots to make it official: Joe Biden and Kamala Harris will be the next president and vice president."
There were some big races for school board and city council, as well. The school board race for At-Large Position 8 will head into a runoff on Tuesday between state public policy worker Noelita Lugo and Leticia Moreno Caballero, a public policy advocate and Vice Chair of the Austin Ed Fund.
AISD is also having a runoff for the District 5 position, which covers parts of central and southwest Austin, where voters will decide between president of Austin PTAs (Parent-Teacher Associations) Lynn Boswell and lawyer Jennifer Littlefield.
Runoffs for City Council include those in District 6, which includes much of Northwest Austin. Incumbent Jimmy Flannigan, a small business owner, is challenged by health and fitness coach Mackenzie Kelly. There is also a runoff in West Austin between incumbent and entrepreneur Alison Alter and Jennifer Virden, an independent real estate broker.
Senior Sarah Reyes is somewhat content with the election results, but still believes the nation still have a long way to go.
"In my opinion, there was no good option, but that's unfortunately more often than not the reality of the two-party system," Reyes said. "And I can only be grateful that we can now have a coherent and decent person in office who is trying to unify the American people instead of divide them."
Mail-in ballots were one of the key factors of the 2020 election, with more than 94 million being cast during early voting, according to CNBC. Along with record mail-in ballots, there were also record voter turnouts in the overall number of votes cast in the election.
Current President Donald Trump has called for recounts in key battleground states like Pennsylvania and Georgia, but was unsuccessful in gaining enough votes to flip the results.
Runoffs will take place tomorrow (Tuesday) after the early voting period which took place between Dec. 3 through Dec. 11.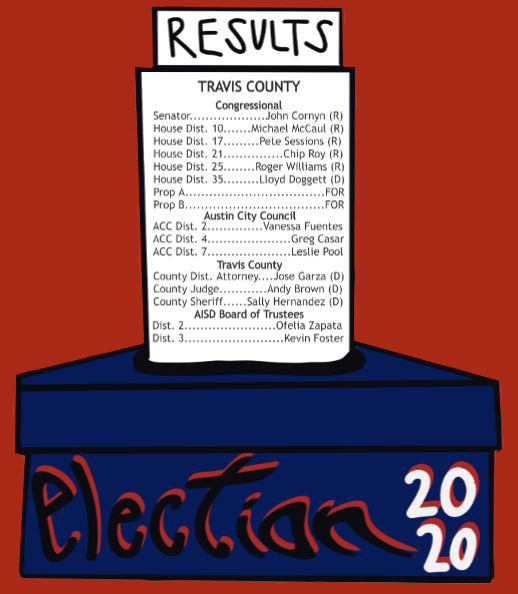 AUSTIN CITY COUNCIL
RUNOFF ELECTIONS
DISTRICT 10
Alison Alter (incumbent):
Alter's top issues are public safety, sexual assault and gun violence. She is also deeply involved in environmental work, and founded the Austin Water Oversight committee in 2019. Councilwoman Alter has been on the Austin City Council since 2017. During her time on the ACC, Alter has also served as the Chair of the Audit and Finance Committee, a member of the Mobility Committee and a board member of the Capital Area Metropolitan Planning Organization (CAMPO). More information can be found on her website.
Jennifer Virden:
Virden has been outspoken on the topics of public safety–particularly supporting core municipal groups like the Austin Police Department–as well as the reinstatement of the homeless-oriented camping ban. Virden is a born-and-raised Austinite who believes that we should focus on improving existing infrastructure instead of implementing new policies that may not benefit everyone. More information can be found on her website.
DISTRICT 6
Jimmy Flannigan (incumbent):
Flannigan's top issues, according to his website, are traffic and mobility, fiscal responsibility and safety and health. Flannigan is dedicated to the expansion of community health paramedic programs and tele-health options. Councilman Flannigan is the former president of the Austin LGBTQ Chamber of Commerce and now holds a position on the board of the Hate Crimes Task Force and is the Chair of the Council's Judicial Committee. Flannigan believes that his strong leadership style and commitment to results over ideology resonates with voters.
Mackenzie Kelly:
Kelly believes strongly in hiring more police officers to "keep the city safe", have city and federal leaders to work together to create work programs for those who are unemployed and push for regulations that allow businesses to keep at-risk workers at home in order to potentially mitigate COVID hospitalizations. More information can be found on her website.