2020: A Year in Review in Photos
The news was often bad this year, but there were also moments of strength, power, resilience and community.
Kate Boyle, Risa Darlington-Horta, Anna Garcia, Madelynn Niles, Lindsey Plotkin, Samantha Powers, Bella Russo, Hannah South, Bela Tapperson, and Dave Winter
December 29, 2020
On the last Tuesday of 2020, we are pleased to make our last Tuesday Top 10 of the year to a review of some of our best photos depicting some of the most memorable, significant and poignant moments of a most difficult and unforgettable year.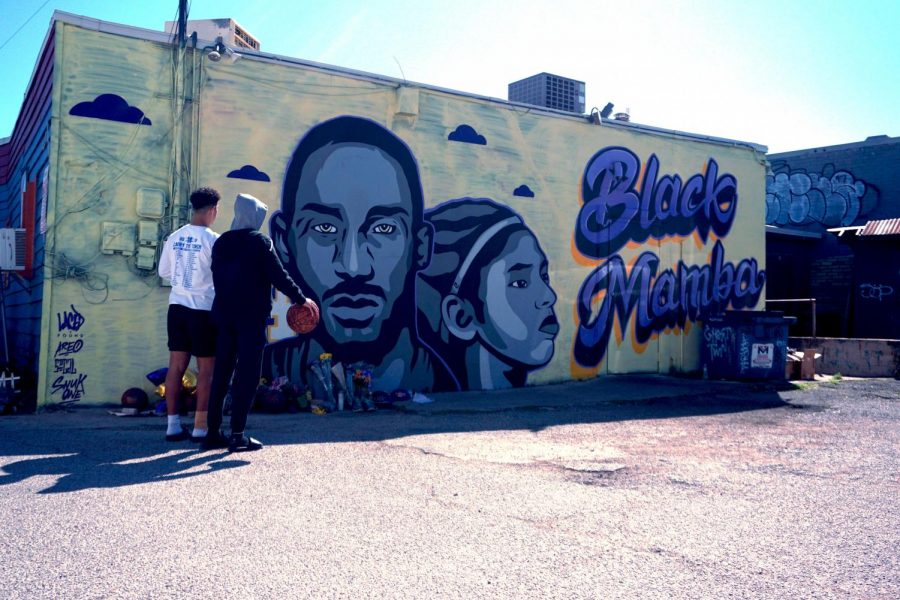 JANUARY — REMEMBERING KOBE: Varsity basketball players Albert Garza and Charlie Pecina pay their respects to basketball legend Kobe Bryant and his daughter Gianna by visiting the mural honoring their memory on the Sushi Hi building at Guadalupe and W. 29th streets. On the morning of Jan. 26, Bryant's helicopter crashed in Calabasas, Calif., killing all eight passengers, which included two of Gianna's teammates, three team parents, an assistant coach and the pilot. Photo by Lindsey Plotkin.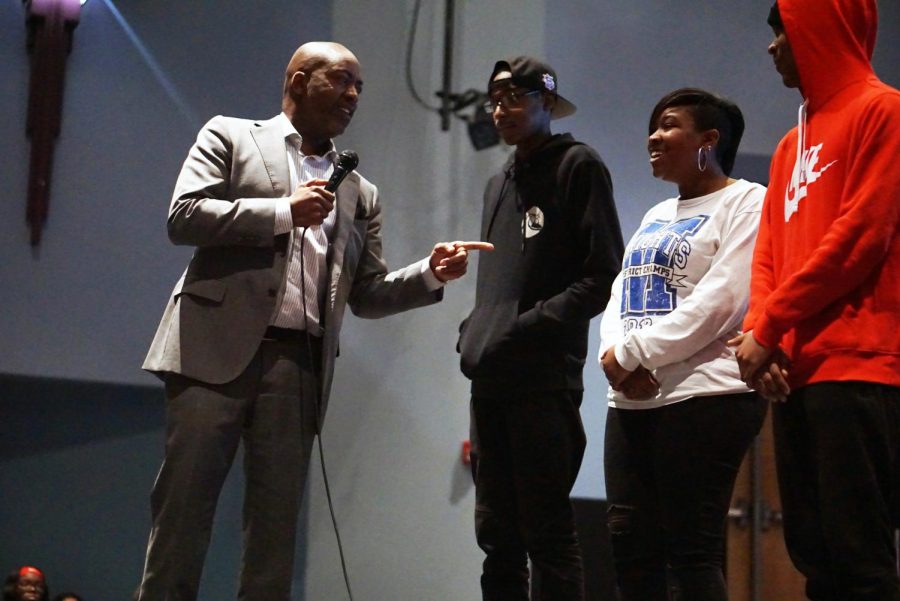 FEBRUARY — THE HISTORY OF RACE IN AMERICA: Junior Ash Dright, senior Danielle Atwood and freshman Isaiah Smith volunteer to participate in a demonstration activity during the Black History Month presentation of UT history professor Dr. Leonard Moore on Feb. 7. Moore illustrated how the American experience reduces distinct African and European nationalities and cultures into "white" and "black" categories. "What I took from [Dr. Moore's presentation] is that not a lot of people see how we feel about things," Atwood said. "We are [all] people and you can't treat us differently just because of our color and ethnicity." Photo by Dave Winter.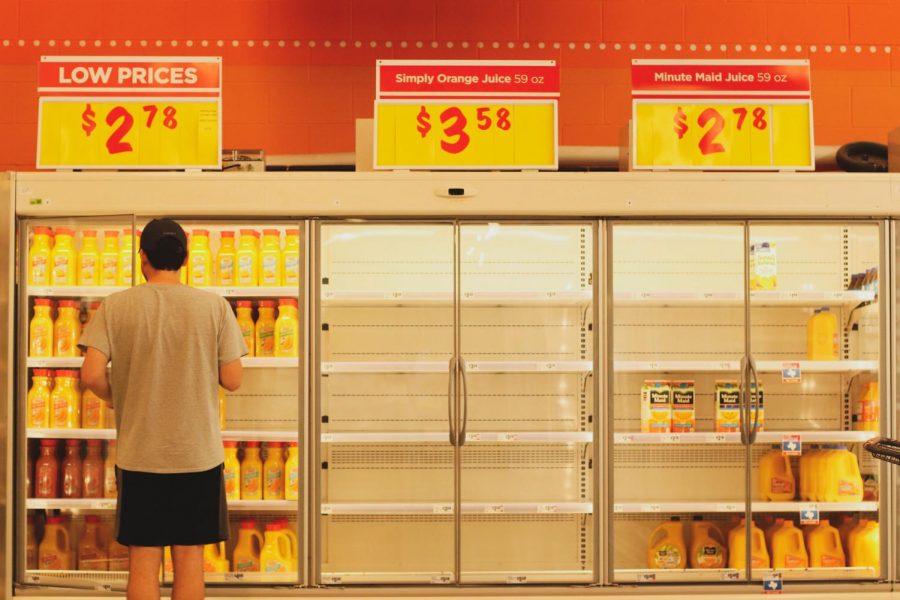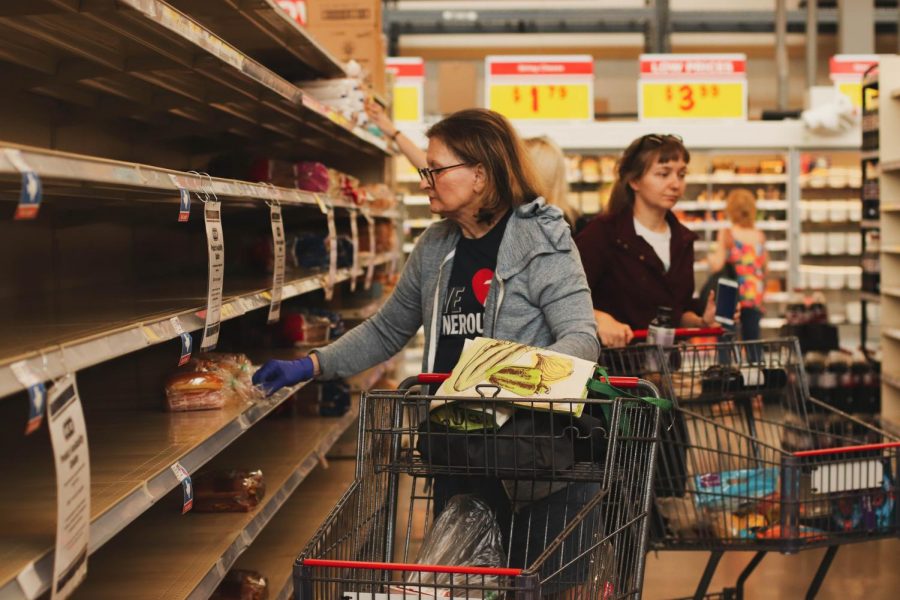 MARCH — SIMPLY NO ORANGE JUICE: The Mueller H-E-B experienced a run on groceries on March 18 as shoppers scrambled to grab necessities for extended stays at home. The buying spree included an entire aisle of orange juice. Along with the scarcity of orange juice, the shelves were also mostly or entirely devoid of bread and as well as mixes for muffins, cake, bread or pancakes. All the flour aisles were empty.  This unidentified shopper grabs one of the last pieces of bread left in the whole store. While the image of scarcity is disturbing, H-E-B officials have encouraged shoppers not to panic shop by constantly restocking to satisfy their customer demand. H-E-B posts product availability to its website. Mayor Steve Adler has urged citizens to buy only what they need to allow other people the chance to buy the supplies that they need. Photos by Risa Darlington-Horta.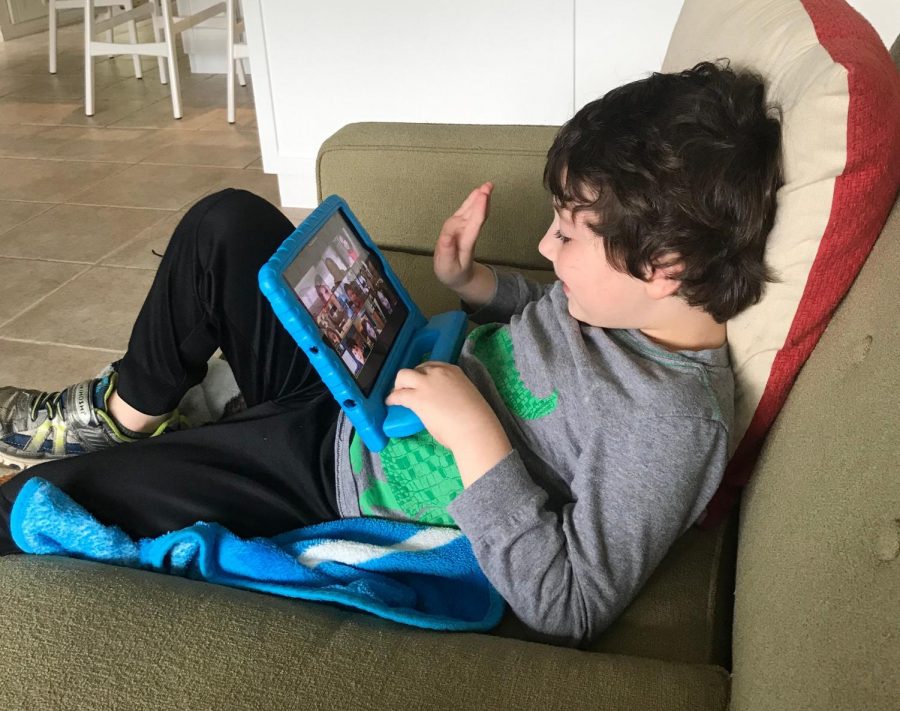 APRIL — ZOOM TIME! In order to minimize the risk of student and staff exposure to COVID-19, Austin ISD Superintendent Paul Cruz announced in a March 16 email that Austin ISD classes would be canceled for students only from March 23 through April 3. The first day of classes throughout the district was Monday April 6. For kindergartners like Max Garcia, it's very difficult to find ways to learn while practicing social distancing and having two working parents. The solution to this? Well, obviously a Zoom class. Garcia joined his first Zoom on Tuesday April 7. He waves to his fellow classmates through the screen after not seeing them for weeks. Photo by Anna Garcia.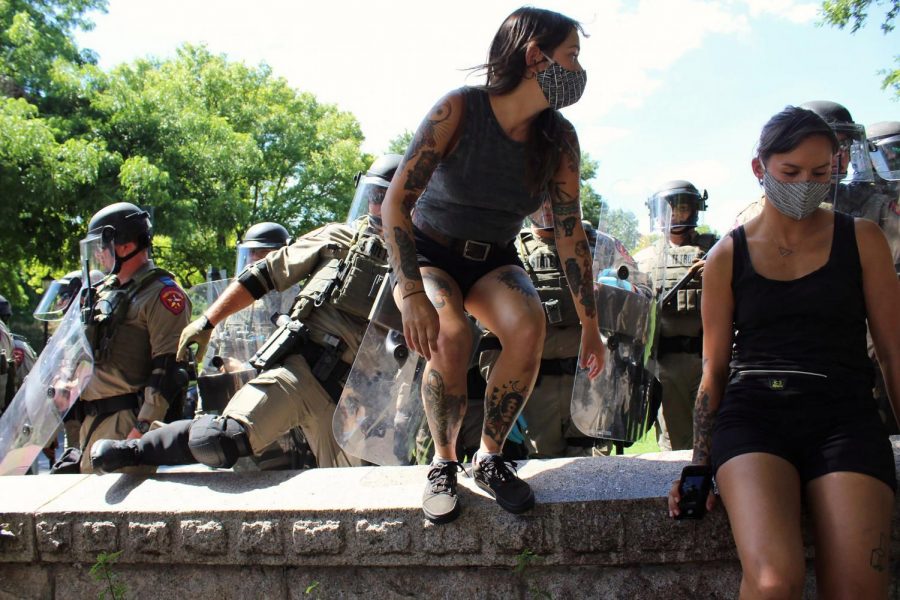 MAY — PROTESTORS ADVOCATE JUSTICE FOR GEORGE FLOYD, MIKE RAMOS: A woman is forced over a wall as state troopers force protesters off of the Capitol grounds. Hundreds of protesters met at the Austin Police Department headquarters downtown on the afternoon of May 30 to demand justice for African-American victims of police brutality. The protests filled the streets surrounding the Police Department headquarters and at times blocked traffic on I-35, and eventually protests spread to Austin City Hall and the Texas Capitol. Some protesters were met with pepper spray and rubber bullets as APD officers tried to control the crowd and clear the highway. This protest comes as part of a national spread of protests following the death of George Floyd in Minneapolis at the hands of a police officer. Austin protesters are also calling for justice for Mike Ramos, an Austinite who reportedly was unarmed and shot by the police in late April. Photo by Bela Tapperson.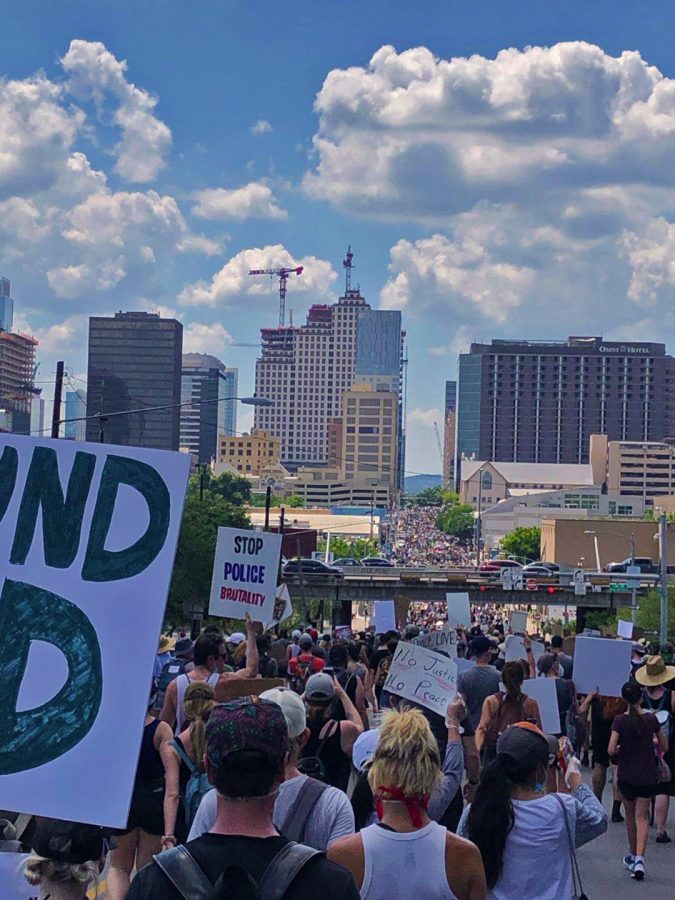 JUNE — THOUSANDS RALLY FOR RACIAL JUSTICE ON 10TH DAY OF DOWNTOWN DEMONSTRATIONS:  Sunday's rally and march against police brutality marked the 10th consecutive day of demonstrations to demand real change to stop police brutality and to redirect city resources not just to address police brutality but also Austin's long history of racial discrimination. Today's "Black Austin Rally and March for Black Lives" was organized by the @austinjusticecoalition and featured music, dancing and speakers at Huston-Tillotson University followed by a march to and from the South entrance of the Texas State Capitol. The event was promoted as an opportunity to hear "black voices, black stories and … black solutions" and the event was exactly as advertised. Speakers included Chas Moore, the executive director and co-founder of the Austin Justice Coalition, and Brenda Ramos, the mother of Mike Ramos, who was shot and killed by Austin police in April. Dr. Colette Pierce Burnette, president and CEO of Huston-Tillotson University hosted today's rally and told the thousands who came to the East Austin campus that the protest represented a movement not just a moment. @KUT_Austin morning news anchor Nadia Hamdan estimated that the crowd easily exceeded 5,000 people, a much greater number, she said, than the number that attended the protests the weekend before. Rising junior Hannah South was one of the thousands who showed up at today's event. She said she attended because she "sees the injustice toward people of color in America and wants to be an ally to the black community." South described the event as extremely well-organized with snack, drink and first-aid stations all along the march route with powerful speeches and songs. "The Austin Justice Coalition did an amazing job at organizing this peaceful protest," South said. Despite the 95-degree heat, "the Austin community just powered our way there." Photo courtesy of South.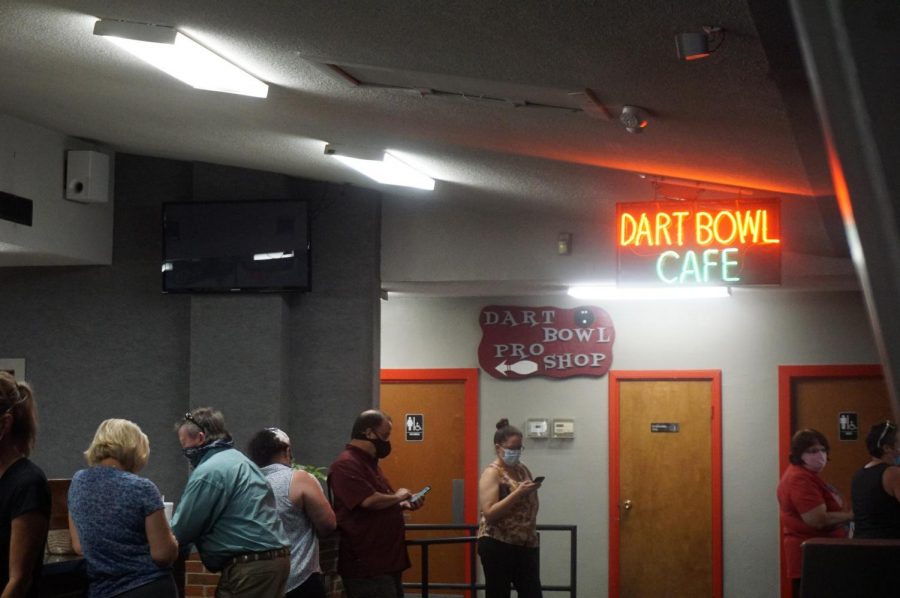 JULY — LAST DAYS OF DART BOWL: The Thursday afternoon crowd at the Grover Avenue alley swelled throughout the day, but many of the visitors did not come to bowl. Much of the crowd turned right upon entering to form a long line that waited for a final opportunity to eat Peggy Zamarripa's signature enchiladas drenched in chili, cheese, onions and peppers, the dish she perfected for nearly 50 years working at the alley cafe. While they waited patiently stretching in a long line with appropriately socially distanced gaps, masked visitors watched the bowling games unfolding beside them. The Dart Bowl, McCallum's neighbor and partner for the past 62 years, closed forever at midnightthe following Friday (July 17), a business casuality of the coronavirus. We are working on a feature profile of the historic alley and all it has meant to McCallum over the years.  Dart Bowl was the place where Mac students congregated, sometimes when they were supposed to be in a classroom across the street. It was the home of McCallum's bowling team, which has enjoyed several years of competitive success with Dart Bowl as its practice location and home alley. Photo by Madelynn Niles.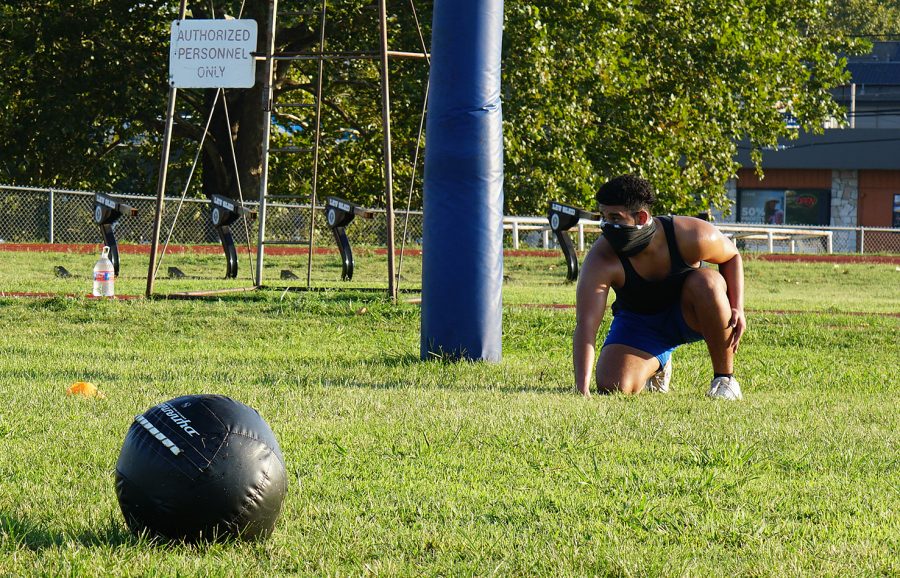 AUGUST — STRENGTH AND CONDITIONING BEGINS: The football program resumed strength and conditioning drills this week per Austin ISD Athletics policy that fall sports could restart conditioning activities on Monday, Aug. 24. At Tuesday's second day of training, which ran from 7 a.m. to 8:30 a.m., position groups worked at organized weightlifting and conditioning stations set up outside all over the practice field. Full team practices can start on Sept. 8 for 5A and 6A schools per UIL guidelines. Photo by Dave Winter.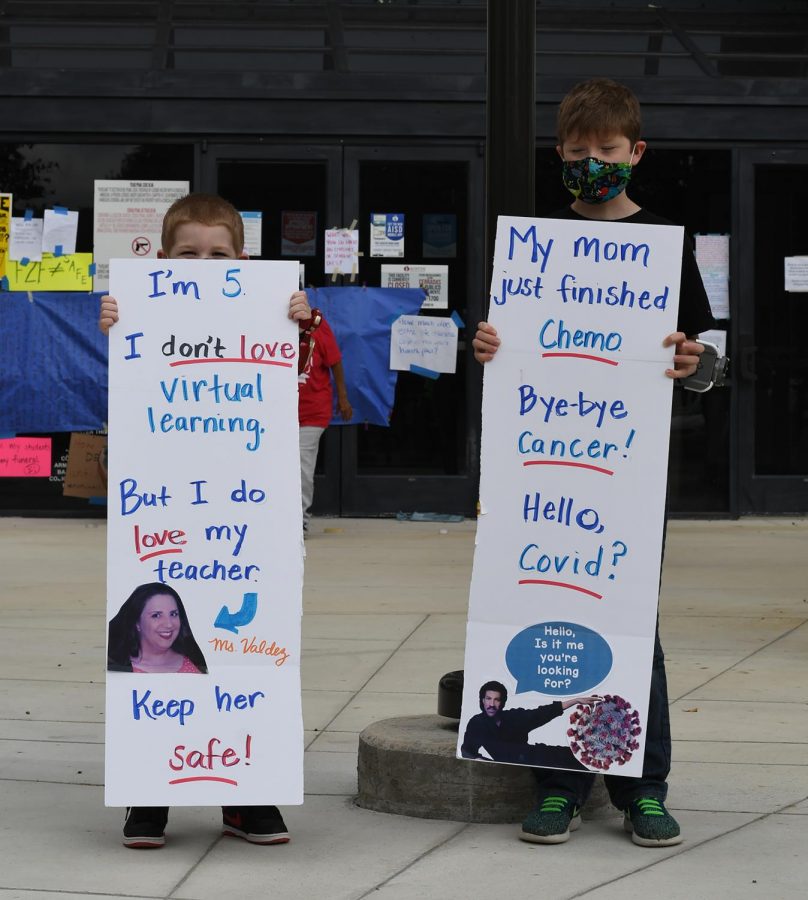 SEPTEMBER — STAFF RALLY FOR A SAY IN SCHOOL RE-OPENINGS: Emil and Silas Ramírez-Sosa hold their signs in front of the AISD Southfield headquarters, before posting them to one of the front facing windows of the office building. The Ramírez-Sosa brothers are students at Lively Middle and Perez Elementary schools. Their mother has just finished her last chemotherapy treatment after a recent cancer diagnosis. Silas and Emil could have been celebrating with their family, but instead, the Ramírez-Sosa brothers were among the youngest protesters that rallied at the AISD office building on Saturday, Sept. 26. Their mother is Caroline Sweet, a teacher at Perez Elementary School. They are worried that so soon after winning a battle with cancer, she will have to put her life on the line as a school teacher during a global pandemic. Photo by Bella Russo.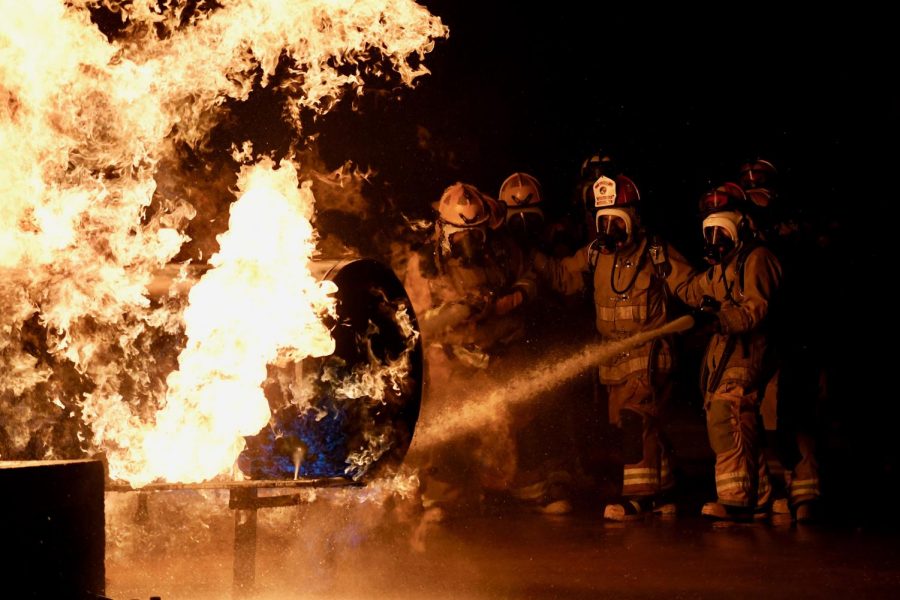 OCTOBER — WEEKEND FIRE DRILL: Students from the LBJ Fire Academy work their way towards a propane fire on Oct. 3, using fire hoses to control the blaze. The purpose of the drill wasn't to put out the fire, but to use the spray to get close enough to the propane tank to turn off its fuel source. Five McCallum seniors, John Hughes, Thomas Lucy, Tex Mitchell, Molly Odland and Will Russo, participated in the live fire skill day, where they put into practice what they've learned during the two year student-sharing program at LBJ High School. "Being in the live fire gave me really intense adrenaline," senior Molly Odland said. "I was the head of my group, meaning I was in charge of directing the hose line at the fire while my group supported me from behind." Senior Will Russo, who also had the chance to lead the group, said that the drill felt like being in a hot car. "It wasn't all that scary since you were with a bunch of people, but it was kind of intimidating because there was nothing in between you and the fire but water," Russo said, before adding that "the propane smelled kind of like pumpkin spice."  The next live fire the students will tackle will be a class A structure fire later in the month, before beginning EMT certification training in the spring. Photo by Bella Russo.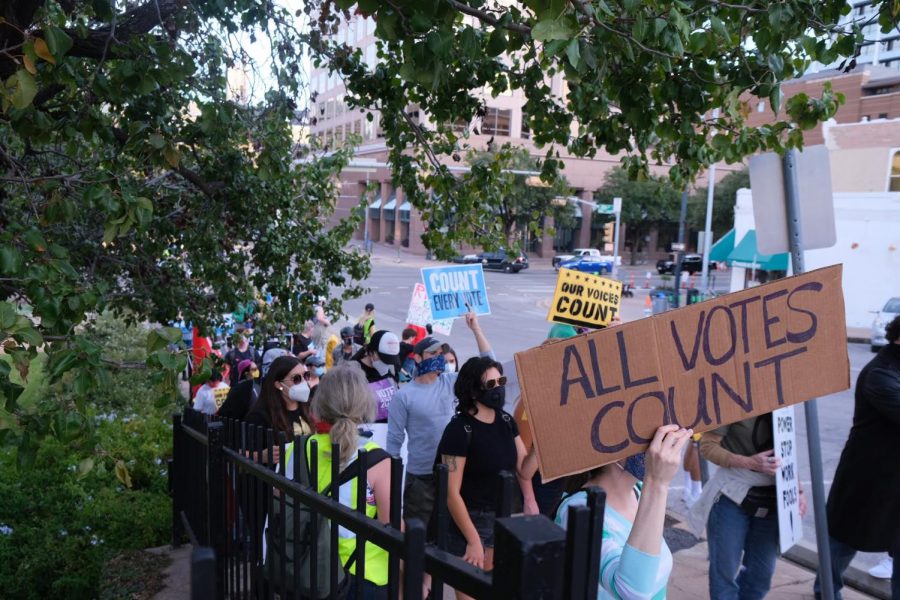 NOVEMBER — PROTECT THE VOTE: On Wednesday, Nov. 4, the day after Election Day, the Austin Justice Coalition organized an afternoon rally in downtown Austin to insist that all ballots cast in the election be counted. With increased mail-in voting because of the global pandemic not all of the votes have been counted. Earlier on Wednesday, President Donald Trump's campaign said that they had filed suits to halt counting ballots in Michigan and Pennsylvania. The people who assembled today at Woolridge Square contend that stopping the vote count could distort the election results and silence people's voices. While waiting for the demonstration to begin, protesters sang "Keep Your Eyes on the Prize," a song from the civil rights movement. "Every vote matters, every person matters." said Gudy Bradsbird, who attended today's demonstration. "We're ready for a change. We're worried about the future for our kids, our grandkids, and our great grandkids. We've got a really small window of time to make the changes we need to make so they can have a better future." Photo by Kate Boyle.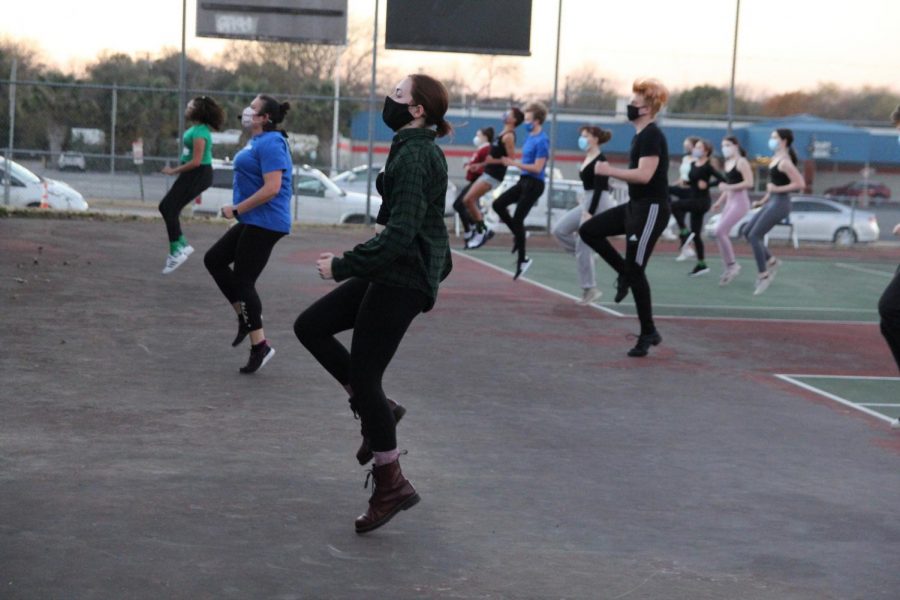 DECEMBER — ROYAL TENNIS COURT PLAYERS: MacTheatre held auditions for its upcoming musical Urinetown on Dec. 9 and 10 this week. Vocal auditions took place on Wednesday, and social distancing protocols were enforced by allowing one student into the Fine Arts Building Theatre at a time to audition and requiring masks at all times except when a student was singing. Junior Grace Hickey thought that individual time slots helped her to relax while auditioning. "They were a lot less stressful since they were individual instead of 10 per group," Hickey said. Dance auditions and callbacks took place on Thursday, and the dance auditions were held on the tennis courts in masks. Sophomore Anderson Zoll was excited to audition and enjoyed the flexibility of his fellow auditioners at the dance auditions, even in new circumstances. "It was a little harder than normal because we didn't have mirrors and it got dark very quickly," Zoll said. "We all were very excited and made it work by using the flashlights on our phones to see." Junior Charlotte Bearse also reflected on the differences between these auditions and previous ones, but made light (get it?) of the situation. "It was an extremely different experience from the other, especially the dance call," Bearse said. "But hey, if I messed up, it was almost completely dark on the tennis court." Overall, actors, dancers and singers alike were glad to return to their craft after a long hiatus. "I was so glad to get back and see everyone," Zoll said. "I have missed performing live theatre more than anything during this pandemic and I was so glad we are able to start safely performing again." The announcement later in the month that fine arts parents had negotiated a partnership with Lowe's to realize an outdoor stage on campus bouyed hopes that the spring musical and other spring fine arts performances would see the sunlight of day next semester. Caption by Samantha Powers. Photo by Dave Winter.