How to cure the COVID-19 quarantine blues
Normally our page of the month would tell you where to go in Austin this month, but since that's not where we are, here's our sure fire way to have fun at home while you are doing your part to keep the coronavirus at bay
As the coronavirus continues to spread, causing mass panic around the world, it may be all you're hearing about. You might be sitting in your house, bored out of your mind and tired of watching the same headlines flash across your news feed as you're forced to stay at home. Fear not, dear Shield readers! We've got you covered with a series of recommendations to keep you occupied during the quarantine. Containing movies, books, games and more, we are proud to present a digital-edition Page of the Month for March or as we are fond of calling it … wait for it … the Page of the Month: Quarantine Edition.
Entertainment Option 1:
Movies that aren't about an apocalypse (except for one)
Samantha's Picks:
Although this 1999 film is considered a classic among earlier generations, Notting Hill may be unknown to rom-com fans from the age of To All the Boys I've Loved Before. For those younger readers and rom-com fans, I'd like to recommend Notting Hill, a hilarious film about star-crossed lovers. Hugh Grant plays an endearingly awkward British bookseller who falls in love with an ill-tempered American movie star played by Julia Roberts. The two met by chance, and they couldn't be more wrong for each other, yet the viewers find themselves rooting for the couple. They are accompanied by a hilarious cast of characters, a beautiful set and a heart-wrenching script. This movie is sure to bring laughs to the mouths and tears to the eyes of its viewers and I highly recommend it.
You might be sitting here reading this article because you want to escape from the global whirlwind of the coronavirus outbreak. You might be thinking, "Maybe this will help distract me from worrying about an apocalypse." Although I can't promise that, I can promise that this 1998 movie isn't about a global pandemic: it's about an asteroid. Armageddon is an apocalypse movie. Now hear me out: it's a very well-done apocalypse movie, and there's definitely enough going on to keep you distracted from any worries or cares. This movie has it all: Bruce Willis plays the curmudgeonly but brave patriarch, Ben Affleck plays the impulsive but charming apprentice, Liv Tyler plays the beautiful and headstrong heroine, and Steve Buscemi plays the folksy sidekick. When the world is shaken by a series of asteroids that threaten to end the world as we know it, we turn to our brave heroes whose job it is to save the day. This harrowing tale will keep you on the edge of your seat from beginning to end.
This 1993 movie is a staple at my house, and I am pleased to share it now with my dearest Shield readers. For those looking for a family movie about animals that doesn't uncomfortably animate their mouths, this is a perfect choice. Homeward Bound is an adorable movie about an intrepid American bulldog named Chance, a fatherly golden retriever named Shadow, and a wise-cracking Balinese cat named Sassy. After their family leaves them behind at a ranch before taking off on a flight to San Francisco, the three pets embark on a treacherous journey through the wilderness in California. Viewers' hearts are with these intrepid creatures as they try to find their way back home. For those of you who just can't get enough of these three adventurous pets, fear not: they're back to their old antics in the sequel, Homeward Bound II: Lost in San Francisco. Enjoy a night in with the family when you watch this hilarious, harrowing and sometimes even tear-jerking film. 
Alysa's Picks:
As you're sitting in your three-day-old pajamas and wallowing in your misery, perhaps consider this 2013 film that will grant you a 1 hour and 54-minute escape. This movie follows the life of Walter Mitty, played by the not-so-hard-on-the-eyes Ben Stiller (this is my opinion), as he travels across the globe in search of a cryptic, mysterious photographer. From skateboarding in Greenland to jumping into the ocean from a helicopter to climbing the Himalayas, this film creates a world you'll never want to leave. This isn't your basic adventure movie — not only is this a cinematic masterpiece, but the film's message of what it really means to live may just bring a tear to your eye. Allow yourself to live vicariously through Walter Mitty. 
I didn't like Hereditary. There, I said it. All you film geeks can yell at me all you'd like about how I'm missing the symbolism and how Ari Aster is a genius and a visionary and is reinventing horror, but guess what? I can't hear you because we're all in quarantine! Ha! With that being said, when I started watching 2019's Midsommar, my expectations were low. But alas, I wrongfully judged. What a masterpiece. No cheap jump scares here, folks. This film follows a group of friends as they attend a rumored midsummer festival in Sweden. Then things go wrong. This film isn't for the faint of heart; it's gory and bizarre. If you stomach all of the weirdness, you'll find a chilling story about the dangers and extremes of human nature.
Another hot take: 1917 deserved the Oscar over Parasite. 1917 isn't just another war movie. This is art. Follow the lives of two soldiers in WWI who are faced with the task of traveling across enemy territory to deliver a message that could save the lives of thousands of soldiers. This 2019 movie isn't easy or comfortable to watch–even as an audience member, you feel like you're walking on a tightrope. This is in part thanks to cinematographer Roger Deakins, who shot and edited the film to make it look like it was all taken in one shot. The artistry and intricacy of this movie is insane. For two hours, you will be transported to the German trenches and feel the gut-wrenching horror WWI soldiers felt. As the final credits roll, you will sit back in your chair and let out a sigh of relief, thinking to yourself, "What did I just watch?" And that, my friend, that's how you categorize a great movie, a movie that encourages you to really think. 
I'm a sucker for satire and a sucker for aesthetic films. So really, there's no way I couldn't like Jojo Rabbit. This 2019 coming-of-age film follows takes place in Nazi Germany and is centered around 10-year-old Jojo. The wordplay and screenwriting of this film is fantastic. I was guffawing (I love that word) throughout this entire film. Not to mention Jojo, played by Roman Griffin Davis, and his BFF Yorkie, played by Archie Yates, are the two cutest humans to walk this earth. Underlying the comedy, however, is a touching tale of identity, growing up and learning that hate will never be the answer. 
The highway to cinematic excellence is clogged with Disney sequels that did not quite live up to the magic of their original, and in the case of Frozen 2, that magic is actually essential to the plot. Did the sequel live up to its original? Well, no, but you are just going to have to (wait for it) let that go. Were there times where the story development seemed a little forced? Yes again, but you have to just let that go, too. Why? Because there were moments in Frozen 2 that were magical, foremost among them the times where the characters acknowledge that they and the movie fans who loved them from the start are growing inexorably older. While I am probably supposed to care greatly about the super-hero origin story at the heart of the story (I do think Elsa would have taken Thanos down herself had she had the chance), I was more captivated by the moments when Olaf or Sven got screen time and made my heart (wait for it) melt. You should do the next right thing during your quarantine and watch the movie if only to know the significance of the line, "It's a good thing that water has memory."
Entertainment option 2:
Games to play on a quarantined day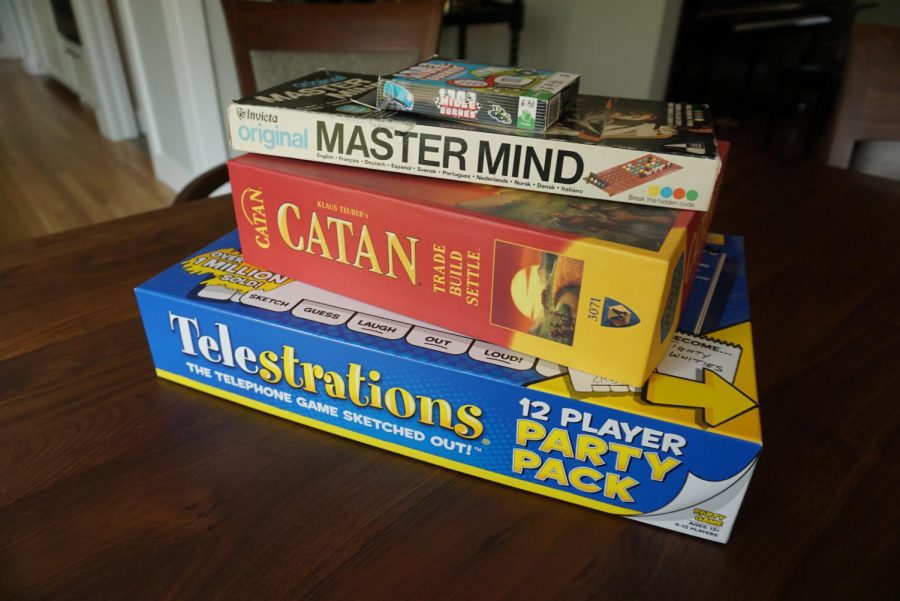 Samantha's picks: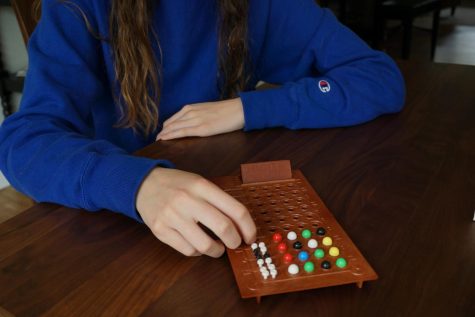 This is a one-on-one game for only the sharpest of minds. Just kidding, anyone can play! This game is all about strategy, and it's perfect for a rainy day. Or a rainy… quarantine, if you will. Settle in with a family member or friend and get ready to flex your mental muscles.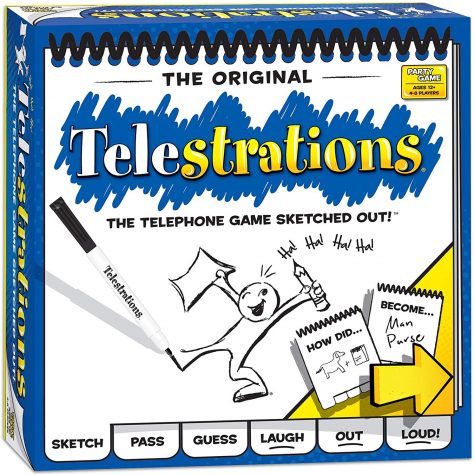 This game is for a bigger group (it has to be fewer than 10 people of course), but if you can get the people together, it's a riot. It's like a mix between Pictionary and telephone, in which players must guess what their teammates draw. If you're an artist, great, but if you most definitely are not, even better! Enjoy a laugh as you attempt to decipher your teammates' odd doodles.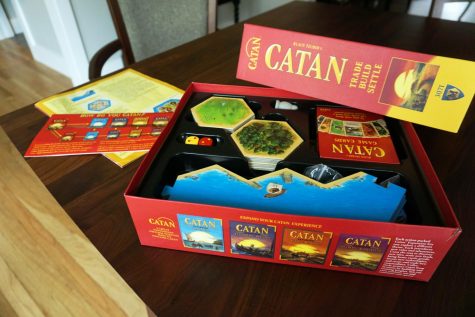 This game is more involved than the rest, but hey, you have three weeks to play. Settlers of Catan simulates an arrangement of colonies on an island, and the goal is to reap the most resources by the end of the game. For those hoping to settle in for the long haul and test their strategy skills, this is the game for you!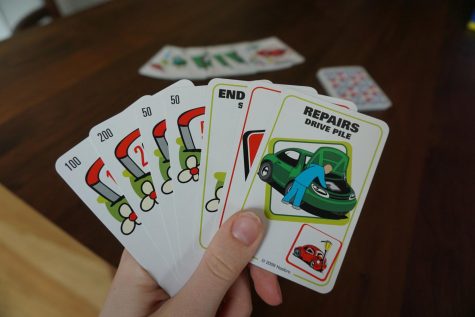 This simple card game is affordable and easy to play. The premise is that players are in a road race and the goal is to reach 1,000 miles. Want to travel some ground? Play a distance card. Feel like throwing a wrench in the works of your opponent's journey? Play a hazard card. Your back-stabbing opponent played a hazard? Play a safety or a remedy card. This game will keep you entertained, all 1,000 miles through.
Entertainment option 3:
Activities that will keep you socially distanced and entertained
Alysa's Picks:
View this post on Instagram
There's no excuse to keep procrastinating. Suck it up and listen to Ace and his witty banter. Get yo license, boo!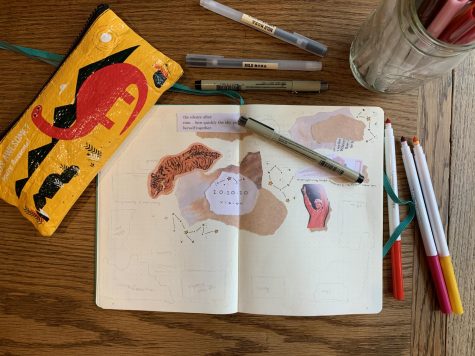 Anyone with a remote relationship to me knows that I, Alysa Spiro, am the self-proclaimed queen of bullet journaling. I am the first to say that bullet journaling will improve your happiness and well-being and lord knows the world needs that in these trying times of the COVID-19 outbreak.
Samantha's Picks:
Hop on the trend that is sweeping the nation and learn a Tik Tok dance. We hear Charli D'Amelio is a great teacher… Who knows? Maybe if you get really good, you can move into the Hype House.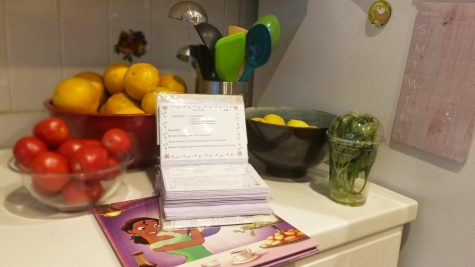 Buying ingredients may prove difficult since stores are being picked bone-dry, but if you have the resources on hand, cooking can be a good vice. Try a new recipe and share it with your family if it's good! Or if it's bad and you feel like poisoning them, whatever floats your boat.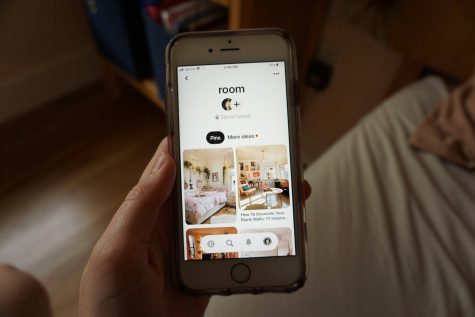 Alysa and I both have plans to rearrange our rooms during the quarantine. Where did we get our inspiration, you might ask? The answer is Pinterest. Pinterest is always the answer. Step into the perfect world of this app and realize your wildest decorating dreams. 
Entertainment option 4:
Books to read instead of buying another roll of toilet paper
Alysa's Picks: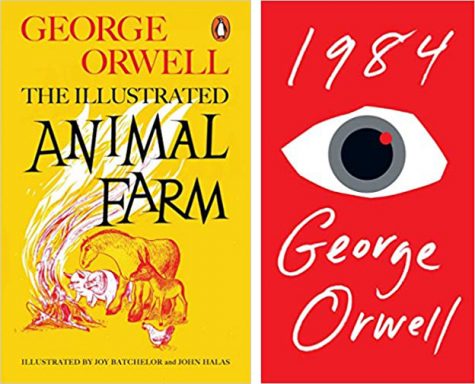 You may be wondering, "Who would voluntarily read a so-called "classic" book?" And to that, I say, "Me"  and so will you once I tell you about the wonders of George Orwell's writing. This ain't Homer or Sophocles. Both Animal Farm and 1984 are easy to read and may just make you want to read them. In short, both these novels follow the idea of sacrificing truth for power and how the government is never really on our side (Orwell's words, not mine). Cynical, dark and guaranteed to make you more worldly and intelligent, these two are a must-read.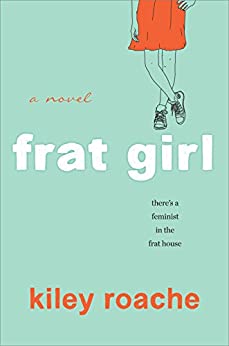 Young Adult Fiction:

Frat Girl

by Kiley Roache
I really don't like the Young Adult genre. You could even say I detest it. It's always the same thing. Innocent girl goes through some life-changing struggle and finds a suave, shiny boy to pick her up and solve all her problems. Bleh. But an exciting thing happened when I picked up Frat Girl — I actually liked it. Meet Cassandra Davis, a budding feminist (yeehaw!) who joins a frat with the ambition to expose their sexist behavior. Even better, Frat Girl was written by Kiley Roache, a senior at Stanford. Talk about feminism and empowerment.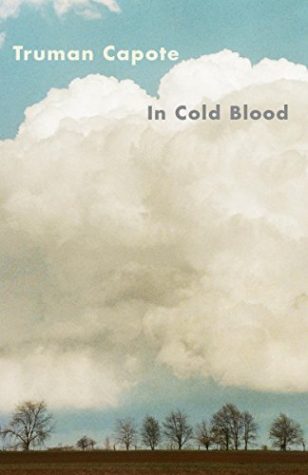 Before you scroll down because you saw the oh-so-boring word "non-fiction," hear me out: In Cold Blood tells the story of Richard Hitchcock and Perry Smith, the two men who murdered the four-person Clutter family in middle-of-nowhere Kansas. Not so boring now, eh? Told with vivid imagery (thanks to Capote's willingness to "add" detail in the pursuit of a best-selling book), this book is guaranteed to keep you on the edge of your seat.
An additional tip: watch the movie Capote once you're finished with the novel. Capote follows the lengths and extremes Truman Capote went to get the chilling interviews with the killers that made In Cold Blood the hit it was. Was it manipulation? Was it love? Who was the real sociopath in the story? If you want my take, feel free to check out my essay that I wrote about this book for English. Not to toot my own horn, but it's pretty dang good. 
Samantha's Picks: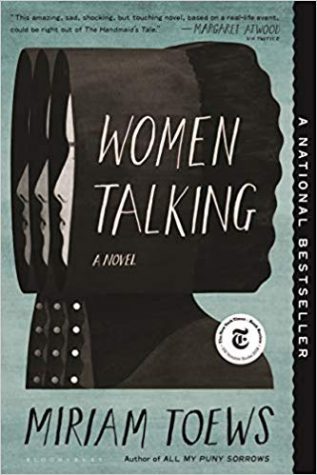 Based on real events, this novel tells the story of eight Mennonite women in a remote colony who are the victims of a series of sexual crimes perpetrated by the men of the colony. The women hold a series of secret meetings in which they must decide: is it worth it to escape into a world they've never known, or to stay and continue to be violated by the rapists living among them? In this politically engaging feminist novel, readers explore a world in which women must claim their right to choose.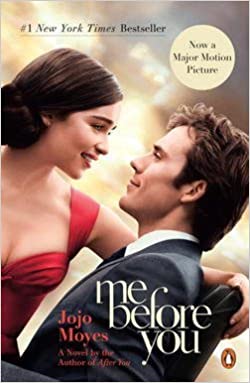 You may have heard of this novel because of its film adaptation, and although the movie is good, the book is even better. Any literature fan knows that to watch the movie adaptation you must read the book, so I am recommending this lovely novel to you. In this heart-wrenching tale, an awkward young lady takes a caretaking job with a moody, former man about town now confined to a wheelchair. Although they despise each other at first, the two begin to learn how much they really need each other. In this New York Times Bestseller about love, life and sacrifice, the reader is greeted with surprises at every turn.
Entertainment option 5:
Alysa's "I've watched too much MSNBC and now I need a distraction" TV Show picks
Are you more of a Jerry or a LaDarious? Don't know what I'm talking about? Well clearly you haven't joined the cult following of Cheer, one of Netflix's newest reality TV shows following the Navarro cheer team's quest for cheerdom (like stardom, but with cheer). Another highly addictive series, this show serves the drama, but it ain't trashy. Cheer explores the hyper-competitive and hyper-athletic world of cheerleading, while simultaneously following the story of the team's diverse members. And as strange as it sounds, Cheer may even succeed in getting you in your feels. Join the cult, my friend. 
Think Sex Education turned dark. The Politician follows high-school student Payton, played by Ben Platt, as he fights for the title of student body president. This show is crazy, man! It will leave you on the edge of your seat and keep you watching, never knowing when another person will die… OOPS, don't want to spoil anything! Let's just say that each episode is its own soap opera. This show is well-made and cinematically pleasing, backed by a talented cast of actors. 
This show is literally so bad. It's stupid and idiotic and it puts the viewer in a perpetual state of confusion as to why they began watching in the first place. But good lord, was this show addictive. Exploring the toxic world of competitive figure skating, Spinning Out is dramatic and soapy. Take out your hate for the quarantine and COVID-19 on the characters, because none of them are likable! Yahoo!
True crime absorbs about 80 percent of my Netflix viewing time. I am addicted. And so, I have no issue claiming that I can separate a good true crime docuseries from a great one. In The Devil Next Door, we watch the trials of a Cleveland grandfather who has been convicted as the sadistic Ivan the Terrible, a Nazi camp guard who killed thousands of Jews and other prisoners during the Holocaust. Is it him? Is it not? Explore identity, innocence and guilt as you watch this somber docuseries. 
If you want a little imaginative fantasy with your World War II escape from coronavirus, look up Season 1 of The Man in the High Castle, an Amazon Prime series that imagines how life in the United States would be if the Allies lost World War II and the Germans and Japanese occupied a divided United States as a result? The premise is so well executed in the first season that by the time you get to season four and realize that realism left the show about the time that Hitler did, you'll be so hooked on the well-developed characters that you will still keep watching.