Swimmers prepare to exit the pool
Lynch, Kershner, Lynch advance to state; Rudy ends swim career at region; 2019 season concludes
There were as many highlights to the region swim meet as there are lanes in the pool.
Three swimmers, junior Cole Kershner, junior Alex Lynch and freshman Zoe Lynch, qualified for the state meet, which is the highest number of qualifiers the swim team has had in awhile. It was also senior captain Claire Rudy's last meet, as well as the first region meet for freshmen Hannah Gates and Natalie Simon, as well as before mentioned Zoe Lynch.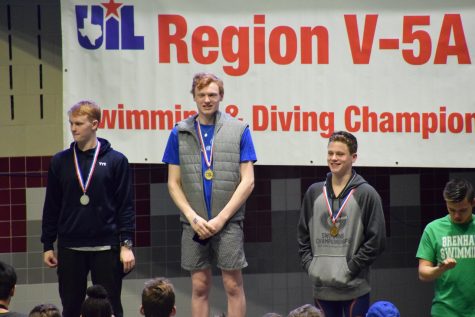 Zoe Lynch has been swimming since she was in the third grade. "My whole family swims, so I grew up swimming. I really like McCallum swimming because I like being part of a team and that good environment," she said.
Lynch swam the girls 100 breaststroke and pushed through to get second place, making her a state qualifier.
"I was excited to compete with the other fast swimmers from the other high schools," Lynch said. "It was fun because I met new people who I raced against and that was nice because it was my first time competing for my school in such a big meet."
As a freshman, qualifying for a state meet is a big deal, and not done by many swimmers. The last to do it at McCallum was her brother, Alex.
"I'm excited to go, I'm excited to go with two other people from our team and represent McCallum," Lynch said.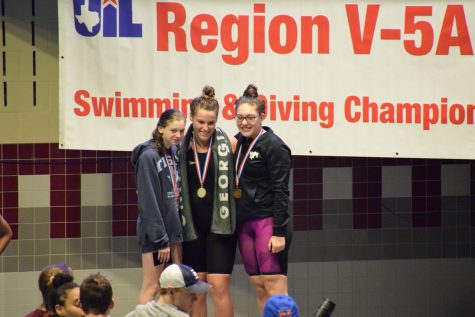 Speaking of which, junior Alex Lynch also qualified for the state meet. This is his third year going to state, but this year he wasn't seeded to go.
"So for the 100 breaststroke I think I was seeded third … first place seed was Landon Alarcon, who's a really fast guy, I swim against him a lot," Lynch said about his qualifying race. "I knew I could beat him, it was really just finding the perfect race, had to make sure I felt good out of the gate. I knew I had him on turns and pullouts, that was kind of an advantage that I had. Going off that last wall, I was even with him … then got the better pull-out and just you know brought it home from there."
"For those races, like against Landon in the breaststroke, I know I have the reach on him, so it's really just a matter of executing that finish," Lynch said. "I was able to calculate the number of strokes I needed to take to get into it, and it ended up paying off, I think I ended up winning by about 15 hundredths of a second or so. … During the breaststroke, your eyes are focused forward so the last look I really had at him was in the pullout, so you know I was kind of just swimming blind, just hoping stroke for stroke would be efficient enough to win."
And it was. Lynch ended up in first place for the breaststroke, as well as getting third in the boys 200 IM which he got called up for.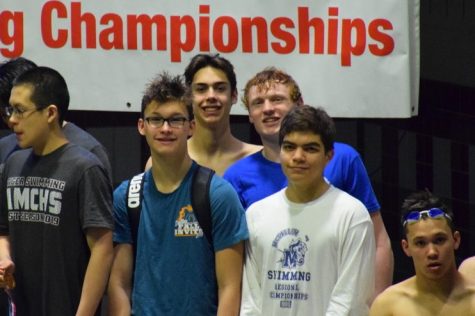 The last state qualifier this year was junior Cole Kershner. He placed third in the 50 free, getting a new personal best time of 21.8 seconds.
"[Right before I swim], I really think about going over what I need to do, thinking about technique, and what I've been doing wrong, then I fixed it, and then I went really fast," Kershner said. "I kind of knew like where I was gonna [place], because in my first race I missed the flip-turn, so I knew if I hit that flip-turn, I would go a lot faster," he said.
For state, the top two swimmers for every region automatically go, but they also pool together the rest of the swimmers and choose the fastest eight. Kershner was chosen for state in this manner, but you never know for sure until after all the region meets are over.
"
I knew I could beat him, it was really just finding the perfect race.
— Alex Lynch (11)
"I figured I would make call-ups, but I mean I wasn't gonna be like 'Yeah I made state!' because I was still waiting," he said.
Even if he hadn't made state, it still would have been a successful swim; he hit a new personal best and team record of 21.8.
"Yeah [I got a new personal best]! 21.8. It was good!" Kershner said. He also said he hopes break his record again at state; "I'm gonna try to get a new personal best, hopefully a 21.3 or something. Hopefully place well in state."
Senior captain Claire Rudy swam her last high school meet at regionals too. As a captain and the only senior to go to region, Rudy was determined to make it her best meet.
"
Right before my last race was when I really felt it the most. I was like, 'Ok, I'm just gonna go all out right now because I'll never have the chance again.
— Claire Rudy (12)
"Right before my last race was when I really felt it the most.," Rudy said. "I was like, 'Ok, I'm just gonna go all out right now because I'll never have the chance again'…  I've been trying to get this time that I wanted, I got it sophomore year once and I haven't been able to get a 27 [seconds] on my 50 [meters] since [forever]. And then it happened again, and I just told myself I'd do it again and then it happened," Rudy said of her 50 free in the 200 free relay, which was her last event at the meet.
She has swam for most of her life, and with her father Jeff Rudy as the coach she is inspired to keep doing swim.
"I have always liked swimming," she said. "I've done it since I was five, and so I was thankful for the opportunity of the competitive aspect. I never did year-round swimming, so this was as close as can get to just continuing to swim. I feel like swim is something you can do forever, so I want to do it as much as I can now," Rudy said.
Her relay team got called to finals, and ended up placing eighth.
As this year's swim season comes to a close, the swimmers at least made sure to go out with a bang. Every swimmer set a personal best at some point. This weekend (Friday and Saturday at the UT swim center), the state meet will take place and after that meet, the swim season will be over until the 2020 season.