Rhodes Traveled: Corpus Christi and Port Aransas
With just a three-hour drive, you can enjoy fried shrimp, soft sand beaches, a retired WWII combat ship and cheap beach towels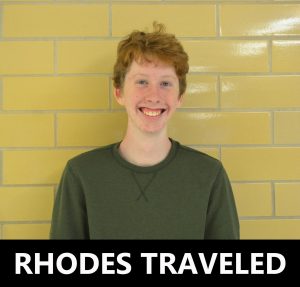 Texas has a wide variety of environments, from the mountains out west to the plains in the middle of the state, and the Gulf Coast in the Southeast. The coast stretches over 300 miles, and most of the way is bordered by barrier islands, which can be hundreds of miles long and only about a mile wide. There are several cities along the coast, but the biggest (excluding Houston, of course) and the closest to Austin is Corpus Christi. Now, when the opportunity to travel in Texas is brought up, it's hard to compete with the big cities like Dallas, San Antonio and Houston, but there are plenty of things to do in and around Corpus Christi, and it is very close to the beach.
Corpus Christi, or just Corpus, has a population of about 325,000 and is just over 200 miles from Austin, or a three-hour drive. It's a bit far for a day trip, but leaving on Friday afternoon and getting there in the evening would allow about a full day and a half on the coast, which isn't too bad. If you can make it for dinner, Snoopy's Pier has classic fried shrimp or fish, hush puppies and fries and has only recently started accepting credit cards. It is located right next to the causeway from Corpus to Padre Island. As for staying the night, you could book a hotel in Corpus, but my suggestion would be to rent a condo right on the shore. It's a bit more expensive, and more of a drive from town, but it's worth it to get to the beach without having to get in the car. Nobody wants sand and saltwater on their seats. Also, the condos have kitchens, so you don't have to eat out every meal. There are plenty of condos to choose from: the Gulfstream, Island House and Surfside are closer to Corpus, but there are several more along Mustang Island to the north of Padre Island.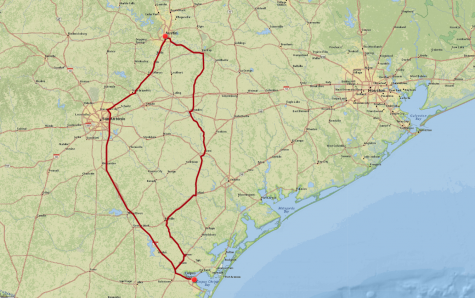 Still technically part of Corpus, the area where Highway 358 meets 361 on Padre Island has a few restaurants, gas stations and a CVS and is a nice place to get dinner or groceries. If you're planning to stay for a while, that CVS has anything you could ever need, from milk to tooth brushes to beach toys.
"
Corpus Christi and Port Aransas definitely deserve a visit, and make a pretty good summer weekend trip."
If you rent a condo right on the shore, I'd suggest heading down to the beach early(ish) in the morning. It's certainly better than at 3 o'clock in the afternoon when the sun is beating down and there are so many canopy things on the beach that you can hardly see the water. There are many public beaches along Mustang and Padre islands, but if you want a nicer beach, the Padre Island National Seashore is just a 15-minute drive south from the condos. It is a protected beach, so the dunes are as they would naturally look with no parking lots or high-rise buildings. The only thing you don't get protected from is the heat, so I'd still go in the mornings or evenings.
If you adhere to this advice, you are faced with the dilemma of what to do during the day. Fortunately, the sprawling metropolis of Corpus Christi and the smaller town of Port Aransas are not far away.
One interesting thing to do in Corpus is visit the Texas State Aquarium. In addition to big fish tanks, the aquarium also has exhibits with birds, and shallow pools with horseshoe crabs and stingrays that you can pet and are indigenous. It is a non-profit organization, and it helps with environmental conservation.
Right next to the aquarium is the USS Lexington. This aircraft carrier was built in 1942 during World War II and was part of the Pacific War effort against the Japanese. The ship was deployed in 1943 and earned the nickname "Blue Ghost" by the Japanese, as it was pronounced sunk on multiple occasions. It was put into storage for about 10 years after the war, then converted to a training ship in the mid '60s. It was decommissioned for good in 1991 and became a museum in 1992. It's a very cool museum, with a movie theater and lots of planes on the runway. And if you're feeling adventurous, the area below deck is a maze of small doorways and passages with various exhibits of how the sailors used to live while at sea. They even have a mediocre restaurant if you're desperate for sustenance.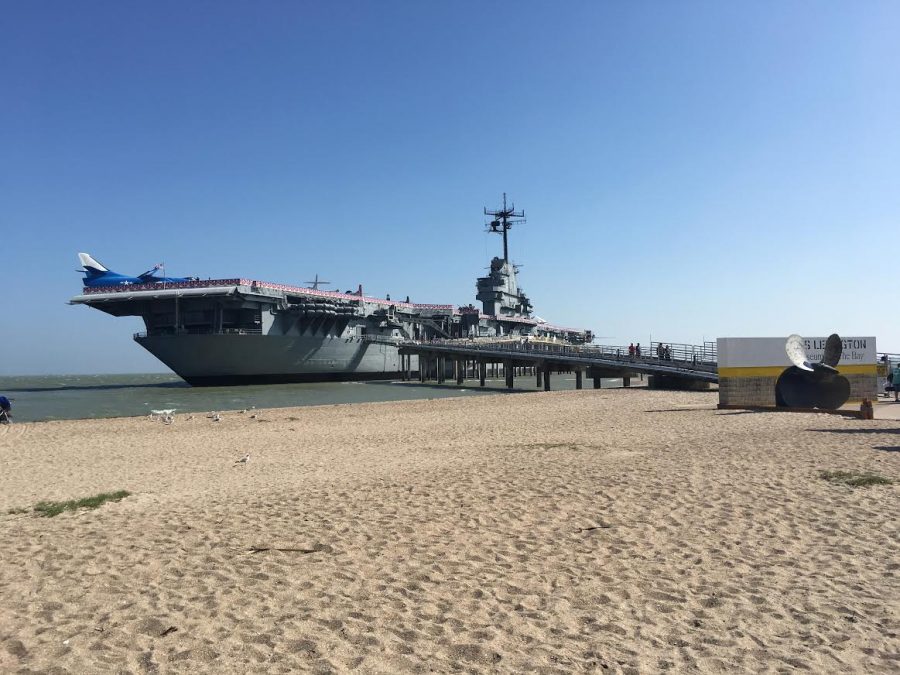 Back on Mustang Island, the town of Port Aransas has a population of 4,000 and is about a 45-minute drive from downtown Corpus, or a 30-minute drive from the area with the CVS and the condos. Port Aransas, or just Port A, is a nice little beach town with some good restaurants and plenty of fishing opportunities, if you're into that. Now, one thing I must mention is that I haven't been there since Hurricane Harvey, so I don't know how much of the area is still damaged. I do know that the townspeople certainly appreciate any visitors they get.
If it's hot out, a good place to stop is Coffee Waves Port Aransas. They have iced coffee, pretty good gelato and most importantly, air conditioning. If you want something more substantial, a good place to eat is called simply The Brewery. They have burgers, fried fish and the like. Another place is The Tarpon Inn, a historic hotel and restaurant built in the 1880s.
If you need some beach accessories, there are several stores around town, all with an abundance of T-shirts, hats and beach towels. A few of these places have a big shark by the entrance, which makes for a good photo opportunity.
Corpus Christi and Port Aransas definitely deserve a visit, and make a pretty good summer weekend trip, especially if you're in need of some fried shrimp, soft sand beaches, retired WWII combat ships and cheap beach towels.