As part of McCallum's Hispanic Heritage Month celebrations, the Student of Color Club put on a variety of activities to show their appreciation and pride. Part of their month-long festivities, the club started off with selling quintessential cultural treats. They continued with putting on movie lunches broadcasting One Day at a Time, as well as a salsa contest. Ballet Folklorico performed in the cafeteria, showing off a traditional set of Hispanic dances to commemorate the month-long celebration. 
The club hoped to bring a unique sense of community, and spirit to the students of McCallum while educating about Hispanic culture. 
We are pleased to present this Tuesday Top 10 gallery of the Hispanic Heritage Month celebrations.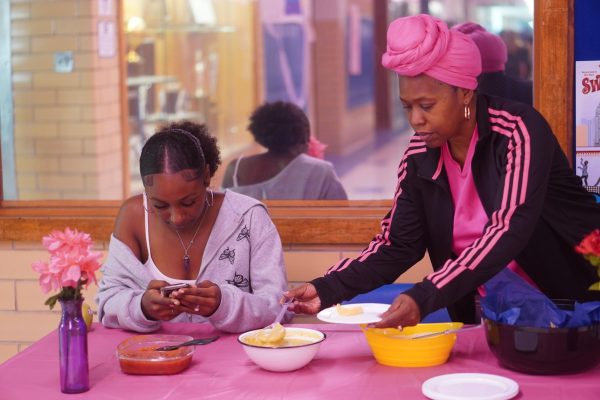 Story continues below advertisement
TALLY TURNAROUND: Students of Color Club member Brianna Miller keeps track of votes during the salsa contest on Oct. 6 during Hispanic Heritage Month. During the contest students and staff voted on which of three volunteer contestants should win. 
"I enjoyed helping mostly because I'm very hands on when it comes to events like this," Miller said. "I also like being involved in the McCallum community in general."
At the end of the voting time, the Life Skills class had the most votes for their white salsa. After the competition was over, however, a few people changed their minds and recast their votes for teacher's assistant Lesly Medina's green salsa, which ended up winning the competition.
"I enjoyed interacting with different students and getting multiple opinions," Miller said. "I also enjoyed having the opportunity to spread Hispanic culture throughout McCallum." 
First and second place won prizes for their efforts with first place getting a taco carousel and second getting a decorative salsa bowl and a candy basket.
Caption by Evelyn Jenkins. Photo by Beatrix Lozach.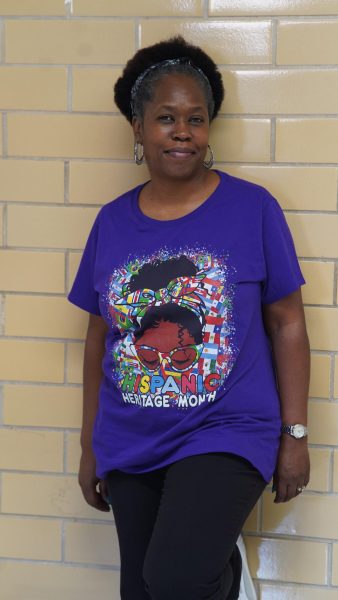 CRUCIAL CULTURE: Sept. 15-Oct. 15 marks Hispanic Heritage month. Students at MAC in the Students of Color club have organized events to celebrate and uplift Hispanic voices.
You may know Tonya Moore, who is pictured above dressing up for Hispanic Heritage spirit day, as the SOCA adviser and Fine Arts Academy assistant but she is also the sponsor of the Students of Color Club. 
According to Moore, a main adjective for the Students of Color Club is inclusivity.
"We want to try to just make sure that we are inclusive and make sure we're including everybody and everything that we can think of that we can celebrate," Moore said.
Moore believes it is essential that students in MAC are seen and are able to have a voice.
"I think it's very important to lift up the voices of color because people don't always see them," Moore said. "And it's important that our students here at MAC feel important, seen, and have a voice, because sometimes you can get in different situations where you don't feel like you can speak up, or that you can't be proud of who you are, or that you have to hide who you are." 
To Moore, the Students of Color Club is already beneficial to POC (people of color) students.
"Just having the Students of Color Club is very helpful for those [POC] students to know that they belong here like everybody else and that they have a voice," Moore said.
This year the students took charge of planning the Hispanic Heritage Month events.
"The students kind of got together on their own and just kind of let me know some ideas of things that we could do this year," Moore said.
Moore thinks it's incredibly beneficial for her and other students to learn about different cultures.
"I know a lot about my culture, but I don't know a lot about other people's culture," Moore said. "So, it's very interesting to just be able to hear from each other. I feel like the students can learn from all cultures and be a more well rounded person because that's what our world is. Today there are all kinds of races, all kinds of people, all kinds of ethnicities. So the more that we learn from each other, the more that we grow."
Moore's favorite event from Hispanic Heritage Month was treat day.
"I think my favorite one was probably the treat day where we did a Hispanic treat day because I think the kids really really liked having that in the middle of the day, just kind of breaking your day up," Moore said. "And who doesn't want some sugar? But just to see the kids interact and ask them questions about the candy was pretty neat."
Overall, Moore thinks it's important to recognize Hispanic Heritage Month to help encourage kids to be comfortable with who they are.
"I think it's important to recognize it [Hispanic Heritage Month]," Moore said. "It's important that kids feel comfortable in their own skin and them being able to be at a school that shows them that they understand who they are too."
Caption by Shila Gill. Photo by Aubrey Macedo.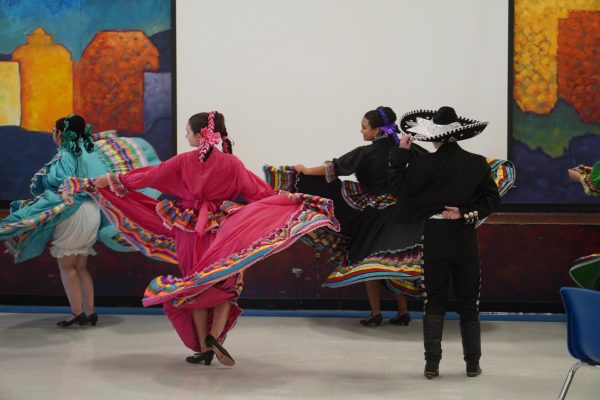 Members of the Ballet Folklórico dance troupe perform in the cafeteria on Oct. 6. The dancers put on the performance to celebrate Hispanic Heritage Month. Photo by Lillian Gray.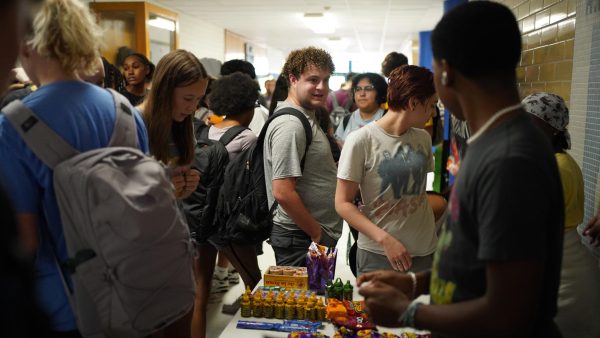 TREATS GALORE:  As part of the Hispanic Heritage month celebrations, the Students of Color Club set up a spread of Latin American treats to offer the McCallum community. The treats were a way for the club to spread cultural pride and to get a larger group of students involved and aware of Hispanic Heritage Month. From quintessential Latin American treats to staple snacks such as chicharron, the club had it all.
For senior Ana Mejia, getting to be a part of Friday's activities was inspirational, especially seeing how many people got involved.
"Getting to talk about the treats and see so many people support our club was my favorite part," Mejia said. "I was proud of how many people showed up."
The club cherishes the opportunity to celebrate all month long.
From salsa contests to Ballet Folklorico performances, the Students of Color Club hopes to both spread awareness, and create a sense of community with the events.
"We are looking to organize more school events for Black History Month, and Asian American and Pacific Island Heritage Month," Mejia said. "I feel excited about the amount of support we receive from students and teachers.
Caption by Chloe Lewcock. Photo by Beatrix Lozach.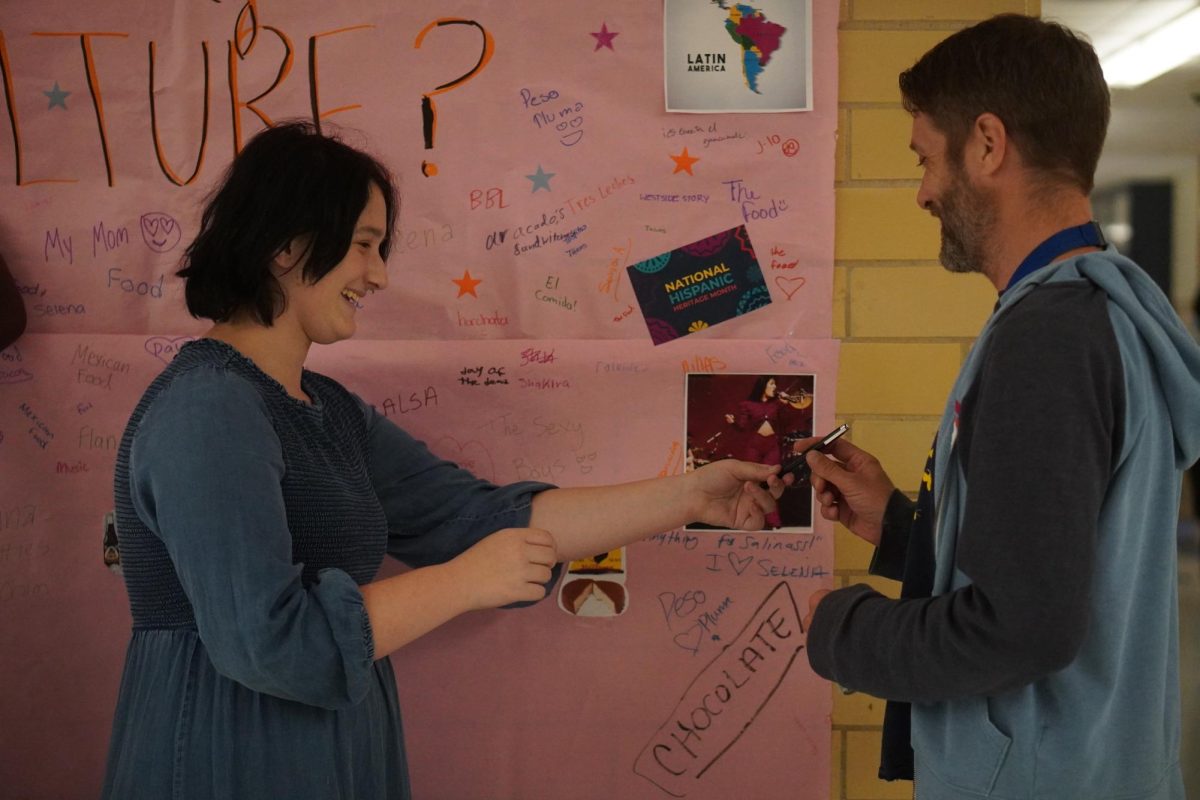 Accepting a pen from teacher Andrew King, sophomore Victoria Veselka prepares to write something that she likes about Hispanic culture on the Hispanic Heritage wall in the main hallway. Photo by Beatrix Lozach.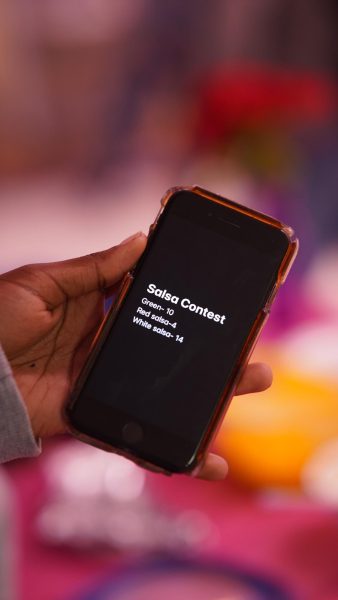 WHITE SALSA IN THE LEAD: Junior Brianna Miller records votes from the salsa contest on her phone. The contest occurred during lunch on Oct. 6. By the end of the lunch period, the white salsa, made by the Life Skills class, was in the lead–but it didn't stay this way forever. In the end, after a few people had changed their favorite salsa, teacher assistant Lesly Medina wound up receiving the most votes for her green salsa. Photo by Dave Winter.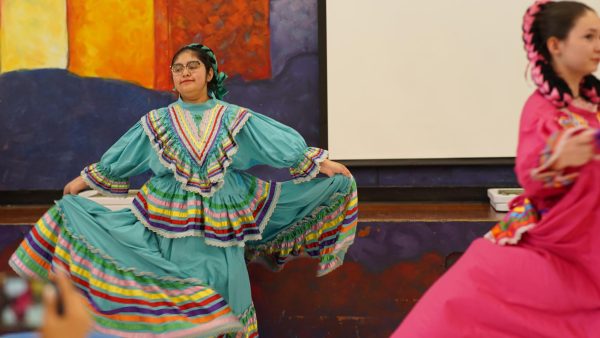 BIG SKIRTS, BIG SMILES: The Ballet Folklórico club performed in the cafeteria on Oct. 6 for Hispanic Heritage month in concordance with the Salsa contest in the hallway. 
Senior Julie Ponse is a dancer in the troupe and reflected positively on here troupe's performance. 
"I think all the others did pretty well as well," Ponse said.
She also explained how the club performs often for elementary school students.
"We do field trips, and just perform for younger kids," Ponse said. "They get to see the party dresses."
For Ponse, Ballet Folklorico has been an important part of her family for a long time. 
"I really like that I do it, because my two aunts used to go here, and they were in it," Ponse said. 
Overall, Ponse explained the positive community found in the club, especially through their leader, Spanish teacher Telvi Altamirano Cancino. 
"I really like her [Altamirano Cancino]," Ponse said. "I had her as a teacher last year, and she was really nice."
Not only does she enjoy the teacher, but Ponse also enjoys the company of the other students in the club.
"I think it's really fun," Ponse said. "We're all friends."  
Caption by Josie Mullan. Photo by Lillian Gray.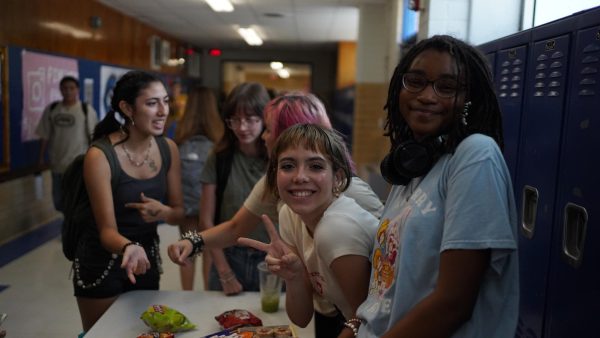 SPREADING THE JOY: Sophomore Chim Becker poses with sophomores Cozbi Sims and Lou Davidson while manning a table at the Hispanic Heritage treat day during lunch  of Sept 28. Becker is a part of the Students of Color Club, who put together the activity to raise money for their club.
"It [the stand] was really fun because McCallum has a lot of Latino kids," Becker said. "And I think it was nice that I could share the stuff that I usually just have at home with people who have never tried it before."
Becker recognizes the importance of celebrating Hispanic heritage at Mac.
"I think it's important to celebrate," Becker said. "Because our culture is awesome and super cool, and everybody should be able to learn about other cultures of the world."
Caption by JoJo Barnard. Photo by Beatrix Lozach.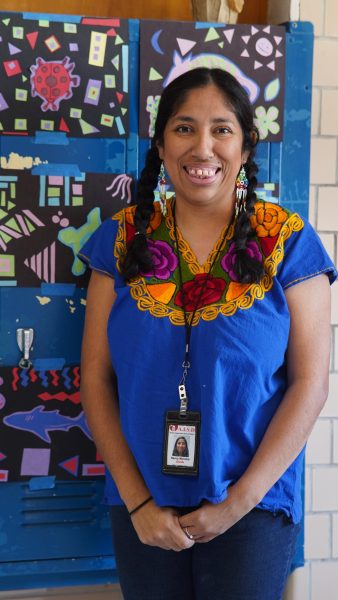 HASTA LA RAÍZ: Nancy Morelos, McCallum's new AP clerk, poses while wearing a lapis lazuli Mexican blouse of indigenous origin with a vibrant bouquet of flowers splayed across its ruffles for Hispanic Heritage Month. According to Morelos, simulacra of her vivid vestments are often available in the United States, but they're inauthentic, shoddily made replicas of cultures that have fought to express their joy for centuries. Hers is handmade, a bestowal from her sister, who obtained it in Cabo San Lucas.
By her own account, Morelos "was born in Celaya Guanajuato. I was raised here, but I've always been connected to my Mexican, and immigrant, heritage," Morelos said. "It [the lapis lazuli] was a gift from my sister from her recent visit to Mexico. The one I wore is traditional in the sense that it's handmade. It's something in Mexican culture that we've lost to an extent, but we're trying to preserve it. My family has discovered that we're part Chichimeca, through my mother, and Ayahuasca, from Veracruz, where my dad comes from. My sister did our DNA lineage, and we're pretty much all indigenous. Once we learned that, I felt a very close connection to my people, our history, a history that we've unfortunately had to leave behind for opportunities in the States. When I wear those earrings, and those braids, and that garment, I'm doing it to express who I am and to honor the people that made that garment."
Morelos encourages high schoolers to embrace their culture.
"Don't delay the process, because once you embrace all of you, it's a sense of belonging that you find," Morelos said. "Start getting to know who you are and where you come from early on. High school is hard, I don't envy you all. It's a hard and complicated place to navigate, and I think the sooner you start learning to love all of you, the easier life gets."
Caption by Beatrix Lozach. Photo by Aubrey Macedo.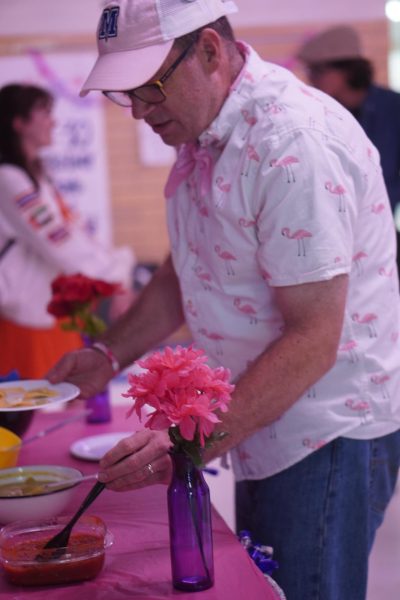 Digital Media and newspaper adviser Dave Winter helps himself to chips and salsa during the contest at lunch on Oct. 6. "All three salsas were so good," Winter said. "I couldn't decide which one to vote for after just one taste of each of them, so I asked Ms. Moore if I could have seconds, but even then, I was still unsure how to vote." Moore was patient with Winter's shenanigans, which ended after a third and final taste prior to his voting for the white salsa made by the Life Skills class. Photo by Beatrix Lozach.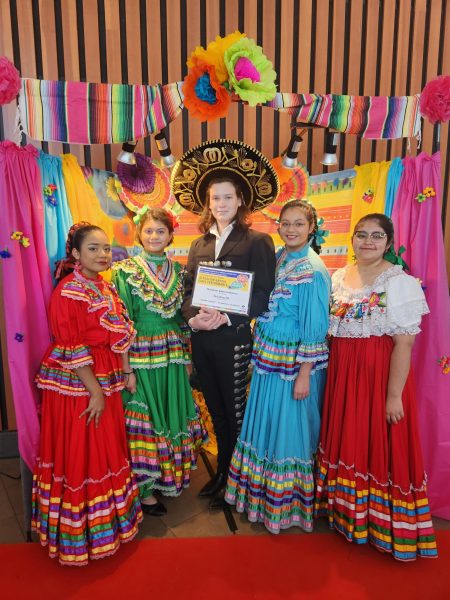 MAC TAKES ON TALENT SHOW: McCallum Ballet Folklórico attended the AustinISD Join the Fiesta talent show on Saturday from noon until 2 p.m. at the AISD Performing Arts Center.
"We didn't win, but we had a lot of fun watching," faculty sponsor Telvi Altamirano Cancino said.
After attending the talent show, the troupe performed at Little Walnut Library on Runberg as part of their Hispanic Heritage Month celebration. Photo courtesy of Altamirano Cancino.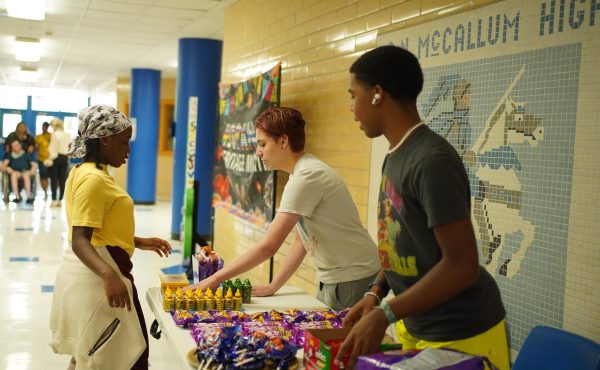 A LITTLE SOMETHING SWEET: Senior Keegan Sarwate helps arrange tables for the Hispanic Heritage Week candy sale.
"We were just getting the tables set up with the candy everyone had donated," Sarwate said. "We had three different tables and we were trying to make sure all of them had about the same amount, so it took us a while to set it up."
For Sarwate, the best part of the candy sale was not just raising money, but interacting with other students who were excited by the array of different cultural sweets.
"I really liked seeing people recognizing their favorite treats from home," Sarwate said.  "It was really cool to see Hispanic people connecting with it like that, since the cultural connection was the whole point. It was cool to see someone point at the table and go 'Oh I loved that as a kid' or 'Oh we have that all the time.'"
Reporting by Alice Scott. Photo by Olin Adair.