Throw hard or go home
Senior Aasja Wren makes impact with prowess, positivity
Senior Aasja Wren is known on the McCallum track team for her positive attitude, sense of humor and effortless ability to keep the mood light, but in competition, she's gritty. She works hard every day, shows up on time and practices on her days off. She doesn't give up. She's a leader.
Wren began throwing shot put in seventh grade under the influence of her father, David Wren, who was a thrower in high school himself. He took his daughter to the middle school around the corner to teach her to throw with supplies he bought from Amazon. Thus began her journey with the sport she in which would continue to shine for the next five years of her life.
"My dad kind of adjusted me to do discus and shot put," Wren said. "He wanted me to try because he did it too. I'm his only child, so of course I wanted to try it."
"
I like my team. I'll cheer them up whenever they feel down or like they're gonna lose the race. I'm like, 'Ignore everybody else's voice so you only hear my voice out there screaming for you to run it out.'
— senior Aasja Wren
David has watched the progression of her skills with an eager eye. He's been there as she has grown from an inexperienced seventh- grader to a senior whose outstanding technique carries her team through meets.
"It's been exciting," David said. "I've thoroughly enjoyed seeing her excited and blossoming, so it's a pleasure to me. I enjoy every minute of it."
In addition to practicing with her dad, Wren is involved with a training facility called Austin Pole Vault and Throws. She attends a weekly hour and a half session of throwing and learning skills, such as the spin leading up to the big throw with the discus. Her coaches at the training facility and at McCallum, such as Coach Joshua Amy, push her out of her comfort zone and support her along her journey as an emerging, improving athlete.
"I have been able to allow her to lead," Amy said. "Last year, we had Coach Webb who was with the throwers. Then, Coach Warren came in and just kind of fine-tuned her skills this year, trying to push her to be the best she can be."
As the top thrower on the team, Wren placed seventh at regionals and improved her personal record at every meet. Her persistence and experience will be highly missed next year.
"She's a team leader," said Amy. "She's one of our leading scorers, she has qualified for regionals several times, she has been a district champ in throws and an area champ. She shows up every day, and she wants to do her best for her team."
While her departure from McCallum and from the track-and-field team will be a hard goodbye, there are bright beginnings ahead for Wren. She plans to attend Austin Community College over the summer, and switch to a program called Clifton Career School come fall. Wren has been preparing for a career as an elementary-school teacher through the program for the past two years, interning once a week with kindergartners. Although Wren is prioritizing her education and career in the coming years, she isn't ready to leave shot put in the past. She recently expressed an interest in a collegiate shot put career.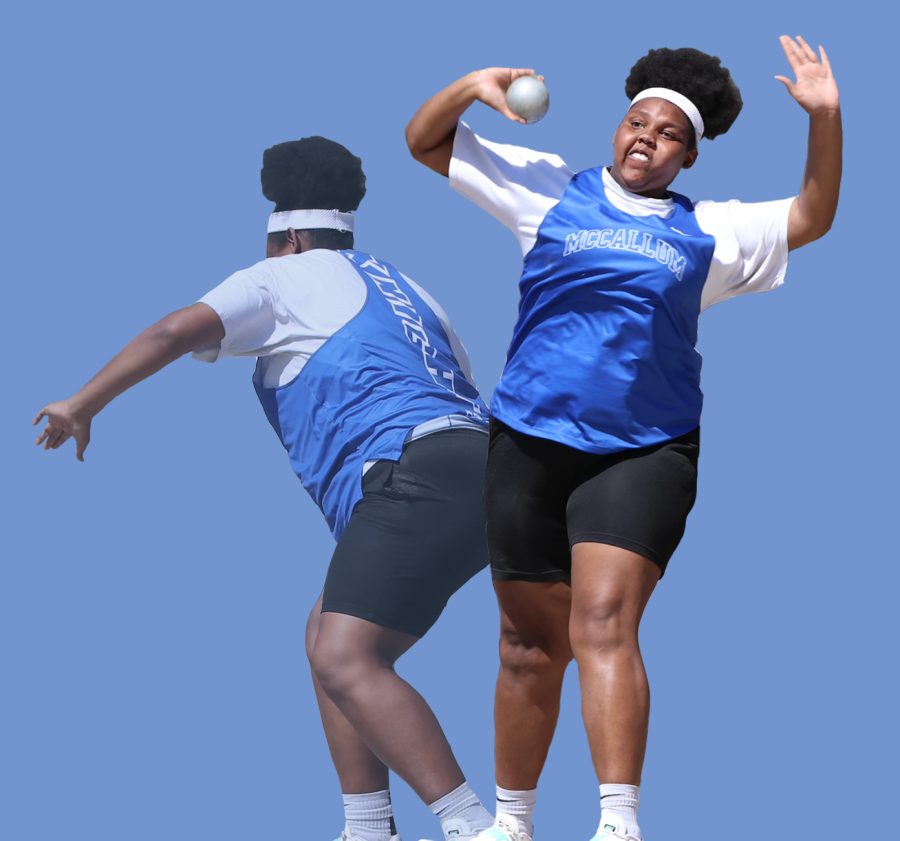 "Honestly, we've talked over the years, and this year was her first year saying that she wouldn't mind throwing in college," David said. "So we've gotten a late start at recruiting, trying to find schools, but it is in the game plan to keep looking and see if we can find something she can do after high school."
Like many seniors, Wren feels bittersweet about her final year at McCallum. Her strong relationships with the team and coaches have only grown along with her talent and technique. Her sophomore year, Wren met junior Esme Barraz, then a freshman. The two became quick friends and have been on the basketball and track teams together for three years.
"Since my freshman year, she has always been welcoming towards me," Barraz said. "I would say I got to know her the best when we both went to Houston for regionals my freshman year. Since then I have gotten to know her better as a player and a person. I am proud of everything she has overcome and wish her the best of luck in the future."
Barraz's wishes for Wren mirror the encouragement she's given her team throughout her time at Mac.
"
I like being around her, she's funny and she's a gentle soul who goes out there and works.
— girls track coach Joshua Amy
"I like my team," Wren said. "I'll cheer them up whenever they feel down or like they're gonna lose the race. I'm like, 'All you have to do is bring yourself in your head and think about them being invisible. Ignore everybody's voices so you only hear my voice out there screaming for you to run it out.'"
Wren isn't only known by her team for her positivity and skill. She has also distinguished herself for her collection of lucky socks.
"I do wear lucky socks because they help me to be like, 'Let's go,'" Wren said. "I just feel the energy coming from the socks. I have basketball socks, Naruto socks, anime socks, all kinds of socks. It has worked for me so far, clearly."
From her lucky socks to her boundless support and energy, Wren brings joy and whimsy to her team every day.
Wren's fun socks, constant successes on the field and exuberant presence on the sideline will be remembered on the Mac track long after she graduates.
"We're gonna miss her," Amy said. "We'll miss having her at practice because she is fun to be around, kids like her, I like being around her, she's funny and she's a gentle soul who goes out there and works."