Sanchez finds home plate
Voted homecoming queen last fall, senior softball captain continues to lead as she looks to make best of final season
Senior Ary Sanchez has been playing softball, her favorite sport, for 12 years, and she believes this season will most likely be her last one ever.
Now co-captain of the varsity team, Sanchez continues to be a leader her senior year after being crowned homecoming queen this past fall.
"
She's a strong example, both physically, like playing softball, and mentally, in the dugout supporting everyone."
— junior softball co-captain Sadie Roselle on senior co-captain Ary Sanchez
Sanchez was drawn to the sport early on, picking up softball at the age of 5.
"I grew up around people who played," Sanchez said. "My parents played baseball and softball, so I was bound to love it too."
Head softball coach Rachel Whatley has observed Sanchez's skill both in softball and other areas.
"Ary has a lot of experience and is knowledgeable about the game," Whatley said. "She is a very well-rounded person, a wonderful softball player and student."
With juggling softball, being a member of the cheerleading team and having a job to work after practices, Sanchez has commitments in every area that she has to balance. She uses a calendar to keep her tasks in order.
"My calendar is my main way to stay organized and know what I have to do from day to day," Sanchez said. "The first semester is mainly cheer, and the second semester is mainly softball, but there are some complications, so I have to problem solve and work with my teammates and coach to figure something out."
One extra responsibility that Sanchez now carries is that of a varsity captain, a position that she uses to help the team.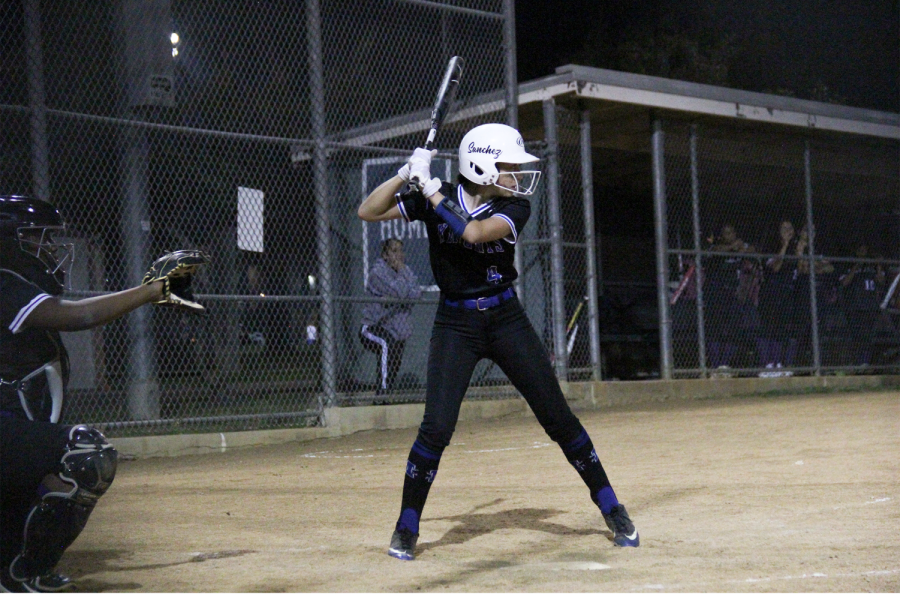 "I work with the other captains to figure out what's best for the team," Sanchez said. "Last year I would help out, but there was a limit to what I could do, but this year is different because I'm a senior and a captain."
But Sanchez has always been a leader on the team. According to her teammates, being a leader is part of her personality. Sanchez's co-captain and friend, junior Sadie Roselle, admires Sanchez's leadership on and off the field.
"She does a lot and she's very motivating," Roselle said. "She's a strong example, both physically, like playing softball, and mentally, in the dugout supporting everyone."
One thing that Roselle especially appreciates about Sanchez is her ability to provide an encouraging environment for her teammates without letting the heat of the game get in the way.
"She doesn't necessarily want to be competitive with other people on the team," Roselle said. "It's more that she just wants to support everyone and wants everyone to bond together."
Whatley also noted how Sanchez's teammates respect her due to her role as a captain, and how she holds team members accountable for their actions on the field.
"
She is always striving to be the best for her team."
— softball coach Rachel Whatley
"She is always honest with me, the coach, and I look to her for leadership," Whatley said. "She is always striving to be the best for her team."
Sanchez herself is nervous about her final season with the Mac softball program but is looking forward to the opportunities on the horizon.
"I'm a little scared," Sanchez said, "but I think this team is really good, and we have a good chance of making playoffs, so I think it's going to be pretty fun."
With softball season occurring at the same time of year as baseball, it can sometimes be hard for the team to get the same attention for their sport as baseball players do. Sanchez notices this but doesn't let it break her mentality.
"I think softball is just as important as baseball, but people will always overlook female sports and have more focus on males," Sanchez said. "I try not to pay attention to what people think, and I just do what I love."