Coulbourn wears her heart on her sleeve
Junior creates clothes from repurposed fabric to cut down on fast fashion, makes unique and tailored pieces
Kate Boyle, co-print managing editor & co-news editor
January 21, 2023
It all started with a Hello Kitty sewing machine from Craigslist. Junior Maggie Coulbourn began sewing with her grandma when she was 6, but it's become more than just a hobby now.
"
It's super cool to be able to make my own clothing. It's a great way to be able to have stuff that feels uniquely you and of course actually fits you properly. "
— junior Maggie Coulbourn
"Maggie has a family heritage that includes sewing from my and her mother," Coulbourn's grandma and namesake Margaret Edwards said. "Maggie has always seen that, and I think her love of sewing came from Maggie observing all of this."
When Coulbourn started learning to sew, she worked with an antique sewing machine that was her great-grandmother's.
"If Maggie wanted to make something she had to ask her mother's permission to use the sewing machine, and her mother had to be involved because it's an antique," Edwards said. "I thought that Maggie needed a sewing machine of her own so I found one on the neighborhood list. What this meant for Maggie was she didn't have to ask her mother's permission anymore to sew. You know how some kids color or do crafts or ride their bike all the time. Maggie started sewing a lot."
Although she started with small projects such as bags and pillows, Coulbourn quickly transitioned to sewing her own clothes. Her clothes, which range from overalls to Italian Renaissance dresses, are unique because they are both by and for her.
"It's super cool to be able to make my own clothing," Coulbourn said. "It's a great way to be able to have stuff that feels uniquely you and of course actually fits you properly. You don't have to worry, 'Well, it's too small at the hips, but it's a little gappy around the waist,' because you can fit it to yourself perfectly."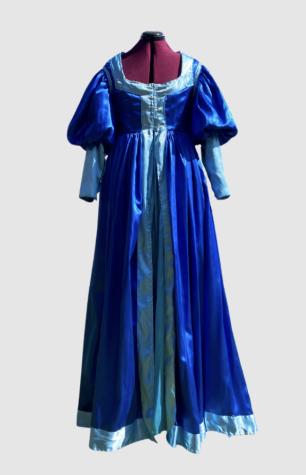 Her first project was a twirly skirt made with her grandma.
When Coulbourn started sewing, she worked with patterns with her grandmother's help. Now, she feels that most of the time she can work without a pattern. In addition to her process, her preferred tools while sewing have also changed over the years. Coulbourn decided to change her preferred dress form, or model of a torso that can be used to fit a piece of clothing, to more accurately make clothes for her specific body.
"My first dress form was from Austin Creative Reuse," Coulbourn said. "It was really rusty, and it was super cool to have when I was just starting sewing, but it was petite, and I'm not a petite person. I finally got one that was mid-size and fits me from someone in the neighborhood."
Although her current dress form works, Coulbourn wanted something uniquely hers. So she decided to make her own. She downloaded a pattern to create her own dress form. It's taken Coulbourn nearly two years to construct her own model.
"I bought this pattern that was like $24 off of this website called Bootstrap Patterns," Coulbourn said. "Basically, you give them like 400 measurements. The basics: obviously bust, waist and hips, and as a base from inner arm to waist to neck to shoulder. [You give them] so many measurements and they generate a custom pattern for you to make your own dress form. They email you a PDF a day or so later. You cut out around 400 pieces of fabric and it's such a long process,but the dress form is basically done. I just need to finish at the bottom and then mount on the stand, but that's the hard part."
Since Colbourn has created so many different pieces of clothing, it's hard to pick a favorite. But it has to be either her floral dress or pair of purple pants.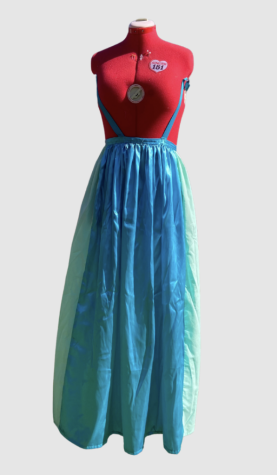 "I have this pair of pants I made," Coulbourn said. "I bought this really gorgeous purple fabric. I wasn't sure what I was gonna do with it, but it was just so pretty that I was like, 'OK, I have to use this.' I slowly made these deep purple trousers that I love."
Her favorite dress was one she made for a concert.
"I got to see Florence and the Machine a month or two ago," Coulbourn said. "I really felt like I needed to have something special to wear for that and so I made this really pretty dress. It's got this long, flowing skirt. And these bell sleeves out of this floral fabric."
Coulbourn acknowledges that making your own clothing isn't for everyone.
"It definitely requires a lot of practice and materials and everything, so it's not as clear cut as, 'Oh go make your own pants,'" she said. "I definitely think it's one avenue that, if you have the time and the commitment, is a really cool way to cut down on your environmental impact."
Whether it's a renaissance dress or a simple pair of pants, Edwards is impressed by her granddaughter's creations and how far she has come.
"I don't understand how [her] brain works this way," Edwards said while describing Coulbourn's sewing process. "I've never known anyone who can do that. She gives pieces of cloth that would otherwise be thrown away a new life, and I think that's special."