On the road to success
Sophomore Zita Conradie builds, collects, loves cars
Life is a highway, and sophomore Zita Conradie coasts along it in her very own white 1990 BMW 325i convertible that she happened to have fixed up herself.
Conradie's interest in cars was sparked at a young age.
"My favorite movie when I was two was Cars," she said. 
Conradie's exposure to the world of cars was formative in her initial intrigue.
"
It's just worth working hard and spending money on something you really love."
— sophomore Zita Conradie on why she loves working on cars
"My dad would always take me to classic car shows and F1, so naturally if I was always surrounded by it I would love it," Conradie said.
Conradie would also help her neighbor down the street work on cars during the summer, which gave her an opportunity to practice and perfect her skills.
Jaco Conradie, Zita's father, remarked on the speed with which his daughter's interest progressed.
"I kind of helped her identify the icons on the car, what it is, which model it is, and she took it from there," Jaco said. "Within record time she knew everything about every car, almost more than me, and was just snowballing down from there."
Conradie's friend, sophomore Avery Altuna, has noticed Conradie's devotion to cars as well as her ability to fix mechanical issues with ease.
"I think it's one of those things that just comes naturally to her," Altuna said. "It's one of those things that I just cannot wrap my mind around how it works." 
Altuna also noted that the time and care Conradie has put into her own car is evident.
"It looks really cool," Altuna said. "She's fixing the seats, and she put a ton of effort into that and it looks really good."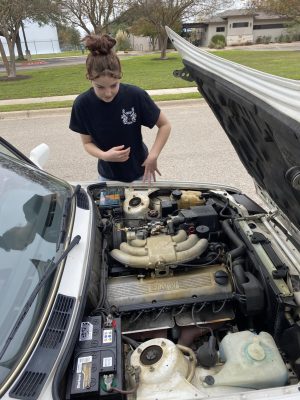 By now, Conradie has lost track of how many cars she's fixed up, but one stands out as especially significant to her.
"My favorite car I've ever worked on I would say is probably my own," Conradie said. "It's my car, so it feels really good working on it because I get to connect with it. After I saved up forever for that thing, it definitely paid off."
Conradie, finding herself busy with extracurricular activities all throughout the week, pursues her passion for working on cars on Saturdays and Sundays. According to her sister, Anneliese Conradie, these are the only days when she can find time to do so.
"She does hard work to make them nice, like, hours on the weekends," Anneliese said. "She gets so excited anytime anyone says anything about a car."
However, Conradie says the long hours are worth it for the final result.
"It's so satisfying when I've been working on something for a while and I'm finally done," she said. "I get to take a step back and admire the work that I've accomplished."
Conradie continues to put her all into her cars, and has worked long shifts at her job in order to get enough money to buy cars and the materials she needs to work on them.
"I'll gladly spend a chunk of money on a car because it makes me so happy to have it look a certain way, be faster, or something like that," Conradie said. "It's just worth working hard and spending money on something you really love."