Mac becomes 'fairytale' for winter dance
First dance of the year brings seasonal festivities, smiles
Friday night, Student Council turned the cafeteria into a winter wonderland for the Winter Fairytale Dance. Lights hung from windows and the occasional Santa hat could be seen in the crowd to commemorate the season. 
Students rushed to the dance floor as the student band Loose Knit took the stage. The music blasted on as students showed off their dance skills. Others, who might not be the dancing type, lined up at the concessions stand or chatted with friends out in the hall. 
From freshmen to seniors, who had dances postponed due to COVID, going to a McCallum dance was a first. Students bought $5 tickets at lunch for a chance to dress up, be with friends and dance the night away. 
We are pleased to present as this week's Tuesday Top 10 featuring some of the top images from the Winter Fairytale Dance.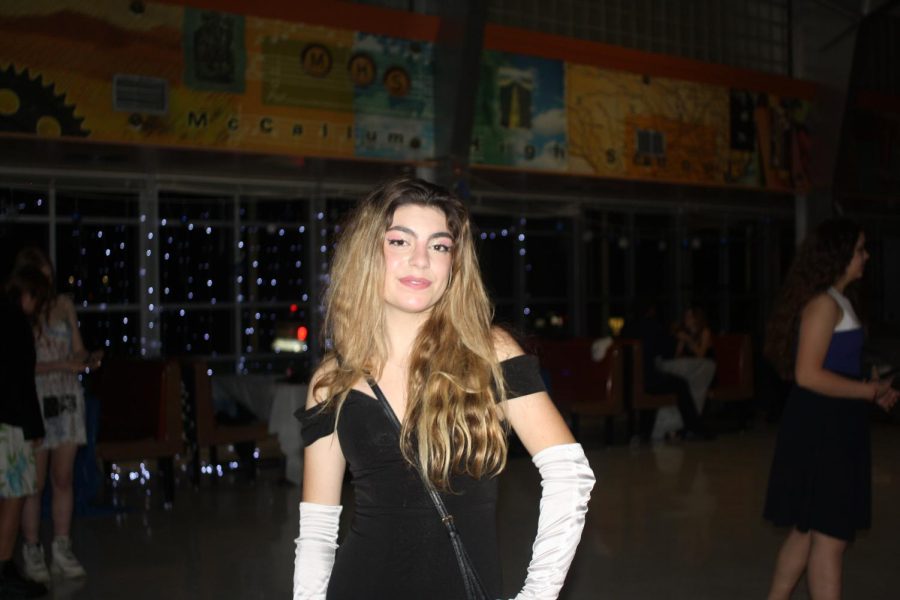 ALL DRESSED UP: Sophomore Amanda Gerdes poses for the camera at the winter dance. For Gerdes, attending a McCallum dance was an all-new experience.
"While it was a long wait, I was very excited," Gerdes said. "It had been a while since I had a dance to go to with all my new friends at school."
Gerdes said that the fairytale-themed dance lived up to her expectations.
Caption and photo by Callen Romell.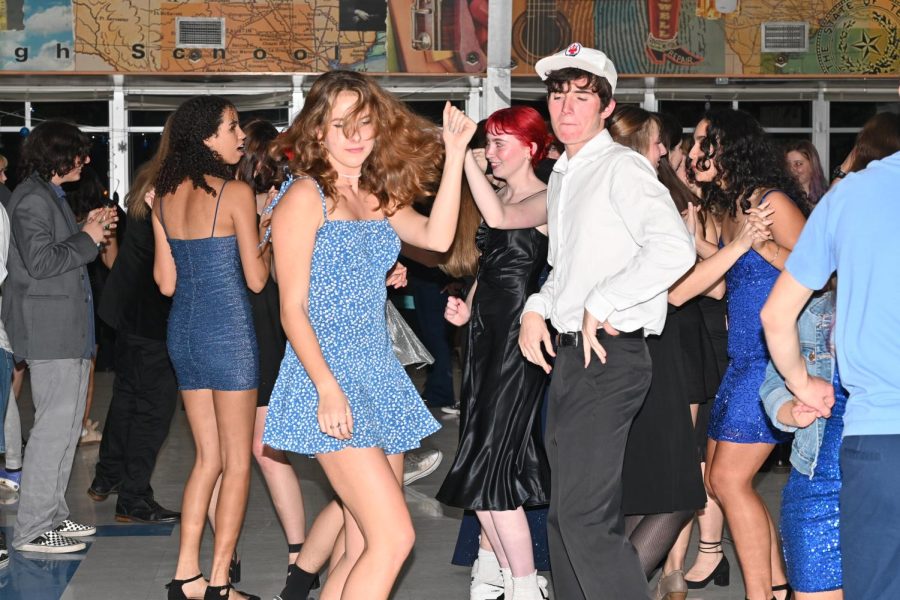 REPPING THE SENIOR: Senior Helena Finos dances at the Winter Fairytale Dance last Friday. Finos had been planning to come to the event from the start due to her position as senior class president. 
"I wanted to come represent my class, and it turned out to be a lot of fun so I'm glad I went," she said. Finos was also pleasantly surprised by the number of students who showed up after disappointing crowds at prior events. 
"It was a lot of fun [since] a lot of people came, which I didn't necessarily expect since we didn't have the best turnout at the last dance," she said. "I think people are excited that we're doing dance again after COVID and the long break from a lot of school events." 
Reporting by Ingrid Smith. Caption by Francie Wilhelm. Photo by Morgan Eye.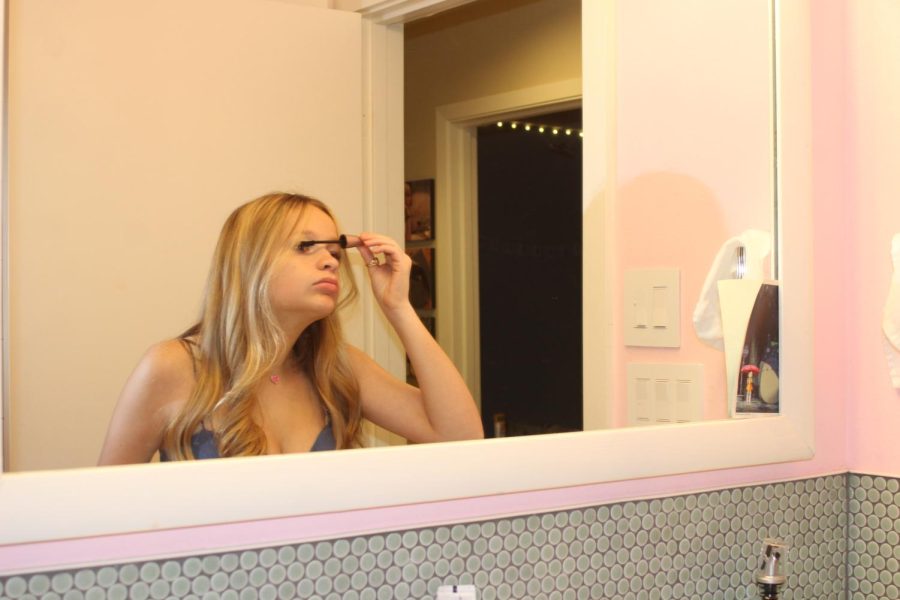 DRESSED TO IMPRESS: McCallum's 2022 Winter Dance wasn't just fun for the upperclassmen, but for freshmen too. For freshman Charlotte Cross, the dance was a pleasant surprise. 
"I wasn't expecting the dance to be that exciting, but it turned out to be really cool," Cross said. "If we have a dance again, I'll definitely go!"
Caption and photo by Iris LaRue.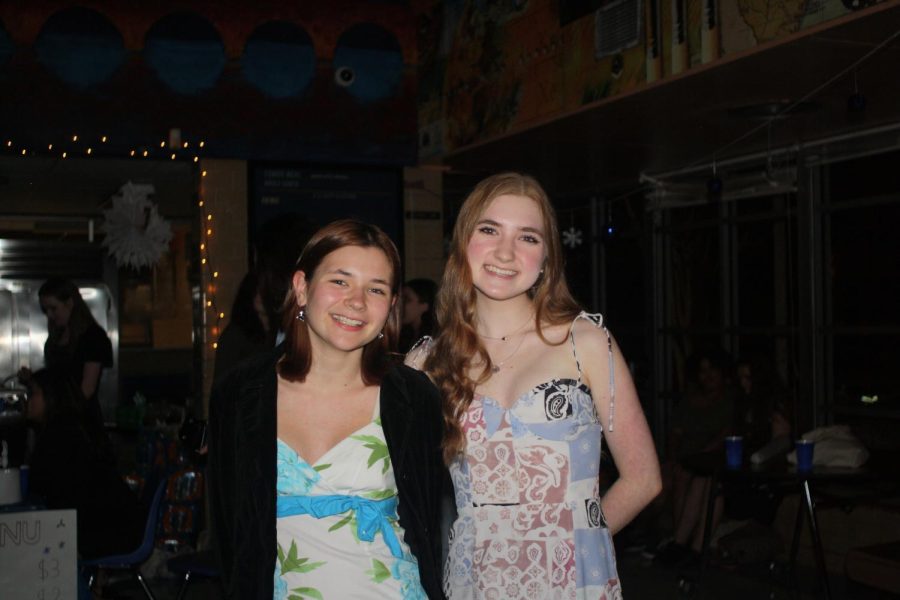 SAY CHEESE: Smiles weren't hard to come by at last Friday's Winter Fairytale Dance. Sophomores Sovie Nance and Greta Wayman were two of the many smiling faces at the dance. According to Wayman, hanging out with friends and enjoying the dance's atmosphere made it a great experience for everyone. 
"It was fun to see all of my friends dressed up and talk to them in a non-school environment," Wayman said. 
While there were a few hiccups in the dance, like running out of the much-loved punch, overall the dance ran smoothly.
Caption and photo by Callen Romell.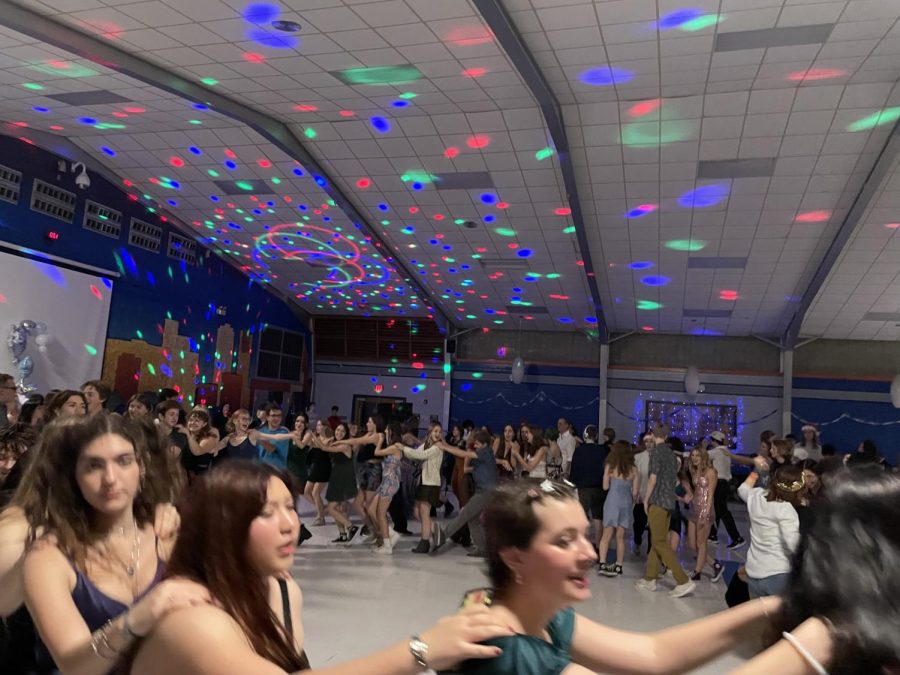 DANCING IN A WINTER WONDERLAND: Freshman student council member Ruhi Motwani dances in her sparkliest dress in a large circle of Mac students at the Winter Fairytale Dance. According to Motwani, the dance was a collaborative effort within Student Council, and it couldn't have been possible without the help of sponsor Amy Brodbeck. 
"Student Council has been getting together during lunch and FIT time to work on making posters for the dance as well as to discuss the more intricate details like music, drinks and decorations," Motwani said. "It was truly a collaborative effort in that everyone on Student Council put their all into it, whether it be selling tickets, helping decorate and clean up, taking pictures at the dance or manning the the food and drink tables."
Motwani said that the dance brought both excitement and nerves for underclassmen like herself.
"Some of us were a little nervous because this is our first time being involved in planning events like this and taking on these leadership roles," Motwani said.
Through decorations provided by Brodbeck and upperclassmen on Student Council, Student Council members transformed the cafeteria into a winter fairytale wonderland. 
"On the day of the dance, many stuco members stayed after school and worked diligently to help set up the decorations," Motwani said. "The colorful lights especially helped transform the room and make it feel more magical! We also made sure to use a lot of blue decorations to further help turn the room into a winter fairytale."
According to Motwani, the DJ got students from all grades onto the dance floor. She said that the dance was successful in being a fun and welcoming environment for everyone.
"Looking around, I noticed that everyone looked like they were having tons of fun," Motwani said. "While many people came with a big group of friends, I noticed that lots of these circles expanded and everyone was very inclusive. Overall, it felt very open and joyful. This dance was a super successful event, so I think that it would be great for Mac to hold more events like this in the future."
Caption by Ingrid Smith. Photo by Andie Svatek.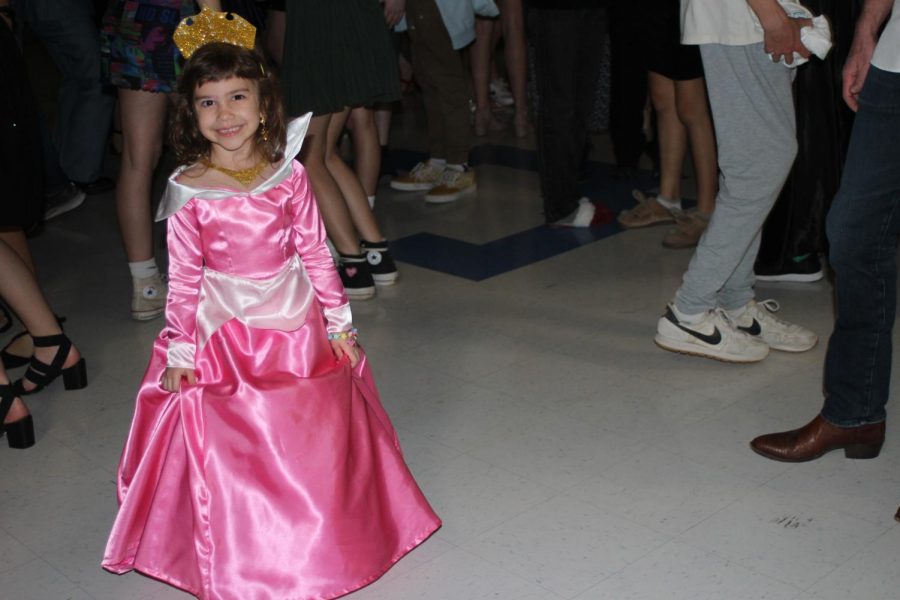 FAIRYTALE FIT FOR A PRINCESS: Not only did McCallum students attend the 2022 Winter Fairytale Dance last Friday, but so did students of all ages. Camilla Gammerdinger, daughter of head football coach and athletic director Thomas Gammerdinger, showed up to the dance dressed as Princess Aurora from "Sleeping Beauty." Camilla's father brought her to the dance to have a fun night with the "big kids" and she was all smiles.
Caption and photo by Iris LaRue.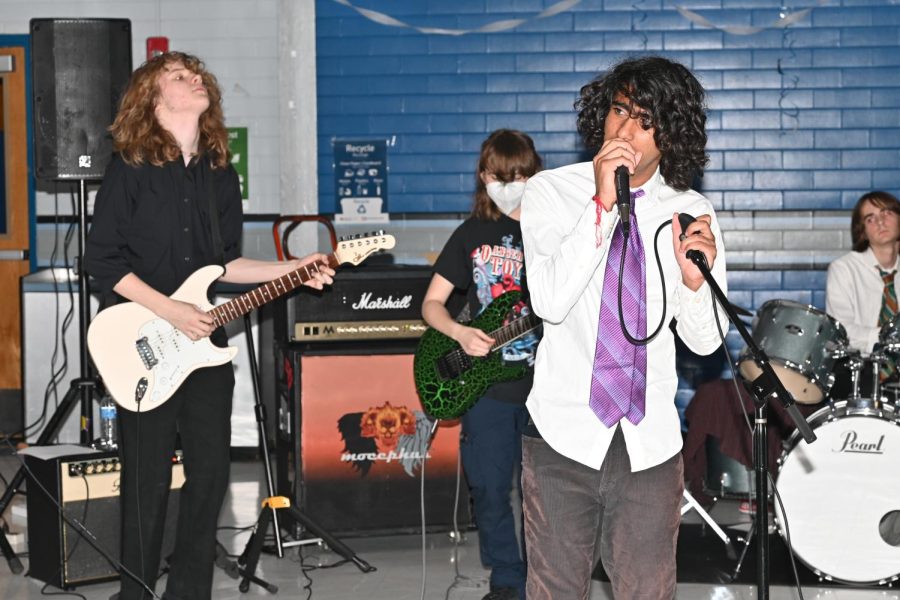 LOOSE THREADS COME TOGETHER: Loose Knit, a band composed of McCallum students, performs their set at Friday's Winter Fairytale Dance. Band member Nathan Howard said the local group jumped at the opportunity to broaden their audience, and even ended up playing more songs than they had expected to, which also proved to be a bit of a challenge to the band.
"Everyone adapted really well in the moment, which is something that as a musician you have to be able to do," Howard said. "It was really nice to see everything come together in that one moment after we'd practiced so much."
Caption by Camilla Vandegrift. Photo by Morgan Eye.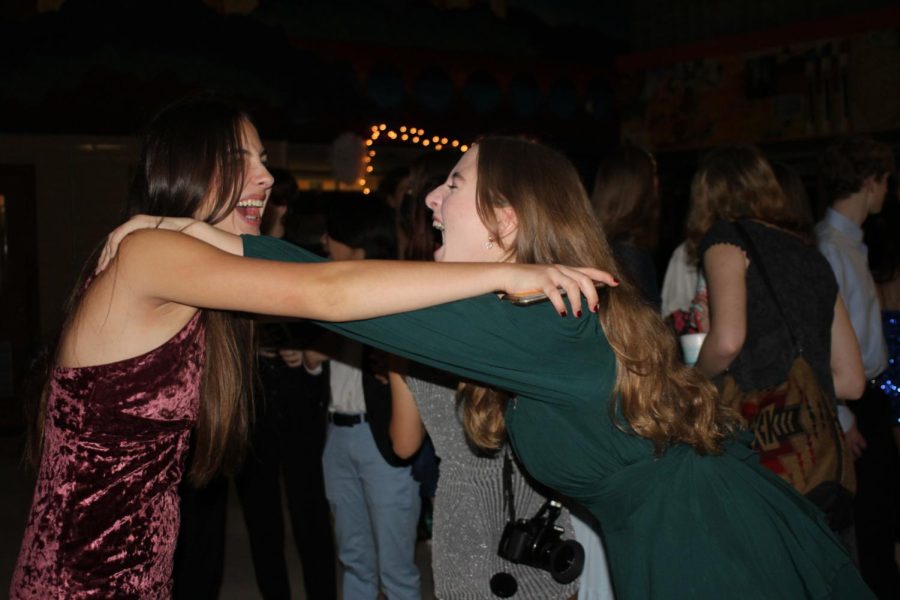 DANCING THE NIGHT AWAY: Freshmen Milane Boudou and Lorelai Rigdon enjoy a nice slow dance filled with smiles together. Rigdon claims to have had a lot of fun at the dance. 
"I enjoyed hanging out with my friends," Rigdon said. "I wasn't expecting much from the dance, but it exceeded my expectations."
Rigdon found the event to be a great way connect with the Mac community.
"It was a cool experience because I got to see my classmates that I usually don't see after school hours," Rigdon said. "There was also a lot of different people there from other grades, which I liked cause it gave me another chance to connect with people that aren't in the same grade as me."
Caption by JoJo Barnard. Photo by Iris LaRue.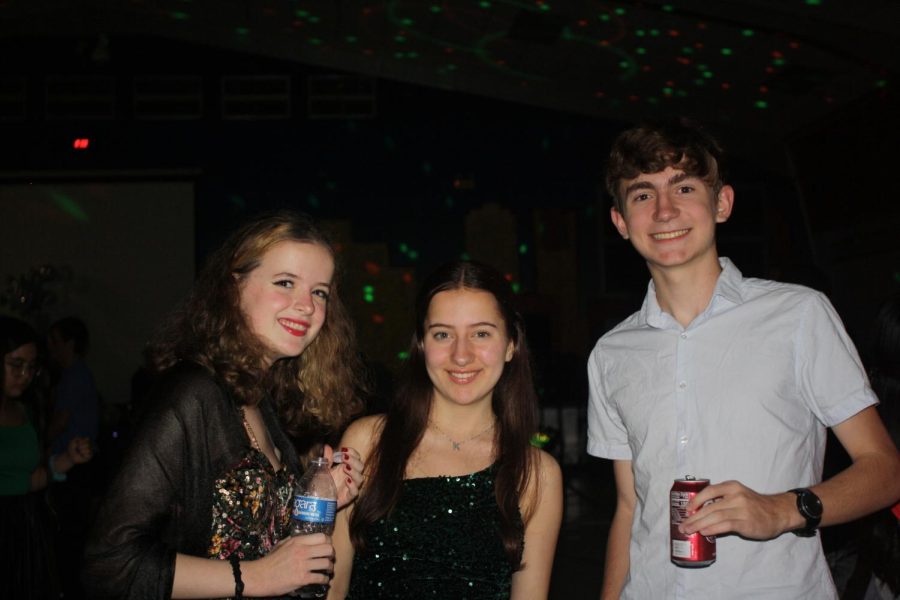 HAPPY FACES ALL AROUND: Sophomores Mac Lopez, Kalliope Haltom and James Nesbitt pause their talking for a quick photo. Last Friday, the winter dance finally took place after months of planning. For Haltom, the sophomore class president, it was fun to see all of student council's hard work planning the dance pay off at last. 
"Setting up was great; I was surprised how many decorations had been set up," Haltom said. "I think it went amazing because so many more people came than we expected and had a great time." 
Caption and photo by Callen Romell.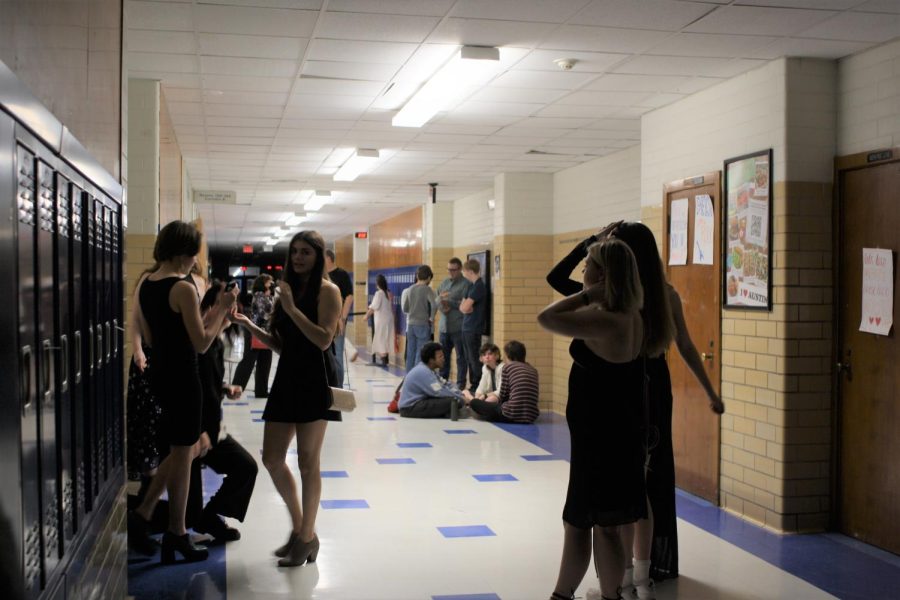 FIRST TIME FOR EVERYTHING: Seniors Alyssa Sparks and Ellie Provost take a break from the booming music and high-energy atmosphere of the dance in the hallway outside the cafeteria. The pair had low expectations going into the dance and didn't plan to stay for long.
"We said we were only going to say until 8:35, [which] was 10 minutes after we got there," Sparks said. "But we ended up staying until 10:30."
Sparks' last school dance was her freshman year Homecoming dance pre-COVID which she had decided not to attend, so her first time attending a highschool dance last Friday was a new experience.
"It was surprisingly fun," Sparks said. "I had a good time."
Caption by Francie Wilhelm. Photo by Callen Rommell.