Mac music programs ring in the the holiday season with return of December concert series
The music was loud and joyous and so was the attire the musicians and their directors wore to perform it.
Nothing rings in the holiday season at McCallum more than season musical performed by the Mac Fine Arts Academy music programs. This year's performance took on added meaning after such festive events, replete with loud, joyous music and equally loud, joyous and, frankly, shameless holiday attire.
In the spirit of the season, we proudly present to you this holiday gift, a Tuesday Top 10 photo essay featuring performances from all of 2021 Fine Arts Academy holiday music concerts.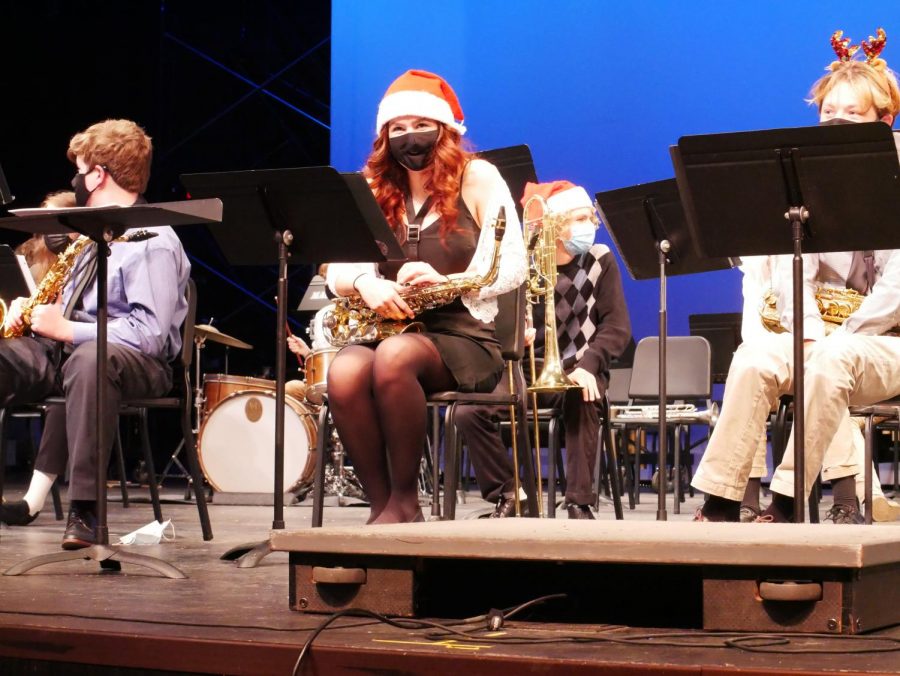 HOLIDAY CHEER: Senior Scarlet Frese laughs at director Carol Nelson's joke in between songs at the band's winter concert on Dec. 7. Frese performed alto saxophone in the jazz ensemble as well as the concert ensemble. She said that although they had less than a month to prepare for the concert after the marching band season ended, she and her fellow musicians were able to transition seamlessly into a new performance setting. "I think the main thing was that we just have some really talented musicians and directors," Frese said. "The shortened prep time wasn't even on my mind." Frese thought that the concert helped her to ring in the season. "Every year when the holiday concert comes around, it starts to feel more in the holiday spirit," she said. Photo and caption by Samantha Powers.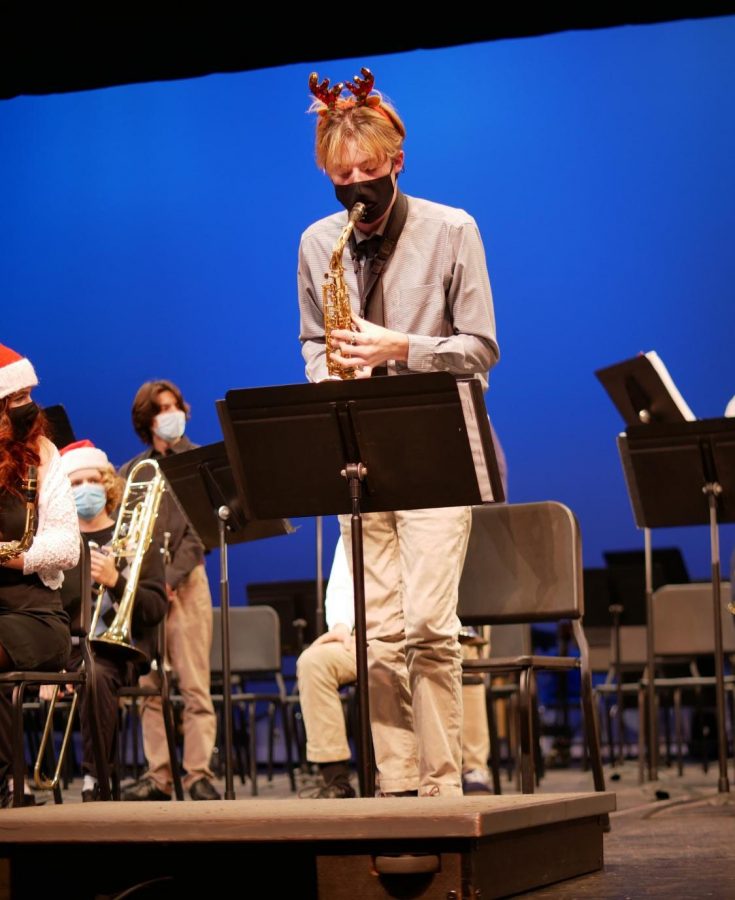 FLYING SOLO: Senior Will Sharp plays a saxophone solo during "Fowl Play" by Kris Berg. This piece, based on birds, was one of the songs the ensemble performed at their Dec. 7 winter concert. Sharp's solo was one of two he performed that night. "I'm just feeling the music," Sharp said. "It's hard to play well when you don't have that mindset on." Sharp attributes the band's ability to complete a fast turn-around from the marching band season to the concert to director Carol Nelson. "She's a really good director," Sharp said. "She knows what she's doing." Photo and caption by Samantha Powers.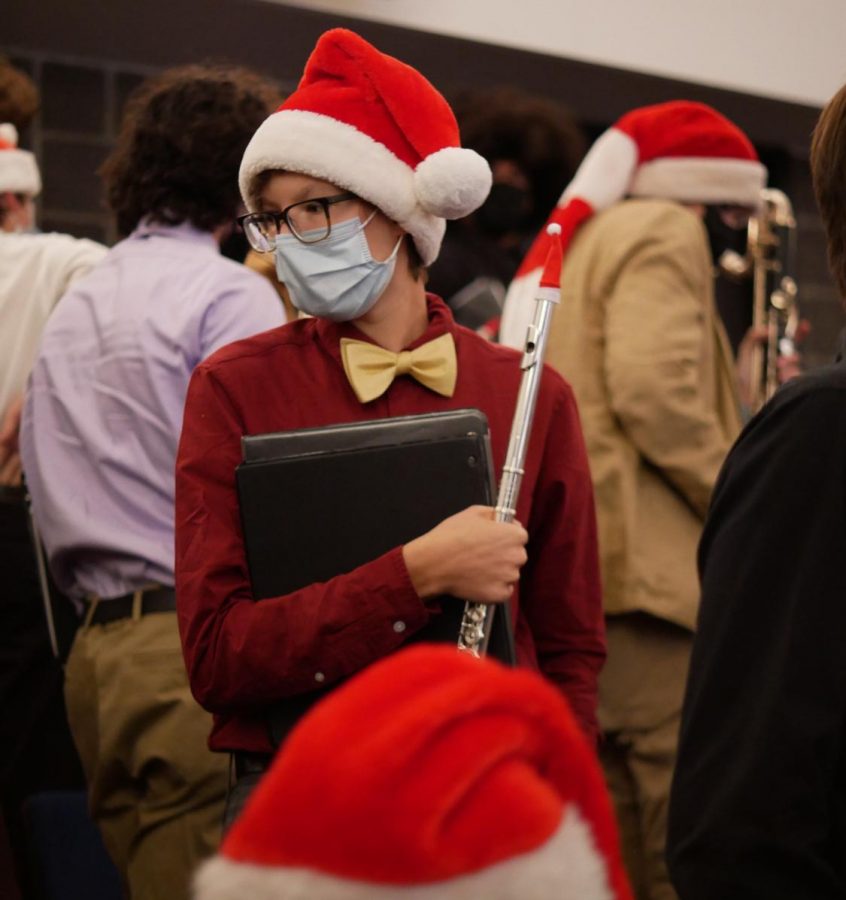 A SEA OF SANTA HATS: Decked out with a Santa hat to match the mini one for her flute, junior Julia Schaubert gets ready to perform in the band's winter concert. Schaubert was one of many students recognized for placing in the TMEA competition process. Schaubert appreciated that she could relax more with this concert. "I get nervous when I perform by myself for something like TMEA," she said. "But when we are in such a large ensemble, there is less pressure on each individual player." Photo and caption by Samantha Powers.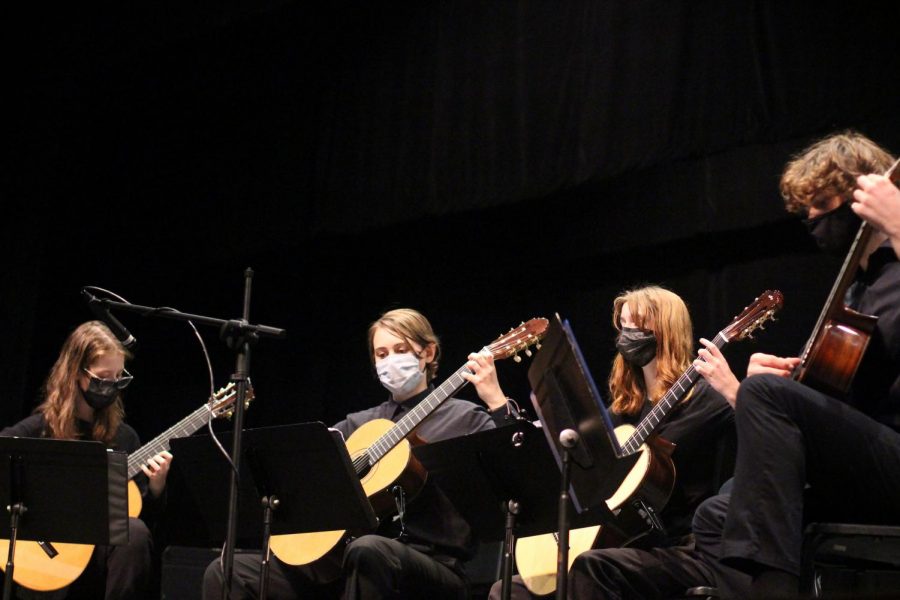 GOOD THINGS COME IN FOURS: Sophomores Meredith Grotevant, Sydney Piper, Ellaiden Margrave and junior Ethan Kulkan perform as one of the quartets at the winter guitar concert. The four did a lot of independent work on individual parts to keep the piece balanced. "We had to work harder than we do in a larger ensemble or solo," Grotevant said, "but it is really nice to have three people backing you up." In the end, Grotevant feels that everyone's hard work paid off. "We were able to play well and still have fun with it," she said. "That's always the goal in our [guitar] program." Photo and caption by Francie Wilhelm.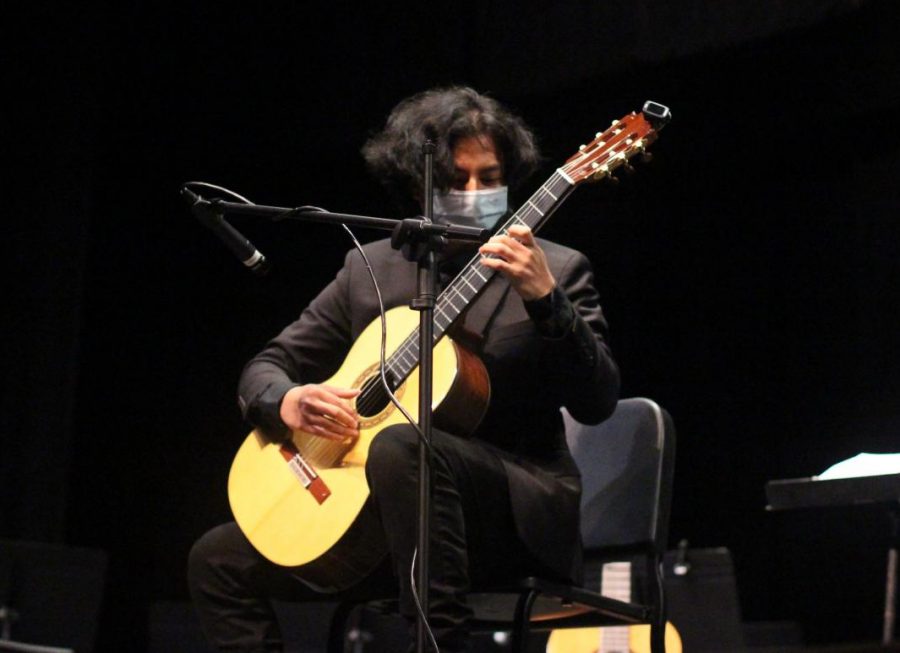 Senior Juan Itzep plays a solo at the winter guitar concert. After recently winning the Javier Niño Memorial Scholarship for his musical performance, this solo was only another outlet for Itzep to share his talent as a guitarist. "All I want to do is improve," Itzep told MacJournalism after winning the scholarship. Photo and caption by Francie Wilhelm.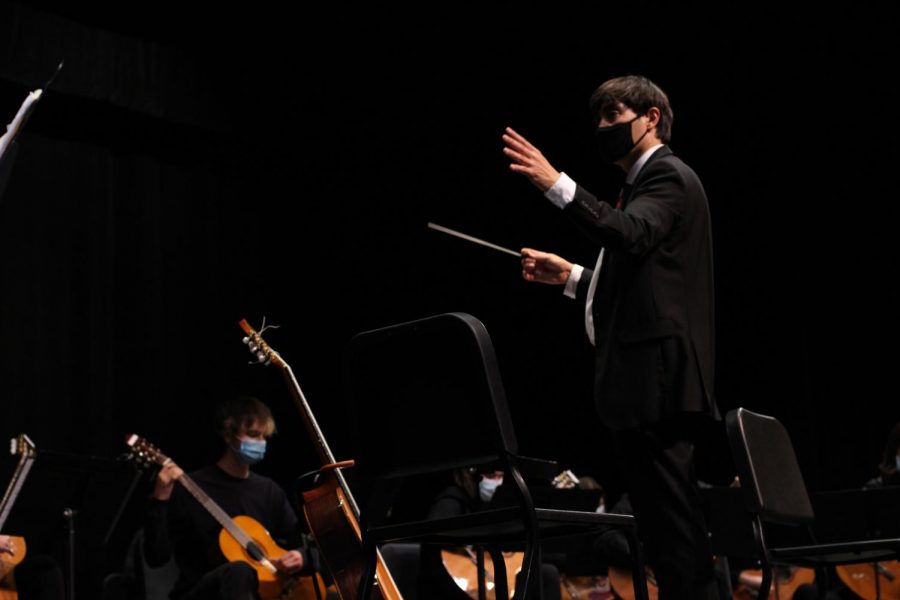 THREE CHEERS FOR CLARK: Guitar teacher Andrew Clark conducts at the concert last Wednesday. To prepare the Mac guitarists, Clark taught weeks of after school and sectional practices leading up to the concert. "He offered any help we needed [for the concert]," chamber guitarist and sophomore Lily Hobbs said. "We did full run-throughs of the pieces leading up to it and to work on tempo, we would do little games where he would change it up and we had to follow his conducting." Organizing an entire concert solo was no easy task, but from Clark's feedback and the performers' perspectives everything went well. "I thought he pulled it off," Hobbs said. "And I think he was proud of it. He should be proud of it." Caption by Francie Wilhelm. Photo by Elena Ulack.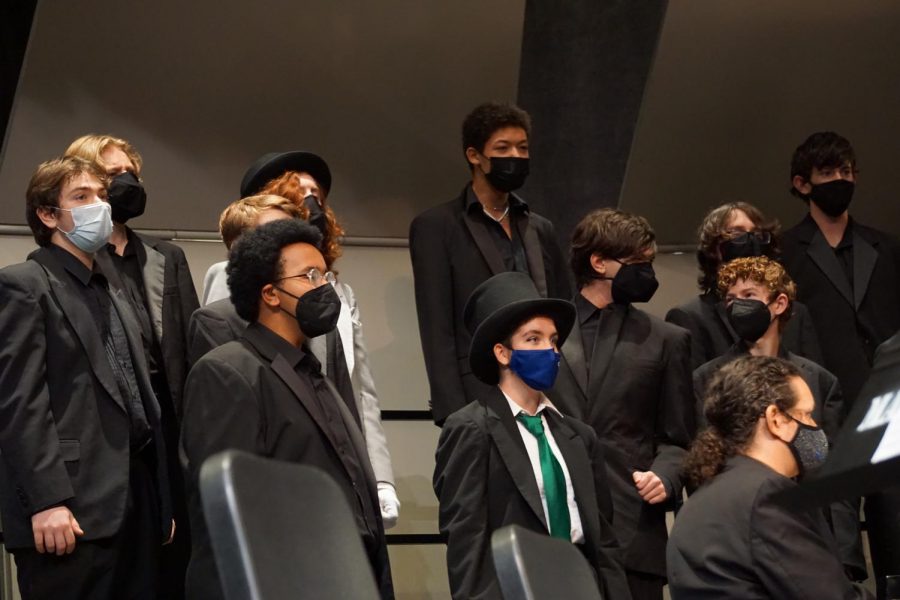 The members of Mac Choir joined together on Thursday to put on their final concert of the semester. Students and faculty spent months preparing winter-themed pieces to perform. "We had been working on our music for a while," junior Nick Boehle said when asked to speak about the concert. "I really liked the songs we were singing for the concert, and I think they came out well." This concert marked the last time students would perform with beloved long-time assistant director, Mr. Mabry. "I'm really going to miss him, but I'm hoping for the best for both Mr. Mabry's and Mac Choir's futures." Caption by Julian Magee. Photo by Sophie Leung-Lieu.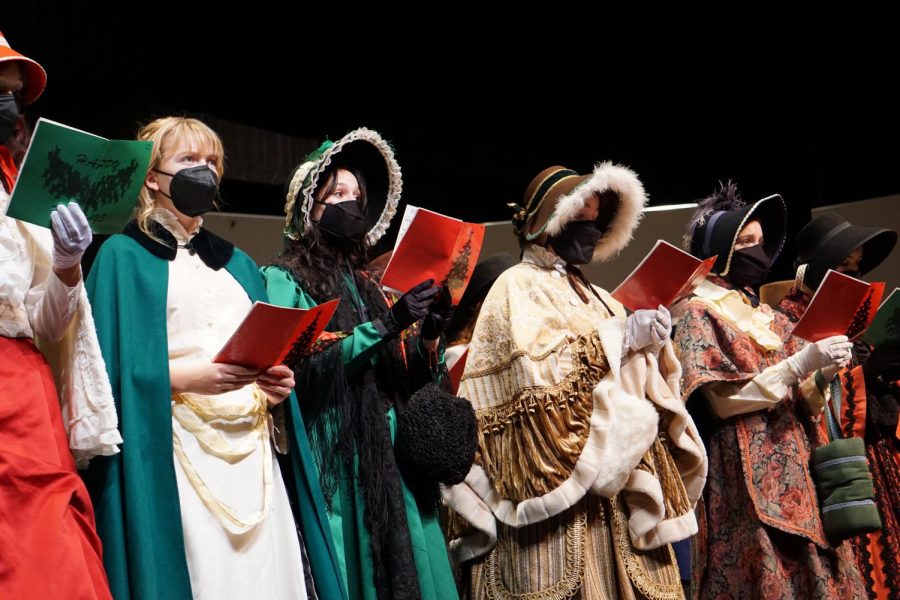 SINGING FOR SCROOGE: To preface the choir concert, a group of choir members sang Christmas carols in a "Dickens-esque" fashion. Senior chamber choralist, Evelyn Griffin (second from the left), told Macjournalsim that the group stuck to classic Christmas songs. "[We sang] 'We Wish You a Merry Christmas,' some Latin thing, 'Silent Night,' that kind of thing," Griffin said. "My wardrobe situation was a bit stressful, but I enjoy singing with tenors and basses." Caption by Lucy Marco. Photo by Sophie Leung-Lieu.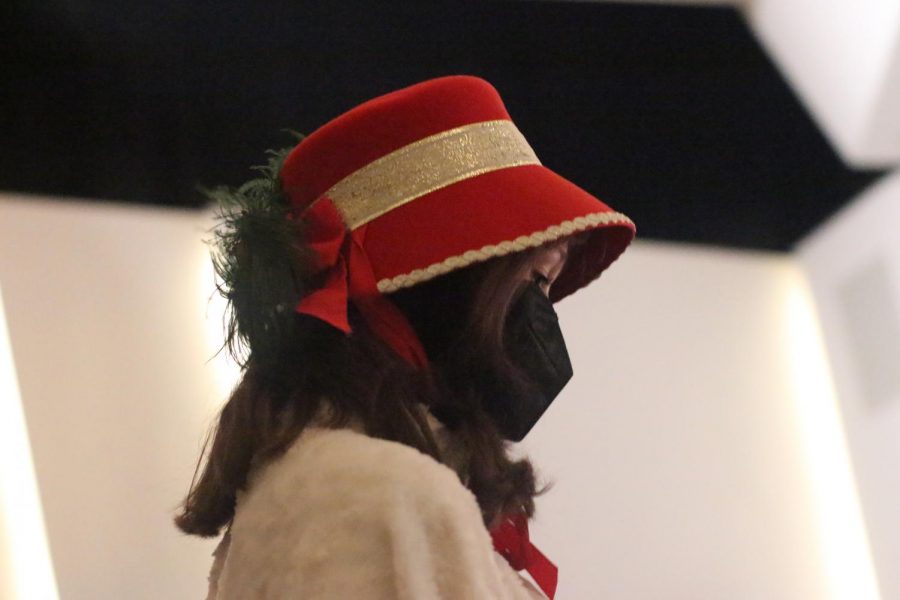 I'LL HAVE A NEW CHRISTMAS: When senior Jewel New sang classic carols during the McCallum Choir Winter Concert last Thursday, she felt the "holiday spirit." She was also sweating underneath numerous layers of fabric, complete with a gigantic petticoat underneath and a fur shawl over top. "I was very excited about the outfit," she said. "It was a Dickens character style with a little holiday bonnet on top, and it was so fun to wear, although a bit warm." She is part of the Mac High carolers, a group of students, mostly from Chamber and Tenor/Bass Choir, who rehearse classic carols together, along with a few modern arrangements. "I loved caroling," she said, "but my favorite part of the concert was 'Carol of the Bells,' the last song we did, because it was a full choir song. I could tell we were all having fun as a group." Caption by Evelyn Griffin. Photo by Carter Eason.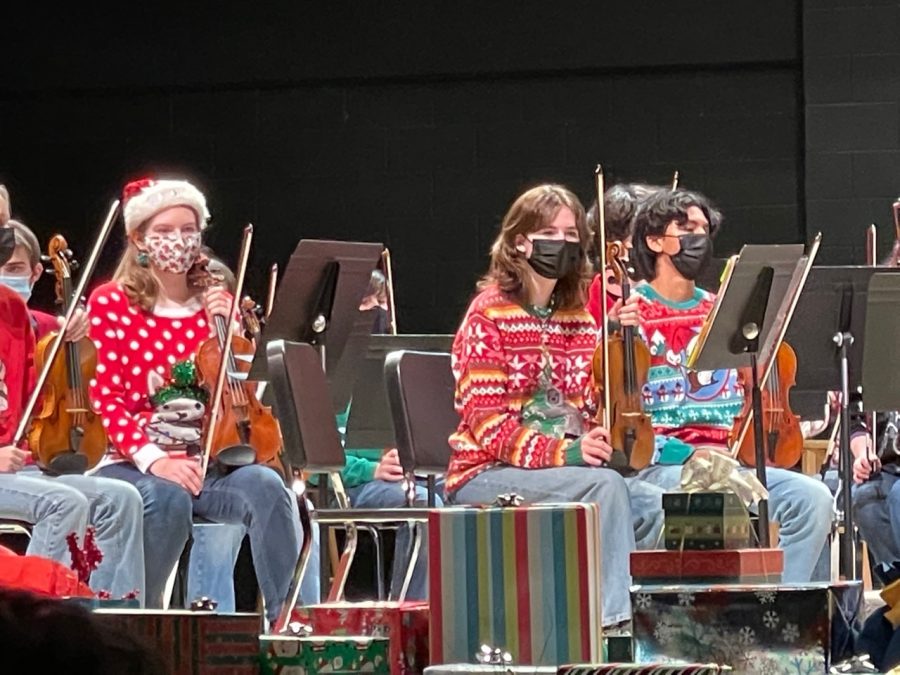 BOWS AREN'T JUST FOR GIFT WRAPPING: Before tonight's concert, sophomore chamber violinist Georgia Halverson (center) awaits the concertmaster to begin the tuning process, instrument and bow in position. "I felt pretty prepared for the concert overall," Halverson said. "The music was not as difficult, so it was not as stressful as previous concerts." The chamber orchestra played "Eine Kleine Nachtmusik," a light and cheerful classic by Mozart. They also played "A Christmas Festival" by Leroy Anderson, followed by "Happy Hanukkah" by Norman Ward. Caption by Caroline Owen. Photo by Jessica Henderson.
TUNING UP AND TUNING IN: The non-varsity orchestra tunes their instruments this evening before playing their set, "Symphony No. 1 in D Major" by Gustav Mahler, "Three Slavonic Dances" by Antonin Dvorak, and "Rondo" by Mozart. "My orchestra played really well together," sophomore violinist Angelina Rowley said. "This concert was fun since there were some awesome Christmas sweaters and funky hats worn." Caption by Caroline Owen. Photo by Jacqueline Frausto.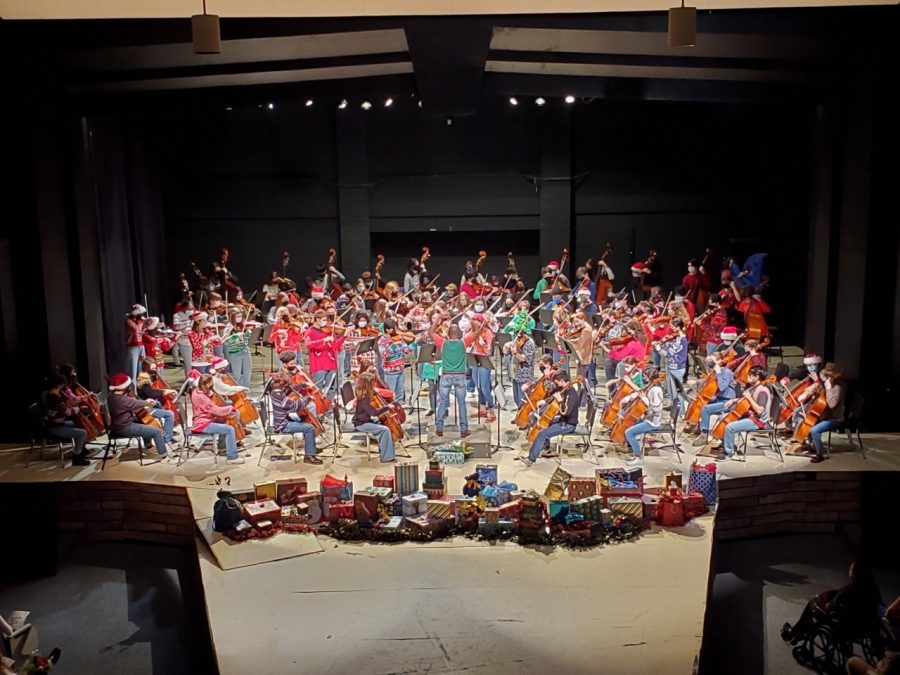 THEY'VE GOT SPIRIT: All levels of the McCallum orchestra joined together tonight to play "Happy Hannukah" by Norman Ward and "McCallum Knights," the school song, composed by Ricky Pringle. "The atmosphere was definitely more tense since it's harder to play altogether," sophomore violinist Angelina Rowley said. "It's a rejuvenating feeling when you're playing alongside people from all orchestras, each with different strengths, and it's a great way to meet new people." Caption by Caroline Owen. Photo by Amy Krische.