Pink Week 2022 sets standard for fun, fundraising
PALs raise nearly $3,000 for Breast Cancer Research Center during fun-filled annual fundraiser
Evie Barnard, JoJo Bernard, Isley Cameron, Jolie Gabriel, Chloe Lewcock, Gergo Major, Helen Martin, Emerson Merritt, Lanie Sepehri, Ingrid Smith, Rio Sotelo, Sofia Thatcher, Elena Ulack, Camilla Vandegrift, Francie Wilhelm, and Dave Winter
October 4, 2022
Last week McCallum celebrated Pink Week, its annual fundraiser for Breast Cancer Research Center- filling the halls with pink streamers, wearing as much pink as possible, pelting PALs with water balloons during lunch festivities and pieing teachers in the face during the pep rally. This was the highest-earning Pink Week ever as the PALs raised almost $3,000, raised awareness about breast cancer and raised enthusiasm in the Knight community.
Each day of the week brought different fundraising activities including the Pink "Salon," shooting PAL-ery, plank and push-up contests, a hula hoop battle, tug-of-war and snowcones. On Tuesday and Thursday, students could even pay to dump a bucket of water on a PAL of their choosing or throw a water balloon.
The school's enthusiasm carried on throughout the week, culminating at the Pink Week pep rally on Friday when PALs pied selected teachers in the face and the school built up excitement for the evening's football game. Despite losing the game, students filled the stands decked out in pink and the cheerleaders and Blue Brigade carried pink poms.
We are pleased to present this week's Tuesday Top 10 to celebrate McCallum's most successful Pink Week ever.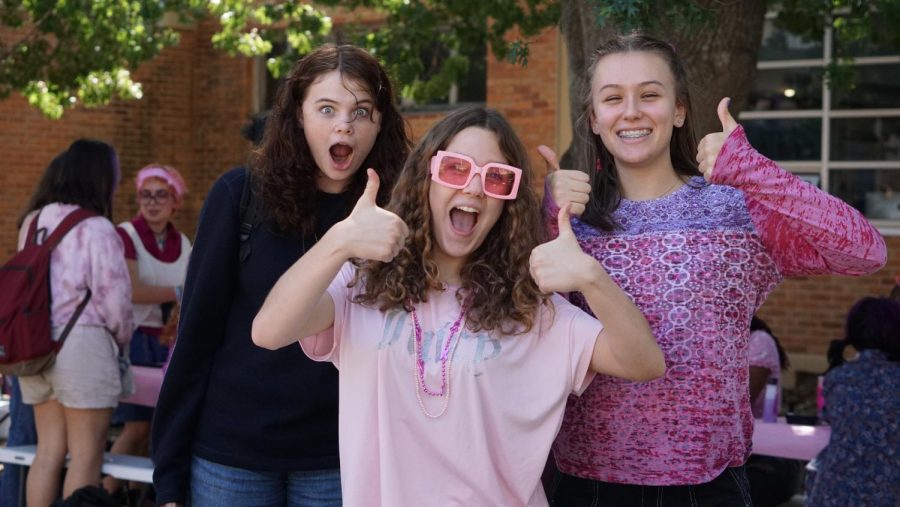 FUN WITH FRIENDS: Sophomores Hazel Trominski, Julia Rasp and Zalie Mann pose for the camera during Pink Week's lunch festivities. Students in the science courtyard throughout the week enjoyed the activities while spending time with friends and sporting their best pink wear. Rasp went all-out during Pink Week, pink being her favorite color. "I think it's awesome that they're raising money for breast cancer awareness and doing fun stuff and that a lot of it is student-organized," Rasp said.
Caption by Camilla Vandegrift. Photo by Dave Winter.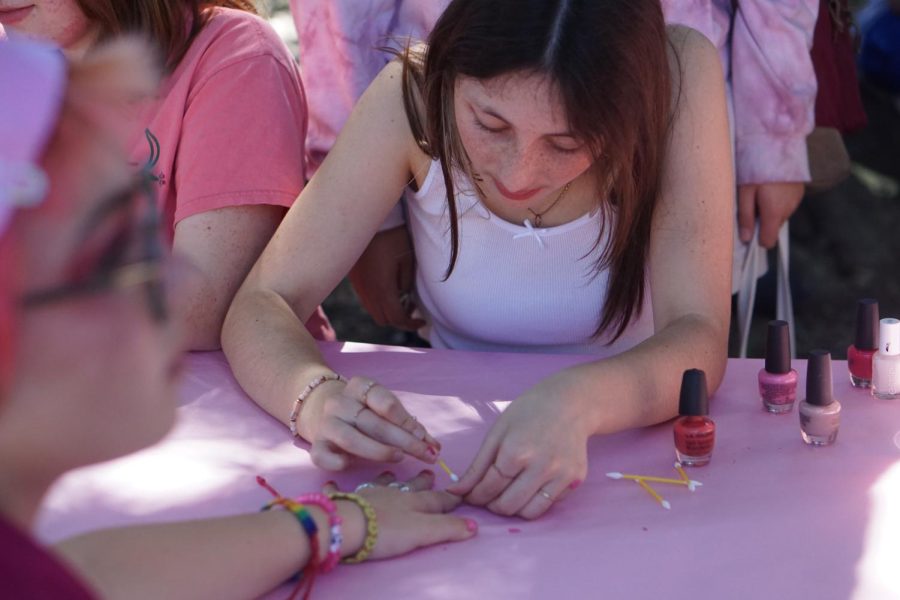 PRETTY IN PINK: Senior PAL Hana Diamond paints a student's nails at the Pink Week nail salon. Last week was Diamond's first time experiencing the annual Breast Cancer Research Center fundraiser as a PAL. "Pink Week has been my favorite PALS experience by far," she said. "It was fun getting to work with my peers and raise money towards a cause I'm passionate about."
As far as Pink Week was concerned, Diamond not only enjoyed facilitating the salon held during lunch, but also loved participating in the shooting PAL-ery "It was so funny to see my friends' faces as they paid to dump buckets of water on me."
Caption by Francie Wilhelm. Photo by Chloe Lewcock.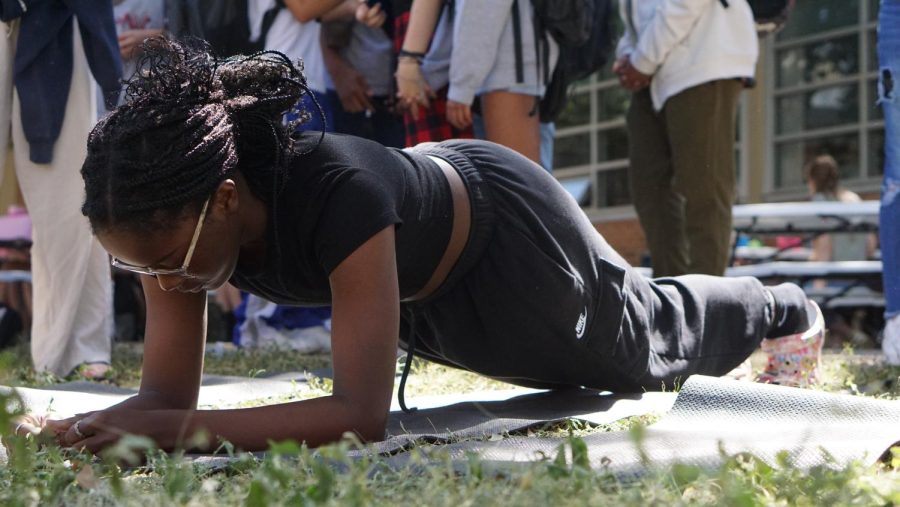 STRONG SUPPORTER: During this year's Pink Week fundraiser, the annual planking and pushup contest was a hit. Students joined the contest with an initial $2 entry fee and the winner won a $20 cash prize. Freshman E'Mirrah Harris participated in the planking contest. "I went into the competition with intentions to win since I have a lot of experience with planking but I was mostly doing it to support the cause," Harris said. With confidence and the motivation of school spirit, the students were able to show off their strength while supporting a good cause.
Caption by Isley Cameron. Photo by Dave Winter.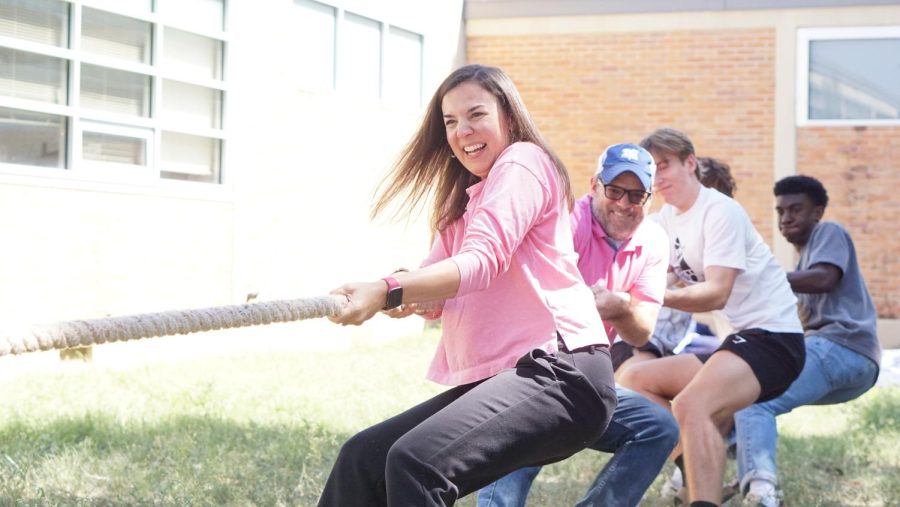 STRENGTH IN NUMBERS: College and career counselor Camille Nix enjoyed consecutive victories in the tug-of-war competition during the lunchtime Pink Week carnival on Wednesday in the science courtyard. After conscripting journalism teacher Dave Winter to challenge the young PALS, Nix's side fell behind, but after securing the aid of a few PALS to anchor the rope, Nix was able to lead her team to victory. Unfortunately for the history books, no photographer recorded the team's first victory. Undeterred, Nix summoned her team back to the rope for a second try, this time with photographer Jolie Gabriel at the ready. Luckily for the two teachers and their PALS, the result was the same. "It was fun, competitive and for a good cause," Winter said. "It was a win-win-win." Photo by Jolie Gabriel.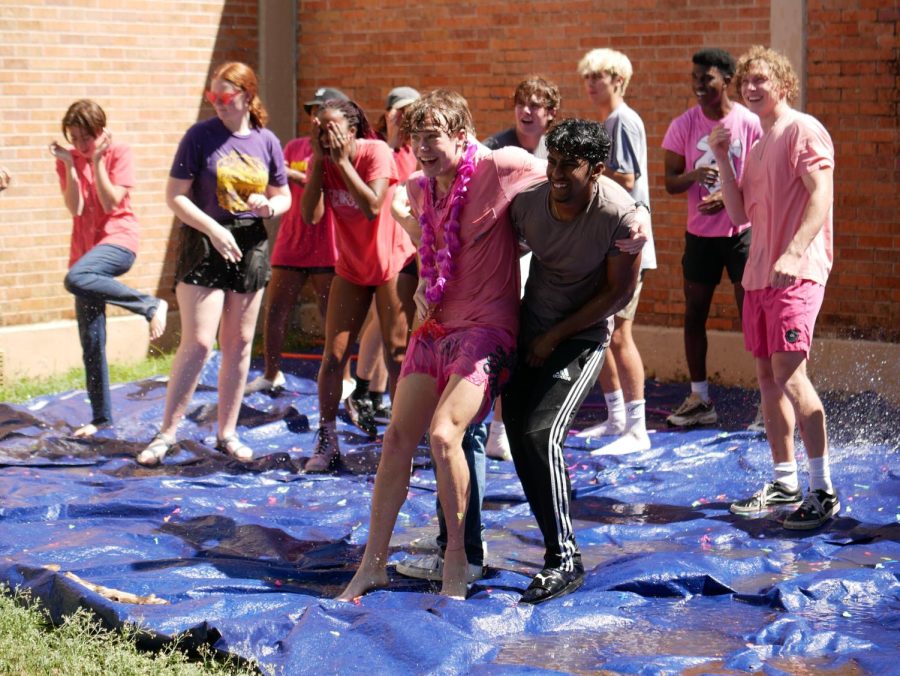 FUN BUT ALSO FUNDS: For senior Udoy Saha, half the fun of Pink Week comes from the people around him. "I feel really proud of everyone from PALS," he said, "We worked really hard for this, and it's very rewarding seeing that we were able to impact the world in some way." This is Saha's second year in PALS and Pink Week is still a highlight of his year, "To me, Pink Week is the best week of the year," Saha said, "Us PALs work together to come up with the best plan possible. We have so much fun setting it up and planning it out, and by doing it we become closer to each other." This year, the PALs veteran was a target in the Shooting PAL-ery, falling victim to countless water balloons and buckets of water, and while that alone seems fun enough, Saha noted that he wouldn't have enjoyed it as much if it hadn't been for the good cause, "Normally, it's fun to be a target" he said. "I love seeing people having fun, throwing water balloons at us, but it also means we can raise a lot of money from doing it." Caption by Helen Martin. Photo by Dave Winter.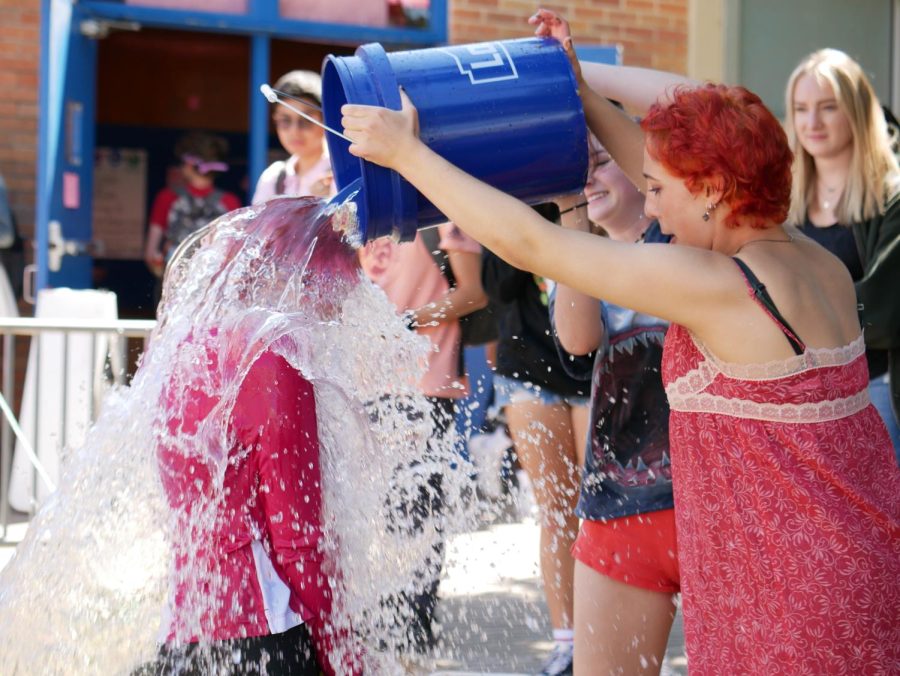 BUCKETS OF FUN: During lunch on Tuesday and Thursday, students in the PALS program volunteered to be drenched in water to raise money for the local charity Breast Cancer Resource Center (BCRC). Students had the opportunity to purchase a bucket of water for $10 and dump it on a PAL of their choosing. "The water buckets were definitely one of the reasons we were able to raise so much and beat our record," senior Josie Bradsby said. "Pink week came a little early this year and I was pleasantly surprised that we were able to do so many activities successfully. It's a great way to give back to my community and spread awareness and a sense of togetherness around McCallum."
Caption by JoJo Barnard. Photo by Dave Winter.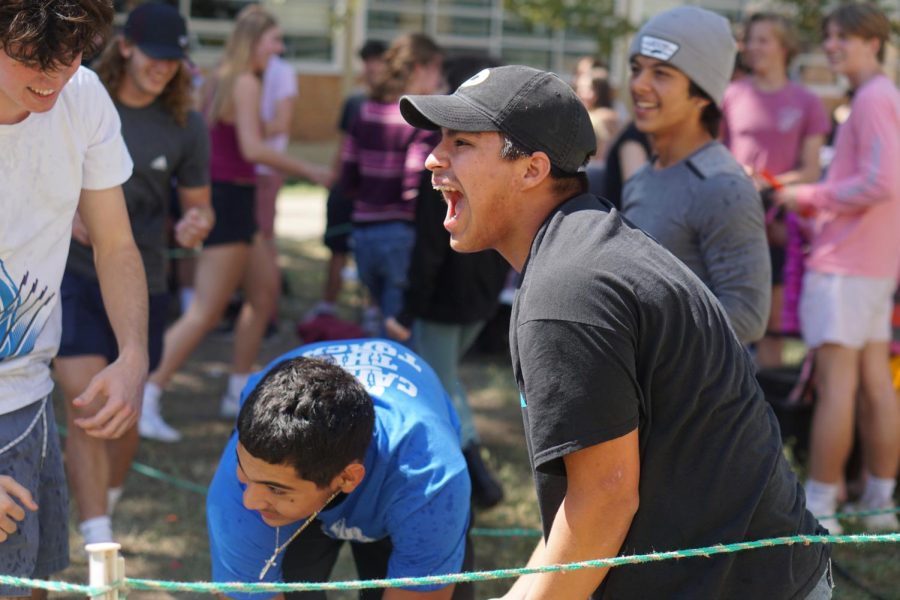 TARGET ACQUIRED: Seniors Anthony Hernandez and Angel Vasquez celebrate hitting their friend, senior PAL Udoy Saha, with a water balloon. Not only was their throw successful, but the one prior to that was as well, resulting in Saha being hit twice, back to back. For Vasquez, the opportunity to throw a water balloon at PALs he knew was one of the main reasons he chose to join in on the Pink Week festivities. "I wanted to support my friends in PALs," Vasquez said. "It felt really good being able to donate to a greater cause   while still having fun with my friends."
Caption by Evie Barnard. Photo by Dave Winter.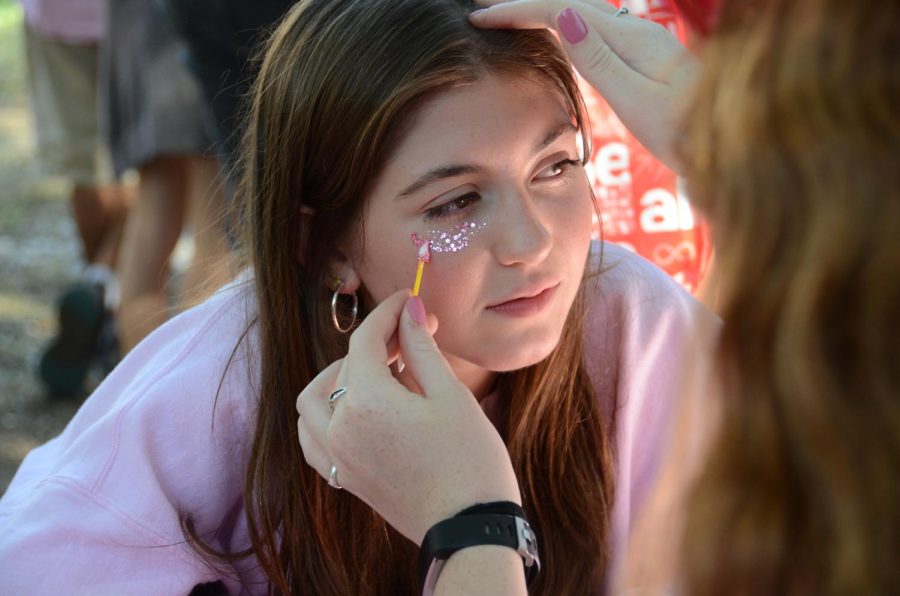 KEEP CALM AND WEAR PINK: Sophomore Finley Dixon gets her face painted with pink glitter during the annual Pink Week festivities. Dixon enjoyed seeing not only the school hallways but other students decked out in pink in support of the Breast Cancer Research fundraiser. "I love seeing people in their pink outfits," Dixon said. "I feel like I wore stuff this week that I normally wouldn't wear, and I think other people were wearing stuff that they wouldn't normally wear. So I really like to see all the fun outfits." While Dixon appreciates the fun to be had by thinking pink, she also feels that Pink Week serves a greater purpose. "It's for a good cause," Dixon said. "People don't normally just donate on their own terms, but when you bring them a cause and have something fun they can get out of it, then they donate. I think that's a really good idea."
Caption by Lanie Sepehri. Photo by Rio Sotelo.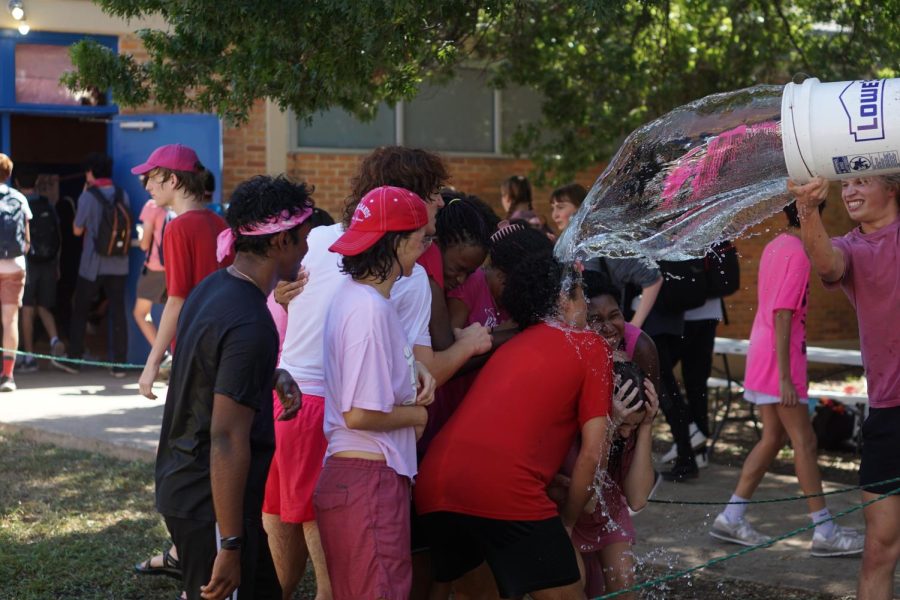 BEYOND THE PAIL: On Thursday, the PALS put on their shooting PAL-ery for the second time during Pink Week. Senior Anderson Zoll drew the short straw and earned the job of restocking the PAL-lery arsenal with water balloons and buckets of water for sale. After raising more than $750 in a single day for the Breast Cancer Resource Center of Texas, much of it earned by people paying $5-10 to dump a bucket of water on a designated PAL, the PALS had one leftover bucket of water.  "We decided to throw it on all the PALS who were targets at today's shooting PAL-ery," Zoll said. The camaraderie that being pelted with an endless barrage for water balloons and a torrent of bucket water creates is a major side benefit of working hard for a good cause. "The shooting PAL-ery is one of my favorite PAL traditions at Mac," Zoll said. "I am so glad I got to help out with both days this year. It was a fun way to conclude Thursday's festivities."
Caption by Chloe Lewcock. Photo by Dave Winter.
SHAVED ICE AND EVERYTHING NICE: Senior PALs Kate Boyle, Anderson Zoll, Leah Gordon and junior PAL Bella Gonzalez hand out snowcones during lunch on the last day of Pink Week. According to Boyle, the snowcone stands raised around $580 for the Breast Cancer Research Center of Texas."I think this year was the year that the most money was made just because people got really excited about it and we worked out a good system for making the snow cones quickly," Boyle said. "It was really fun because I was doing it with PALs that I'm good friends with and we were chatting and laughing and Leah was tossing the snowballs up in the air."
The courtyard filled with intense discussion over whether the cherry or cotton candy flavor was better and smiles all around, Boyle said there couldn't have been a better way to end Pink Week. "I think that was the most people I'd seen in the courtyard all week," Boyle said. "A lot of people were really excited about it because it's a cool thing that you don't get every day at school. I feel like a lot of the activities we had were neat, but it's fun to be able to say 'I got a snow cone at school today.'"
To Boyle, Pink Week is important because it raises awareness about breast cancer and breast cancer research in a fun, interactive way. "I actually heard a lot of people come up to me or one of the other PALs and talk about how their mom had breast cancer or their aunt and how it made them really happy to see something going on at a high school where people were putting care, money and resources into raising awareness and raising money for research."
Caption by Ingrid Smith. Photo by Dave Winter.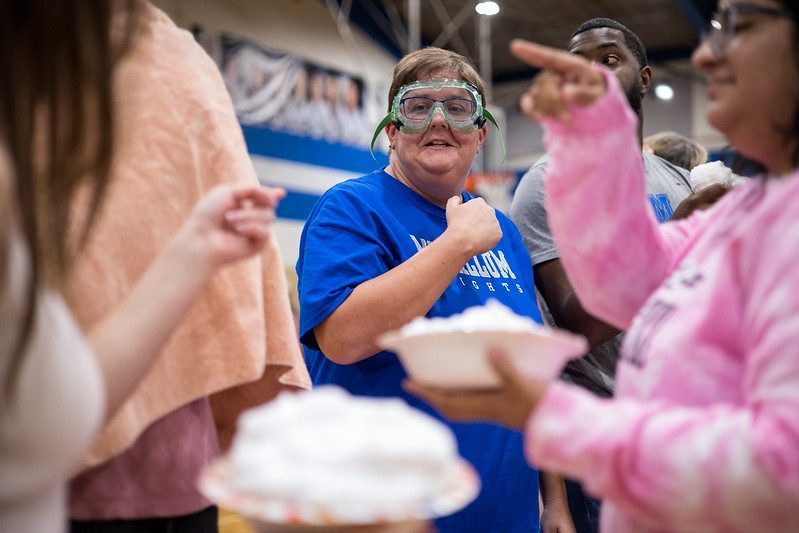 FACE FULL OF PIE: During the pep rally last Friday, McCallum ended Pink Week with its annual tradition: pieing teachers. Teachers volunteered for PALs to pie them in the face. "It was entertaining as I was not prepared for Nate to back up and launch that thing at me," math teacher Kelly Wroblewski said. The pie in the face really hyped up the crowd and raised the enthusiasm level of the pep rally.
Caption by Sofía Thatcher. Photo by Gergo Major.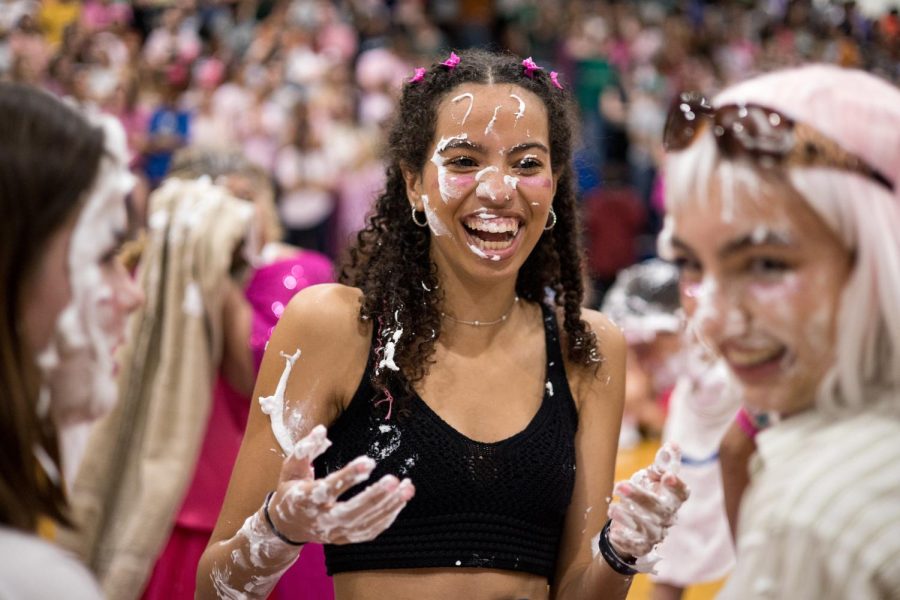 FUN AFTER THE FESTIVITIES: Senior PALs Jolie Gabriel and Amaya Collier laugh in the aftermath of an impromptu shaving cream fight during the Pink Week pep rally on Friday. After pieing English teacher Diana Adamson, Gabriel chose Collier as her next target. In the process of trying to get her, Collier retaliated, resulting in Gabriel taking a face full of pie. As the last event of the last day of Pink Week, Gabriel took the time to enjoy the moment. "It was a great way to end," Gabriel said. "Having the shaving cream fight with my friends in front of everyone at the pep rally was very fun."
Photo by Gergo Major. Caption by Evie Barnard.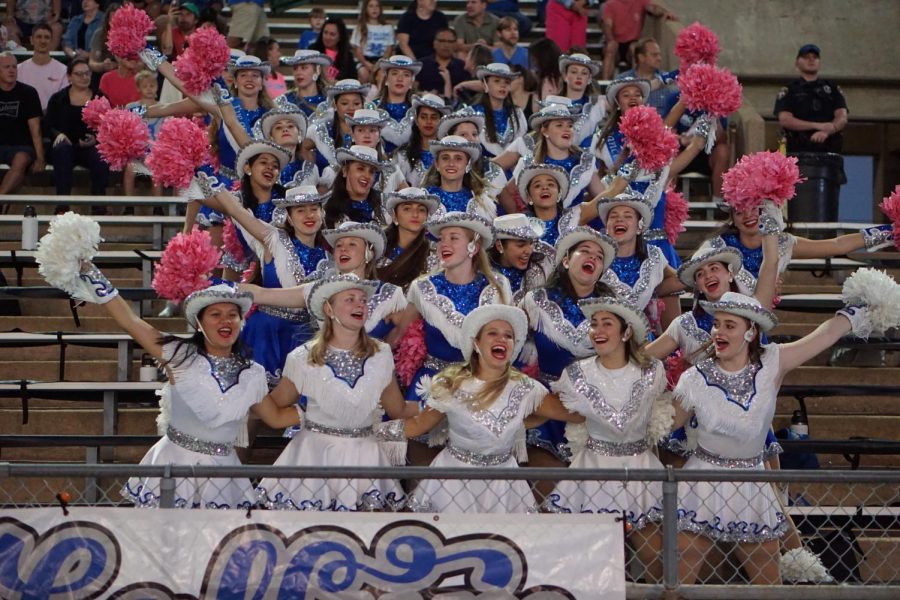 LOUD AND PROUD: After the prior five days of raising money for the Breast Cancer Resource Center of Texas, the Friday football game closed out Pink Week. Like the band, Blue Brigade performs at every pep rally and football game. "I love being part of Blue Brigade during games," sophomore Kalliope Haltom, a member of Blue Brigade, said. "Everyone is so pumped for every game and it's so exciting."
Despite the loss during the annual Pink Week football game, Blue Brigade lacked no energy. After weeks of practice, prep and rehearsals, they performed their routines during halftime and throughout the show. "Even though we lost, it was still a really fun game, and I loved that everyone kept up the energy the whole time," Haltom said. "We had been working on the dance for weeks and it can be stressful to dance to the band live, but we performed really well in the end." 
Like usual, they performed with the band live during the first half and halftime, but during the last two quarters of the game, Blue Brigade performed solo. Because of the band's competition the next day it left after halftime, leaving the school spirit to the cheerleaders and Blue Brigade. "We weren't used to not having the band with us, but it ended up being really fun," Haltom said. "We sang some of the songs the band would usually play and sang the fight song at the end of the game acapella, so everyone still had a great time."   
Caption by Chloe Lewcock. Photo by Dave Winter.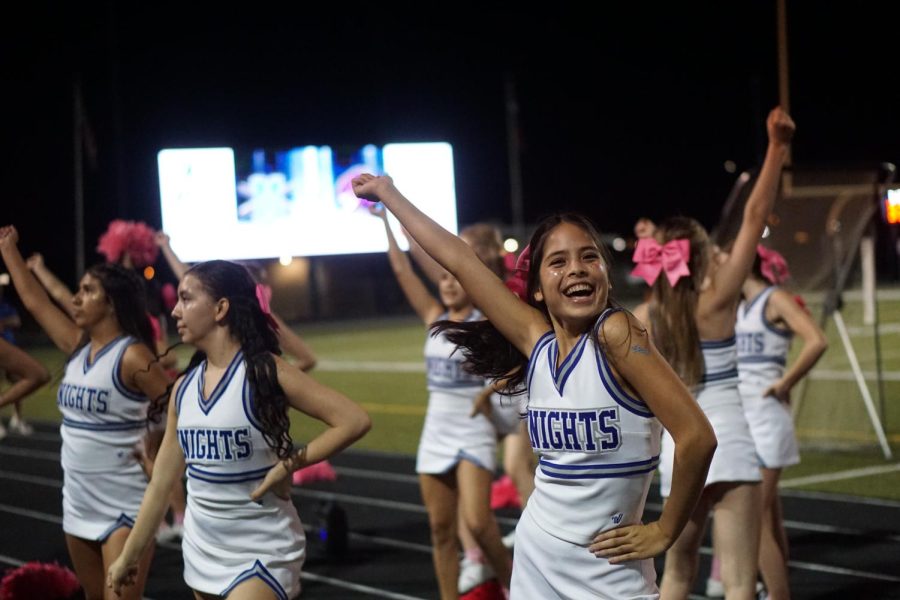 SPIRIT LEADERS: McCallum cheerleaders rally the crowds at Friday's football game, wearing pink bows in honor of breast cancer awareness. The cheerleaders played a big role in spreading school pride for the duration of the week. "Pink Week was so fun to be a part of this year," freshman Selene Medina said. "The hallways looked great, and I feel like our school had really good spirit." 
Caption by JoJo Barnard. Photo by Emerson Merritt.