Friday (nights), I'm in love
For better and for worse, how sports journalism has shaped my life, future
My Sundays were always for two things: Bible stories and Tiger Woods. 
At age 5, I would go to church with my mother in the morning and watch golf with my father in the afternoons. To this day, there is never a time where ESPN or the Golf Channel is not on. 
When I was 6, the Texas Rangers went to the World Series. 
For those five games, I danced around my house with Ranger wristbands and verbally expressed my admiration—quite loud—for shortstop Elvis Andrus. 
The Rangers lost the series, handing the San Francisco Giants their first championship since 1954 and their first since relocating. I didn't care. I was in love. 
I did the same thing with Roger Federer. During Wimbledon, I would dance on top of my bed with my brother playing imaginary tennis in our white Nike socks and sweatbands.
"
I was then seduced into the adrenaline-filled, competitive world of high school journalism. And I met my high school sweetheart: sports reporting.
Those fond childhood memories led me to hop on a bus with sweaty, smelly, hormonal teenage boys to cover a football game. I was then seduced into the adrenaline-filled, competitive world of high school journalism. And I met my high school sweetheart: sports reporting.
The sports section of the newspaper was my baby. It always caused a fury of curse words, screams of jubilee and overall admiration. Sports reporting is standing under the lights, trying to coax out more than one-word answers from athletes and co-writing with others that share the same underlying passion. 
Many nights, I have sat crammed at a small table calculating if I have ingested enough coffee to upset my food-to-caffeine ratio, been bombarded by an ever-growing to-do list and sat in the freezing newspaper room at 11 p.m. on a Tuesday to try and meet a deadline. It's not that I didn't love the idea of being at school later than most everyone else to finish the latest issue of The Shield. After all, the dark halls were somewhat scary and exhilarating. It was my norm for six Tuesdays each year. Writing makes me feel like a hero, delivering information, a mixed bag of necessity, to the masses. 
Despite my enthusiasm and passion for sports, I hit a roadblock, an aspect of the world of sports journalism that stopped me. How many women are with Tony Romo and Joe Buck in the booth? How many go into locker rooms and get interviews? How many stand on the sideline in a short dress and ask "How did the game go?" How many times have I been objectified, talked down too, or not taken seriously just because I'm a woman?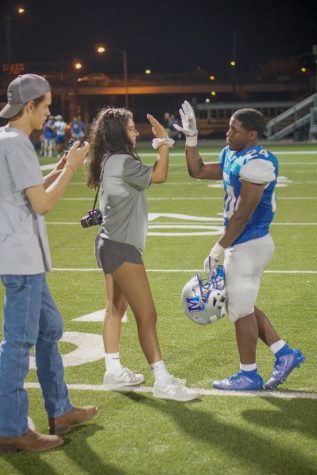 I'm a woman who knows sports, a woman who loves sports. I can tell you what offense the Mac football team runs, I can tell you what Coach Grant will most likely do in a first-and-third situation. I can talk about the sign-stealing Yankees, Steph Curry's 3-point percentage, and why I firmly believe that Justin Herbert will be the best quarterback in the NFL within the next five years. I'll listen to podcasts about the socioeconomic inequalities in sports, I'll watch videos of Cynthia Frelund as she describes how length of lineman's hips relative to their height can affect their blocking ability, and I'll debate with anyone about how Tom Brady has gotten better with age. 
It's love and it's loss. I've gotten to collaborate with other strong women, breathe competitive air and observe emotion unfold around me. On the other side of that coin I've also been belittled, objectified and tossed aside. 
And now, at age 18, I still watch golf on TV, but the experience is different. Ideas of interview questions and profile stories swirl in my mind, the key moments forming into ledes, the stats into headlines. It's bittersweet, loving a field so skewed with sexism. But it is who I am—from the Ranger wristbands to the bus rides to House Park.
 I am a woman sports journalist. 
And I don't care. I'm in love.
Leave a Comment