Inside the line
Bednar, Borman, Butler, Braeden and Johan credit their coach's approach to making them a top-flight unit
No one practices quite like the Mac offensive line. Maybe it's because the five boys have been playing together since freshman year. Or maybe it's because their o-line coach Brad Bernard has three toes.
"What he lacks in toes he makes up for in spirit," Bednar said. "And his tattoo that says 'these toes ain't loyal' is pretty magical."
"
We just have such a strong bond. I think part of it comes from us getting hit in the head together all the time."
— senior offensive lineman Lukas Bednar
The starting five, seniors Braeden Price, Miles Butler, Johan Holmes, Cooper Borman and Lukas Bednar, are self-proclaimed football overachievers. Holmes certainly strives to be.
"In elementary school, I trained to be a QB, like exclusively," Holmes said. "I liked Tom Brady so much that I got one of those passing nets where you practice throwing footballs. Now I'm a lineman."
Holmes believes that despite spending his time on the field pancaking defenders, splitting down the middle for sacks and getting dirty to protect his quarterback, the end zone might still be in his future.
Bednar thinks Holmes is delusional.
"Just because you have two fumble recoveries and you think you can catch a ball," Bednar said, "does not mean you are going to score, Johan."
Bednar also believes that while only five play on the field, at least six men are necessary for success. That sixth man is Bernard, or, as he is affectionately called by the team, Nardo.
"He is a goofy guy and like an extra teammate," Bednar said. "He is not too serious, but when it comes down to it, he makes sure that we are prepared and learn all the stuff we need to."
Holmes attributes their success and antics, despite being the smallest o-line in the district, to Bernard's coaching style.
"He is a really smart coach; he understands the game very well," Holmes said. "He has taken us from being a bunch of 150-pound kids as freshmen to being probably the best o-line in the district."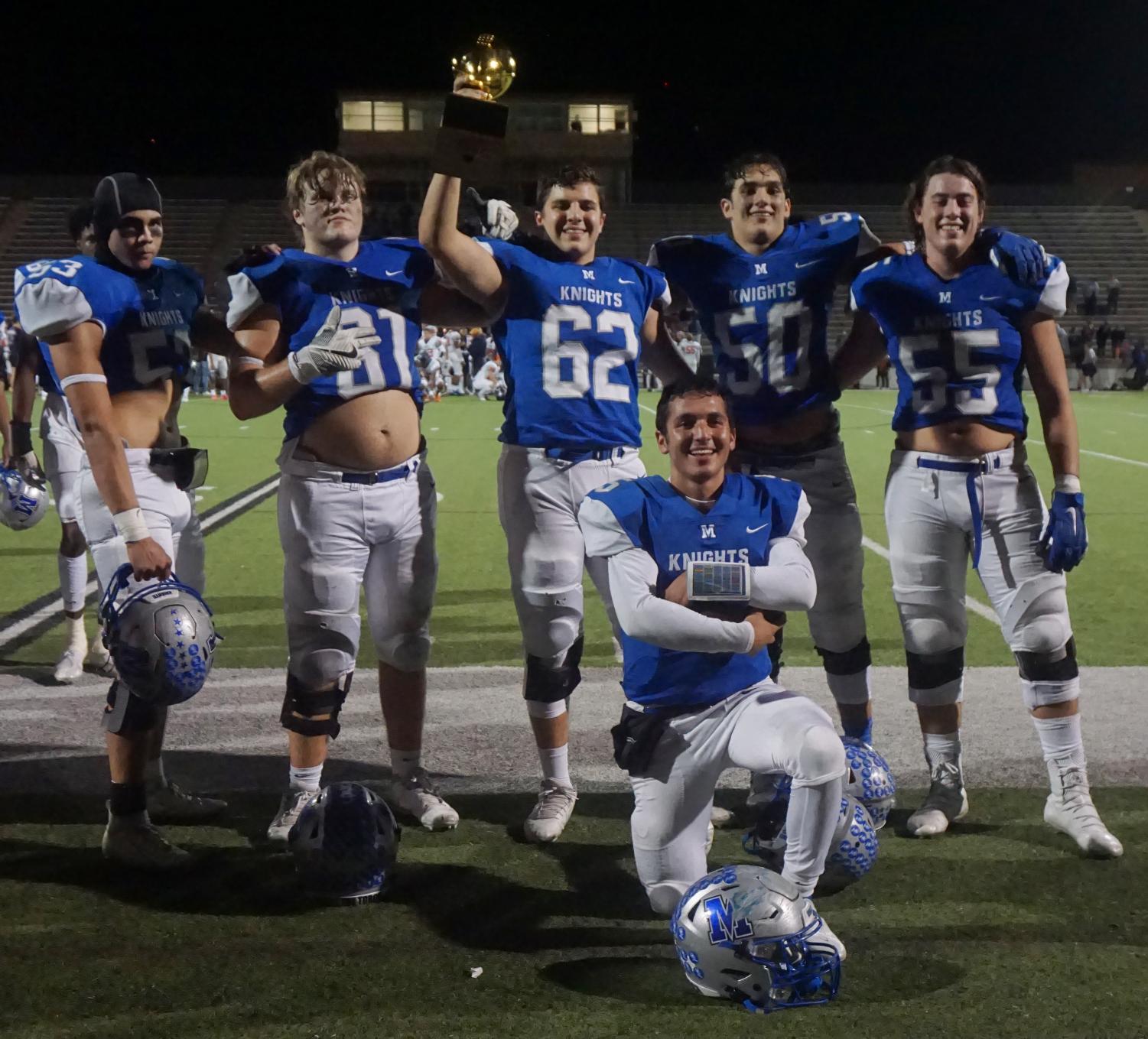 When he's not focused on the o-line's technique, Bernard uses his unorthodox approach to instill toughness in the boys.
"There was this one time when we were freshmen that there were ants all over the field," Holmes said while suppressing a giggle. "We asked Nardo, 'Can we move? There are, like, ants everywhere.' He proceeded to smash his hand into the ant mound, stick it in his mouth, and eat it."
"
In elementary school, I trained to be a QB, like exclusively. … Now I'm a lineman."
— senior offensive lineman Johan Holmes
"That made us into the men we are today," Bednar added with pride.
Borman also sees his football development as a by-product of experience.
"Freshman year, my first game back from ISS, I forgot my cleats on an hour-and-a-half drive to Dripping Springs," he said. "Safe to say the coaches were very furious, but I've never forgotten my cleats again. And I have another story to laugh about."
Spending all that time together on the line has led to more than a fair share of good-natured competition between the boys. Namely, who has acquired the most helmet stickers over the years, and who is seriously lacking in that department.
"You can get a sticker for a pancake, a cut or when you score on the drive," Holmes said. "We just have too many stickers on our helmets."
Bednar finds hilarity in the sticker process.
"It's funny because Braeden has the least amount of stickers," Bednar said, followed by a stream of laughter from Holmes and Borman. "Johan has the most, then Cooper, myself, Miles and Braeden."
Borman jokes that the position of center, currently played by Price, is where you put the worst player.
"It's not my fault that I'm smarter than all of you," Price said with a smile.
Holmes added that the sticker system is really more of a joking competition between the guys.
"You can argue that the stickers don't really mean anything," he said. "It encourages friendly competition, but the tackles accumulate more because they are in a space to get more. You cut and have more one-on-ones."
"
Braeden is center because no one else can snap the ball."
— Lukas Bednar
Bednar concedes that Price is pretty integral to the team.
"I guess Braeden is pretty important," Bednar said, "but Braeden is center because no one else can snap the ball."
Holmes takes that personally.
"I had to play center one week when Braeden was out, and I only had, like, three bad snaps out of the whole game," he said. "That's pretty good."
Borman, however, doesn't remember it quite the same.
"You had three bad ones in a row," he said with a laugh. "On one day, and you, like, rocketed them at the quarterback."
Arguments aside, the line comes together both morning and evening for practices.
"We practice both before school and after school," Borman said. "Not every team does this in the heat. Those two-a-day practices give us a leg up, especially in the second half of games."
For the Knights, in big games such as Taco Shack, Marble Falls and Tivy, the second half has proved to be crucial to victory.
"We really are a second-half team," Price said. "It just takes us some time to get our bearings. I think in games, besides Northeast and Navarro, we've only gone into half winning once."
Bednar sees halftime as prime space to implement adjustments.
"We take advantage of that halftime to really make changes, especially the offensive line as a unit because during the game, it's hard to communicate, as some of us play both ways."
"
We really are a second-half team. It just takes us some time to get our bearings."
— senior center Braeden Price
The season is winding to a close, but the o-line is ready to tackle what comes after the Friday night lights.
"We have to keep our weight up during the season, and it's near impossible," Holmes said. "After the season, I plan on getting a six-pack."
Both Bednar and Borman, however, are sad to leave their "brothers from the trenches," and think the rest of the senior year will be weird knowing there won't be another football season to look forward to.
"We just have such a strong bond," Bednar said. "I think part of it comes from us getting hit in the head together all the time."
Borman agrees.
"We are all really close friends," he said. "One of the best parts is if one of us—or us as a unit—play terribly during games, we are able to pick each other up and make sure we are not so sad on the bench. We know we all play well together and that is going to be sad to leave."
Mac football fans may not hear the line's names over the loudspeaker as much as their fellow touchdown-scoring teammates, but the o-line knows their worth.
"We know we are the best unit on the team," Holmes said. "And I think that stems from our goofy attitude and strong bond."
The offensive line lived up to its reputation for finishing games strong Friday night by anchoring a game-winning overtime drive that contained nothing but rushing plays right at their Glenn Grizzlie  opponents. The drive and the game ended with this Jaxon Rosales rushing touchdown that sent the Knights to the second round of the 5A-D2 playoff. Video by Dave Winter.