Five letters. Six guesses. One shared obsession.
Students, teachers who love to play offer …
Some start with ADIEU. It has a nice combination of vowels and consonants, a sure way to solve the daily puzzle known as the Wordle.
The game, where players attempt to guess a five-letter word in six guesses, shot to popularity over social media less than two months ago.
"
We have a family group chat that is just used for Wordle. We send all of our scores and we comment on each other's progress."
— sophomore Ellie Knoll
The rules are as follows: five letters, six guesses. A green letter represents accuracy and correct placement in the word, while a yellow letter indicates accuracy with incorrect placement. Due to the limited amount of guesses, the starting word is key to strategy.
Sophomore Teddy Ibsen agrees that the key to solving the Wordle is a methodical process.
"I personally like to have a specific and thoughtful way to approach figuring out the word," Ibsen said.
Debate on a superior starting word creates more conversation about individual strategies of each player.
Some begin with a sentimental word, a word with common letters or even whatever may pop into their head.
Words are English teacher Amy Smith's specialty. Her love of language caused her to add the game to her class's daily agenda. Smith, an avid player of Wordle herself, enjoys the healthy competition it provides for her senior students.
"My students always come in and they like it when they get it in fewer tries than me," Smith said. "I do a walk around the room to help them with the placements of vowels and consonants."

Wordle has become a part of the class's daily routine, as Smith dedicates the first five minutes of the period to checking in or doing the Wordle. Smith not only encourages her seniors to play Wordle but completes the puzzle herself every morning before school starts to avoid spoilers, whether accidentally received or purposefully sought out.
Because there is only one word per day, it takes just one person to ruin the game for the rest of the class.
"The social contract in my class is that nobody tells anyone what the word is," Smith said. "One time, someone did tell what it was, and the kids got really mad. You don't tell the Wordle word."
While Smith's students have hopped on the bandwagon, many have incorporated Wordle into daily life beyond the classroom.
For sophomore Ellie Knoll, there is comfort in the pattern of playing the game, working through different words as the day goes on until the six tries are used.
"Every single day in band morning rehearsal, I put my phone on my music stand and I keep the Wordle up," Knoll said. "I just look at it and if I think of a word I'll just enter it in."
For many, though, Wordle is more than just a part of the daily routine. For Knoll, Wordle has also become a source of bonding for her family. The website makes it simple for competitors to share their results by creating a shareable graphic that shows the pattern of the day's game with colors square emojis that do not include the letters played.
"We have a family group chat that is just used for Wordle," Knoll said. "We send all of our scores and we comment on each other's progress."
Both Knoll and Ibsen have felt an increased connection to family members and friends as a result of playing.
"I like playing with my mom because it helps us get closer," Ibsen said. "We're both not very good spellers, so it's fun to see what crazy words we think are real."
"
I'm not a hater of the New York Times, but there was something really beautiful about it being this little thing that a guy did for his partner."
— English teacher Amy Smith
Wordle was sold to the New York Times for at least $1 million on Feb. 10. The rules and functionality of the game remained the same, but many players thought the puzzles increased in difficulty once the Times acquired the game.
"Some of the new words, such as 'bloke' or 'rupee' are not spoken in the U.S.," Smith said. "However, it doesn't affect my motivation at all."
While concerns over whether or not Wordle will be monetized under the New York Times have raised controversy, the game is still free as of now. For Smith, however, the Times's acquisition of Wordle takes away what made it special.
"I'm not a hater of the New York Times, but there was something really beautiful about it being this little thing that a guy did for his partner," Smith said.
Wordle, invented by software engineer Josh Wardle, was created to help his partner combat the monotony and boredom of quarantine. Wardle released the game to the public in October, and three months later, over 300,000 people were actively solving the Wordle.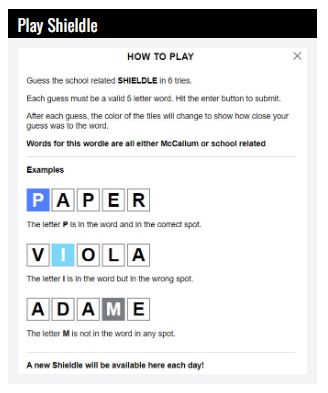 "I love how sweet the story is, but I also love the idea that Wardle got several million dollars, and I'm very happy for him," Smith said.
The New York Times also has an installation of crossword and spelling games, playable by subscription. Ibsen and many players' main concern is the likelihood of the Times making Wordle only accessible to paying subscribers.
"It feels unfaithful to the original wish of the creator, which was that it could be played by anyone, without a price tag," Ibsen said. "I think that it will take the magic out of this universal game."
Kirsch, however, does not feel concerned about the purchase of Wordle and appreciates the new daily challenge in his routine.
"The words have gotten harder, which makes me want to play even more so I can learn more and expand my vocabulary," Kirsch said.
Solving the Wordle each day has routinely become a uniting force in popular culture, and an essential part of daily life; it seems unlikely we will say ADIEU to it any time soon.