Mac archers post season-best score at State
Team finishes 11th out of 61 high school teams; 10 archers set new personal records; Lamar, Highland Park place first
The archery team traveled to Belton on Tuesday March 22 to compete in the 2022 National Archery in the Schools Program Annual State Tournament. Twenty-eight students shot in the tournament, 24 of them made up the competing team while four shot as individuals.
"The experience was amazing and we performed well," Coach Nick Kalakanis said.  "Not only did we improve our team score by over 180 points from last year, but we also beat our season best as well."
"
State is not a test, it is a celebration of all the hard work from the season beforehand."
— head coach Nick Kalakanis
The group of 24 earned a total score of 3,219 out of the potential 3,600 points, with a combined number of 125 bullseyes to place 11th out of 61 high school teams in the state. Ten out of the 28 competitors scored a personal best, including freshmen Diego Custard, Maya Julian and Theo Northcutt, the top three scorers on the team. Custard scored 287 out of 300 points, Julian scored 284, and Northcutt, 280. 
"It was definitely stressful, but it was an overall great experience," Julian said. "I shot in the morning, right before school, so I felt like I didn't do my best, but right before my flight, we practiced in the range they had, and I felt more confident."
Since September, the team has been practicing every week with multiple scoring tournaments such as the Intra-Squad Tournament in October, and the Annual Scottie Shootout in December.
"We made every practice count, and had plenty of confidence in our abilities," Kalakanis said. "State is not a test, it is a celebration of all the hard work from the season beforehand."
Alongside the McCallum archers were archery teams from Lamar and Kealing middle schools and Highland Park and Brentwood elementary schools. Lamar and Highland Park placed first in the state in elementary and middle school divisions, led by Coach Jim DeLine. 
The strong showing of the schools that feed into Mac suggests that the high school team is only going to get better with each passing year, something that clearly happened this year.
 "We had a lot of talented freshmen from the training programs at Lamar and McCallum, meaning they are very experienced," co-captain Zoe Rabinowitz said.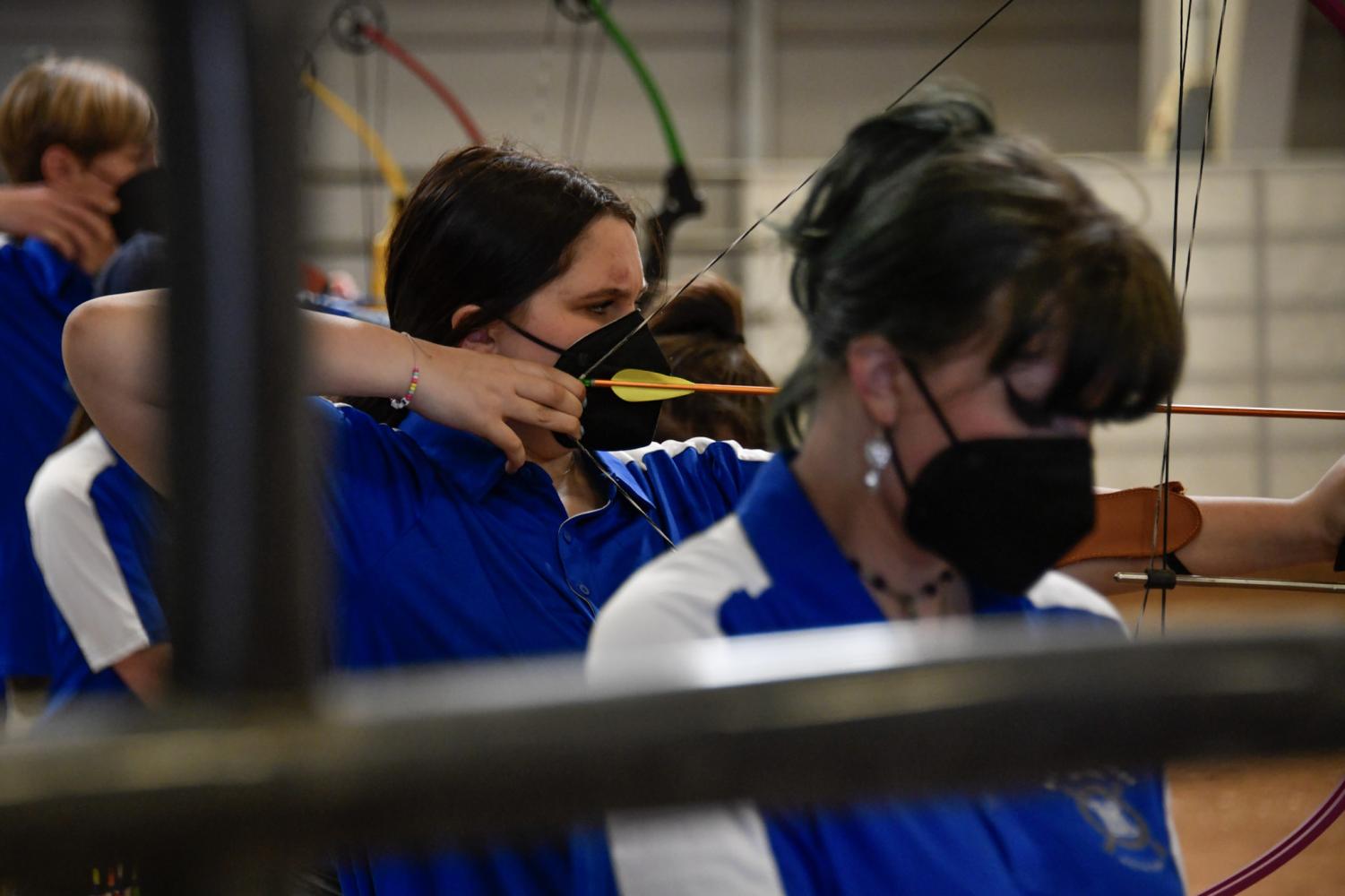 The tournament was hosted at the Bell County EXPO Center, where different divisions competed in separate structures. As a result, freshmen who have competed at state in the past had to adjust to the high school arena. The venue where high schoolers were located was a refurbished equestrian ring with floors covered in dirt.
"Being an indoor equine facility, the dirt was a very fine powder, almost sand or clay-like," Kalakanis said. "We all ended up a few grams heavier after shooting for an hour from the dirt in our shoes, but it was still way better than I had initially thought [it would be]."
Many of the first-year members have never competed in the tournament, but the those who had been to state before, a majority of the team, were able to guide the first-timers and create a supportive environment.
"
I'm really proud of everyone, and I think they performed really well and were on top of their game."
— senior archer Zoe Rabinowitz
"Most of the archers had been to State before, which made preparing the newer archers easier," Kalakanis said. 
From shooting and scoring alongside a stranger to adjusting to new targets and added pressure, many physical aspects of the sport are altered in the tournament environment. 
For sophomore Milo Conner, overcoming obstacles is a habit. Conner is the only archer that has remained in the sport since 2017 when Coach Jim DeLine founded the archery program for the Highland Park vertical team.  
"The new floor actually made me feel better while I was shooting, and it was kind of cool to see," Conner said.
In his fifth time competing at state, Conner struggled with technological issues as his equipment broke mid-tournament. 
"I performed very well at 10 meters, but my bow broke at 15," Conner said. "The arrow rest went limp and after they fixed it, my aim point was off for the rest of the tournament. It wasn't that hard to fix, but it [cost me] around 30 points to my score."
When there is a damaged piece of equipment, it is the coach's responsibility to handle the situation.  
"Replacing the rest is simple and takes less than 30 seconds to do," Kalakanis said. "However, it is unfortunate that this specific rest suddenly failed at state. The brand new rest did affect his groups, but he handled it well and still performed admirably."
For seniors, Sorcha Wilson, Eli Frank, Zoe Rabinowitz, Jackson Amy, and Garrett Michulka, 2022 NASP state marked the ending of their competitive high school archery experience. 
"It was nice to have the team all together but it was strange to think that next year I won't be in this team sport like I am now," Rabinowitz said. "I'm really proud of everyone, and I think they performed really well and were on top of their game."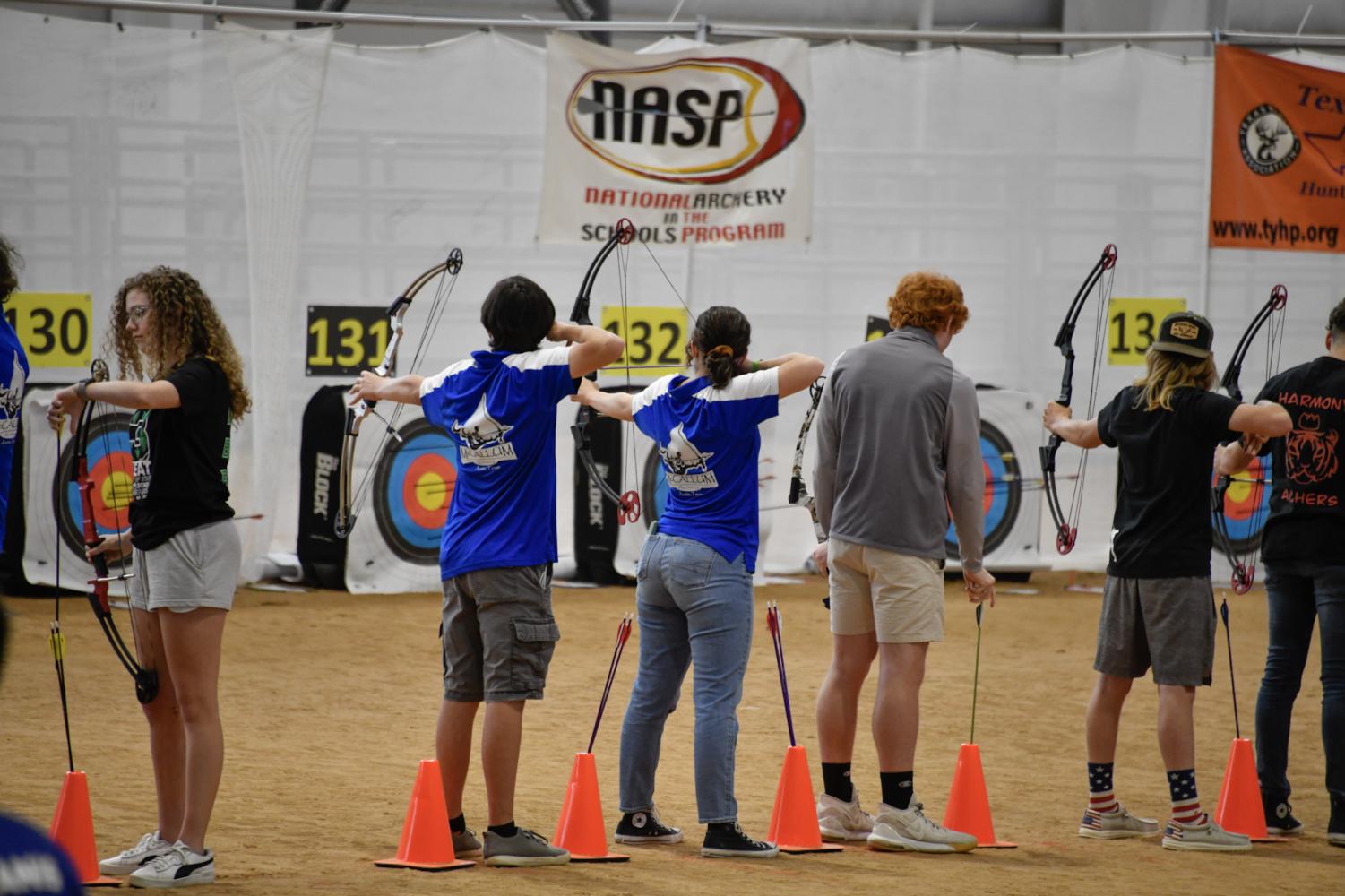 Although the team qualified for nationals, they will not be in attendance. Practices will still proceed casually, and archers are welcome to shoot.
 "The planning is very complex and we don't have the funding," Rabinowitz said. "Our last practice after State was very relaxed and from now on I think it's going to be shooting for fun since the season is pretty much over."
After the adjustment of the head coach from Jim Deline to Coach Nick Kalakanis, the team's success at State can lead to more triumphs in the future. 
"Now that we have a better understanding of the flow of the season and how going/qualifying for nationals would look, it's something to seriously consider for next year," Kalakanis said. "Hopefully going to nationals will soon become a staple of being on the McCallum Archery Team."
Visit this link to see the final 2022 Texas-NASP state tournament results.
Photos courtesy of Wilson Corbitt, Kara Swinney, Nikki Northcutt, Mike Washlesky and Maya Julien.