Coffee and cupid
The Valentine's Day coffeehouse concert allows students to share their talent and art, promotes community and love
Alysa Bijl-Spiro, Amaya Collier, Logan Davis , Morgan Eye, Cassidy Levin, Caroline Owens , Samantha Powers, Alice Scott, Lanie Sepehri, Francie Wilhelm, and Madelynn Niles
February 15, 2022
Love was in the air on Feb. 14 during fourth period in the library—but so was heartbreak. And improv. And Irish drinking songs. As students gathered for Excalibur's semiannual Coffee House, a tradition hosted by the literary magazine, styles ranging from jazz to poetry filled the library in a Valentine's Day showcase.
Sophomore Lanie Sepehri, who performed an original poem titled "Piss Baby", feels that the atmosphere of Coffee House reflects a lot of what makes the school special.
"This was my second time doing Coffee House, and the main reason I came back was because it is such a cool vibe here," Sepehri said. "I really enjoyed hearing everybody else; I just think it's such a creative, crazy talented bunch. It's such a supportive, creative atmosphere, and I just think that's so McCallum."
Among the "crazy talented bunch" were artists of all grade levels, including performances from bands Daydreamer and Garden Club, lyrical and spoken poems, and an impromptu Irish tune from senior Ocean Reilly.
What prompted this?
"Peer pressure," Reilly explained. "But I do not regret it. It was awesome. Whenever I'm into a song, I work on memorizing as much as I can. This was a section of an Irish drinking song my dad recommended to me, and it was so fun."
For other artists, like sophomore Mars Hoovestol, the showcase gave an outlet to illuminate personal experiences, proving catharsis through creation. And despite being nervous, Hoovestol felt immensely grateful for the atmosphere Coffee House provided.
"It's a very exhilarating feeling to be able to go up there and basically flush out these emotions, whether they're negative or positive," they said. "It's almost like crying, where, when you feel so overwhelmed, you need to let it out. And when you share it with people, it's this true sense of community and vulnerability, which I think is really beautiful, and I think it's what makes us human."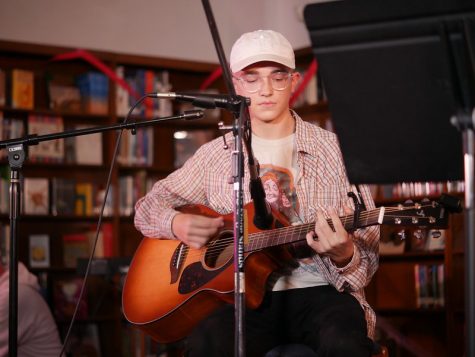 LAST-MINUTE JAM SESSION: Sophomore Ayden Lee sings his song "Sweet 16", and plays the accompaniment on guitar. Sweet 16 is not only a song about coming of age, but also about "growing up so fast you miss out on your childhood", Lee says. He may have been the first to act to perform, but he definitely wasn't the first to hear about it. "They spelled my name wrong. When they tried to email me, they didn't know my name was spelled with a y and not an i", he recounts, "I didn't learn I was performing until advisory the day of." In the end, his performance was a success. "Overall it was a very good time." Photo by Madelynn Niles. Caption by Logan Davis.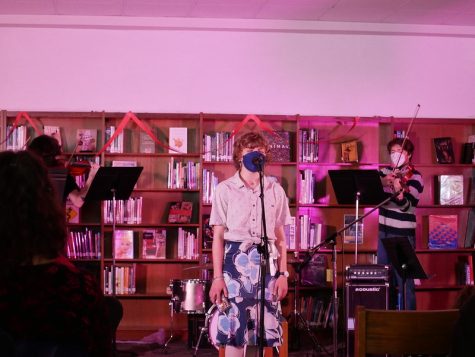 BREATHE IN, BREATHE OUT: Senior Jessie Lucas, performs their original piece, "Oxygen," with a string quartet. Through a long process of trial and error, Junior Layn Mayfield wrote the accompanying music. "I really just wrote it a measure at a time," Mayfield said, "Just piecing it together in my head." The different instruments came together around a quarter of the way through the songwriting. "I imagine it as waves in my head," he said. Mayfield described the experience as scary but said he'd consider the performance a success and would definitely do it again. Caption and Photo by Cassidy Levin.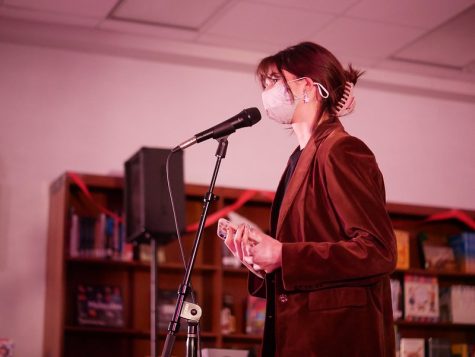 BACK FOR ROUND TWO: Sophomore Lanie Sepehri performs her original poem, "Piss Baby." The recent Valentine's Coffeehouse was Sepehri's second performance at the semi-annual event, since the first previous Coffeehouse in November. "I wanted to perform at Coffeehouse again because when you're writing, you're trying to actualize your own thoughts and feelings. It's hard to know if it's good," Sepehri said. "It's just what's going on in your head." As a long-time poet and self-critic, Sepehri appreciated the validation and supportive environment that came with performing at Coffeehouse. "It felt very welcoming," she said. "It was a good place to share my writing." Sepehri also enjoyed the opportunity to once again experience the music, poetry, and art of her creative peers. "It's wild to me that people my age have so much talent," she said. "I really loved all the performances, I thought they were so good." Photo by Madelynn Niles. Caption by Francie Wilhelm.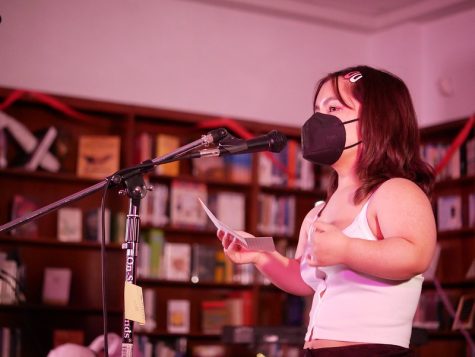 LITTLE FLOWER: Senior poet Natasha Walser delivers her first of two poems titled "Florecitas," a poem stemming from a time of healing for Walter. "'Florecitas' is a letter I originally wrote to someone who was a person who impacted how I viewed myself and my relationship with sex, men and my self-image in a negative way, so I wrote a letter to try and heal from that," Walser said. "I turned it into the poem "Florecitas" to make it more relatable and generalized, kind of like a Taylor Swift moment." Walser also gave the audience a second untitled poem regarding a recent "painful" event as a way to reflect on the feelings she had with the listeners. "I think I gained closure and strength to do what I want in life, especially with expressing and pointing out certain events or behaviors that need to be acknowledged. I also got a sense that I wasn't alone from hearing poetry and music by the other performers." Walser said. Photo by Madelynn Niles. Caption by Morgan Eye.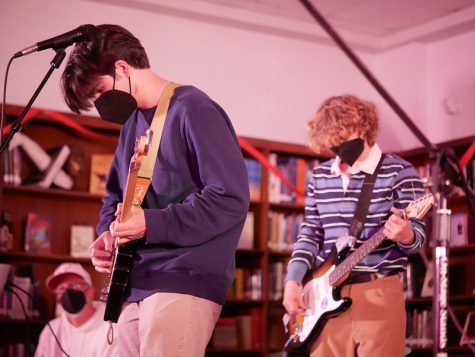 DAY-DREAMY VALENTINES: Daydreamer vocalist and guitarist Harrison Knight and guitarist Charlie McBride perform their song "no name 23." According to Knight, the song describes living with those who have mental illnesses who may not have control over their actions, but still wanting to see them happy and successful. "The audience seemed to enjoy it," Daydreamer guitarist Sullivan Banks said. "It was nice to have a slower song on Valentine's day." The reaction from the audience wasn't their only positive feedback, though. According to Daydreamer's bass guitarist Phineas Miller, a recording was shared with those who couldn't make it, and it also received a "pretty good reception." Collectively, Daydreamer's members expressed their appreciation for the "comfort" coffee house brought, but McBride had a few more thoughts to share on what the performances meant to him. "A lot of the people performing I had never even met, but they really opened up and showed their vulnerability and creativity in coffee house. It's crazy awesome we have this outlet built into the school." Photo by Madelynn Niles. Caption by Morgan Eye.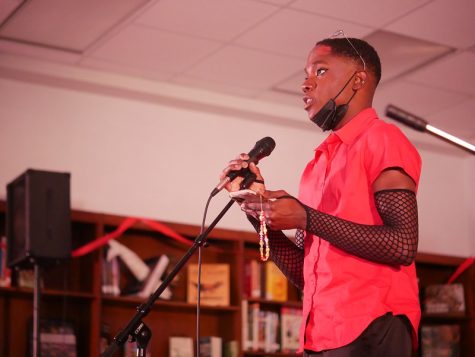 SPEAKING FROM THE HEART: Senior Khi Washington performs their original poem about having to let someone you cared about go. Washington was not on the lineup for Coffeehouse, but when the show had some extra time and asked for Volunteers, they decided to share their writing. "My poem was about a guy that I really cared about and did everything to not lose," they said. "I kind of wanted my feelings in that poem to be put out there, because I wanted the people around me, especially the people that wouldn't understand exactly how I've been, to just see how that has affected me within like the last four months." Although Washington primarily writes poems for themself, they believe sharing their experience had a greater value for the audience. "I mostly write my poetry, because I write my feelings down in my journal. But I feel like switching it and putting it as poetry [has] deeper connection and helps people relate to it." Photo by Madelynn Niles. Caption by Alice Scott.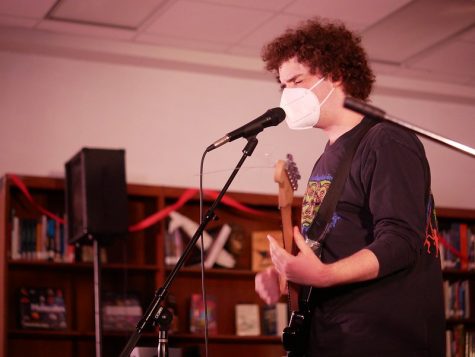 LET HIM ON THE MIC: An unexpected excess of time following the scheduled performers leaves time for sophomore Lucas Hendrix to hit the open mic. He performed "Who could win a rabbit" by Animal Collective, a fast-paced title that Hendrix describes as "pure joy." Hendrix says he planned to audition for coffee house but was told he would need to have an original song to perform. Though he decided against auditioning, he still showed up in support of his friends. When the open mic was announced following Daydreamer's performance, friends of Hendrix encouraged him to play, and Charlie McBride, a member of Daydreamer, offered his guitar to borrow for the show. Hendrix said he was "very nervous upon finding out I was about to play," however, positive feedback from his friends cleared his worries. Photo by Madelynn Niles. Caption by Morgan Eye.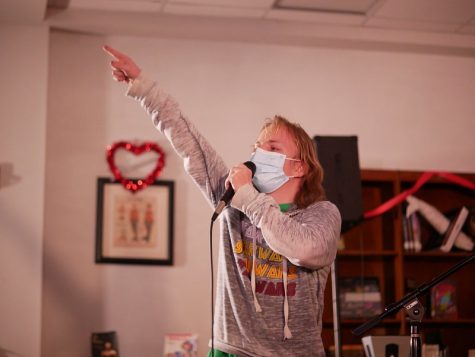 IRISH ICEBREAKER: Senior Ocean Reilly performs an impromptu Irish tune at coffeehouse. Reilly hadn't anticipated performing, but after overwhelming encouragement from the crowd, he agreed. "Ocean told me he wanted to do an Irish drinking song, and I was like, if you don't do that, I'm going to never speak to you again, and then I just yelled out 'Ocean', and everyone forced him into doing it, and he did it, and here we are." Keegan Sarwate said. Despite his initial reluctance Reilly ultimately enjoyed the experience and spontaneity of open mic. " I do not regret it. It was awesome," Reilly said, "Whenever I'm into a song, I work on memorizing as much as I can. This was a section of an Irish drinking song my dad recommended to me, and it was so fun." Photo by Madelynn Niles. Caption by Amaya Collier.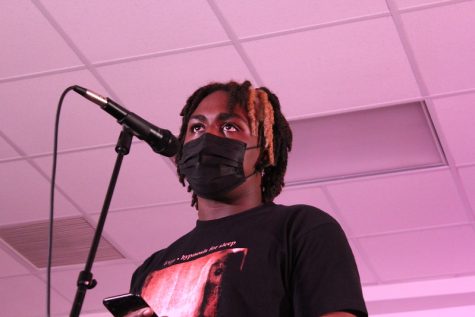 A MOMENT FOR MENTAL HEALTH: Braelen Miller performs his first poem "Holy Deception" at coffee house where he "explores the themes of religion and belief" and how they tied into his mental health at that point in his life. His second poem "Capsule" was in regards to how he feels his thoughts flow in moments of anxiety. "Honestly, reading poetry and listening to music is therapeutic for me so I figured that others could benefit from it just as much as I do," Miller said. And if that means putting myself out there and being vulnerable, then I think it's completely worth it." Caption by Morgan Eye. Reporting by Caroline Owen.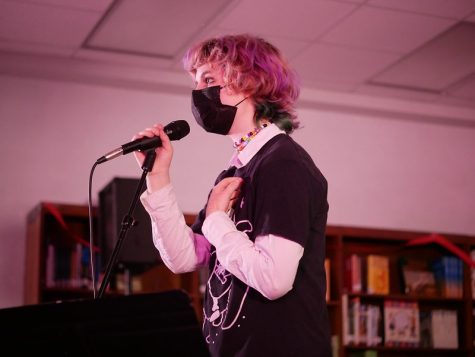 IS THERE LOVE ON MARS?: Sophomore Mars Hoovestol performs a love poem for their significant other in a small but steady voice. The poem was inspired by the beauty of a relationship that can endure through both good times and bad. "I'm trying to develop more healthy coping mechanisms because I think that's very difficult for a lot of people," Hoovestol said. They enjoy performing, even though it makes them nervous. "It's almost like crying, where, when you feel so overwhelmed, you need to let it out," Hoobestol said. "And when you share it with people, it's this true sense of community and vulnerability, which I think is really beautiful, and I think it's what makes us human." Photo by Madelynn Niles. Reporting by Samantha Powers.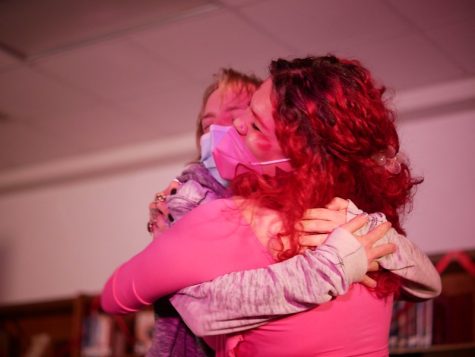 CORE MEMORY: Following senior Ocean Reilley's performance of an impromptu Irish drinking song, he and senior Eden Goodman embrace. "I was overwhelmed with happiness," Goodman said. "It was like, 'Core memory: unlocked.'" Photo by Madelynn Niles. Reporting by Alysa Spiro.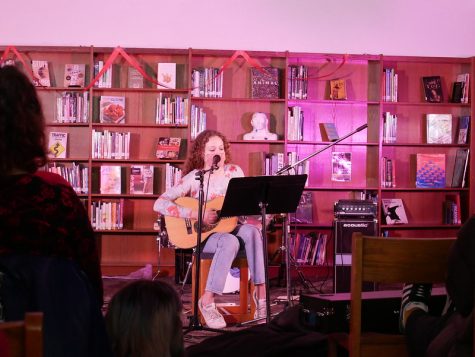 CRAZY, STUPID LOVE: Junior Charlotte Blackmon performs an original song, featuring vocals and guitar, about what it means to be brave. "There's a line between brave and stupid, and sometimes you don't know where that is," Blackmon said, "and I feel like it's okay to feel a little bit stupid when you're doing something brave." A two-time coffeehouse performer this year, Blackmon took on a different tone for this performance than she did last time. "It is overall kind of a darker tone, because it's leaning into that, like, 'Oh, I feel stupid. I'm going to fall on my own sword,'" Blackmon said. "But for me, at least, it is overall a positive feeling underneath it all." Photo by Cassidy Levin. Reporting by Samantha Powers.