Knights prepare for track season with excitement, possibility
With talented athletes set to compete, Mac sets its sights on a district title
Spring is almost upon us once again. And with that, comes the sweet sound of metal spikes pounding along on the rubber straight away. Outdoor track season is fast approaching, and the Knights are ready.
After a stellar 2021 season, expectations are higher than ever for 2022.
Last season, 12 individuals as well as six relay squads advanced from the district to the area meet. That number narrowed when only seven individuals qualified for the region meet. Then, only one survived, as Chris Riley made it to the 5A state meet, where he eventually won silver in the 1600 meters.
All but three of those 12 individual runners will return this year, hungry for more and only looking to go farther than they did last year.
But individual success is not the goal for the upcoming season, says girls coach Joshua Amy.
"Our aim is a team district championship," Amy said. "Many girls won district in their events, but it would be something special to hold that first place trophy up as a team."
With so much returning talent, that goal is a real possibility. For the girls, the three big stories are Charlotte Stevens, Esme Barraz and Aasja Wren.
Stevens comes into the season as the best pole vaulter in the area. With a best mark of 10 feet, 6 inches, she looks to improve on her fifth place region finish. Easily winning districts as well as the area meet put her in position to make a push for state, but unfortunately she fell three spots short. This upcoming season will give her the perfect chance to redeem herself and make it even farther.
Barraz comes in as a very talented sophomore who can only get better from her already impressive 400-meter times. Her personal record of 1:01.82 put her as a top 75 freshman in the state last year. Reaching the preliminary round of the region meet in her first year of high school track is already impressive, and she will no doubt continue to improve with time.
For Barraz, it's going to be all about improvement in the coming year.
"I want to do a lot better at regionals and I definitely want to get under 60 seconds for the 400m," she said.
Under 60 for Barraz would put her in the more elite women's sophomores in the state. Of course it won't be easy, but with only a second and a half to drop to get there, it's well within grasp for her.
Wren is another incoming sophomore with a regional bid already under her belt. With a best distance of 94 feet 4 inches in the discus throw, she is easily the favorite to win the district meet, as well as one of the best returners in the area.
Jolie Gabriel is another promising young prospect the girls bring back. A returning Junior, Gabriel will bring even further Region experience to the squad. With a PR of 4 foot 8, she will be one of the top high jumpers in the district and the area. A Regional return being almost inevitable, Gabriel will only add on to an already very talented girls squad.
The four returners along with many others will look to capture the team district title at the end of the season. Despite their fourth place finish last year, they are among the favorites to finish district this season with the gold.
Amy says the girls will no doubt be ready for the big jump it will take to be crowned district champs.
"I think there will just be more emphasis on the final product," Amy said. "We want to be better than last year. With the experience we have, the girls know they can be better, and they will be better than last year."
On the boys side, nothing will be bigger than the distance program. Headlined by Texas commit Chris Riley, anything over the 800 meters will be must-see-TV this season. Joining him will be cross-country state qualifier Thomas Melina Raab, looking to create a deady 1-2 punch in the 1600 and 3200 meters.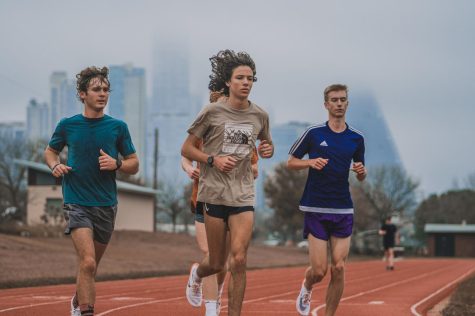 For the pair, their senior years should be their best yet. For Riley in particular, he hopes to join some very elite company in his final year.
"I really want to go under 4:10 in the 1600m and under 9:10 in the 3200m," he said. "I think I should have a really good opportunity to do that at some of the bigger meets this year like Texas Relays and the St. Andrews Invitational."
Those are some hefty times to hit, but for Riley, it's more than a possibility. After an injury during cross-country season, his fitness for the beginning of track season was in question. The 2022 Texas A&M High School Indoor Classic removed any doubts of his fitness.
Both Riley and Melina Raab competed at the Indoor Classic for their club Born to Run. Both ended up taking third in their respective heats and for both, their times came with big implications. Riley came through the line with a time of 4:20.43, eventually taking fourth overall in a very competitive field. The only two runners who bested him in his heat were Kevin Sanchez and David Mora, two renowned and established juniors who experienced huge success during the cross-country season. With this result, Riley showed the running world he hadn't lost a step since injury, and could still hang with the big dogs up front.
"
Our aim is a team district championship. Many girls won district in their events, but it would be something special to hold that 1st place trophy up as a team."
— girls track coach Josh Amy
Melina Raab's time of 4:34.79 proved that since his cross-country state qualification, he hadn't slowed down at all. His time was a personal record by more than seven seconds, and even more improvement will inevitably come during the outdoor season.
While early on in the indoor season, Riley has already claimed 11th in the nation with his time, while Melina Raab finds himself just out of the top 100 at 118th.
Joining the pair will be track newcomer Robert Krajicek, an 800-meter specialist who saw huge improvement last cross-country season and is ready to burst onto the scene in the low 2:00s.
Krajicek, however, isn't too worried about how his times will look on paper.
"I'm just looking forward to having a good season with the boys," he said.
With the three distance runners poised for a breakout season, the possibility of a distance medley relay (DMR) at the Texas Relays could be very exciting. With the addition of Major Faught, who has the potential to run in the low 50s in the 400 meters, the Knights could have a very dangerous DMR team for the first time.
The distance program isn't the only part of the boys team looking to shine this season though. The sprint squad remains as star-studded as always, with Faught and Caleb Andrews leading the charge. With PRs of 11.45 and 11.50, respectively, the 100 meters as well as the 4-x-100 meters will be faster than ever.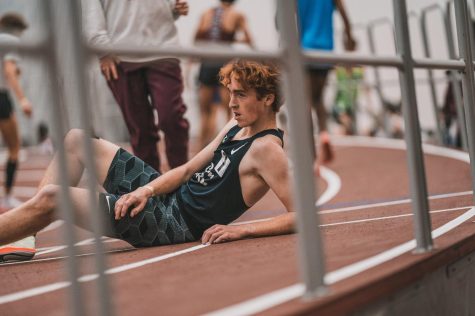 Last year, the boys team took second place at the district meet, behind champion Anderson. This year, the goal as always, according to head boys coach Jarred Houston, is to take that extra step and come out on top of District 17-5A.
"Humbly speaking, my goal is to win district," Houston said. "That's the reason why we do it. We want the kids to have fun and while doing that, win as well."
The long, hard road to the district crown starts on Jan. 31. Bright and early at 7:30 a.m., runners and throwers alike will pour out onto the track for the first day of practice for what many of them, like Riley, has felt like ages.
"I'm looking forward to racing again, it's been too long," Riley said.
Two short weeks and some change later, it will already be time for races to start. On Feb. 17, the team will travel to Round Rock for the Cedar Ridge High School meet. With such a short turnaround time from the first day of practice to the first meet, the focus will be on efficiency, Amy said.
"
I'm looking forward to racing again, it's been too long"
— senior Chris Riley
"The main thing about practice is to be as efficient with our time as possible," Amy said. "Five out of the six track coaches from last year are back which allows us to hit the ground running."
Amy has no doubt that the girls will be ready for the start of the season. For Houston though, everything comes back to the district meet.
"We're not trying to be ready for the first meet," he said. "We want to be ready for district, and that's all that matters."
The district meet is on April 13. Three months. That's all the time the team will get to prepare. And yet, they are confident that when the time comes, they will be ready to sit atop the podium at Burger Stadium, once again heralded as district champions.
View Comments (1)