Ashton to retire after 17 years at Mac
Thankful for her Knight time, math teacher, cross country and track coach looking forward to more time with family
At the end of year banquet for the track and cross country teams on May 20, much to the dismay of the runners gathered in front of her, Coach Susan Ashton announced that at the end of this school year, she would be retiring. After 17 years teaching and coaching at McCallum and 25 years total, Ashton decided it was finally time to hang up the cleats and move on. 
"
I have loved coaching and watching our own children play sports and thrive academically at McCallum."
— math teacher and track coach Susan Ashton
Coach Ashton has been a staple of the Mac community for what feels like forever, and as such, has made many memories in her time here.
"I have had the privilege to teach and coach with some outstanding teachers and coaches and work for a loving administrative staff," Ashton told MacJournalism.  "[Whether it was] the memory of joy in many students when they understand or get a math concept, the excitement when a runner PR'ed or jumped a new length or height or to see the joy in a runner's face when they make big strides in their personal training, I have loved coaching and watching our own children play sports and thrive academically at McCallum."
Ashton began her Mac career in 2004. Prior to that she taught for a year a Bowie High School. She also taught for seven years at Anderson from 1982-1989 before leaving the classro0m for 13 years off in order to raise her four kids.
Ashton identified several highlights over her long and distinguished tenure as a cross-county and track coach: "participating in the pep rallies, dressing up for homecoming week, football games, volleyball games and especially basketball games for both girls and boys; beating Reagan's boys cross-country team by one point to qualify for regionals one year; the feeling of disappointment when our 4 x 200 relay team dropped the baton at regionals one year when we were in strong contention to move on to State; having the privilege of going to the state meet in cross country twice and the state meet in track twice; going to the Texas Relays with very respectable runners that showed well; [and] watching the sun rise every morning during practice and knowing how lucky I am to have such a great job."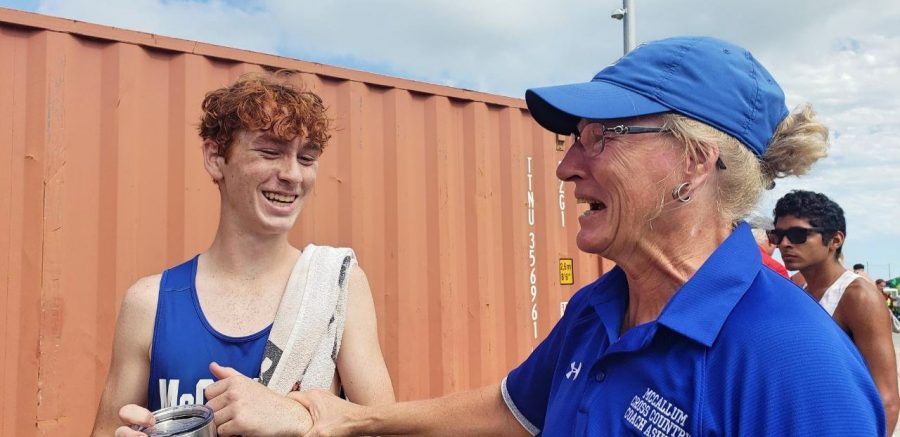 After her teaching career is over, Coach Ashton plans to take some time to take care of herself and her loved ones, as well as to reconnect with old friends, but she isn't ready to stop helping people. She also plans to volunteer for UIL cross country and track events, at her church, for the Austin Food Bank, and at the Red Cross.
"
Coach Ashton was very dedicated to her job and showed it as a coach. She pushed us to be the best we could be."
— Wyeth Purkiss, Class of 2020
Ashton also plans on getting back into a regular running routine, eating better, learning how to play golf, and even taking martial arts classes. Just as important as taking care of herself, though, she is making it a priority to take care of her family as well. She will be spending time taking care of her father and her three grandchildren.
In the wake her retirement news, Ashton's peers and students have been reflecting on her many contributions to the school community. She has left many memories over the years, with students and runners alike. Former cross country athlete Wyeth Purkiss, Class of 2020 said that Coach Ashton pushed her runners to improve.
"Coach Ashton pushed us to be the best we could be," Purkiss said. "She was very dedicated to her job and showed it as a coach. I enjoyed having her as my coach for the two to three years I ran cross country."
Sophomore cross country and track runner Helena Finos remembered Ashton's encouragement at this year's district meet.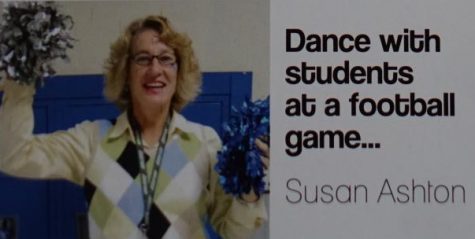 "I heard Coach yelling and cheering for me to pick up the pace so I could keep my spot in sixth place," Finos said. "As frustrating as it was, if not for Coach's constant encouragement for me to keep up my pace I might never have qualified for regionals." 
In addition to being dedicated to her runners, she was also committed to her math students.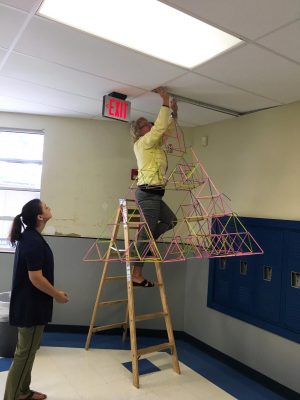 "I am hoping that students and teachers can see that math can be fun and have purpose," Ashton said. "Not everyone is a natural at math, but if you work at it and ask questions you can get good.  Then if you work just a little harder you can get better at math and the process and procedures feel connected."
Freshman Noah Nugent said that the environment in Ashton's class helped him improve in math throughout the year.
"I liked how Ms. Ashton would go through the notes with us and would helps us if we needed it," he said. "My favorite aspect of Ms. Ashton's class was the atmosphere she created. Even if you were wrong, no one would berate you; instead, they would try to explain the concept to you. She really showed me how to learn and understand the topics and made math somewhat enjoyable."
While she hopes that her students have an experience like Nugent did in her class this year, she also is proud of the condition in which she is leaving the cross-country and track teams.
"McCallum runners, jumpers and throwers are a force to be reckoned with in the state," she said. "The McCallum cross-country teams and track teams do represent Austin ISD with pride and honor.  I am happy to share my love of running with others.  Running is a great lifetime sport that requires very little equipment to be able to be successful."
For Coach Ashton, it's on to a new chapter in her life, but McCallum won't soon forget her. After her almost 20 years of teaching here, she has had a lasting effect on countless students who stepped foot on the campus. Thousands of math students and runners alike will remember her for how she helped them throughout their high school years.