Riley ends stellar season with second-place state finish
Top-seeded junior finishes a mere quarter of a second behind Grapevine's Walker St. John in 1,600 meters at UIL 5A meet
The biggest race in the state, possibly in the country, happened tonight under the lights of Mike Myers Stadium on the UT campus tonight. One McCallum runner was in that race, Chris Riley, the top seed and certainly the crowd favorite.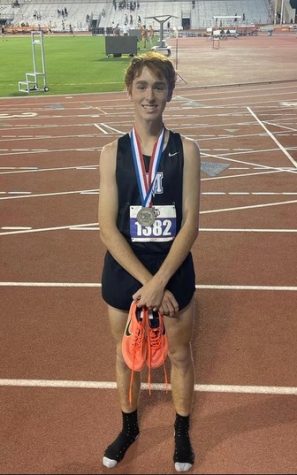 Under the night sky and the city lights, the 5A boys 1600-meter race, full of Division 1 talent, kicked off at around 8:30 p.m. Out very fast, Riley settled into second place, and stayed there for three out of four laps.
When the bell rang and the third lap started, one runner decided the pace was too slow, and surged forward, losing a shoe in the process. Riley was not going to let the pack out kick him, and he surged forward as well.
With 100 meters left, only the home stretch left to run, with the crowd erupting, Riley found one last gear, and sprinted across the finish line, capturing second place in a speedy time of 4:18.78, a mere 0.25 off the winning pace of Grapevine's Walker St. John.
"I was really nervous all day going into the race, but now, I'm feeling pretty confident," he said before the start.
Riley has put the whole state on standby, letting them know he's here to stay. He'll be back for another year too, looking to continue his run of success this fall when cross country season kicks off.
View this post on Instagram