The uncertain game plan for AISD football
Decrease in middle-school participation could impact the long-term future of high school football at McCallum, other district high schools
After McCallum football's string of victories and playoff appearances, the Knights community is eager to see its team build on this year's success; however, with many Austin middle school football programs struggling with surprisingly low interest in football, the big dreams for the long-term success of McCallum and other AISD football programs could be in jeopardy.  
To Justin Gardner, head football coach at Kealing Middle School, this year's season was unexpected, unprecedented and hopefully not to be repeated. For the first time in Gardner's 14 years at Kealing, a major feeder school to McCallum, the number of students playing football was drastically down. At risk of having to forfeit their football seasons, middle-school football coaches across Austin were faced with a choice: combine the seventh- and eighth-grade teams or don't play at all. 
Kealing coaches Justin Gardner and Kennard Rydoplh were not prepared for the small turnout of players. They had been expecting numbers in the mid-20s for each of the seventh- and eighth-grade teams but instead found themselves struggling to recruit enough players to even form a single team. UIL rules require that teams have 18 players minimum to compete in competition, Gardner wrote in an email to Kealing football parents. In addition, each player must complete 11 practices before they can play in a game. As the first scheduled game approached, it became apparent that Kealing simply would not have the required numbers. Knowing they would not have enough players to form separate teams, or enough with 11 practices under their belts to compete, the coaches had to make adjustments to save the season. The coaches informed students that there would be no A, B or even grade-based teams. Instead, for the first time ever, all seventh- and eighth-grade players would be placed on one team.
"
This past year, [McCallum Football] had a little bit of success and that was one of the biggest freshman classes we'd had in a while here. When you get smaller freshman groups, it certainly makes it harder down the road to have success."
— Thomas Gammerdinger, McCallum athletic director and head football coach
"Before early September, this was not even a concept I would have considered," Gardner said. "We even talked about it as a coaching staff, like pie in the sky. If they let us combine the teams we would have a really competitive team, but we thought we were going to have to cancel the seventh-grade season and maybe squeak by with the minimum number of eighth-grade players."
Kealing was not the only AISD middle school in this situation. Coaches worked together to create a whole new league for combined seventh- and eighth-grade teams at Austin middle schools with similar issues. The new league included Dobie, Bedichek, Webb, Burnet, Martin, Covington, Garcia and Kealing. This citywide decline in football participation could impact several high school football programs in years to come, including McCallum.  Even Lamar Middle School, the primary feeder to McCallum, experienced a decline in its number of players, Gammerdinger said. In the end, however, Lamar did manage to form a seventh-grade and an eighth-grade team and did not join the new hybrid league of combined teams.
Gardner believes the sudden drop in players this year was likely due to lasting concerns about COVID. A district policy states that players do not have to wear masks on the field during strenuous activity, which likely causes concern for some parents. Gardner also speculated, however, that this year's major drop in players could be caused simply by a lack of current seventh- and eighth-graders interested in playing football, as more middle-schoolers may have developed interest in other activities. 
Prior to this year, Gardner had already seen some decline in football enrollment, which he attributes to concern for concussions and injury. With a combined seventh- and eighth-grade team, Gardner is taking precautions to ensure all players know how to play safely and practice good sportsmanship. Despite the increased time and resources being put into teaching tackling without the head, combining grade levels could have been dangerous if not handled correctly. Seventh- and eighth-graders can be in very different places mentally and physically. Due to the low number of players even on the combined team, game time for each player came down to skill level, coachability and effort.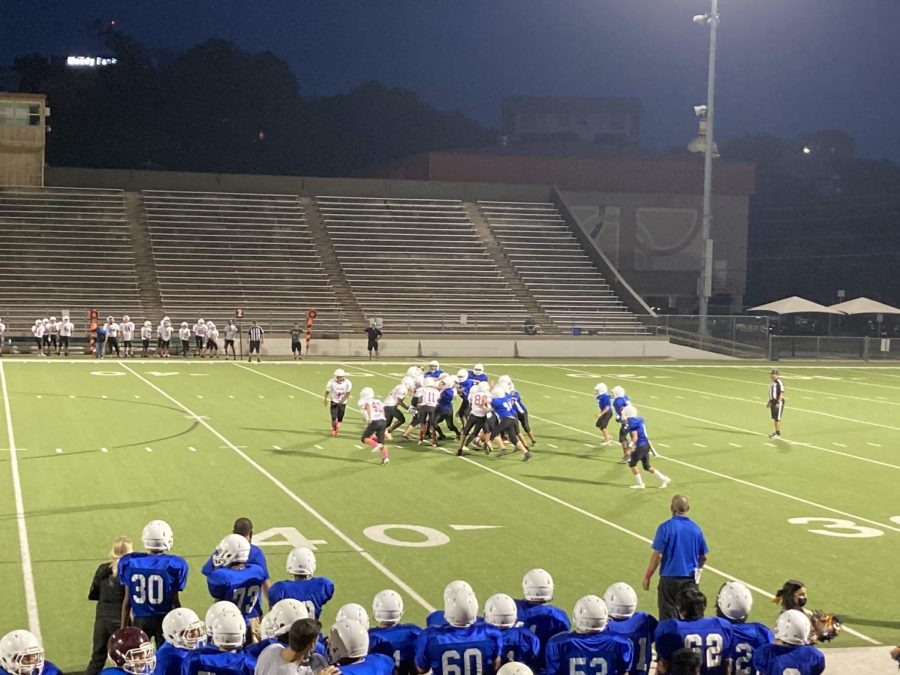 "It was really tough for me to look at [the eighth-graders] as bigger, almost high school-sized kids and understand football wise and socially, being home all of last year, that they weren't in the same places that I expected kids in those bodies to be," Gardner said. "In some ways, it was almost like coaching two seventh-grade teams as far as the experience level and the social, teamwork aspect of it."
Gardner anticipates going back to normal numbers of players next year as the current sixth-graders move up. Having students back on campus has allowed the coaches to talk to them about football and gauge interest. 
"
Half of it is just how hard you work. The coaches said this year that they went easy on us because we just came out of COVID and there was a lot of sitting down and playing video games and eating Hot Cheetos."
— seventh-grade football player Hugo Smith
Although Gardner is hopeful that the sudden drop in players isn't a sign of what's to come, he has other concerns about Austin middle school football programs' responses to increased costs and living affordability in the area, families moving to surrounding communities and school districts and what this could mean for football at Austin ISD high schools. Off the top of his head, Gardner knows of six different high schools his eighth-grade players will attend next year including McCallum.
McCallum's athletic director and head football coach Thomas Gammerdinger has also noticed a drop in the number of football players across the district despite the growth of sports like soccer, basketball and even golf. Along with safety concerns, students preferring to pursue extracurriculars that require less time and energy and the lure of relaxing with a video game or TV show, Gammerdinger believes football is negatively impacted by a lack of funding for athletics within the district and issues with the way athletics are approached in Austin ISD.
"There tend to be ups and downs as far as the numbers of kids, that's always been the case," Gammerdinger said. "I guess what I would say is I do kind of see a downward trajectory even in the highs and the lows."
The trend is troubling to coaches because middle-school football is so important to a high school football player's development. Even though numbers and skill level don't always align, it's highly encouraged for players to begin football in middle school so they are prepared for the higher level of football they'll be faced with in high school. Kealing's combined grade level football team celebrated an undefeated season, so the on-field results suggest that the Kealing players developed the skills to prepare them for high school football.
Gammerdinger believes that having a large freshman football class that grows together over four years is central to the high school football experience. Both Gammerdinger and Gardner are trying to tackle the challenge of getting numbers back up and make up for lost time for current seventh- and eighth-grade teams, the groups arguably hit the hardest by COVID number decline, as they move into high school.
"
If [middle-school football is] done right and the kids are taught and coached and modeled how to build each other up, encouraged [about] how to be there for each other, it's really a special opportunity."
— Kealing Middle School football coach Justin Gardner
Hugo Smith, a seventh-grader at Kealing Middle School and a member of the combined grade football team, transferred to Kealing this year in hopes of chasing his lifelong dream of being a football player. Coming out of COVID, Smith anticipated 2021 being a great year for middle-school football. When he found out he would be on a team with eighth-graders, he was determined to rise to the challenge but found that the team was operating a bit differently than usual.
Smith worries that because most seventh-graders didn't get to play much in games this year, they won't be prepared to face off against schools whose teams were not combined next season. Despite this disadvantage, Smith feels the seventh-graders learned a lot by getting to work with the eighth-graders, this year creating a unique opportunity to learn directly from peers with football experience and become close friends.
"I learned leadership skills and I've learned to push myself harder because we're all on one team," Smith said. "I feel involved in the community because we were all football players and at lunch, we sat together because we both have similar interests in music and sports."
Despite the challenges, Gardner believes this year's football season was positive overall. Gardner aims to figure out how to maintain the unity that was felt in this year's team. As a coach, he feels there was a stronger football community this year than in previous years, encouraging seventh-graders to step up and be leaders in keeping alive the teambuilding-focused attitude next year.
"I think there's more of a football community here this year versus other years, where it was like 'Oh, that guy's on the other team'," Gardner said. "No, that guy I see in the hall every day is on my team. That's a big part of why we coach this and why I think it's one of the best team sports situations. Because of the potential. If it's done right and the kids are taught and coached and modeled how to build each other up, encouraged [about] how to be there for each other, it's really a special opportunity. Our whole group really jumped in and bought in."
After attending nearly every McCallum football game and feeling the energy from the team's spirited student sections and the strength of the Mac community, Smith can't wait to take the field in a Knights uniform.
As for the larger question of whether Austin middle schools' overall decrease in numbers of football players will have an impact on the experience of Smith and others once they reach high school, only time will tell.
Leave a Comment