Taco Shack XX: the last chance
For 31 seniors, the 20th edition of Mac-Anderson rivalry offers final opportunity to beat Trojans, even series at 10
His freshman year, senior quarterback Jaxon Rosales watched his brother Julian hoist the coveted Taco Shack trophy in victory. Until now, Jaxon has never gotten that experience. He plans to change that. 
Not only have the 31 varsity seniors never won a Taco Shack Bowl, but they are looking to tie the score as Anderson leads the series with 10 wins to Mac's nine. As freshmen, they watched as the varsity team came from behind to win 21-20. 
"
I'm not sure if I've wanted to win a game more than I've wanted to win this one"
— Head coach Thomas Gammerdinger
That was Thomas Gammerdinger's first year as head coach. He hasn't won since. He plans to change that. 
"I'm not sure if I've wanted to win a game more than I've wanted to win this one," Gammerdinger said. 
The last two years have not exactly gone according to plan for the Knights. 
"These seniors, they've worked really hard," Gammerdinger said. "A lot of them played as sophomores and they lost. A lot of them played as juniors and they lost. I'm really really hopeful that this year they get it done." 
In 2019 starting quarterback, then senior, Cole Davis exited within the first seven minutes of the game with an ACL injury. Sophomore second-string quarterback Rosales was thrust into the mix after having spent the off-season prepping to play cornerback. McCallum lost 29-7.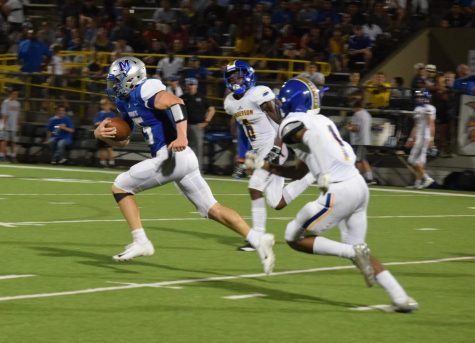 The following year with very minimal fan attendance, despite shutting out the Trojans for the final three quarters, Mac lost 14-7. 
"Taco Shack is more than just a game," Guenther said. "It's an everyday commitment. It's not like you just show up for that week of practice. We always look forward to beat Anderson."
The game was originally limited to 25% capacity in the stands, but Austin ISD reversed course, announcing 100% attendance will be allowed at football games. In accordance with district policy, masks will still have to be worn by spectators. 
Junior JD Jordan began an online petition Sunday night to increase capacity to 100%. It garnered over 1,000 signatures from McCallum and Anderson students alike. 
Rosales believes that no matter the heckling, the team has a good chance to bring the Taco Shack trophy back to Mac.
"We've been together for awhile," Rosales said. "The coaches put us in the best position to win with the game plan they've cooked up, and now it's up to us to execute and duke it out on the field."
To spectators, it may look like just 48 minutes of football, but to the team, it is months of hard work.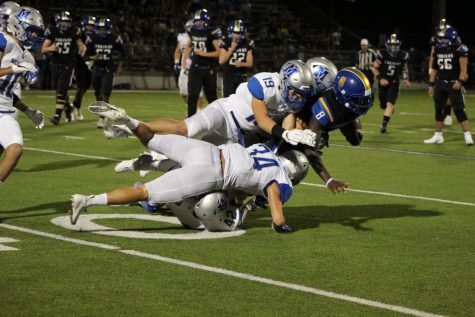 "Everyday from sunup to sundown we work," Guenther said. "Not a lot of people see that side of it."
The defense will be steered by three-year varsity starters Guenther and senior Tino Rodriguez. Three-year varsity starting quarterback Rosales will lead the offensive side of the ball looking downfield for senior receiver Nate Davidson and tight end Jordan. 
While skill position players will work to score and keep Anderson from scoring, the offensive line has been working to protect Rosales in the backfield. 
"We've implemented a lot of pass protection," senior offensive lineman Lukas Bednar said. "We plan to give Jaxon some reads, but above all keep him safe."
The ball will not only be flying through the air but will travel by the legs of running back seniors Colby Napier, Thomas Lonsdale and occasionally Brock Fanning. 
"We are going to utilize the run game by trying to pound it in there," Bednar said. "Gotta give our backs both some gaps in the line as well as some outside reads."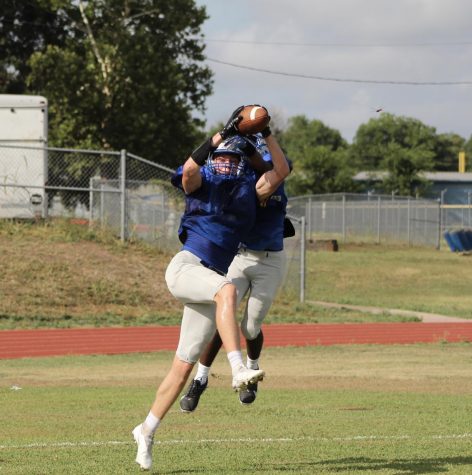 The defensive side of the ball was dismayed to lose senior safety Jake Hissey to a wrist injury suffered during a scrimmage against Manor. Sliding over from cornerback to take his spot is senior Wyatt Cunningham.
According to defensive coordinator Brandon Grant, the defense is flexible will function at a high level, despite the loss of Hissey.
"This team is extremely resilient," he said. "We have full confidence that Cunningham will be able to make all the same plays that Hissey would make." 
This shift will call for both outside corner positions to be filled.
"We have guys that are ready to step up and go on the outside," Grant said. "We are really confident in our game plan and that the kids will be able to play fast and execute." 
In lieu of an in-person pep rally, a video will be shown at the end of fifth period. Kickoff will be at 7:30 p.m. on Thursday at House Park. A win would mean everything to the team, which has dealt with loss the last two years. 
"If we win, there would be no words to describe it," Guenther said. "I would be smiling 'til my face couldn't smile no more. It would just make me feel so ecstatic."