Librarian, intern launch marketing effort to create greater awareness of gender-neutral bathrooms
In order to prevent abuse, misuse, students may only use facilities with preapproval from Orr or a counselor
The restrooms at the back of the library are as old as McCallum itself, but only in the last few years has anyone thought to take advantage of the fact that they are gender-neutral, private spaces rather than just two extra bathrooms. When Jain Orr stepped into the head librarian position, she decided to draw attention to the gender-neutral nature of these bathrooms; however, not many students or staff members knew about the bathrooms since they are located in a quiet corner toward the back of the library.
"We've always had a teacher bathroom and a student bathroom [in the library]," Orr said. "I added this sign during my first year here. I think only a few people knew, and it was kind of a whispered thing."
It was not until this school year that the word was spread throughout the school rather than just in the library, via colorful fliers all over campus. Lucy Praxmarer-Holloway, a sophomore library intern, helped design, print, laminate and distribute the fliers.
"
If you don't feel comfortable, we're going to make sure you do."
— Ceder Herring
"Ms. Orr had the idea, and I just kind of executed it," Praxmarer-Holloway said. "We put them in all of the other bathrooms, just to advertise that there is a gender-neutral bathroom in the library, so that they had that option if they didn't feel comfortable going into a gender-specific bathroom."
This bathroom is open to those who feel the need for a more neutral and/or private space, whether it's because the hallway restrooms are gender-specific or because they are so public.
"Maybe somebody is uncomfortable, for whatever reason, going to the bathroom around other people," assistant principal Tamara Stone said. "It's just a safe place for somebody to be by themselves in the bathroom."
To prevent the restroom from being exploited or abused, (used to skip class, vandalized, etc.) students may only use the library bathroom if they have first secured permission from Ms. Orr or from their counselor.
According to the sign on its door, "Library bathroom is only available to students who have been pre-approved. Please see the librarian or your school counselor for more information."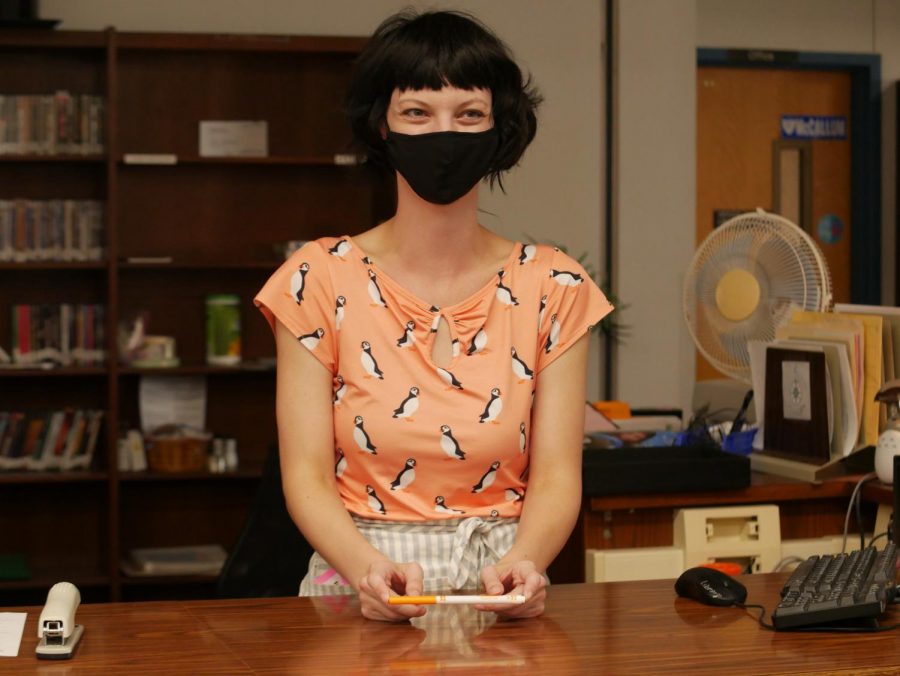 These gender-neutral bathrooms are an attempt to provide a safe space for LGBTQ+ students, particularly students who are gender non-conforming.
Ceder Herring, a senior and leader of the Gender Sexuality Alliance thinks the outreach about these bathrooms sends an important message to gender non-conforming students. "You're a part of this community," Herring said. "If you don't feel comfortable, we're going to make sure you do."