Riley eyes return to racing after ankle injury
Decorated senior runner hopes to get back on track toward a state title run, breaking 4:10 in 1,600-meter race
Last spring, Chris Riley solidified himself as one of the top runners in Texas.  Recording a top-10 mile time in the state was just the beginning. He went on to finish second at the 5A state meet, finishing only behind Walker St. John of Grapevine, one of the nation's top distance runners.
As soon as he crossed the finish line just behind St. John, college coaches around the country were on the phone trying to recruit him for his talent.  Texas, Pitt, Virginia Tech and Carnegie Mellon were just a few of the schools who reached out to Riley.
Riley was on a roll. His goal of being atop the high school running world was starting to become a reality. He was at peak training, waking up at the crack of dawn to run hills with collegiate athletes, or 12-mile long runs with some of the best high schoolers in the state.
D1 runner at the University of Texas and club teammate Chandon Chhikara has been training with Riley since his sophomore year. 
"Chris is one of the most dedicated athletes I know. Ever since we started training he has shown up to practice every single day and worked his ass off," Chhikara said. "Every practice he brings his best and makes the entire group around him better." 
Riley's roll came to a screeching halt one late July morning. Less than halfway through a warm up run on Town Lake, he couldn't continue. His ankle had been bothering him for a week, and it finally gave out.
"
Chris is one of the most dedicated athletes I know. Ever since we started training he has shown up to practice every single day and worked his ass off."
— University of Texas runner Chandon Chhikara, Chris Riley's club teammate
Anyone who knows Riley knows he would never stop running that easily.
"Only an injury could get him to take some time off," Chhikara said about his determination.
In fact, not even an injury could get Riley to take some time off. The following day, he was right back at it, running almost 20 miles over the next three days.
That's when he learned it wasn't a routine running pain. It was something much more serious. 
"It's pretty normal to have aches and pains from running but after about a month of muscular physical therapy and no relief I definitely thought something more serious was wrong," Riley said. "I got an X-ray and an MRI on my ankle, and they saw that the bone and marrow was really inflamed and that it was very close to becoming a fracture, and I was immediately put in a boot."
Every runner's biggest fear became his daily routine.
"The first thing I thought of was when I would be able to run again," he said. 'The past two years I have really fallen into a rhythm of waking up and running every day, so it was a weird shift of finding other ways to work out."
Luckily, it was a transition that came together rather quickly.
For the next seven weeks, low impact activities became his daily regimen. He started biking 80-120 miles a week and aqua jogging (treading water in a running motion) for an hour and half each week. Training in this manner is not for the faint of heart, but he was willing to do whatever it took to get back on his feet.
On his own, this rehab would have been a challenge, almost impossible. Riley credits his dad, Micheal Riley, who has followed him along on his cycling adventures through town. And of course, his club coach Paul Carrozza, who has been a mentor to him throughout the years, has continued to help him through his injury. He also gives credit to Chhikara, who has been a critical piece in the process.
"I ended up getting a minor injury myself a couple weeks ago," Chhikara said. "Since then, Chris and I have been aqua jogging together and have also done a couple swim workouts together. I feel we both have done a great job of keeping one another motivated throughout the recovery process and keeping a positive attitude despite the circumstances."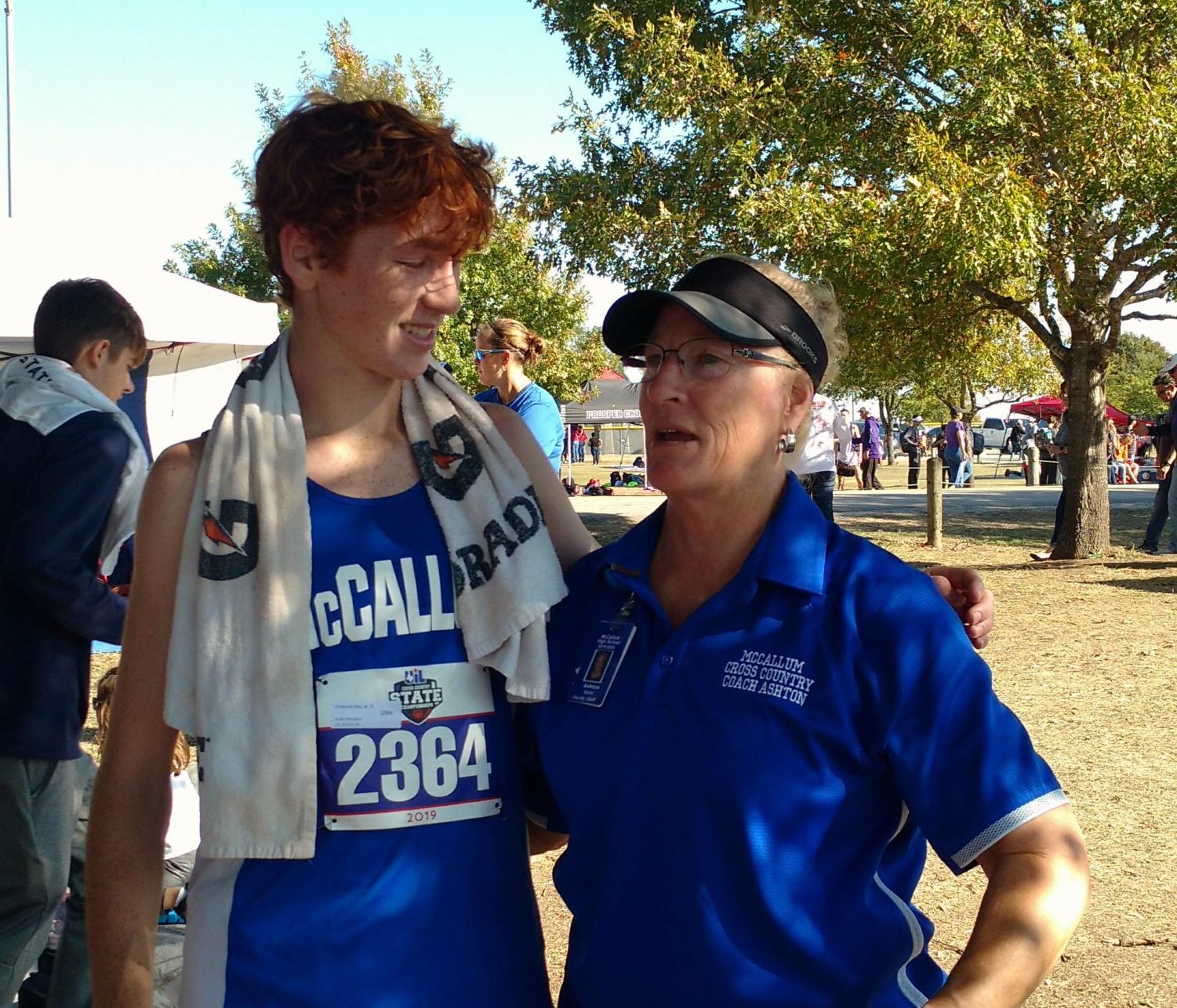 Injuries are the hardest hurdles for many athletes to clear. Only hard work and consistent rehab can get someone back on track just as good, or perhaps even better, than when they exited. 
That's what Riley is planning to do. Come back just as good as before he went down. 
Now, more than two months later, he is faced with a decision that could prove career-altering.
When is the right time to come back to racing?
The district cross country meet is fast approaching. It would be his only opportunity to race as a member of the school team. He could decide to take the risk of coming back too early and injuring himself for that one last chance at a cross-country season.
"
At this point, my goals for the track season haven't changed. … If anything, it has made me want to reach my goals even more to make up for missing the cross-country season."
— senior Chris Riley
His other option is to delay a return. Nike Cross Regionals (NXR) is in mid-November, when he would likely be in much better shape. That would make his first race since July a very challenging one against an elite field from all over the South.
As hard as that may be, Riley says he is up for the challenge.
"It would definitely not be ideal having that be my first race in months, but depending on when I'm able to start running hard again, I know my coach would change my training to help get me mentally and physically prepared to race."
He attributes that feeling of readiness to his consistent cross-training during rehab.
"A big part of cross-country racing is mentally being able to push yourself, something that people tend to get better at as the season progresses, but I definitely feel that I've been able to get a similar feeling from biking."
Not only does he think he has what it takes, so do his teammates.
Gabriel Estrada, a junior at St. Michaels, has spent his last few years of training with Riley and the rest of their club, Born to Run.
"Chris has a strong mindset when it comes to running and just sticking to his goals in general, so I think he should be able to come back and improve really quickly especially with all the work he's been putting in to stay in shape," Estrada said. 
Kepler Huntress, another club teammate and a district competitor at LASA, also knows Riley will perform when it matters. 
"I expect him to perform very well because of his commitment to maintaining his physique while he couldn't run through his cross-training," he said.
If Riley decides to come back for NXR, it will be the first big step on his way back to racing with the best of the best.
After the cross-country season finally comes to a close, indoor track season begins. That's when Riley will really have his chance to prove he's still among the state's best runners. 
Coming off of an injury, most runners wouldn't hope to still be at the top of that pyramid, but Riley's goals are unwavering.
"At this point my goals for the track season haven't changed. Since the track season last year, my goals have been set on winning the state championship and running a sub 4:10 1,600 meters. If anything, it has made me want to reach my goals even more to make up for missing the cross-country season."
It won't be easy, but Riley is built for it. His speed is up there with the best high school distance runners. A 1:58 800-meter and 4:15 1600-meter runner, he has the talent to be back at the top very soon.
Only time will tell when he returns to the top of the running game, but indoor season may be just the time for him to shine.
Texas A&M and Texas Tech, along with a few other in state schools, will hold races this winter where some of the best runners in Texas will compete.
He hopes to cross the finish line with those runners staring into the back of his jersey, re-solidifying himself and proving not even an injury can stop Chris Riley.