Mac soph helps paint, raise Austin FC's first tifo
New Major League Soccer team inspires fan participation, including involvement of one soccer-loving Knight family
Music blasts through the speakers and the scent of soft pretzels drifts through the air at the first home game of Austin's new Major League Soccer team, Austin FC, against the San Jose Earthquakes. Supporters pour into the stadium in a sea of green, 20,738 fans for all 20,738 seats. The opening ceremonies start with performances by local musicians, a drum chant led by Matthew McConaughey, and finally, the unveiling of the tifo – a choreographed banner displayed at the beginning of soccer games – created by a local muralist and a dedicated set of volunteers. 
Rising sophomore Sam Dueñas-Lujan helped paint and raise the tifo before the first home game on June 19. He volunteered alongside members of a local fan group, Los Verdes, to assist muralist Luis Angulo, also known as ULOANG, with the creation of the artwork. The theme of the tifo? "Ciudad de Leyendas," or "City of Legends."
The tifo displayed the faces of some of the great legends of Austin – Stevie Ray Vaughan,  Raul Salinas, Matthew McConaughey in a Daniel Johnston T-shirt, Barbara Jordan, Leslie Cochran and Willie Nelson adorned a backdrop of the city skyline. The mural also featured symbols such as the Barton Springs salamander, the Pride Armadillo, and the Mexican free-tailed bat. In total, the tifo measured to be about 100 feet by 60 feet, according to KVUE. As a group of volunteers – including Sam – raised the banner above the south end of the stadium, cheers erupted from the crowd.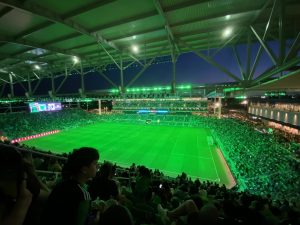 The tifo took months to create. Angulo laid out the design, volunteers painted the base coats, and Angulo went through and added shading and detail. After all of this work to create a banner that would represent Austin's culture and hype up the fans for the game, it was only displayed for a fleeting moment – two or three minutes at most.
"Everybody was really happy about it, even though it was so short," Sam said. "It's not going to happen again. No matter how long Austin FC is there, it's not going to happen again, for that first time. So, we were all excited, a lot of the volunteers were crying, all the leaders and stuff. It was really sweet."
For Sam's family, soccer has always been a part of their lives. His mother, Cathy Lujan, began playing soccer in middle school and played well into adulthood. Sam himself played from the age of 6 to the age of 14, when a back injury and the pandemic cut his time on the pitch short. Like most families during quarantine, they were itching for something to get excited about. When Austin FC came along, Cathy immediately got involved.
"When I heard about Austin FC a couple of years ago, I thought, 'This is something that I want to invest in,'" Cathy said. "[I wanted to] really invest in the standpoint of time with my family, time with Sam and his brother [Class of 2021 graduate Daniel Dueñas-Lujan], doing something together that we would all enjoy."
Cathy signed up about two years ago to be on the waiting list for season tickets to Austin FC. As they waited for the team to make its debut, the Q2 stadium was being built. With mounting excitement, Cathy looked for other ways to get involved, and she found Los Verdes.
Cathy stays in touch with Los Verdes through social media message boards, and that's how she heard about the opportunity to help paint the tifo for the opening game. Mother and son both volunteered multiple times, putting in the hours alongside newfound friends.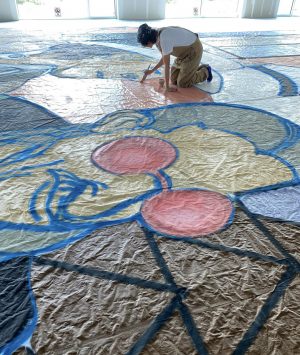 "It's super cool seeing everybody come to help," Sam said. "Everybody's always excited, even if it's to do something super small, just to be a part of it. It's something that we're not going to be able to get to do again, especially for the very first time."
Sam said that as the time went on, he began to grow closer with his fellow fans at the painting sessions.
"There was just music, and everybody was joking around and laughing," Sam said. "It was a lot of fun. It's almost like hanging out with family."
Los Verdes, one of many Austin FC fan groups, has a reputation for being the rowdiest. Sam, who stands in the supporter section at the games, can attest to that.
"In the supporter section, where the fan groups are, it's only standing," Sam said. "And it's just non-stop screaming and chanting the whole time, it's so much fun. Everybody's always super sweaty and just dancing around, and that's a ton of fun."
Cathy splurged on a club seat for herself, which includes a prime view of the game and free refreshments in the lounge. Despite all these perks, she finds herself wishing she was in the supporter section with her sons.
"I could kick myself for spending all this money on the club seat," Cathy said. "Because, when I go to my club seat, it's not as much fun, because they're not singing and chanting, and I don't know anyone yet. The supporter section is just a blast, and people are so nice."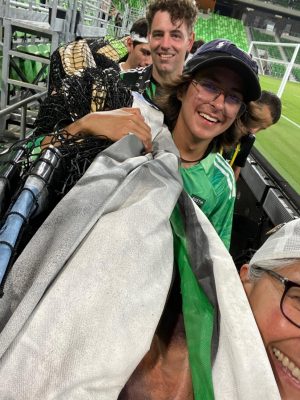 Although the club seats are expensive, general admission tickets aren't cheap, either. For the first game, most tickets on SeatGeek ran for at least $150 each. Since the first game, the ticket price has gone down to as low as $45 each, which Sam hopes will make the games more accessible to the community.
"I'm glad [the price] has gone down, because I want it to be something that everybody can go to eventually," Sam said. "I understand that first game being crazy expensive, but that's something everybody needs to experience in Austin."
Austin FC's next home game against the Houston Dynamo is happening tomorrow, Aug. 4, at 8 p.m.
Cathy hopes that in the long run, her season tickets to Austin FC will bring her family even closer together.
"I'm hopeful that it's going to be a long-term experience we can share," Cathy said. "I have heard about people having season tickets – to like, Cowboys or baseball or different sports teams – for generations, even. If not generations, then decades. So I'm excited about having these things for a long time, and sharing this experience for years to come."