Veteran third baseman named second team all-state
Mac baseball class of 2021 graduate and future Seward Saint, Jacob Masters, honored by Texas High School Baseball Coaches Association
The Texas High School Baseball Coaches Association has named McCallum baseball class of 2021 third baseman Jacob Masters second-team all-state. Masters was one of two Knights selected for an all-state honor. Teammate Trinidad De la Garza was selected third team as a shortstop.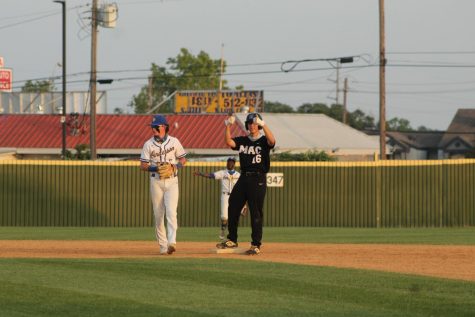 This honor will add to Masters list of season accolades including a first-team all-district selection and the Austin Area Baseball Coaches Association Senior All-Star Game Defensive MVP.
"It definitely means a lot; it's something I never thought would happen," Masters said. "To me, it shows how amazing my coaches, teammates and family are."
Head baseball coach Brandon Grant believes Masters deserves the recognition.
"He compiled quite impressive stats on offense, but I believe it was ultimately his defense that lead to the selection," Grant said. "He fielded 1.000% at third base, which is one of the toughest positions on the field to play."
While Masters led the team in fielding percentage, ended the season with a batting average over .400 and hit three home runs, he attributes his success not just to his on-field performance but also to his support system.
"My family, friends and coaches are the people that make me love playing the game," Masters said. "Winning this recognition or any award is always something I attribute to them and their support."
Masters especially credits Grant.
"
He's always thinking about others and is never looking for any type of personal recognition."
— head coach Brandon Grant on Jacob Masters
"I've never met a coach who advocates for his players the way he does," Masters said. "He loves each and every one of us and tried to help all of us become the best we can be. I know he's been involved in different coaches' boards and I'm sure he pushed my names into whatever conversations he could."
Grant said that he most admires Masters for his grit and character.
"As a player, it's his toughness," Grant said. "Nothing pulls him out of his element. As a person, [it's] his selfless humble nature. He's always thinking about others and is never looking for any type of personal recognition."
Grant is not alone in admiring this aspect of Masters' character. Longtime friend and teammate Ethan Vandament also praised Masters for his altruistic nature.
"He is selfless," Vandament said. "He cares more about his teammates and the team as a whole than himself. Jacob [Masters] has been like that since we were 2. He is very deserving of this [recognition] and much more."
While Masters is looking forward to continuing his baseball career at Seward County Community College, he said he will never forget the memories he has made at Mac.
"This season meant the world to me," he said. "I've never enjoyed playing with any team more than I have this one. I love every individual player, coach and person that helped make this season so great and special. I had an amazing time and made a lot of amazing memories and friends that I'll always cherish."