10 years later and the win streak rests on one game
Knights must win the second game in the Anderson series or their long streak of district titles will end this season
After nine consecutive district championships and one year lost to a pandemic, the McCallum Knights must win their next game to keep the streak of district championships alive.  
With the 2020 season getting cut short due to the ongoing coronavirus, the 10th consecutive district championship quest was extended to the 2021 season, which meant that longtime neighborhood rival and first-year district opponent Anderson stands in the way between the Knights and consecutive district title No. 10.  That's because UIL district realignment dropped Anderson from 6A to 5A and therefore into McCallum's 5A district. 
After both teams went 12-0 in district play, teams face each other the week of April 26 in a pair of games that will decide the district title.
"We knew once we got in this district, we would be looking forward to this series," Anderson head coach Kenny Matthews said in an interview with The Statesman, "Coach Grant and I have been eyeing this. When we'd run into each other, we'd say 'We'll see you in a couple of months' or 'Hey, see you in a couple of weeks.' Then it became 'See you in a couple of days.'"
The first game of the two game series did not go well for the Knights on Tuesday. 
The Trojans emerged from that game with a 9-3 victory that gives them a one game lead over the Knights in the district standings. The teams, weather permitting, are scheduled to meet again Saturday afternoon. If the Knights win, they will force a third game and the next two days will decide the District 17-5A title and the No. 1 playoff seed. 
To force a tie and a third game, the Knight are going to have to play better than they did on Tuesday.
"It can all really be summarized with mental errors," senior third baseman Jacob Masters said. "Our team was nervous and shaky, we pressed too hard and didn't play at the level we know we can."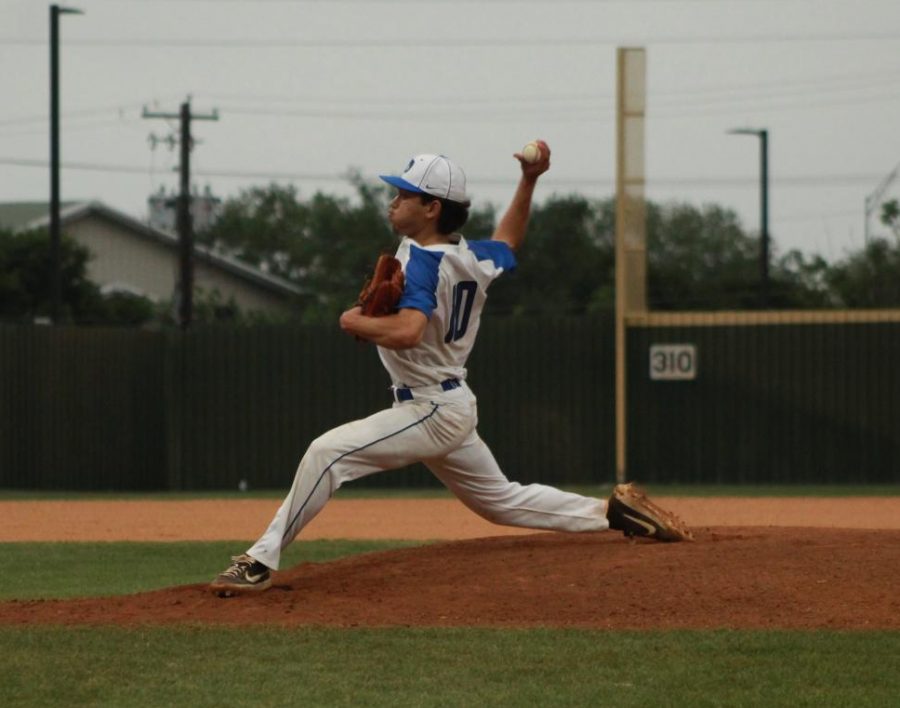 Both McCallum and Anderson committed fielding three errors apiece. Mac also had several base-running miscues that took them out of scoring opportunities. Further hurting the Knights' cause were two wild pitches and two passed balls. 
"We did not play to the level of baseball we are used to with the errors and the base-running miscalculations," senior shortstop Trinidad De la Garza said. 
The Knights defense suffered a loss when in the top of the third inning junior first baseman Andy Honea exited the game with an upper leg injury. 
"It's disappointing, once Andy went out we were shook a bit, and we just need to be steadier and play our game of baseball," De La Garza said.
In the top of the third inning, the Trojans put a crooked number 5 on the board. Leadoff hitter Aldion Morgan singled to senior left fielder Jake Allison to bring in one run. He scored a few pitches later on a line drive single from teammate Reid Garcia. 
Blake Coleman then stepped up to the plate. Last year, Coleman homered off Izquierdo in a pre-lockdown, non-district matchup. In his second at-bat of the game on Tuesday, Coleman went off again smashing a ball over the left-field fence for a 3-run homer.  
"It felt good, it was a 2-0 count so I was just trying to hit the ball hard in the gap, and it was a blessing it went out," Coleman said. "It gave us a lot of momentum, it brought up the team energy, and it was against a talented opponent, kids we have been playing against since little league at Northwest."
The Trojans finished the game with nine runs and 13 hits.
The Knights racked up 10 hits of their own, and De la Garza, Masters and senior Connor Boggs each drove in a run.  
"
"I know the team I have, and they're going to show up looking for a fight. That's why I love my kids so much. You haven't seen the last of this group. "
— head Mac baseball coach Brandon Grant
Although his team is down a game, head coach Brandon Grant has full confidence in turning the series around.
"I know the team I have, and they're going to show up looking for a fight," Grant told The Statesman. "That's why I love my kids so much. You haven't seen the last of this group. They'll come out swinging for the fences, and we'll be a tough group to put away."
Due to current weather conditions, as of now, the second series game has been rescheduled to Saturday, 1 p.m. at East View High School. 
For the Knights, Saturday will not just be about forcing a third game but about avenging a rivalry loss. 
Senior Fabian Castillo, a dependable southpaw, will be starting on the mound Saturday and hopes to shut down Anderson and walk out with a win. 
"For me, it's revenge," Castillo said. "For the team, it means the world to them if we beat them; this is our shot." 
While he acknowledges it's a pressure moment, he relishes the opportunity to deliver for his team.
"There's some pressure, but I'm gonna go out and hopefully make my team happy and try to come out with the win," Castillo said. "Just to get the job done."
De La Garza is also eager for the big stage of a do-or-die district game.
"It's going to be a test, whether or not we can bounce back from a tough loss and compete at a high level of baseball against a good opponent," De la Garza said.
The environment of the game was similar to that of a playoff game with packed stands and heckling from both sides of the field. Masters believes that even with the added stress, the Anderson series outcome is not the end of the world. 
"While it is concerning that we could lose the district title streak, I think the mental state of our team going into playoffs is more important," Masters said. 
Not only is the consecutive district championship streak on the line but a second loss to Anderson will also put the Knights in jeopardy of having a one-game playoff slate versus a three-game playoff series. A district champion gets to decide whether the playoff round is a game or a series, but when a second place team plays a third-place team, a coin flip decides whether it is a game or a series if the coaches don't agree on the format.
But De la Garza and Masters agree that while the playoffs lay ahead no matter what, there is still district baseball to play, and they want to be ready to face the challenge and enjoy the moment.  
"We play because we love the game and we love our teammates," Masters said. "Our mindset should always be to play our best and have fun while doing it."