Knights win first bi-district championship series since 2016
For the first time since beating Cedar Park the McCallum baseball team wins a playoff series, advances to the second round of playoffs
After losing the first game of their opening-round playoff series the varsity baseball team felt a sense of déjà vu. With a 3-0 loss to Pflugerville on Friday evening, the Knights were one loss away from playoff elimination. The following day would either bring a triumphant turnaround or season-ending sadness. to the Knight dugout. 
"
I promised myself that I would play my heart out, not for me but the seniors around me."
— sophomore catcher Pablo Lopez
A first-round playoff loss would have been a disappointing end to a season that was filled with promise. Earlier in the season, the Knights ranked ninth in the state among 5A baseball teams.
The last time Mac won a playoff series, the Knights were in a similar hole. In 2016, the Knights were down 1-0 in a three-game series against Cedar Park. Both the 2016 team and the 2021 team would not just have to win once, but twice.
The 2016 Knights pulled it off, and the 2021 Knights started their Saturday confident they could do the same. 
The 1-0 hole evoked a more recent case of déjà vu that was encouraging. Down 1-0 in their season-ending series against Anderson, the Knights rallied from a 3-1 deficit to win the game 4-3 and force a tie-breaking third game. The Game 2 baseball gods smiled on them that day, and they hoped against Pflugerville, the baseball gods would smile on them again. And they did. 
Playing on the road, the Knights rallied for a season-saving 4-0 victory in Game 2 of their opening-round playoff series.
"I thought we did very well with handling the situation and approaching both games like it was any other matchup," senior shortstop Trinidad De la Garza said. "We leaned against our big southpaw [senior] Fabian [Castillo] once again, and we got him a lead and he got us the win." 
Further cementing his reputation as a big-game pitcher, Castillo delivered a shutout, allowing only five hits while striking out four over seven innings pitched.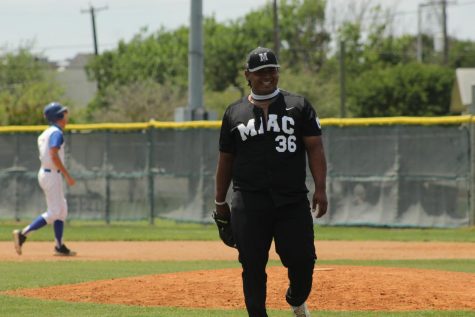 "There was some pressure, but I depended on my defense and they depended on me," Castillo said. "I knew I had a job to do for my team, and I executed and we got the win."
Sophomore catcher Pablo Lopez said that the first game was a wake-up call and brought attention to the team's Game 1 mental errors at the plate and in the field. 
"After the loss of the first game, we really had to re-group and get back to what we were doing previously in the season. A lot of our problems, I believe, we encountered were our approaches at the plate and the mental errors that we had". 
The Knights only produced four hits in Game 1, led by senior Jacob Masters who went 2-for-3.  
Head coach Brandon Grant knew the team would have to hit better and pitch better if they wanted to extend their season. But he had reason to believe that the team would perform better. 
"Our plan was to save our top pitchers for games two and three," he said. "They have an elite level pitcher in Mikey Ramos who has not given up a run since the second week of the season. I didn't want to waste our best pitcher, you know, going against their best pitcher." 
Ramos' streak held strong, as he shut out the Knights in Game 1. 
"We didn't want to try and beat down a wall that might not come down, so we took a different approach," Grant said. "But we're gonna make sure we're winning games two and three, if not. And so that's the approach we paid off. I was super proud of the kids for believing in the plan and trusting in our coaches and going and executing."
According to Lopez, coming into the second and third games the Knights were prepared to fight on the Panther's home field by focusing on  the small details.  
"Coming out of the gate into the second game, we knew that Pflugerville threw their best punch with Mikey," Lopez said. "To combat that we would have to execute where we needed to and focus not on the big flashy plays but the little things
The series was especially important for the seniors, as playoff struggles have peppered their McCallum careers. 
"First there was plate-gate, then the one-game series Harlandale game, and last year's cancellations," Masters said. "It's been a tough road playoff wise for us."
"
Getting that monkey off our back and finally achieving an ounce of the playoff wins that we talked about here so much, proves that our seniors have effectively changed the culture around here of what it takes for playoff success. "
— Head coach Brandon Grant
Grant praised his seniors for their hard work to change the playoff narrative of the program.
"When we got here as coaches, we challenged the players to change the culture from being satisfied with district championships and really start to press the issue of playoff success," he said. "For the last six years here, we've run into a string of unfortunate situations that have hindered playoff success. I think getting that monkey off our back and finally achieving an ounce of the playoff wins that we talked about here so much, proves that our seniors have effectively changed the culture around here of what it takes for playoff success." 
While Castillo pitched the Knights to victory in game two, he also established the mindset that he and his teammates brought into game three. 
"Once I saw Fabian get into a groove and that big, classic Fabian Castillo smile on his face, I knew at that point, nobody was going to get to him or to us in either game," Grant said. 
Castillo's casual confidence put the team at ease. It wasn't just the seniors who were anxious. The sophomore and juniors were uptight too because they didn't want to led the seniors down.
"Before they started, I promised myself that I would play my heart out," Lopez said. "Not for me but the seniors around me that deserve the wins that we had from the hard work they have put in."
Masters and De la Garza powered the Knight offense by going 2-for-3 and 2-for-4 at the plate respectively. Senior Ethan Vandament and freshman Sam Stevens each contributed a hit.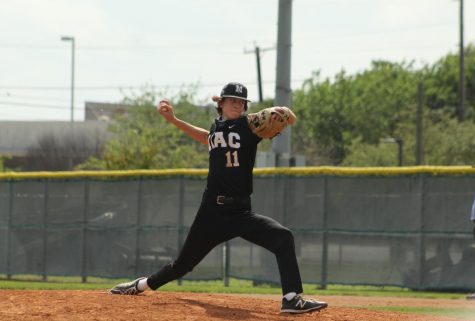 "Sam Stevens is not just a freshman on varsity," Grant said. "He's an elite baseball player at the varsity level. And we have all the faith in the world in Game 1 and let him go to work at the plate in all games, and he was able to come back and be extremely effective in Game 3. He's a big part of why we won that series."
There was still work to be done after the Knights won Game 2, and the Knights made that work quick in Game 3.
The Knights put eight runs to the scoreboard in the second inning. Junior Wyatt Cunningham, senior Jake Allison, senior Easton Salinas, Vandament, De la Garza and Masters all drove in runs in the inning. Castillo, Vandament and De la Garza all hit doubles during the game with Salinas leading with three hits. Barraz, Vandament, Salinas and De la Garza also all had two RBIs to account for eight out of the 12 runs scored. 
"In the second inning of Game 3, when we put an eight spot on the board, you really saw the energy level pick up," Grant said.
The 4-0 and the 12-4 wins did not just certify the Knights as bi-district champions but it ended a five-year playoff drought for the program. More importantly, it meant the seniors have more McCallum baseball to play.
"For us seniors, playoffs are the last time we get to play with each other," Masters said. "For some, it's even the last time they get to play baseball. Winning means that we get to play together longer, and nothing could possibly mean more to us than that." 
The Knights will play in the area championship series against Lake Creek today at Lake Creek and Friday at Nelson Field. 
"We're gonna come out and have good practices and have great days in the weight room," Grant said. "We are doing competitive drills in practice and hopefully come out and win some games this upcoming Thursday and Friday".