Q: Why is Fine Arts Academy coordinator job being cut? A: You better sit down for the answer. It's complicated.
From COVID-19 and the Cares Act to enrollment, equity and recapture, there are many causes for AISD budget woes
In Heather Ramsay's five years at McCallum as Academy coordinator, she has built-in strategic planning, strengthened team-building between academies, established Academy Ambassadors, co-designed a software database for record-keeping and analysis, worked to make the Fine Arts Academy more equitable and set the required academic bar for majors raising passing grades by 75 percent.
Multiple teachers and Ramsay's boss, principal Nicole Griffith, vouch for the terrific work Ramsay has done, but McCallum and AISD do not have the money to keep her on staff. Multiple factors have played a role in this budget shortfall, most significantly districtwide budget cuts and a new staffing model implemented for the upcoming school year intended to make spending across the district more equitable.
"
[When] the coronavirus happened and we had a significant amount of expenditures we weren't expecting. We find ourselves in a situation where we are about to be out of compliance with our policy.
— Board of Trustee Kristen Ashy
Kristen Ashy is one of the nine Austin Independent School District trustees on the board that helped approve this new budget, administered due to the district's fund balance. The fund balance is a functional operation of the district, providing money to pay teachers, maintain grounds and support basic functions. This balance is funded by property taxes, which are collected by the state and then redistributed to districts. But unlike a monthly paycheck, AISD only receives this money a few times a year. To ensure that the district is always able to function, a policy requires it to keep 20 percent of its overall balance in this fund. 
"For the past couple of years AISD has been working at a balance deficit," Ashy said. "AISD is spending more than what we're bringing in. And that was OK because we had a fund balance, but then the coronavirus happened and we had a significant amount of expenditures we weren't expecting. We find ourselves in a situation where we are about to be out of compliance with our policy which requires us to keep 20 percent of our overall balance in this fund. And if we don't change the way we're spending, then we will go way below the level that we can on that fund balance, which impacts multiple aspects of the district."
AISD is not alone in this COVID-related debt; it is something schools nationwide are facing, and which Congress attempted to address by passing the CARES Act. The CARES, or Coronavirus Aid, Relief, and Economic Security Act is a $2.2 trillion economic stimulus bill providing money to help offset additional expenditure because of COVID. Part of this stimulus bill, the Austin American Statesman reported on April 1, includes a relief package for public education, which has been broken up into two separate checks. In 2020, Texas accepted this first payment of $1.3 billion for the school systems, and currently, the acceptance of the second check–which could provide almost $18 billion for school systems alone — is up for debate within the legislature. But whether these funds will go back to school districts is uncertain.
The first stimulus bill Texas accepted in 2020 was used to offset state funding instead of providing additional funding to the school districts for which it was intended. The reason the legislature was able to do this, explains Ashy, is because of HB3. HB3, or House Bill Three, is a legislative bill that was passed in 2019, the activist group Raise Your Hand Texas reported on May 25th of 2019. This bill brought more money into the classroom, but at a higher cost to the state. According to Ashy, Texas is covering this additional cost with the funds from the CARES Act. 
HB3 additionally adjusted statewide staffing formulas to ensure equity within the district. Currently, AISD has a staffing formula of 450 students per administrator.  According to the Austin Chronicle on March 19, HB3 made it so that low-income students get weighed higher on that formula, and are provided with 20 percent more staff. 
But because of lack of funding, AISD doesn't have the money to hire these additional teachers, forcing the district to cut teachers from higher-income schools. To further complicate matters, AISD is currently over-employed, as they did not expect the sharp drop in student population–from 80,911 to 75,059 students according to Ashy–from COVID. Meaning they have to cut positions. 
One reason for this loss in the student population is the increased learning needs in an online platform. Many students who found online school especially challenging switched from public school to homeschool or to private school. Students who couldn't afford either, but still had specific needs that were not being met online, switched to charter schools. Though these schools may be beneficial for individual students, according to activist groups, such as Raise Your Hand Texas, their effect on the state–and statewide education–is challenging and controversial.
Charter schools are meant to provide an alternate education to students. But critics of charter schools contend that because in Texas charters schools rely on public not private funding, they divert monies that would otherwise be available for traditional public school budgets. 
"Schools were founded on the promise of fostering locally developed, innovative approaches to educating children," said Raise Your Hand Texas on their website. "But policies that favor charter schools over traditional schools have created a parallel and inefficient public school system at a significant cost to the state and its students. Charter school students in Texas receive a funding advantage of $1,100 more per student compared with students in our state's major urban and suburban school districts. As a result, it costs the state more to operate a charter school than it does to operate a neighborhood school with the same students in the same community."
"
Because of recapture, AISD keeps half of our property taxes and pays roughly half back to the state; however, it's not a perfect algorithm, meaning not all of the money we send back actually goes to other districts. It goes into what's called the general fund which means it can be spent on whatever state legislators decide to spend it on.
— Board of Trustee Kristen Ashy
The reason charter schools can do this–explains the group–is because of the SB2 or Senate Bill 2 passed by the Texas legislature in 2013. This bill, meant to put restrictions on charter schools, actually made it easier for them to expand.
"Since the passage of SB2, charter school enrollment has increased 100 percent and has caused state funding for charters to increase from $1.2 billion to $3.1 billion per year," Raise Your Hand Texas reports on their website. "The number of charter schools has increased 43 percent over the same period. … This rapid growth of charters, because of limited transparency and oversight over expansion, has led to unnecessary, inefficient and costly duplication of facilities, transportation and public education services."
Charter schools take students away from preexisting school systems, which in Texas, are funded by enrollment and attendance. AISD's 2020-21 budget plan estimated that the district receives approximately $5 million in revenue for every 1 percent in attendance. The district has lost a significant amount of these funds due to the 5,000 students who unenrolled because of COVID and the declining student population from the high cost of living in the City of Austin.
Because of this high cost of living AISD is considered 'property wealthy' in the eyes of the state, making AISD susceptible to the state system "recapture," nicknamed "Robin Hood." This system takes the property tax dollars used to fund schools from "property wealthy" districts to supplement the budgets of lower-income districts. But it isn't a perfect system.
"Because of recapture, AISD keeps half of our property taxes and pays roughly half back to the state," Ashy said. "However, it's not a perfect algorithm, meaning not all of the money we send back actually goes to other districts. It goes into what's called the general fund which means it can be spent on whatever state legislators decide to spend it on. That can be a multitude of things, including highways or health expenses for our state."
Due to the ever increasing home values in the neighborhoods that AISD serves, the district has become the biggest payer in the recapture system.  According to AISD's 2021 budget,  in 2021, nearly 46 percent of all local revenue collected from property taxes will be given to Robin Hood or an average of $606.3 million. From the year 2007, when it was first adopted, to 2021, AISD will have paid the state of Texas close to a total of $4 billion, providing almost one fourth of the total funds collected. The reason, explains Ashy, is because of the wealth disparity throughout the state.
"You can look at the Robin Hood program like a bell curve," Ashy said. "The idea of a bell curve is for it to be bell-shaped–most people are in the middle. But what has happened is that our bell curve has flattened. More people on the sides are either giving or receiving more of the system, and fewer people in the middle. I understand the idea of recapture, but when you've got districts very far out on either end of the bell curve, it starts to get squeezed, and you have people like ourselves [AISD] who are paying way outside of the norm."
Robin Hood in combination with Coronavirus expenditures has caused AISD to reach its maximum operating limit in the fund balance. The money meant to supplement these expenditures, such as the Cares Act, has been diverted due to HB3. A declining student population due to factors such as charter schools exacerbates the problem. As a result, the state must get rid of some of its employees. One of these employees is Ramsay. 
"
We don't have unlimited resources, so I had to make a choice. We have to prioritize teaching because teachers are the most important employees in the school.
— principal Nicole Griffith
 If McCallum had more funds in other areas, it would be possible to keep her on. But because McCallum funds an additional assistant principal to what the district allots, they don't have the dollars. 
"Typically McCallum is only allotted by the district three assistant principals and an associate principal," Principal Nicole Griffith said. "We purchase a fifth because we're very close–seven students away–from needing a fifth. We really can't operate with just four. If we didn't have that additional cost, we would probably be able to afford a Fine Arts Coordinator." 
In another scenario, the school could consider moving already-leaving teachers' salaries to go toward continuing to fund the Fine Arts Coordinator position, but Griffith doesn't see that happening.
"Because there are people [teachers] leaving, there could be a scenario where we don't hire another person and fund Ms. Ramsay's position instead," Griffith said. "But from my standpoint, we have to prioritize teaching. Because teachers are the most important employees in the school. We don't have unlimited resources, so I had to make a choice. Instead of cutting back on our teaching staff, we decided to restructure." 
Griffith wanted to reiterate that this is not the fault of any one person–or district. It was a combination of tough choices meant to prioritize student learning.
 "We are in a position right now, where for lots of different reasons, we are not funded well by the state," Griffith said. "The district is currently missing around 5,000 students, And McCallum isn't McCallum ISD–we're in Austin–so when AISD's enrollment dips, we feel it here too. The truth is we here at McCallum have a limited amount of resources and have to do everything we can to support our programming."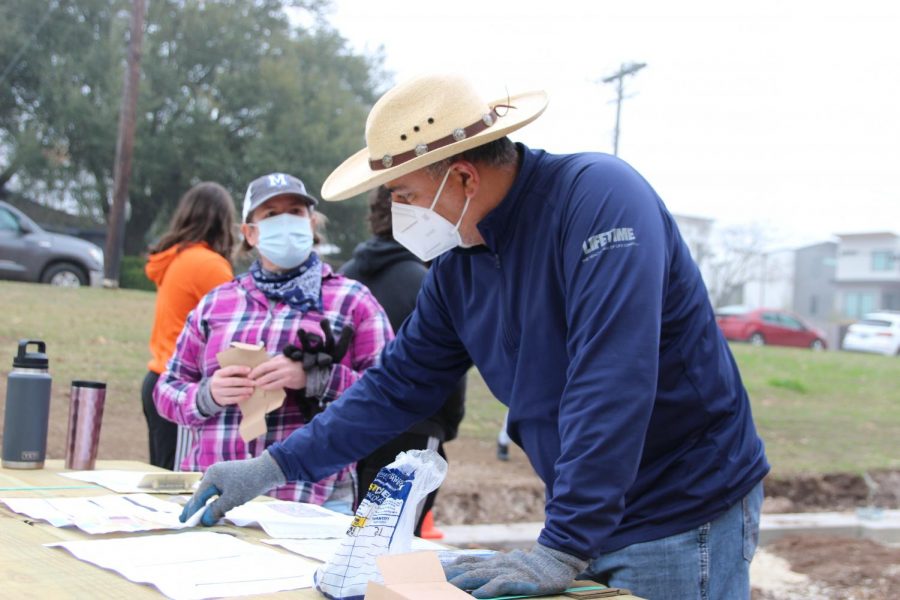 And for McCallum that means restructuring. Currently, the administration of the Fine Arts Academy is split into three positions. a designated assistant principal (Andy Baxa), who provides faculty supervision; the fine arts coordinator (Heather Ramsay), who controls programming and vision, and five different assistant principals and counselors, who provide support to academy students. To restructure, the current associate principal, Gabriel Reyes, will fill the new position of academy director. 
"I've been here 15 years so I've worked with a lot of the teachers, and there's a lot of trust and experience already built with them," Reyes said. "In my previous job, my role was to support the school. In this new position, my role would be to support the academy. We have an outstanding fine arts program. And my job is to ensure it continues." 
"
When I first heard the news I was very excited, I still am very excited, but there's a lot to learn. Ms. Ramsay has put into place a lot of really good structures within the academy, and that will continue.
— associate principal Gabe Reyes
He says he has mixed opinions about the new position.
"Ms. Ramsay is my friend and colleague," Reyes said. "I have a tremendous amount of respect for her, and it's sad when your friend leaves and you're sad for your colleague, but knowing that this program has to continue because it's such an important part of our school. When I first heard the news I was very excited, I still am very excited, but there's a lot to learn. Ms. Ramsay has put into place a lot of really good structures within the academy, and that will continue."
As academy director, Mr. Reyes will oversee fine arts faculty, along with a newly designated fine arts-specific counselor to aid in student support. To facilitate his move to academy director, his current work responsibilities will be divided up between the other members of the current administrative team.
Currently, Reyes is working along with Ramsay to ensure this transition of leadership is as smooth as possible.
"The teachers in the classroom won't change," Reyes said. "It's the leadership and their relationship with the leader that will change. But for a lot of kids, they know who I am. Because of this, I think that it's going to be a smoother transition. So far, it's been a series of discussions of us beginning to plan. I get the benefit of learning from Ms. Ramsay over the course of the next two months. My first real job is going to be to listen: listen to the students, teachers and staff to see not only what they want to change, but what things are a necessity and need to stay the same.
Ramsay reiterated the fact that this transition of leadership will be the hardest part of the restructuring process. But she is doing everything in her power to ensure that this transition only adds–not takes away–from the academy. 
"Mr. Reyes understands the importance of advocacy for the arts and the importance of listening to our community," Ramsay said. "These are things he already does. He's bringing a different look to things–and that's not a bad thing."
"
Not only am I leaving one of the best educational institutions that I've experienced, but I'm also leaving a family.
— outgoing fine arts academy coordinator Heather Ramsay
Ramsay has no concerns about the future success of the academy–she knows that her students, and the program, are in good hands. Ramsay is grateful to the school community–which has shown her an outpouring of support at the loss of this job.
"I'm very appreciative of how kind people have been and how much outgoing support I've been getting," Ramsay said. "Just yesterday the counselors gave me a beautiful bouquet of orchids. When Ms. Garcia walked in with it, I gasped, because orchids are my favorite flower. I have been seeing small gifts in lots of different ways, whether it's a direct message from a student or it's a gift like an orchid or a very thoughtful email from a parent, I've been seeing a lot of support from the community."
Teachers at McCallum often say that being on the faculty at McCallum is like being a part of a family, and Ramsay said that her experience since the announcement of her departure has proven that statement to be true. She likens the faculty and community reaction to that of a family grieving the loss of a family member.
"I've been joking–probably not appropriately– but I've been joking with some of them that I'm not dying, because the community has been grieving as if I had," Ramsay said. "I had one faculty member tell me that he had been crying all afternoon. At first, I was shocked, but then you begin to understand the depth of the connection that you've created with that person, which is really special. I just hope that they understand that I'm going to be OK and that the job is going to be taken care of."
As for Ramsay, she says she has handled the news well. She attributes this to her growth mindset.
"I feel that the universe opened a door for me that I wasn't sure whether I needed to open," Ramsay said. "For someone who's in my position and just the way I've always worked, I constantly have my own personal and professional goals–I'm always looking into the future. So losing this position is not a stop in my life. It's just now that this particular door is closed, I've been thinking about all these other things in my life that I have the capabilities of doing and places I want to go and live, and maybe this is the universe providing a doorway so that I can go and do that."
What Ramsay will miss most is the community at McCallum, which is so unique and special, she doesn't think she'll be able to find it elsewhere. 
"I have been in education a long time, and have a national lens on education," Ramsay said, "and I feel it's because of that national perspective, it's easy for me to recognize when something's great and special. And that's what McCallum is. On my first day here, I had a student come in, And I asked him 'How would you describe McCallum?' He said, family. And that is what it feels like, that not only am I leaving one of the best educational institutions that I've experienced, but I'm also leaving a family."