Lifelong arts journey brings Ramsay to McCallum as new fine arts coordinator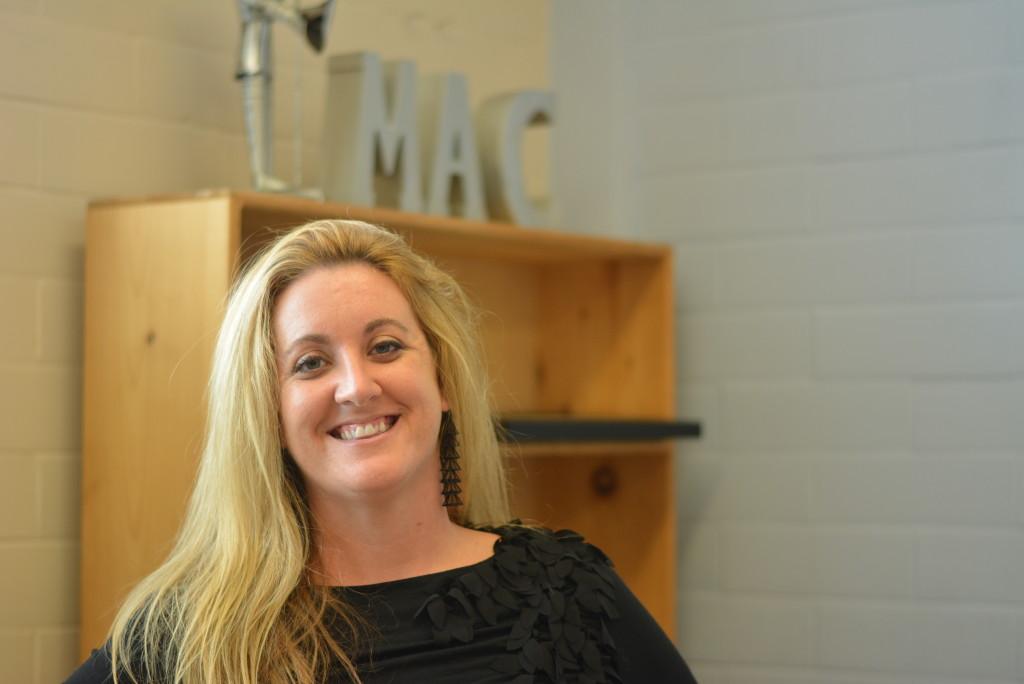 When Heather Ramsay was a high school senior, she knew that her post-graduate education would be at an art school not a traditional four-year college. That certain, unwavering love for fine arts has been a lifelong passion for Ramsay for as long as she can remember. It's also what brings her to the MAC campus this month as she assumes the position of fine arts coordinator.  
"My first memory is of my father teaching me to hold a crayon when I was 4," she remembers. Art was never simply a hobby or a side interest, something to occupy spare time. To Ramsay, art is a way of life, a career and an all-consuming passion.
Ms. Ramsay's long career in the arts has been a tortuous ride, as she has always been willing to take on a new challenge. Even though she's taken on many different jobs in the art world, her career has had a natural progression that has led her here to McCallum working in arts administration.  
She started off as a visual artist. After spending some time in art school, she went on to get two master's degrees in art education and arts administration, along with a museum certification at University of Georgia and Florida State University.
Right out of Florida State, she took a job working as an events coordinator at the Ringling Museum of Art in Sarasota, Fla., where she coordinated events for practically every sphere of the arts. She flourished in the environment, loving the elaborate events she got to organize. As she described her experience during an interview in her new McCallum office, she beamed as she reflected on how she got to eat her lunch with the works of art in the gallery. The job also gave her the opportunity to work directly with kids in the museum's programs, an experience she said drove her into the art classroom.
She remembered that at the time teaching 12-year-olds seemed like the last thing that she thought she wanted to do, but fate, she said, led her into teaching middle-school art anyway. Ramsay said the tough assignment was a blessing in disguise. In her courses, she focused on creating innovative thinkers through utilizing a fluid and creative curriculum, coming up with a multitude of projects to stimulate her students' minds and creativity. One instance she cited was throwing out her lesson for the day after being disappointed on a shopping trip to buy a new cell phone. She thought it was incredibly boring that all of the options looked exactly the same, so she had the kids design their ideal cellphone, which she said yielded quite interesting and fantastical results.
She feels these creative expressions are the best part of being an art teacher and that it really helped continue her path in her career in the arts.
"Working in an art classroom is incomparable to any experience one can have as an artist or an educator", she says. "The arts are about creating innovative thinkers and people who can think beyond a traditional scope. In order for students to be successful, I believe in our future, they have to be thoughtful, creative, innovative. The skills that you get in an art classroom are embedded with those concepts."
She wanted to expose her middle-school students to the concept of art beyond the traditional stereotype of what an artist is. She wanted them to understand that art was actually all around them, all of the time, even when they may not realize it.
"Everything in their lives from the clothes they put on, to the designer sneakers they wear, to the cereal box they eat out of, to the bowl they ate it in, to the architecture of their home, to the car that they drive, all the way through their school day … every single thing … has been impacted by some creative mind," she explains, "and that's what my courses were about and that's what I believe the arts are about."
Her classroom experience subsequently led Ramsay to aspire to teach other teachers in the hopes of reaching even more students in the long run. She felt that becoming a fine arts administrator in schools was the next step for her, something that combined all of her prior experiences and knowledge into the perfect job. Ramsay knew that she loved working with kids but also that she had a deep passion for mentoring teachers. By working in leadership positions on the board of multiple art education associations, she solidified her passion for mentoring as well as "trying to facilitate the needs of new teachers to help them be the best they can be."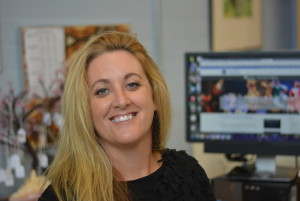 Ramsay says that her administrative work gave her the skill set to protect fine arts programs from budget cuts so that they can be the best they can possibly be. As she lamented the reality of arts funding being cut in so many public schools across the country, Ramsay professed her passion for the arts and insisted how vital they are for kids in school. This commitment brings her quite naturally to  McCallum's fine arts academy.
"I think some of the most successful students that I see in schools are constantly engaged with the arts," she said. "Those students use their whole mind, and instead of this very segmented linear thinking, they get to broaden the way that they think. [The arts give] them a scope that allows them to problem solve in a way that nobody else can, because the arts are so open-ended."
In addition to being a natural progression of her career, Ramsay's journey to McCallum is also very personal.  Tragically, in February of 2015, her mother unexpectedly died in a car accident. She made the decision to drop everything and move to Wilmington, N.C., to care for her father, who needed her help after losing his wife of 45 years. Though it was a tough time, Ramsay persevered and took the time as an opportunity to do some soul searching on how she wanted to further her life once her father was able to care for himself again.
With her father was able to thrive on his own, she ultimately decided that it was time to dive back into her career in the arts. Earlier this summer, when she stumbled across the job description for the fine arts coordinator here at McCallum, she was immediately drawn to it and felt the job was practically made for her, in that her skill sets and experience perfectly matched the expectations for the job.
Once it was clear that the McCallum administration agreed, she accepted the job, packed up her bags again and moved to Austin one week before the school year started.  The blind leap into a sudden future is one more testament to Ramsay's adaptability and passion for education and the arts.
Ramsay replaces Kayse McElveen as fine arts coordinator. McElveen announced in June that she and her spouse were moving to the Dallas area in order to be closer to their families.
When asked how she plans on growing the arts program at McCallum, Ramsay said that her philosophy is to only build upon the success that the program has had, as she feels it would be a mistake to completely shift the way the arts at McCallum have progressed over the years. Ramsay is confident that she has experience and character to help the program grow, but she also expresses that what McCallum has already created is an incredible foundation that can only blossom in the future.
"I trust the faculty here, I trust the administration here, I trust what the former fine arts academy director [McElveen] did here," she says, "and I think every time you bring a new person into a situation, it's like getting a whole new person to brainstorm with, and for me that collaboration and team-building is a huge part of how I work. For me to come into a team with this caliber, and this solid of a foundation, I feel like I got the easy job."
All of Ramsay's experiences, skills, and practically living and breathing art for the entirety of her life have led her up to this point. She plans on using the painting skills that she has perfected for so long on the canvas of McCallum's art program.
"I don't have to worry about the structure of the house, I get to decorate it," she says, her infectious enthusiasm clear in her eyes. "I get to really make it beautiful, make it shine, bring the awareness to the community, the region and maybe even beyond that. And I get to support the students in a way maybe even to build other partnerships and lead us to bigger and greater things. That's a really big privilege for me to be able to come into a position at this stage of what they have built for this academy in these last few years. And I think I'm a really lucky woman for that."