Acclaimed portrait was truly a family project
Before it won a national award, Anna Garcia's photo gave her and her siblings a quarantine project they could do together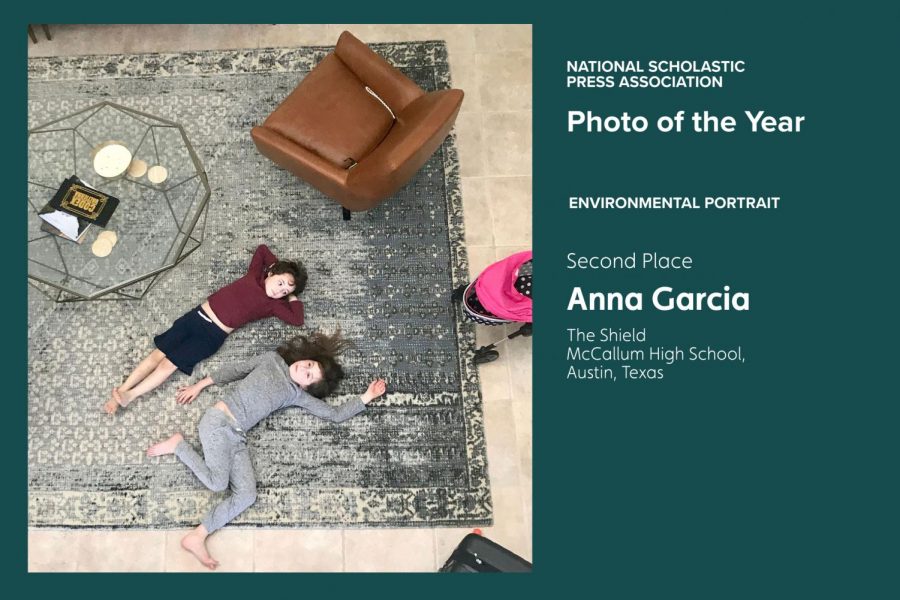 Sophomore Anna Garcia won second place in a national photo contest on Saturday, and that's a wonderful thing, but the photo has a much better story to it than just winning an award. 
When Garcia took the picture, she and her younger siblings Victoria, 7, and Max, 6,  had not been home for long after Austin ISD had switched to virtual learning after an extended spring break caused by the first COVID cases in Travis County. 
"
I adore my little siblings … so to see their faces light up when I talk about the photos I took of them or when I ask them to be in my photos makes me so incredibly happy."
— sophomore Anna Garcia
"It was right in the beginning of the pandemic, and we were going through a lot of adjustments with online school," Anna said. "We had to learn how to have fun together without putting ourselves at risk of COVID."
Because Anna was a photojournalism student, she was tasked with creating images for the WRKxFMLY Project. Students in the project take pictures and write captions that explore the interplay of work and family in their lives. 
Anna saw in the project an opportunity for her and her siblings to work together. On a particularly challenging quarantine day, Anna used her camera to make a good thing out of a bad day. Victoria and Max were struggling against the boredom of being cooped up at home day after day. 
"I'm bored," Victoria said. Or maybe it was Max. "I have nothing to do," Max said. Or maybe it was Victoria.
The boredom was making them crazy, but Anna knew what to do. She went and got her camera.
"I wanted to get a bird's eye view of them to capture their faces and their body language, so you could feel like you're there with them in the house experiencing that feeling of extreme boredom."
The photo earned an honorable mention from the WRKxFMLY Project, and more importantly it appeared in a Tuesday Top 10 photo essay, "Balancing work and family in COVID-19 times" on the Shield website. That made the image eligible for the NSPA Photo of the Year competition as an environmental portrait.
"
[My siblings] were interested in seeing their photo on the NSPA website more than anything else. "
— sophomore Anna Garcia
How does it feel to win second place nationally for one of your photos?
"It feels dreamlike," Garcia said. "I never thought I would own such a title. I've always loved photography and to know that I won second place in the nation is something that I never thought I would accomplish."
And what about Victoria and Max?
"Their exact words to my news were 'WE'RE GONNA BE RICH!!' Definitely not what I was expecting, and I have no idea where that came from, but it made me laugh. I was expecting more like 'Wow that's so cool!' Or 'yay!' But no. … They were interested in seeing their photo on the NSPA website more than anything else. But they were super excited about it."
In the end, winning a national award is great, but it's even better when you can say that you did it while doing something meaningful together with your sister and brother.
"I adore my little siblings, and they love to be my models for everything, so to see their faces light up when I talk about the photos I took of them or when I ask them to be in my photos makes me so incredibly happy," Anna said. "Taking photos for WRKxFMLY was an activity that the three of us enjoyed a lot. It helped us learn how to work together as a group, which has come in handy through these months, and it [allowed us to] grow closer together. and that's what makes this image so special to me."